If turkeys are getting nervous and high school football rivalries are about to hit their climax, it must be time for the Bruins to heat up.
One year after roaring into Thanksgiving with wins in four of five games and then reeling off five straight after chowing down on Turkey Day, the Bruins are again on a late-November roll.
With a 4-2 win at St. Louis Monday night, the Bruins earned a three-game winning streak for the first time all season. It should be noted that last fall the Bruins dropped their Thanksgiving Eve game at Buffalo, so if Boston holds true to form the sure money will be on the Minnesota Wild Wednesday. But if the Bruins can emerge from Thanksgiving with anything resembling the 15-wins-in-16-games stretch they produced last season, preseason prognosticators who had the Bruins among the handful of title contenders might finally look like they knew what they were talking about.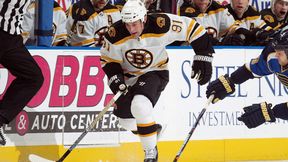 Mark Buckner/NHLI/Getty Images
Marc Savard's return Monday gave the Bruins one of the first chances to use their full lineup.
Just a week ago it was all gloom and doom for the Bruins because they'd sleep-skated through a dreadful 4-1 loss to the New York Islanders at TD Garden. The reasons for the turnaround in the last seven days are the same reasons the Bruins might be able to at least make a run at first place over the next week or so even if they don't match last November's remarkable stretch of success.
With Marc Savard and Milan Lucic -- both looking like they never missed a minute of action -- back in the lineup, everyone else on the roster is better able to slide into the slots on the depth chart they were supposed to fill when the season opened. And against the Blues, every player lived up to his job description, even under the duress of a 16-6 shot deficit in the first period and a St. Louis forecheck that resembled a jailhouse blitz.
Patrice Bergeron 's four-point night included two assists while orchestrating plays on the newly formed second power-play unit. A third came as the result of his tenacious penalty killing, the type of play that's going to make Bergeron a Selke Trophy candidate (for best defensive forward) as this season rolls on.

After same shaky moments breaking the puck out through the first 20 minutes, the Bruins' top four defensemen -- Zdeno Chara, Derek Morris, Dennis Wideman and Andrew Ference -- regrouped and got the job done against some hard-charging Blues forecheckers. That quartet of blueliners also combined for 11 blocked shots in front of emerging star goaltender Tuukka Rask (29 saves).

Mark Recchi and Marco Sturm both had great nights, and not just because they both found the back of the net. Both veterans, who looked like they were playing in slow motion last week, have found another gear that's resulted in outstanding three-zone play and made the Bruins a four-line threat again.
While coach Claude Julien and his staff would be sure to deflect credit for the Bruins' turnaround in the players' direction, the men behind the bench deserve their fair share of kudos. Moves that have paid off include putting Wideman and Ference back together in order to provide Wideman more offensive opportunities (and make sure someone was back to cover his mistakes), creating two better-balanced power-play units (with Bergeron back at the point) and getting guys like Recchi and Sturm to increase their performance level.
Should Julien keep pressing the right buttons and his minions continue to live up to their advanced billing, the Bruins will enjoy another great holiday season.