BOSTON -- He played coy when asked about it Thursday after practice, but you knew that Bruins winger Shawn Thornton was going to find a way to make history by getting into the first-ever Winter Classic fight Friday at Fenway Park.
[+] Enlarge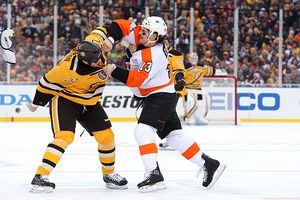 Jim McIsaac/Getty Images
Shawn Thornton and Dan Carcillo dropped the gloves in the first period.
It took just 12 minutes and one second into the hard-hitting first stanza for Thornton and Philadelphia tough guy Daniel Carcillo to drop the gloves. While Carcillo got the upper hand in the bout, the fans got their biggest thrill of the day and Thornton and Carcillo wrote their names into the NHL history books.
The fight was indicative of the play on both sides, especially from the Boston end. The Bruins were credited with 15 hits to eight for Philadelphia. The scoring chances were pretty even and the goaltenders were up to the task during the scoreless period.
As for the ice and the weather, the NHL probably couldn't have asked for more. While the ice seemed to get choppy faster than during a normal game, the television timeouts provided plenty of time to clear things up. And the grey skies have made glair a non-factor.
Tempers are sure to flare more in the second period.