Thomas on ASG: 'It's always fun to win'
January, 29, 2012
1/29/12
9:27
PM ET
OTTAWA --
Tim Thomas
earned an NHL-record fourth straight All-Star win, Bruins captain
Zdeno Chara
scored a goal and Bruins forward
Tyler Seguin
added an assist as Team Chara beat Team Alfredsson 12-9 in the 59th NHL All-Star Game at Scotia Bank Place on Sunday. Bruins coach Claude Julien earned his second win as an All-Star coach.
After the game, the Bruins' representatives talked about the game and the weekend experience.
On Thomas earning the win and his competitiveness no matter the setting:
[+] Enlarge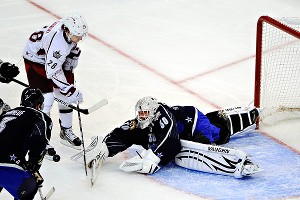 Eric Bolte/US PresswireTim Thomas knocks the puck away from Team Alfredsson forward Claude Giroux.
Thomas
: "I think that both teams want to win and we're all proud hockey players. I'm assuming that Alfie [
Daniel Alfredsson
] really wanted to get the win on home ice, but we wanted to win. It's always fun to win, even if you're in an All-Star Game or playing in a little competition in practice. I think that the pace kind of picks up in the third period, which actually makes it a little easier for a goalie in a certain way because there's more flow." Thomas played the third period, making 18 saves on 21 shots.
Chara
: "That's Timmy. He's very competitive. You can't blame him. That's the only way he can play, otherwise he's not really effective. He's always competitive and that's him."
Seguin
: "I was kind of cheering to let Alfredsson score at the end there," Seguin joked. "But you knew it was going to happen because it's four wins in a row now. He's definitely a competitive guy."
Julien
: "The one thing first and foremost is that the other goalies [
Carey Price
and
Jimmy Howard
] were supportive enough to let him finish. He had the most votes as a goaltender and a lot of times those goaltenders end up starting, but we asked the other goaltenders if they were OK with that and they said absolutely, so the other two played rock-paper-scissors to see who would start. When it was tied [heading into the third period] the stage was set for Tim to get an opportunity to win his fourth in a row."
On Chara being team captain, scoring a goal and leading his team to victory
Julien
: "Like Alfie [Team Alfredsson captain Daniel Alfredsson] they're both modest guys that could easily make more of it, but they always put others in front of them. Even Z when he was picking for the competitions, he always put himself last and everybody ahead of himself. That's what makes Z special, he's a great team guy and a guy that really cares."
Chara
: "It's nice to win. I thought that early on in the game it was really loose and fancy goals, but then as we were going on in the game, you could see that guys wanted to win. I didn't have to say a thing, but that's the way it goes in an All-Star Game. You get the breaks and score some goals and that's what happens." On his goal, Chara said: "That was my first shot of the game and it's nice to score in the All-Star Game, for sure. I was surprised I was open, and then I just put it in the net. But again, I was more focused on just staying back and not being something that I'm not and play my game."
On All-Star weekend being a great experience for Seguin in only his second season
Seguin
: "It was a lot more fun than I thought it would be. I knew it would be a good time but I had a blast out there. You learn a ton. Last year was one thing, kind of meeting them and more observing, but this year it's more conversations and guys know you by your name. You get chances to pick their brains."
Chara
: "I think it's great for him. Especially for a young guy to be around veteran star players in the league that accomplished something and the way they act, the way they behave and approach preparation for skills or the game, it's huge for young guys to see. Not many players realize that these guys come and warm up just like for regular games. Nobody wants to get hurt and nobody wants to pull anything. The way they act with media and fans or players from their team is huge."