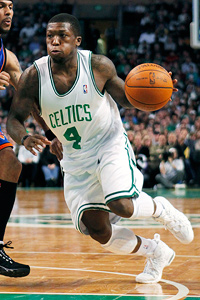 AP Photo/Michael Dwyer
Celtics coach Doc Rivers said the Nate Robinson-for-Eddie House deal remains, "fine by us."A couple evening links from Celtics-related stories on ESPN.com:
Sources: Thibodeau offered Hornets job
The New Orleans Hornets have made a formal offer to Boston Celtics assistant coach Tom Thibodeau to fill their coaching vacancy, sources with knowledge of the talks said on Tuesday.

Yet it was not immediately known how soon Thibodeau will make a decision on the Hornets' offer with the Celtics still in the playoffs and with at least two teams -- Chicago and New Jersey -- also considering Boston's defensive guru for their coaching vacancies.

Sources say Thibodeau is eager to land his first head-coaching job and has strong support from Hornets general manager Jeff Bower, who is close with Jeff Van Gundy, one of Thibodeau's coaching mentors.
Click HERE to read the full story.
Sheridan: Robinson compares cultures in NY, Boston
It has been 97 days since the Knicks traded Nate Robinson to the Boston Celtics for Bill Walker, Eddie House and J.R. Giddens, which has given Robinson some time to appreciate the difference in cultures of the two franchises.

In New York, he clashed with coaches Larry Brown and Mike D'Antoni and was an expendable spare part by mid-February as the Knicks continued their two-year quest to clear salary cap room to pursue LeBron James and another max free agent.

In Boston, things haven't worked out as Robinson had hoped. He has fallen behind forward Tony Allen on the point guard depth chart, he missed out on a $1 million bonus, and his best work in the playoffs was as a towel-waver until he logged 2 minutes in Game 4 against Orlando on Tuesday night and played fairly under control (at least by his standards).
Click HERE to read the full story.