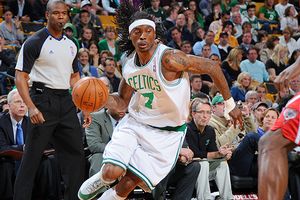 Brian Babineau/NBAE/Getty Images
Marquis Daniels is back in Boston for the 2010-11 season.The Boston Celtics continued reassembly of last season's roster Thursday, re-signing Marquis Daniels for the 2010-11 season.
The seventh-year swingman agreed to a one-year, $2.5 million contract, his agent Mark Bartelstein confirmed to ESPN.com.
Signed with the bi-annual exception last summer, Daniels was regarded as a potential steal coming off a season in which he averaged 13.6 points, 4.6 rebounds, and 2.1 assists per game in 54 appearances for the Indiana Pacers.
But the oft-injured Daniels tore a ligament in his left thumb early in the 2009-10 season and never found a role upon returning to the lineup. He averaged 5.6 points, 1.9 rebounds, and 1.3 assists over 51 appearances, but played sparingly late in the season and through the playoffs.
Adding injury to insult, Daniels suffered a concussion in Game 5 of the Eastern Conference finals against the Orlando Magic, and missed much of the NBA Finals against the Los Angeles Lakers. He logged a mere four minutes in Game 6 of that series.
A return engagement in Boston seemed unlikely, but the departure of Tony Allen (three-year deal with Memphis) left Boston dangerously thin at the wing. In a free-agent market that offered little in the way of impact bodies, particularly with Boston only able to offer the veteran minimum, the Celtics appear willing to roll the dice again with Daniels.
Click HERE for the full story.