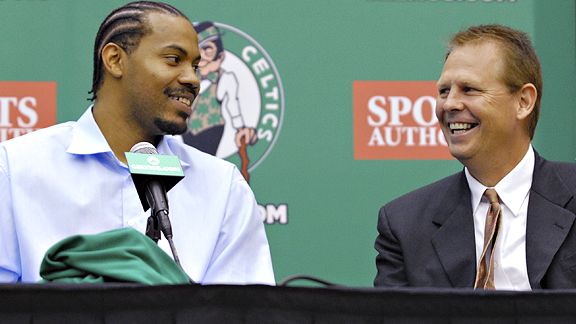 Brian Babineau/NBAE/Getty Images
Rasheed Wallace and Danny Ainge at his signing announcement last summer.WALTHAM, Mass. -- A day after Rasheed Wallace's agent told the Boston Globe that his client will indeed retire from basketball this offseason, Celtics president of basketball operations Danny Ainge said that the situation will be resolved soon and hinted it would likely end with the team buying out the final two years of Wallace's contract.
"It is probably going to be resolved sooner rather than later," Ainge said on a conference call following Shaquille O'Neal's introduction. "I expect it to be done before training camp. We have looked at trade possibilities throughout the summer and will continue to look at those, but it will likely all be resolved shortly."
Reading between the lines, it appears the Celtics haven't found a deal that interests them this offseason and, with a maxed out roster at 15 players under contract for the 2010-11 season following Tuesday's signing of Luke Harangody, the team will likely move to open a valuable spot to sign one more veteran player.
Wallace is set to earn $13 million over the final two years of a three-year deal he inked with Boston last offseason, but told coach Doc Rivers before Game 7 of the NBA Finals that it would likely be his last game. Until he officially retires, the team can trade his contract, but Ainge suggested the team was more likely to add one more veteran free agent.
"One more piece is possible," said Ainge. "I like the pieces we have at this stage and would be happy going into training camp with this team. It is possible though we could add another player, most likely for the veteran's minimum, possibly a trade, but the most likely scenario is for the veteran's minimum."
Both Ainge and Rivers suggested they'd like to add another shooter to the roster, adding some depth at a swingman spot that remains the team's biggest area of need following the departure of Tony Allen. Von Wafer and Marquis Daniels are all that's behind Ray Allen and Paul Pierce on the depth chart at shooting guard/small forward.
"We'd like to get a [shooting guard], we'd like to get one more shooter," said Rivers. "Von's a hell of a shooter and that's good for us, but we'd love to get another veteran shooter."
Rivers waited a beat before adding a punchline, "Preferably one under 38."
What remains unclear is what that means for Tony Gaffney and Oliver Lafayette, a pair of young players with non-guaranteed contracts for next season. The duo can come to camp in search of a roster spot, but Boston might will have at least 14 guaranteed contracts at that point, and that's if they don't sign another veteran before camp opens.
The Celtics will start the year with Kendrick Perkins sidelined after offseason knee surgery, which makes even those final roster spots extra valuable at the start of the season.
Rivers did indicate that an addition could come after the season begins, provided Boston has that available roster spot (otherwise the team would need to eat a contract or make a trade). Rivers also didn't close the door on a possible Wallace return, noting, "You never know when a March call happens," suggesting Wallace could be lured out of retirement for one more (abbreviated) title run.