October, 30, 2014
Oct 30
3:38
PM ET
By
Jack McCluskey
| ESPNBoston.com
CHESTNUT HILL, Mass. -- In some ways, Jonathan Hilliman is a typical freshman. But in others, the 6-foot, 215-pounder is anything but.
When Andy Gallik thinks back to summer workouts, he sees in his mind's eye Hilliman as a nervous freshman, unsure of himself and where he fits into the bigger picture of a college football team.

Fast-forward to eight games into the season, and the veteran center says, "Jon's come a long way."
The freshman's come far enough to have the graduate student co-captain comparing him to last year's star, Heisman Trophy finalist Andre Williams.
"[Hilliman is] a bigger back, he's got more of a powerful running style and he reminds me of Andre -- they're different players, obviously, but he's come a long way," Gallik said. "I think that's because he's gotten a lot of reps with the ones, he's always around the older guys and he's kinda feeling more comfortable, he's feeling his place more.
[+] Enlarge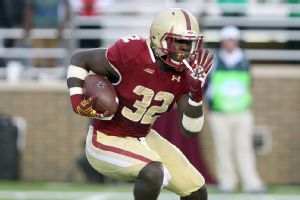 Cal Sport Media/AP ImagesFreshman RB Jonathan Hilliman has been compared to Heisman Trophy finalist Andre Williams. "[Hilliman is] a bigger back, he's got more of a powerful running style," said Eagles center Andy Gallik.
"It's great to see him having the success that he is as a freshman."
The Plainfield, New Jersey, native and St. Peter's Prep product's precocious playmaking ability was on full display against Wake Forest this past weekend. On a first-and-10 from the Wake 33-yard line, Hilliman took the handoff in the backfield and saw green grass.
He exploded through the hole, outran a scrambling defender and sped toward the end zone. Cornerback Kevin Johnson was the Demon Deacons' last hope to stop a score, but Hilliman high-stepped over the diving defender and into the end zone.
It was the first of two TDs on the day for No. 32, who would end up with 20 carries for 101 yards -- his second 100-plus-yard game and his fourth two-TD game.
"He's been a pleasant surprise," running backs coach Al Washington said. "You don't expect freshmen in some of these games to do what they do. But the game's changing, you're seeing more and more freshmen across the country making an impact and I'm just happy we've got one in Jon.
"I'm a little surprised, but at the end of the day I knew he was gonna be a big-time player so I'm just happy he's living up to that," said Washington.
The four-star recruit is certainly doing that.
Hilliman is 14th in the nation among freshmen in rushing yards per game (71.50), 12th in total rushing yards (572), ninth in attempts per game (16.88), sixth in total attempts (135) and fifth in rushing TDs (nine).
He's leading all ACC freshmen in rushing attempts, yards, TDs, attempts per game and yards per game, and ranks fourth, seventh, second, fifth and seventh overall in those stats in the conference. In fact, Hilliman's freshman numbers already stack up well against the best a BC freshman has managed since the record-setting Montel Harris arrived on campus in 2008 (see chart).
"He's doing a great job of doing what the coaches ask him, and each and every week he's getting better and better. Somebody like that has a really bright future," quarterback Tyler Murphy said. "He's really starting to understand the game, learn how to read his blocks and set blocks up, and that's really helping him be successful."
The big freshman has been at his most dangerous in the red zone. He's tied for ninth nationally in red-zone touches (33), is 12th in red-zone rushing yards (112) and is tied for 17th in red-zone TDs (eight).
Hilliman has scored the most red-zone TDs for BC since 2009, when Harris had 11. Yes, he already has surpassed Heisman finalist Andre Williams (7 red zone TDs in 2013) in that respect.
"Oh is that how many he has? I didn't even know," Gallik said with a laugh. "When we get down toward the red area, we know that we have a powerful back in Jon and he's also quick enough to make the cuts that are necessary.
"So whenever we get down in the red zone the blood starts pumping a little more because we know we can finish the drive with a back like him in there."
Thanks in part to their big freshman, the Eagles are fourth in the ACC (and 33rd overall nationally) in red-zone conversion percentage (88 percent) and seventh in the ACC in touchdown percentage (64 percent).
Murphy's happy to have a guy the size of Hilliman to hand the ball off to when the field shrinks.
"It's definitely big, because he's hard to take down," Murphy said. "One guy isn't going to take him down, it's gonna take three or four guys. And then they start keying on him and it opens up our play-action pass and allows for other guys to get going in the run game because he's such a big threat. He's doing a good job, making plays for us and we need him to continue to do that."
For Washington, the most impressive thing about Hilliman -- outside of his talent, obviously -- is the freshman's focus amid the myriad potential distractions first-year players face.
"He's shown an ability just to lock in and really be dependable," Washington said. "He's played in some big games and he's gotten it done in big games. I think that has to do with his mindset, what's important to him.
"He kinda rises to the occasion. I think he's just one of those kids that's got that drive that's necessary to be a really good player."
Jack McCluskey is an editor for ESPN.com and a frequent contributor to ESPNBoston.com. Follow him on Twitter @jack_mccluskey.