Crimson celebrate first NCAA bid since '46
March, 7, 2012
3/07/12
6:47
PM ET
By
Jack McCluskey
| ESPNBoston.com
CAMBRIDGE, Mass. -- Everyone reacts to things in different ways.
Some people internalize, some people externalize. Some people would rather be alone, some people would rather be with other people -- as many people as they can find.
So it shouldn't be surprising that the
Harvard Crimson
players all dealt with Tuesday night's situation differently. It's midterms week at Harvard, so some players decided to try to ignore the Penn-Princeton game and focus on their books.
[+] Enlarge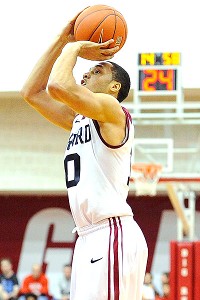 Cal Sport Media/AP ImagesWith Harvard's first NCAA tournament bid in 66 years, PG Brandyn Curry's sniper shooting will happen on the hardwood as well as in "Call of Duty."
Oliver McNally
said he was up late Monday finishing a paper for his American foreign policy class, so after working out on Tuesday he just fell asleep and missed most of the game. He woke up when the Tigers and Quakers were midway through the second half, and watched the rest in his room.
Brandyn Curry
said he couldn't stand to watch the game, so instead he and
Dee Giger
played "Call of Duty."
The point guard was pretty sure people would let him know what was going on with the game anyway.
"I had a couple calls, like, 'Y'all are gonna make it, Princeton is up by nine, five minutes [left]. They got the game in the bag,'" he said. "I was like, 'Nah, I don't even want to hear it. There's still a lot of time on the clock, I know how [Zack] Rosen is. I'm not gonna count Penn out of it yet.'"
Keith Wright
had to watch. He had the game on while he was studying for his psychology of human sexuality midterm the next day.
And when the game was over, after Princeton had won and Harvard was officially the Ivy League champion and the league's representative in the NCAA tournament?
"I ran outside with my roommate Andrew [Van Nest]," Wright said. "We were running up and down the street, screaming for about 30 minutes. Literally screaming. Everybody was out their windows, saying congratulations. People from the library coming down, shaking our hands.
"And then I had to go back to studying."
Considering he and his teammates had just achieved a lifelong dream, that was no easy task. But Wright said he managed it pretty well.
Tommy Amaker, who came to Harvard five seasons ago after being fired by Michigan, said he had the game on at home but was in and out during it. After the final buzzer sounded and his 26-4 Crimson were officially going to the Big Dance, the coach had a simple reaction.
"When that happened last night, I mean certainly it was just an incredible sense of satisfaction and pride," he said before practice Wednesday at Lavietes Pavilion. "But more than anything else, having done it before -- having played in it and coached in it -- I wanted it to happen for our players. It was such a devastating moment a year ago."
Harvard was 2.8 seconds away from winning a playoff game with Princeton, having led most of the way, before a
Douglas Davis
buzzer-beater changed all that. The Tigers went to the tourney, and the Crimson to the NIT.
[+] Enlarge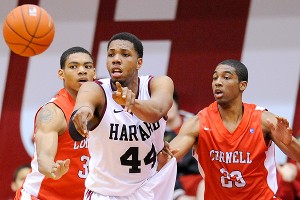 AP PhotoHarvard senior co-captain Keith Wright says the chance to play during NCAA March Madness is "a dream come true."
"A gut-wrenching loss," Amaker said. "And so for our guys to do what they've done this year, all the way through -- to be picked and selected to win [the Ivy League], and to have them play up to and sometimes beyond [those expectations] … I was thrilled for our guys.
"I know what these kids have put in and I know what they came here to do, and this is certainly one of the things we hoped that would happen."
It's one of the reasons that McNally decided to come to Harvard in the first place, because he believed that Amaker & Co. could build a program capable of making it to the tournament.
"I'm a die-hard basketball fan, regardless of the fact that I play it, and I think the NCAA tournament is the best sporting event in the world regardless of sport," McNally said. "Just to play in it has been one of the biggest dreams of my life."
Call it poetic justice that after Princeton popped Harvard's bubble last season, it was Princeton that popped Penn's bubble this season and put Harvard into the tournament.
"I actually forgive them for hitting that shot against us last year," Curry joked.
Wright said he heard from a couple of guys he's close to on the Princeton team after the game Tuesday night.
"Pat Saunders just texted me 'You're welcome.' That's all he said to me," Wright said with a smile.
The Crimson aren't apologizing for the way they secured their berth. They figure they did what they needed to do.
"I didn't really care how we got into the tournament, I wanted to get into the tournament," McNally said. "People are saying we kind of backed our way in. No. You play 14 games: We lost two, you lost three, we're in the tournament."
And now that they are, the Crimson say there's no dream scenario they're hoping for in terms of seeding.
"No, the dream is just playing in the tournament," Wright said.
Asked if that meant they would be happy just to be there, the big man was clear: The goal now is to win.
"Absolutely it's gonna be winning," he said, "but making it there is something that hasn't been done here since … "
Wright trailed off and a reporter finished his thought: "Since 1946."
"It's a dream come true," the senior co-captain continued. "Of course we have a goal of advancing, so we're gonna work towards that. But definitely just embrace the moment right now."
Jack McCluskey is an editor for ESPN.com and a frequent contributor to ESPNBoston.com. Follow him on Twitter @jack_mccluskey.