Amherst women's hoops looking for title
March, 14, 2012
3/14/12
12:21
PM ET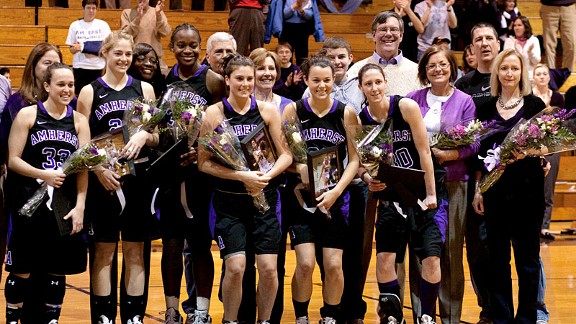 Courtesy of Amherst College Amherst's seniors (from left to right): Shannon Finucane, Livia Rizzo, Lem Atanga McCormick, Kim Fiorentino, Caroline Stedman and Jackie Renner
They're not getting the attention of the Harvard men's basketball team, but the women's hoop team at Amherst College is trying to cap off an amazing run this weekend. Amherst has won 50 straight games heading into Friday night's national semifinal against George Fox University at Hope College in Holland, Mich. Two wins this weekend would give the Lord Jeffs a perfect season and their second straight national title.
In a
story for ESPN Boston
, Marty Dobrow looks at the incredible run, which has been led by senior Caroline Stedman and the rest of an amazing senior class (shown in the photo above).

Caroline Stedman wants to play all 52 cards in the deck.

She wants to maximize every single week of the year. All 52 of them.

And ideally, the effervescent Amherst College senior guard would also like to win just two more basketball games this weekend. That would mean a second straight national championship. It would also mean closing out her college career with a rather impressive winning streak.

Fifty-two games.

"To finish this off with two wins, to be national champions, and to do this with my best friends, that would honestly be like a dream," she says with a Dorothy Gale-like earnestness.

Whether or not that dream comes true, Stedman has been following the yellow brick road to the Final Four for quite some time. She is part of a class that has made the Final Four their personal spring break every single year -- the only four times Amherst has ever been to that basketball Emerald City.
Click
HERE to read the rest
of the story