BC fails to cash in on chances
November, 11, 2012
11/11/12
2:05
AM ET
By
Jack McCluskey
| ESPNBoston.com
NEWTON, Mass. -- The odds were always long.
The chance of Boston College actually reviving the ghosts of 1993 and 2002, years when it upset previously undefeated editions of Notre Dame and ruined any Irish title hopes, was slim. The Eagles came into the prime-time matchup 2-7 (1-5 ACC) in 2012.
Yet they had chances to put a serious scare into the heavily favored guests, once early and once late.
But as has been the case all season, the Eagles couldn't capitalize when it was all on the line and fell 21-6 to the fourth-ranked Irish.
[+] Enlarge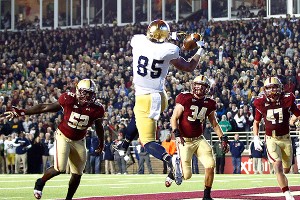 Mark L. Baer/US PresswireNotre Dame never looked back after going up 14-3 on this Troy Niklas touchdown catch.
With Notre Dame driving, leading 7-3 in the second quarter,
Steele Divitto
forced and then recovered a fumble for BC. The play gave BC the ball at its own 26 and an opportunity to engage the capacity crowd and swing momentum in its favor.
But the Eagles' offense couldn't turn the possession into points, ultimately forced to punt after Chase Rettig's pass for
Alex Amidon
was broken up on third-and-10 from the Irish 40-yard line.
"We were in third-and-long a lot, which has kind of become something consistent in other games prior to today," Rettig said. "We've gotta be better on first down."
After the Eagles couldn't convert,
Everett Golson
and the Irish executed a methodical 16-play, 87-yard scoring drive. The possession ate up 8:30 and culminated in a 7-yard TD pass from Golson to
Troy Niklas
that put the visitors up 14-3.
The second chance came late.
With the Irish again driving after an Eagles field goal, leading 21-6, another BC linebacker separated the ball carrier from his cargo.
Sean Duggan
stripped
Theo Riddick
after an 8-yard gain, the ball ending up in the hands of
Spenser Rositano
.
The play gave BC the ball on the Notre Dame side of the field, at the 48. A touchdown now, and it would be a one-score game (assuming a two-point conversion, somewhere along the line).
But again, the Eagles' offense failed to convert the turnover into points. They got as far as the 37, then it all came tumbling down.
"We were moving it pretty well in the beginning and then I think just give a lot of credit to their defense," Amidon said. "They were just making plays and we weren't. That's what it came down to, we weren't making as many plays as they made."
After three plays produced an incompletion, a loss of three yards and a 5-yard gain over the middle, BC faced a fourth-and-8 from the 35. Rettig dropped back to pass and almost immediately was under heavy pressure. The QB went down, attempting to flip the ball forward as he fell and turning the ball over on downs.
"It's frustrating, obviously, with momentum swings like that," Rettig said of failing to convert on the two Notre Dame turnovers. "We shot ourselves in the foot a whole bunch. Dropped passes. Pass [protection] broke down a little bit a couple times there. Just execution. It's not anyone in particular. Just as an offense as a whole, we've gotta focus when we get closer to the end zone."
"A couple of times we kept the ball 10, 12 plays and we came away with nothing," BC head coach Frank Spaziani said. "So we have to make plays."
Though the scoreboard didn't show it in the end, the defense struggled mightily to stop the Notre Dame offense. Especially on third down.
The Irish were immaculate on their third tries. Golson & Co. converted all eight of their third-down attempts in the first half, and the first two of the second half, to start 10-for-10.
"Whenever you're facing a national-caliber team you know they're going to execute," Divitto said. "And that's something that we've struggled with this year, we get them into third-and-long and we just can't get off the field.
"The reason we won the Maryland game was we got off the field on third down. Today we couldn't do that until later in the game, and it was already too late."
BC's first stop on third down came with 3:52 left in the third quarter, when the home team trailed 21-3.
Notre Dame finished 11-for-14 on third down.
"You have to play good defense to win," Spaziani said. "And you certainly have to play good third-down defense. Some of it was our execution. Some of it was their execution. Some of it was their improvisation. We have to make some plays.
"When we have the opportunity we have to make our share of plays. When you're losing, you're not making your share of plays."
That has been the story of BC's season. When the chips are down, the Eagles just don't seem to have the cards.
Jack McCluskey is an editor for ESPN.com and a frequent contributor to ESPNBoston.com. Follow him on Twitter @jack_mccluskey.