December, 19, 2013
Dec 19
9:47
AM ET
By
Brian Campbell
| ESPN.com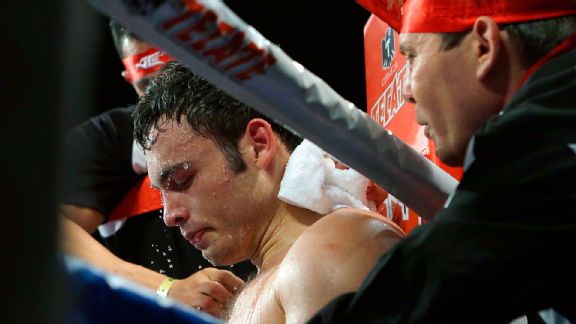 AP Photo/Reed SaxonFacing super middleweight titlist Carl Froch would be a good test for Julio Cesar Chavez Jr.
In the spirit of the holidays, ESPN is celebrating the season with our own "12 Days" wish list of the fights we want to see most, regardless of promotional or other entanglements. Keep checking back over the coming days to see new fights revealed, discuss our choices or even suggest some of your own in the comments section or via Twitter using #ESPN12Days.
When it comes to the matchups we openly pine for, sometimes the allure of what's at stake can be trumped by the personalities involved and the expectations of what sort of fireworks the fight could produce.
There might not be a single matchup that best describes this equation than super middleweight titlist Carl Froch of England and Mexico's Julio Cesar Chavez Jr., with the good news being it's one that could be very likely at some point in 2014.
Sure, Froch's pair of 168-pound titles would be a worthy prize to compete for. But they are almost an afterthought when paired with the idea of two unrelenting fighters with huge, passionate fan bases squaring off on the biggest stage.
The titles in this case would be trivial in large part because Chavez (47-1-1, 32 KOs) is, in many ways, a fighter without a division or a solidified identity. His fluctuating weight remains a question mark, as does his commitment to the sport.
But whether or not Chavez, 27, proves to be simply the son of a famous fighter with the same name or a fighter closer in class to the stubborn war horse which once had middleweight champion Sergio Martinez seconds away from extinction, each visit to the ring is a must-see event.
From Chavez's sought after intangibles of name value, knockout power and a rock-solid chin to his spoiled-rotten antics and multiple brushes with controversy, he knows how to entertain. And pairing him against one of the sport's top trash-talkers in Froch who, it just so happens, brings his own mix of power, chin and no-fear style, would bring out the best in both fighters.
What makes the matchup more intriguing, even in light of Chavez's question marks, is that Froch (32-2, 23 KOs), 36, is dealing with a newfound set of his own. Entering his November bout with unbeaten George Groves as one of the sport's pound-for-pound elite, Froch's stock took a hit following his controversial stoppage victory, in which he was floored early and showed his age throughout.
Froch has been very open about his want to secure one or two more "superfights" before walking away and calling it quits. Setting up two runaway trains filled with excess baggage on a collision course for each other has never sounded so good.
So fire up the prefight documentary shows that are sure to be certified gold with these personalities involved and buckle up on fight night. Both guys have shown a flair for the dramatic late in a fight and neither knows how to take a step backwards.