August, 27, 2013
8/27/13
3:34
AM ET
By
Rodrigo Azurmendi
| Special to ESPNDeportes.com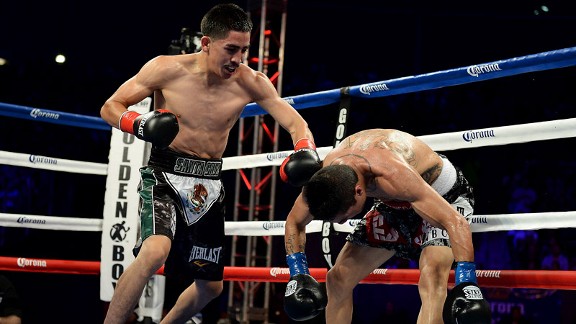 Harry How/Getty ImagesLeo Santa Cruz didn't expect a quick finish of Victor Terrazas, but struck when he had his chance.
CARSON, Calif. -- The Stub Hub Center fits Leo Santa Cruz like a glove ... a boxing glove, that is.
The former bantamweight titlist added a junior featherweight belt to his trophy case, once again making personal history here in Carson, where he defeated Victor Terrazas by third-round TKO.
Santa Cruz, a Mexican native who now lives in Rosemead, Calif., has had his heart set on a title from the WBC -- the sanctioning body based in Mexico City -- for quite some time.
"This was my dream as a child, and I started boxing when I was eight," Santa Cruz said. "This was my favorite belt, and now that I have it I can't believe it."
Santa Cruz was especially pleased to earn the title in his adoptive home of Southern California.
"There's a lot of joy for me because my home is here," Santa Cruz said. "To me, it's a great emotion because of the fans support."
Cruz was surprised at how quickly the end came against Terrazas.
"I didn't think it was going to be that easy," he said. "I thought it was going to be longer and that we would go the distance, but I saw that he couldn't stand the pressure and that I was hurting him."
The key moment came in the second round, when Santa Cruz's punches hurt Terrazas' right eye. That's when Santa Cruz knew he had to go all-in.
"In the second round, I saw his eye was swelling," he said. "When I saw him, I said to myself, 'I have to attack him to get this over with.'"
Santa Cruz said he would like to return to the ring as soon as possible, and didn't discount the idea of facing Jhonny Gonzalez, who stunned Abner Mares in a first-round knockout win to take back his featherweight title in the card's main event.
"The faster, the better," Santa Cruz said of his return. "If they tell me next month, I'm ready. Hopefully I can fight again this year. I would be willing to fight [Gonzalez] if my promoters say so. I don't say no to anyone."
Santa Cruz said that he would defend the title once or twice more before moving up in class again.
Golden Boy Promotions CEO Richard Schaefer said after the fight that Santa Cruz could return to the ring as soon as November, on an unspecified card.
August, 20, 2013
8/20/13
4:26
PM ET
By
Brian Campbell
| ESPN.com
So let's be real with each other about boxing in 2013:
Like a no-hitter through seven innings, this year shouldn't be celebrated too early. Can't be too careful to avoid jinxing anything to do with this cruel and unpredictable sport. But ... this year has been crazy. Amazing. Riveting. Scintillating. And it just seems to keep getting better with every week.
[+] Enlarge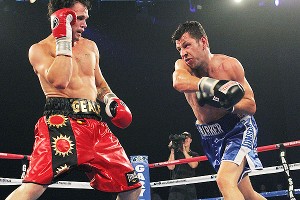 Courtesy of Alex Ridley.Saturday's fight between Daniel Geale and Darren Barker continued this year's trend of barnburners, stirring something unfamiliar in fight fans: hope.
From the blockbuster cards to the low-profile shows featuring prospects and journeymen, it isn't just that there has routinely been something to talk about at the proverbial watercooler. The talk has even been
positive
.
Even now, in the midst of a promotional cold war I personally abhor and will never accept as simply "Well, that's just the way it is," we are getting the fights we want -- and they are actually living up to expectation.
Fans have been able to enjoy at least five legitimate candidates for fight of the year (and that was before Saturday's Darren Barker-Daniel Geale scrap), including at least two -- Timothy Bradley Jr.-Ruslan Provodnikov and Mike Alvarado-Brandon Rios II -- that produced enough drama and savage artistry to be considered on par with the best of this century.
But it goes beyond that. We've also seen breakout campaigns from exciting and marketable action fighters such as Gennady Golovkin, Lucas Matthysse, Adonis Stevenson and Sergey Kovalev. We've seen the development of young stars who appear more than ready to be labeled "next." (I'm looking at you, Abner Mares, Adrien Broner and Mikey Garcia.) And we've seen more than the typical number of under-the-radar fights (think Omar Figueroa-Nihito Arakawa and Sakio Bika-Marco Antonio Periban) deliver unexpected fireworks.
What this all amounts to, especially with a jam-packed final five months already on the slate, with fight-of-the-year hopefuls and big-name pairings jumping off the
schedule
, is two-fold.
First of all, and probably most important, the sport is relatively healthy again. Go ahead, bring on the backlash to that comment. And don't forget to mention the lack of a central governing body, too many titles, far-from-ideal drug-testing protocols and, oh yeah, that whole promotional catfight. But all things considered, boxing appears to be moving in the right direction after such an up-and-down decade.
And it clearly had been a rough ride for the sport since 2004, when a clear and distinct changing of the guard began to take place. There was the sudden crumbling of the heavyweight division, with the retirements of Lennox Lewis and Vitali Klitschko, not to mention the fallout of two knockout losses in a 17-month span for current champion Wladimir Klitschko. You also had a group of fighters who had become the face of the sport over the previous seven or eight years -- Oscar De La Hoya, Roy Jones Jr., Shane Mosley, Felix Trinidad -- hit career snags as losses and the impact of age began to erode their elite status.
Every valley, however, eventually leads back to another peak, and boxing rebounded in a big way with a banner year in 2007. In fact, it was the sport's last truly great year.
You had the anchor of the highest-grossing fight in history between Floyd Mayweather and De La Hoya. There were marquee bouts between unbeaten fighters such as Mayweather-Ricky Hatton, Kelly Pavlik-Jermain Taylor I and Joe Calzaghe-Mikkel Kessler. There also was a run of memorable action fights: Miguel Cotto-Mosley, Paul Williams-Antonio Margarito, Cotto-Zab Judah, Juan Manuel Marquez-Marco Antonio Barrera and the first two Rafael Marquez-Israel Vazquez wars. (And let's not forget about the Bika-Jaidon Codrington "Contender" finale and the two Michael Katsidis fights with Graham Earl and Czar Amonsot.)
Seriously, take inventory of the past 10 years or so in boxing and you simply won't find a more action-packed and memorable year than 2007 ... until now. And that leads to my second point.
The buzz of excitement surrounding the sport in 2013 has been a virtual runaway train. For the first time in many years, boxing's traditionally cynical group of fans and experts have grown to expect things to go their way. This is a huge departure from just a year ago, when a flurry of injuries and drug suspensions wiped out nearly a complete summer of entertaining fights.
So what was the tipping point? Ironically, it was a date that was supposed to have been representative of the type of greed that continually has plagued the sport in recent years. With both HBO and Showtime airing competing blockbuster cards on Sept. 15 -- which pitted a Sergio Martinez-Julio Cesar Chavez Jr. PPV against a cable show headlined by Canelo Alvarez -- a night that was expected to further darken the sport's black eye somehow had the opposite effect.
Instead, the fighters on both cards applied the black eyes to each other. The momentum of the evening then spilled into a memorable three months to close out the year, highlighted by Marquez-Manny Pacquiao IV, and it hasn't slowed yet.
The fact that 2013's biggest fight to date -- Mayweather's May 4 win over Robert Guerrero -- featured a poor promotion, lackluster sales and a rather unexciting in-ring result, yet still hasn't killed the buzz, is proof that this will be a year to remember.
And think about this for a second: The next few months, we expect, will bring us continued excitement from the likes of Danny Garcia-Lucas Matthysse, Bradley-Marquez, Alvarado-Provodnikov and Pacquiao-Rios. But what about Mayweather-Canelo? What if this fight -- the one most experts continue to downplay as likely one-sided, with an almost predetermined result -- ends up bringing the kind of action, drama and excitement on par with what we've seen throughout most of 2013? What happens next?
It's crazy to think about, of course. But for a sport that is regularly labeled as cursed to yield a year so sublimely fun to be a part of, I'm not going to bet against it.
I have to admit, it's kind of weird going into a season of big fights and actually expecting them to live up to expectations. Don't lose heart -- this is really how it's supposed to be. Let's savor the flavor while we can.
May, 15, 2013
5/15/13
7:56
AM ET
By
Salvador Rodriguez
| ESPN.com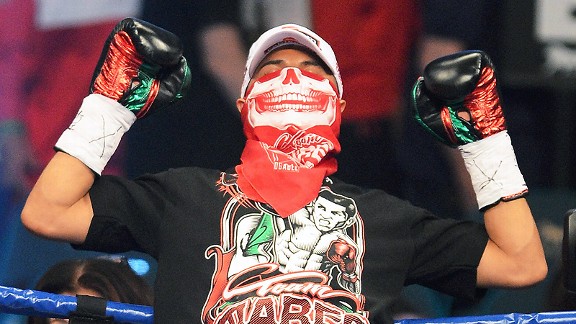 Ethan Miller/Getty ImagesAbner Mares won't rule out a move back to 122 pounds if it means making the best fight available.
MEXICO CITY -- With his shiny green championship belt in hand, sunglasses perched on his nose and an ear-to-ear smile on his face, junior featherweight titlist Abner Mares arrived in this city on Monday fresh off his May 4 defeat of Daniel Ponce De Leon -- and for the first time as a three-division champ.
A native of Guadalajara who has been adopted by Mexico City, Mares spoke to ESPNDeportes.com about his future, the possibility of challenging for another belt and whether he might return to his former weight class to settle old scores.
"I want to offer good fights," he said. "Where there are good fights, I'll be there -- either at super featherweight, or even at featherweight. ... I'm even willing to go down again to super bantamweight to face Nonito [Donaire] or Guillermo Rigondeaux. Where I'm offered a good fight, I'll be there."
Mares was reminded that Rigondeaux outclassed Donaire as no one had since Donaire's second professional fight (his only other defeat), and that the Cuban is a difficult matchup and a largely non-marketable fighter.
"I am aware that styles make fights," Mares said. "Nonito tried at times to figure out Guillermo's style, but Nonito lacked the fire that I think I have. I have the fire, I know that I can beat Ringondeaux, and that's why I'm challenging him."
Mares' immediate plans' are a vacation in Acapulco and Cancun with his family. But looking further ahead, he didn't close the door on a potential fight with Donaire, who had been expected to continue campaigning as a junior featherweight after his defeat. Mares, for one, believes that Donaire might reconsider.
"I think Nonito is more interested in the fight than before," Mares said. "Now I'm the champion, and he's not. He lost, and people know that I was asking for that fight. He also said he wanted to fight me, but you never saw that interest from his promoters."