July, 14, 2013
7/14/13
12:27
PM ET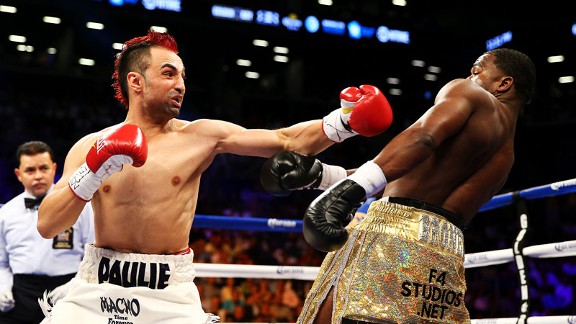 Al Bello/Getty ImagesCould we see a Paulie Malignaggi and Adrien Broner rematch sometime in the future?
Paulie Malignaggi, many smart and studied boxing folks said leading up to his June 22 clash with Adrien Broner, was quite likely to get steamrolled into oblivion at the Barclays Center. Broner -- the younger, stronger, faster fighter -- would be a bridge too far for the Brooklyn-bred Malignaggi, who turns 33 in November. The fight itself would be simply a formality, a torch-wresting exercise, they reasoned.
It didn't play out that way, as is often the case.
Then-welterweight titlist Malignaggi didn't disgrace himself in the least and proved he wasn't in over his head against a man tabbed by some as a leading contender to be the sport's top performer within a few years. One judge, Tom Miller, was taken with Malignaggi's showing, especially his volume edge, and scored the fight for the vet 115-113. He was outvoted by Tom Schreck (117-111) and Glenn Feldman (115-113), who both decided Broner's power edge spoke louder than Paulie's busy work.
In the week after the bout, Team Malignaggi litigated the scrap, making their case that Broner didn't win and in fact was exposed as an overhyped attraction, and pushed for a rematch.
Malignaggi adviser Anthony Catanzaro makes some solid points when he lobbies for a rematch:
It was a success at the gate, with 11,461 fight fans showing up at Barclays Center to take in the card that night, he pointed out. Also, the headline clash drew a peak of 1.3 million viewers during the broadcast on Showtime, he noted. Since Showtime began tracking individual fights in 2009, Broner-Malignaggi is its second highest-rated bout, trailing only Austin Trout's victory over Miguel Cotto in December. This being the boxing
business
, that the fight did well in that arena looms large. Money and eyeballs were generated, which has to factor into a decision to do it again.
"It was a very entertaining fight that Paulie won, so why not?" Catanzaro said to NYFightBlog.
Barclays and Nets CEO Brett Yormark told me he thought Malignaggi won as well, so Catanzaro has good backup to point to.
I'd be curious to see what Malignaggi could and would do differently in a sequel. From my semi-expert seat, I think he'd have to at least consider factoring in that many, if not most, judges prize power over volume and might have to alter his strategy to attack the body and sub in more head shots. That could open him up to fire and potentially make a more explosive, and less tactical, bout.
What are your thoughts?
July, 4, 2013
7/04/13
9:01
AM ET
Back in July 2010, when the people from the Brooklyn arena that hadn't been built yet, Barclays Center, announced they were getting into boxing, with an exclusive deal with California-based Golden Boy Promotions, it's fair to say the reaction wasn't shock, awe and optimism across the board.
After all, the topic was boxing, that much-maligned throwback sport whose best days were in the rearview mirror of the Camaro. A niche sport, they sniffed, relevant once or twice a year -- and probably for not that much longer, once Floyd Mayweather Jr. and Manny Pacquiao packed it in.
I confess, I had doubts myself, whether the NYC region would sustain the demand for regular dates at the Barclays Center. At the time, I recall asking Brett Yormark, the CEO of Barclays Center and the
Brooklyn Nets
, if the arena would have a micro-arena built, a theater to accommodate 5,000 or so fans, max. The implication of my question was clear: I don't think you can find enough boxing fans to fill up the barn on a regular basis. He assured me then that there would be no mini arena and that the fans would come.
Fast forward to today; I admit my skepticism was misguided. Barclays and Golden Boy has put on four boxing shows, the most recent one taking place on June 22, topped by a Paulie Malignaggi-Adrien Broner welterweight tussle. The attendance for each event has been healthy, and
11,461 people watched Broner
take a split decision from the Brooklyn native.
I sat down last week for a chat with Yormark and asked him to reflect on the journey, getting boxing back to being more of focal point, not just a side dish, in the region.
"In some respects I feel vindicated," he said. "We've been able to do exactly what we hoped for, and more, and that's to bring an incredible sport back to Brooklyn, where it has a heritage, and have it flourish. And in less than a year we've been able to do that."
The grumblers, the tear-down artists, were out in force at the start. Boxing debuted on Oct. 20, 2012 at Barclays, and the "I told you so" crowd noted that they saw ticket markdowns and package deals available everywhere in the weeks leading up to opening night. They cited that as proof the endeavor would fail. In fact,
audience response has been quite respectable
, Yormark said. The
first show
drew 11,112; the second, on
March 9, 2013
drew 12,293; the third,
on April 27
, drew 13,048. All the main events and select undercard bouts were televised on Showtime.
Critics mumble under their breathe that those figures represent a large dose of "comps," or freebies, to paper the house. Not so, Yormark told me.
"We did not comp," he said. "We're not comping. There are very few comps. The first two fights we discounted probably a little more than we wanted to, but we have not comped. We don't believe in comping here. One of the things we had to learn, we had to learn price it right, and in the last two fights, I think we really priced it right."
Follow Woods on
Twitter here
.