August, 20, 2013
8/20/13
2:56
AM ET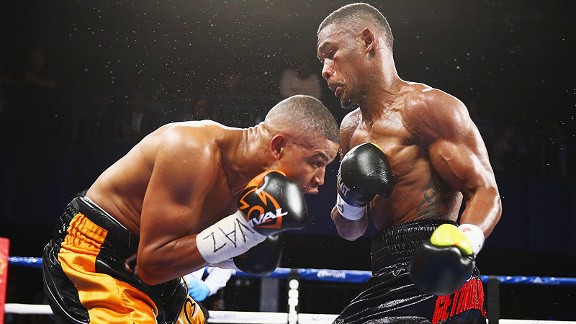 Al Bello/Getty ImagesDaniel Jacobs, right, jumped on Giovanni Lorenzo in the third to score the stoppage win on Monday.
Daniel Jacobs appeared to be back in peak form in the main event at the Best Buy Theater in Manhattan on Monday night.
In the third, he hurt opponent Giovanni Lorenzo with a counter right, followed up with flurries and had Lorenzo pitching face-first to the mat after a left hook and sharp right-hand follow. The ref gave a count and waved his hands, signaling the end for Lorenzo at 2:05 of the round.
"Once he hit me with a good left hook, I said, OK, let's go," Jacobs said after the win.
That clash, and the rest of a six-bout card, were put together by Golden Boy Promotions, which has become a fixture in N.Y., mainly in Brooklyn, at Barclays Center.
Jacobs, who was on death's door when a tumor wrapped itself around his spine in 2011, seemed to be all the way back to his former self in the first, landing a stiff right cross, which the crowd loved. Jacobs sometimes moved laterally, sometimes straight ahead, and was a bit busier than Lorenzo in the second. A nick formed under Jacobs' left eye, but he didn't seem bothered.
In Round 3, Jacobs knew he had buzzed Lorenzo, even if the crowd didn't. He hopped on him, got busy and went into nasty mode.
Jacobs, a Brownsville native and Park Slope resident, went to 26-1 (23 KOs), while Lorenzo, a Dominican-born Yonkers resident, dropped to 32-6 (24 KOs).
August, 19, 2013
8/19/13
1:51
AM ET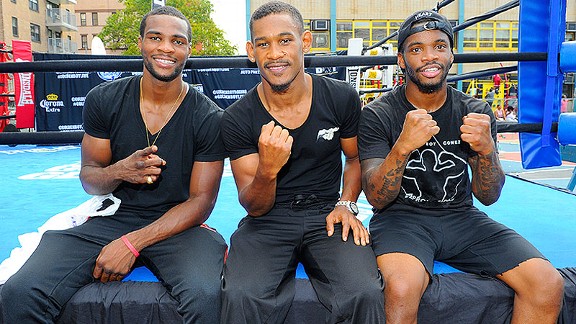 Rich Kane/Hoganphotos/Golden Boy PromotionsDanny Jacobs, middle, Marcus Browne, left, and Eddie Gomez all take their next steps on Monday.
Danny Jacobs and Giovanni Lorenzo both made weight Sunday afternoon, so it looks like we're a go for the Monday clash between the middleweights at the Best Buy Theater in New York City.
Jacobs (25-1, 22 KOs), 26, the Brownsville native who kicked cancer's tail in 2011 and is nearing the cusp of a title shot, needs to get past perennial challenger
Lorenzo (32-5, 24 KOs), a 32-year-old Dominican-born Yonkers resident
.
Check out
this video I shot of Jacobs
, back in October 2012, in which he talks about growing up in Brownsville, which has a rich boxing history, boasting alumni such as Mike Tyson, Zab Judah, Floyd Patterson and Riddick Bowe. "It's not a place you want to grow up, but it makes you ... Brownsville made me who I am today," Jacobs said.
Prospect Eddie Gomez (14-0, 9 KOs), of the Bronx, will get a step-up fight against Steve Upsher Chambers (24-2-1, 6 KOs) on that card, and Marcus Browne (5-0, 5 KOs) seeks to continue his rise against Robert Hill (1-1, 0 KOs), a Louisiana resident who we expect will not see Round 2 in his third pro tussle. Browne, a Staten Islander, has stopped all of his foes and has gained more buzz with every outing. He looks to finish, not dawdle to "get experience," and local fight fans have begun to notice and spread the word.
Follow Michael
Woods on Twitter
.
August, 13, 2013
8/13/13
8:30
PM ET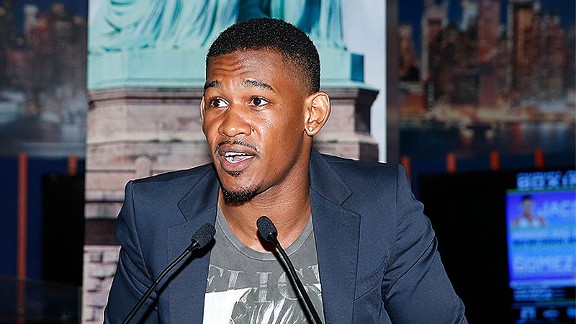 Will Hart/Hoganphotos/Golden Boy PromotionsDanny Jacobs has the opportunity to win a world title in his hometown of Brooklyn, New York
Danny Jacobs will headline an Aug. 19 show in New York, and if he gets a "W" in that one, chatter will accelerate about his next opponents. In the middleweight division, possible targets will include people near and dear to the Brownsville-born boxer. For starters, Peter Quillin, a fellow Golden Boy fighter, holds a middleweight title. Jacobs and Quillin are friendly -- would that preclude Jacobs from taking a fight with Quillin?
"I will fight anyone in the world if the opportunity presents itself," Jacobs told me. "This is a business. It's in the hands of my manager and the promoter. I'm not out to call anyone out or make a whole scene."
So is that a yes, you would fight Quillin? Jacobs chuckled.
"It doesn't matter what champion they put in there with me, I'm ready for anyone," he said.
Curtis Stevens, who also grew up in Brownsville, is enjoying a resurgence. His finisher's instinct was on display on Aug. 3 when the took out Saul Roman in the first round in Uncasville, Conn. Would Jacobs fight his fellow Brownsviller?
"Me and Curtis Stevens, we are kind of like family," Jacobs said. "My girlfriend is his cousin. We have a child together. Anyone else is a possibility. Sergio Martinez, Matthew Macklin, Quillin ... as long as [Jacobs advisor] Al Haymon says it makes sense."
July, 24, 2013
7/24/13
4:01
PM ET
The news that he was headlining the first Golden Boy show at the Best Buy Theater in Manhattan, on Aug. 19, didn't drive Danny Jacobs to tears ... but it came darn close.
The 26-year-old middleweight contender will meet Giovanni Lorenzo, a perennial title challenger, in the first of 24 cards that will run on Fox Sports 1 on Monday nights. When Jacobs (25-1 with 22 KOs) learned that he would be topping the bill, he held off tears and recalled his lowest moment a few years ago, when cancer had him on the verge of a TKO.
"It was a couple days after my surgery," he said, referring to the procedure that removed a tumor on his spine in May 2011. "I was in bed, I couldn't move my legs at all, I was about 230 pounds, I was completely down. I started crying. I felt like my life was over, that I'd never be able to box again, that I'd never be able to take care of my child the way I wanted to. Fast forward to today, it's so amazing."
Jacobs did interview after interview at a press conference held at Planet Hollywood on Tuesday to trumpet the card and the series. He had to pinch himself, make sure it wasn't a dream. "I come from Brownsville! What? We don't ever get these opportunities! I want to make the best of the opportunity."
I admit, I didn't think it was any kind of sure bet when Jacobs said he was coming back to boxing after the cancer fight that he would ever get past an inaugural return to the ring. Guess what? He didn't know that he would either. "I didn't know how I was going to perform," he admitted. "It was 50-50. I could have had a frail chin, or not the same power I had before." No worries; he's stopped all three of his foes since his return.
Being a smart soul, he knows not to get ahead of himself and look past the durable, Dominican-born Lorenzo (32-5 with 24 KOs; age 32). But yes, Jacobs admits, he has allowed himself to drift off and fantasize about winning the middleweight crown at Barclays Center.
"I do think about that opportunity," he said. "Golden Boy CEO Richard Schaefer said when I fought for a world title, I'd win it at Barclays. I believe that. Whoever they put in front of me, it will be historic."
Follow Woods on Twitter
here
.
April, 24, 2013
4/24/13
11:59
PM ET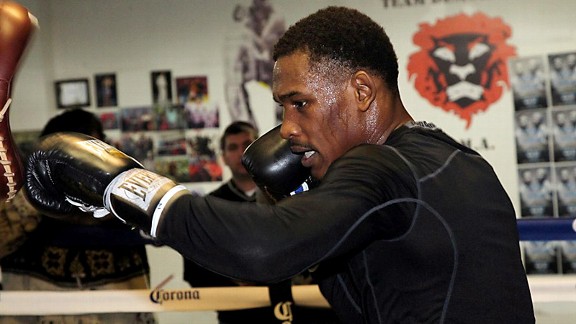 Tom Casino/ShowtimeAfter a recent scare, Danny Jacobs was determined to be cancer-free and ready for Saturday's fight.
Danny Jacobs, the middleweight prospect from Brownsville who will fight Saturday night at Brooklyn's Barclays Center against 36-year-old Keenan Collins (15-7-3, 10 KOs), of York, Pa., felt a lump in his back a few weeks ago and an alarm bell went off. A tumor on his spine nearly killed the 26-year-old Park Slope resident two years ago.
So about a week ago he went to see a doctor, who did tests and came back with the immensely gratifying news: no cancer. The lump arose just from the stress of training, Jacobs (24-1, 21 KOs) told NYFightblog on Tuesday at the Judah Brothers Gym in East New York, during a press event to hype Saturday's Showtime card topped by Danny Garcia-Zab Judah.
"I'm glad I got it checked out; now I can go into the fight with a clean mind," said Jacobs, who has been working hard to get his Get in the Ring Foundation -- which targets cancer, childhood obesity and bullying -- off the ground.
I asked Jacobs, does the possibility of a recurrence stick in your head? "Every day," said the man who was diagnosed in May 2011, with admirable and appreciated candor. "Every day."