November, 22, 2013
11/22/13
9:46
AM ET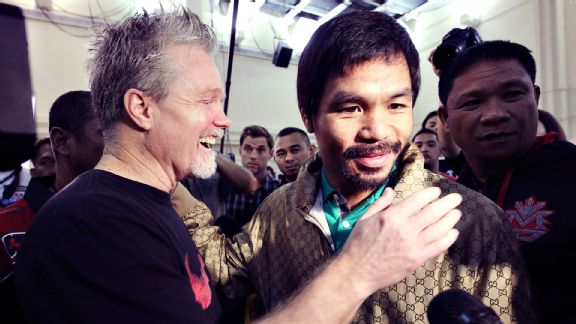 Chris Farina/Top RankFreddie Roach expects his fighter, Manny Pacquiao, to receive little resistance from Brandon Rios.
MACAU -- Brandon Rios and his trainer, Robert Garcia, think that Manny Pacquiao is in decline. It's an assertion that brings a snort of derision from Pacquiao's trainer, Freddie Roach.
"When does he watch my guy? Does he see my guy train every day? I don't think his opinion really counts," Roach said of Garcia in Macau on Friday. "I watch my fighters carefully. If Manny had shown any signs of slippage in training camp, I'd be the first person to tell him it's time to go. It's not time yet, that's for sure."
Pacquiao, Roach says, knows full well that he has to be impressive against Rios in the Venetian Macao's Cotai Arena on Sunday morning (Saturday night in the United States), particularly as he is coming off two straight losses -- even if one of those losses, a decision defeat against Timothy Bradley Jr. in June 2012, was highly disputed.
"Being impressive is not winning a close decision," Roach said. "Being impressive is winning by knockout. He needs to win in good fashion, and the best way he can do that is by knocking the other guy out."
That's a scenario the trainer has no trouble envisioning.
"I don't feel like Brandon Rios can go the distance with the talent of Manny Pacquiao," Roach said. "I'm very confident about that. It's a world-class fighter going up against a guy who's maybe a journeyman at best."
Of course, Pacquiao was also determined to look impressive against Juan Manuel Marquez in his most recent outing, to prove once and for all that he was the superior fighter after three incredibly close battles between the two. That resulted in his being overly aggressive and walking into a sixth-round counter right hand that knocked him cold. Isn't there the danger that it could happen again?
"Sure, it can lead to that, but I think he learned his lesson last time," Roach said of Pacquiao. "He tried to finish Marquez and paid for it. I don't think we're fighting a guy like Marquez, though. Marquez is one of the slickest fighters of all time, let's face it. They had four great, close fights together. I don't think we're in against Marquez. This is not the same class as Marquez. It's not the same ability as Marquez. I don't feel this guy. He's too slow."
Indeed, Roach is doing little to sell the notion that fans should buy the pay-per-view to watch an enthralling, close battle.
"He won a title at 135 pounds; he was losing the fight eight rounds to zero, and he landed a lucky punch and got the win," Roach said. "Quality opponents: I don't see him have any. His last fight, he lost [to Mike Alvarado]; and then my guy Ruslan Provodnikov destroyed [Alvarado].
"I hope they're overconfident, because Manny's going to destroy this guy."
November, 22, 2013
11/22/13
8:53
AM ET
MACAU -- While Manny Pacquiao's immediate focus is, of course, on this weekend's contest with Brandon Rios at the Venetian Macao, his thoughts are inevitably also with his countryman in the Philippines, who are still suffering from the ravages of Typhoon Haiyan, which plowed into the country on Nov. 8 and caused at least 4,000 deaths.

However, far from being a distraction, the crisis is, says Pacquiao, serving as stimulation during his preparations.

"I am more motivated for this fight, to win this fight because of what happened in the Philippines," he said this week. "My countrymen, I want to make them happy. To bring honor to my country."

His coach, Freddie Roach, agrees.

"I think the typhoon is motivation for Manny, because you know what? We thought about going to ground zero, and we were talking to the camp about it, and we discussed it and we agreed that if anybody goes, the camp will go," he said in Macau on Friday. "Because that's what we did in Baguio with the typhoon up there [in 2009]. But this time the fight was getting too close, and we decided Manny winning the fight was the best thing we could do. Manny has sent a lot of money down there, a lot of food down there, he's sent his people down there, the congress people who work for him. He's done everything possible that he can do, and his goal now is to win the fight for his people. That's what makes him tick."

Meanwhile, Sands China Ltd., which owns the Venetian Macao, has announced it will contribute to Haiyan relief efforts. The company has already made a $100,000 donation to the Macau Red Cross, which it will follow up by donating 100 percent of the gate receipts from its on-site closed-circuit feed and then matching that figure with an additional contribution. Red Cross donation boxes will also be placed throughout CotaiArena during the fight card.
November, 19, 2013
11/19/13
10:24
AM ET
MACAU -- Fight week allows observers only the briefest of glimpses, through slightly open windows, behind the curtain of boxers' camps. Sometimes, though, even those glimpses are enough to allow for a reasonable inference of conditions and contrasts in the rival corners.
Brandon Rios elected not to work out as usual on Tuesday morning, but he and his team hung out as promotional mate Evgeny Gradovich went through his paces, and while "The Russian Mexican" approached his business with a quiet diligence, Rios and friends, including trainer Robert Garcia, were more ebullient.
"You're going to hear all kinds of things from this guy," said Lee Samuels, PR maven for Rios promoter Top Rank, shaking his head with a wry smile. "Words, noises, everything."
Most of those words, Rios himself might have observed, began with the letter "F." He says he learned from watching himself on HBO's "24/7" that he says those words a lot. But amid the colorful language, there was a lot of joking, laughing, pulling of pranks and, at random intervals, Rios dropping to the floor to do push-ups -- the result, he says, of him losing a bet to strength and conditioning coach Alex Ariza, the details of which seem hazy even to the bet's apparent winner.
Ariza concedes that the uninhibited, free-flowing atmosphere in Camp Rios is somewhat different to the one that surrounds his most recent and most famous employer, and that contrast was soon on display after the Oxnard, Calif., crew exits and Manny Pacquiao appears, greeted by a throng of cameras and microphones.
If Rios is completely devoid of filters, Pacquiao's utterances are sifted through a series of them -- to ensure accuracy of language, to avoid any semblance of controversy. Where Rios is voluble and loud, Pacquiao is reticent and quiet.
As he wraps his hands in readiness for his own workout, Pacquiao listens to each question posed to him by a small gaggle of reporters, takes each inquiry on board and seemingly rolls it around in his head for a few seconds, then offers a concise and suitably sanitized response.
And yet, for anyone looking for signs of intrigue, even PacMan's considered answers showed hints.
Asked what he thought about Garcia and Rios suggesting their best chance would come in the later rounds, Pacquiao offered only that such things were easy to say, and he smiled when it was suggested to him that it wouldn't necessarily be easy for his opponent to survive into those later rounds. Prompted to describe his foe's most dangerous attributes, he suggested that Rios might be better served to say less and save his talking for the ring. And when it is pointed out to him that Rios has said he hopes to send Pacquiao into retirement, the Filipino icon responded that only God can tell him when to retire. "Brandon Rios," he said, "is not greater than God."
It wasn't exactly Mike Tyson grabbing his crotch and launching into a profanity-laced tirade, but by Pacquiao's gentle standards, those were some major burns. And there are enough subplots to the contest -- Ariza's somewhat acrimonious departure from Team Pacquiao and subsequent partnership with Rios;
the burgeoning rivalry between Garcia and Pacquiao trainer Freddie Roach
; and Rios being captured on camera a few years ago apparently mocking Roach's Parkinson's disease (and don't think Pacquiao, for one, has forgotten about that) -- to suggest that maybe, just maybe, there is a genuine needle between the two sides.
Sometimes, opposites attract. Sometimes, they're just opposites. And when opposites meet in the ring, the result is often an intriguing and even explosive clash. Boxing fans will be hoping for just that on Saturday night.
October, 6, 2013
10/06/13
1:36
AM ET
Cynics -- and I dare say that is most of the folks who have been covering boxing for any length of time -- took it with two grains of salt when Miguel Cotto and new trainer Freddie Roach both said that they were working on bringing back the "old" Cotto, a left hook-happy hitter who sought and got KOs.
Darned if the trainer and boxer weren't on message, and Cotto, who turns 33 on Oct. 29, on Saturday night looked like a 10-years-younger version of himself who hadn't absorbed back-to-back losses to Floyd Mayweather Jr. and Austin Trout.

Granted, Cotto (38-4) took on just a solid journeyman in Delvin Rodriguez (28-7-3) at the Amway Center in Orlando, Fla. But he made Rodriguez look like a C-grade boxer as he imposed his will and skills, and a rib-battering left hook on the Connecticut-based brawler. In Round 3, two left hooks and a right sent Rodriguez to the mat, and the ref didn't even need to count, calling for a TKO.
The Puerto Rican boxer's stock jumped considerably, and social media buzz on whom he might face next percolated quickly. Maybe a jump to 160, from 154, to fight middleweight champion Sergio Martinez, in favorite old stomping ground Madison Square Garden next spring? Maybe a P.R.-versus-Mexico rumble against Canelo Alvarez, who looked worse against Mayweather on Sept. 14 than Cotto did when he met "Money" in May 2012?
So I'll throw the question to you, readers: Whom do you want to see Cotto fight next?
April, 9, 2013
4/09/13
8:03
PM ET
Freddie Roach -- who was in the corner of Top Rank prospect Zou Shiming, the two-time gold medalist from China, last Saturday in Macau -- chatted with NYFightblog about the faceoff between Nonito Donaire and Guillermo Rigondeaux, which unfolds Saturday night at Radio City Music Hall.

Roach trained the Cuban-born Rigo for a couple fights in 2010, but that boxer has a tendency to switch support personnel more than most people change toothbrushes.

Who does Roach see getting his hand raised in the showdown between the two super-bantam aces?

"I like both guys," he said. "It's a tossup, 50-50. Whoever lands the most clean punches. ... It'll be a thinking-man's fight, with both countering. I see someone being knocked down, I'm not sure which one. I'm down the middle that one."