Boxing:

Julio Cesar Chavez Jr.
September, 29, 2013
9/29/13
3:21
AM ET
By
Rodrigo Azurmendi
| Special to ESPNDeportes.com
CARSON, Calif. -- Not that it came as a surprise, but Julio Cesar Chavez Jr. claimed he was a worthy winner after Saturday's unanimous-decision win over Bryan Vera, and he even ventured that he would have finished his foe before the cards were read had it not been for an injury.
Chavez said he was told by the ringside doctor that he had likely broken his right hand, which Chavez said he injured by "snapping" it on Vera's hand in the fourth round.
"I could not finish him," Chavez said. "I hurt him three times in the fight, and in the 10th round he no longer wanted to fight."
Chavez said that had it not been for the injury, he would have knocked out Bryan Vera.
"In the 10th round I hurt him with a punch to the liver," he said. "I really think I didn't knock him out because I broke my hand."
The judges saw Chavez as the unanimous winner, but the scores -- 96-94, 97-93 and 98-92 -- went against most expert analysis and the majority of fans in attendance at the StubHub Center, who booed the announced results.

"I respect everyone's opinion," Chavez said. "People wanted a knockout -- that was the reason."
According to Compubox numbers, Vera outlanded (176 to 125) and outpunched (734 to 328) Chavez, and also connected with more power shots. But Chavez said he landed the better punches in the fight.
"I give Vera my respect because he's a very seasoned fighter," he said. "But he threw a lot of punches that were not effective, and I definitely won most of the rounds and connected with the best shots."
Chavez said his opponent never had any clearly dominant moments, and he claimed that he had the fight under control.
"Maybe in three rounds he had more activity than I did, but he didn't win a clear round," Chavez said.
Chavez said his recent inactivity -- he hadn't fought in a little more than a year -- played a role in what most would consider a disappointing performance, although he again pointed to the injury as the determining factor.
"It affected me a bit," he said of the ring rust, "but I felt bad. The problem was my hand."
And although he praised the work of his father, Julio Cesar Chavez Sr. -- who was working in an official capacity in his son's corner for the first time on Saturday -- and trainer Vladimir Baldenebro, the fighter said he plans to work again with former coach Freddie Roach.
"Freddie is a great trainer, and I want to continue working with him," Chavez said of Roach, who had manned Chavez's corner in each of the fighter's previous seven bouts. "In the corner [against Vera], my dad was pushing me and helped me a lot."
Chavez pointed to an alteration in his style, which included more movement, as being a key to his win.
"We worked a lot more on moving from side to side," he said. "I think that puzzled Vera because he knew I was going to press. I'll keep working to improve it."
Chavez said he would like to fight again in 2013, although that will depend on the status of his hand. What seems more certain is that, despite his opponent's postfight comments seeking a rematch, Chavez won't fight Vera again.
"I'm ready for a rematch, but I don't need it because I clearly won," Chavez said.
September, 26, 2013
9/26/13
4:03
PM ET
By
Rodrigo Azurmendi
| Special to ESPNDeportes.com
LOS ANGELES -- Bryan Vera is patiently awaiting Saturday's turn against Julio Cesar Chavez Jr., calmly steering clear of the distractions surrounding his opponent's weight.
As late as Wednesday night, the official weight limit for the bout hadn't yet been decided --
it was finally settled on Thursday morning
-- but the Texas native claimed that it didn't affect him at all.
"I'm just trying to ignore it, and that is something that I have been doing from long before," Vera said. "I've been in this game for a long time and I have a great team. They keep me focused and busy. I let them deal with it because I have faith in them. If you have people you trust by your side, you should let them handle it."
Vera said that the situation didn't, and won't, change his routine or diet leading up to the fight. But the last-minute changes to the weight limit (originally contracted at 168 pounds, it's now set for 173) and number of rounds (down to 10 from 12) were enough of an issue that Chavez's side had to give up a six-figure sum, as reported by ESPN.com's Dan Rafael, to persuade Vera's team to go through with the bout.
"Obviously, he will be penalized because this is what we agreed on," Vera said of the 168-pound limit. "It's a slap in the face and a lack of respect, but I have a team and I'll let them handle this."
And there it is: Vera isn't
completely
serene in the face of all the wrangling in the final moments leading up to Saturday's clash. Might the perceived disrespect fuel him on fight night?
"It could give him an extra motivation because of who he's facing," said Vladimir Baldenebro, Chavez's trainer. "He will want to beat us and go away with everything, but tell me, who fights with Julio that doesn't come well prepared? That's why we prepared well, because we know that our rival will come out with everything."
Chavez was in agreement, suggesting that lower-profile fighters such as Vera have a built-in edge when facing him.
"I think that they are the most dangerous fighters because they have everything to win and nothing to lose," he said. "It's the complete opposite for me."
Vera seems to be embracing that nothing-to-lose attitude and has repeatedly claimed that he's ready to take advantage of the opportunity in front of him.
"It's a great opportunity, the biggest of my life and my boxing career," he said. "It could get me closer to a lot of things and open doors for [more] opportunities."
September, 12, 2013
9/12/13
3:20
PM ET
By
Salvador Rodriguez
| ESPN.com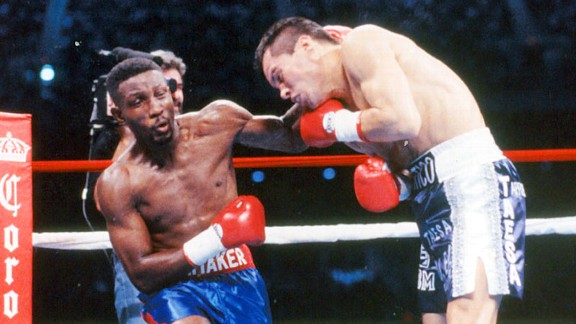 The Ring Magazine/Getty ImagesJulio Cesar Chavez, right, fell short against Pernell Whitaker but helped establish a fight tradition.
LAS VEGAS -- It was exactly 20 years ago this past Tuesday that Julio Cesar Chavez headlined the main event in a Mexican Independence Day celebration at San Antonio's Alamodome, before 60,000 fans, on a mission to become the first Mexican fighter in history to become a four-time champion.
Chavez was unable to achieve the feat, of course, and his draw against Pernell Whitaker in a welterweight title bout that night initiated a series of mishaps for Mexican boxing in the month of September -- although it didn't stop the country's top fighters from becoming staples at stateside shows celebrating the national holiday.
After the Whitaker draw, Chavez went on to star in four more major events around the annual September festivities. He bested Meldrick Taylor in 1994, defeated David Kamau in '95 and fell to Oscar De La Hoya in '98, all in Las Vegas, before bowing out in a technical defeat to Grover Wiley after suffering a fracture hand in 2005 -- Chavez's final fight.
In a gradual, symbolic passing of the torch, it was De La Hoya who took over as the ringleader of boxing's Mexican Independence Day celebrations. He outpointed Hector Camacho in Las Vegas in 1997, the year before his clash with Chavez. And in a blockbuster that remains one of the most significant editions in boxing's Mexico-Puerto Rico rivalry, De La Hoya saw his September winning streak ended by Felix Trinidad in a majority decision in Las Vegas.
"The Golden Boy" renewed his participation in the September ritual in 2002, defeating Fernando Vargas in a battle between Mexican-Americans, but in 2003 he dropped a decision to Shane Mosley in their rematch, and a year later was knocked out by Bernard Hopkins -- all in Sin City.
In 2005, Erik Morales took up the mantle from De La Hoya, but on a night of surprises, 'El Terrible' lost to Zahir Raheem in a duel that was supposed to be a tune-up Morales' second war with Manny Pacquiao. He bounced back with a September triump in 2010, knocking out Willie Limond in Mexico City, and a year later won an interim junior welterweight title by topping Pablo Cesar Cano in Las Vegas.
Also headlining Mexican Independence Day events in recent years, all of them staged on the Vegas Strip, were Marco Antonio Barrera -- against Robbie Peden in 2005 and Rocky Juarez in '06, both unanimous decision wins -- and Juan Manuel Marquez in a spectacular knockout of Joel Casamayor in 2008 and a 2009 points loss to Floyd Mayweather Jr., who has a history of raining on Mexico's Independence Day parades.
And what of the new guard? Last year Julio Cesar Chavez Jr. and Canelo Alvarez brought Las Vegas to a standstill with fights at the Thomas & Mack Center and MGM Grand on the same night. Chavez came up just short of a thrilling last-minute knockout, but lost his middleweight belt and undefeated record to Sergio Martinez. Alvarez, meanwhile, overwhelmed Josesito Lopez in a hail of body punches for a fifth-round TKO. That performance helped lead him to the doorstep of this year's most important night for Mexican boxing -- and maybe the highest-profile night the sport has seen in a decade.
Canelo won't be the favorite on Saturday, but win or lose, he seems poised to become a mainstay as Mexico's next September superstar.
August, 20, 2013
8/20/13
4:26
PM ET
By
Brian Campbell
| ESPN.com
So let's be real with each other about boxing in 2013:
Like a no-hitter through seven innings, this year shouldn't be celebrated too early. Can't be too careful to avoid jinxing anything to do with this cruel and unpredictable sport. But ... this year has been crazy. Amazing. Riveting. Scintillating. And it just seems to keep getting better with every week.
[+] Enlarge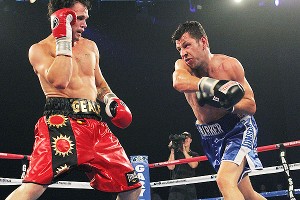 Courtesy of Alex Ridley.Saturday's fight between Daniel Geale and Darren Barker continued this year's trend of barnburners, stirring something unfamiliar in fight fans: hope.
From the blockbuster cards to the low-profile shows featuring prospects and journeymen, it isn't just that there has routinely been something to talk about at the proverbial watercooler. The talk has even been
positive
.
Even now, in the midst of a promotional cold war I personally abhor and will never accept as simply "Well, that's just the way it is," we are getting the fights we want -- and they are actually living up to expectation.
Fans have been able to enjoy at least five legitimate candidates for fight of the year (and that was before Saturday's Darren Barker-Daniel Geale scrap), including at least two -- Timothy Bradley Jr.-Ruslan Provodnikov and Mike Alvarado-Brandon Rios II -- that produced enough drama and savage artistry to be considered on par with the best of this century.
But it goes beyond that. We've also seen breakout campaigns from exciting and marketable action fighters such as Gennady Golovkin, Lucas Matthysse, Adonis Stevenson and Sergey Kovalev. We've seen the development of young stars who appear more than ready to be labeled "next." (I'm looking at you, Abner Mares, Adrien Broner and Mikey Garcia.) And we've seen more than the typical number of under-the-radar fights (think Omar Figueroa-Nihito Arakawa and Sakio Bika-Marco Antonio Periban) deliver unexpected fireworks.
What this all amounts to, especially with a jam-packed final five months already on the slate, with fight-of-the-year hopefuls and big-name pairings jumping off the
schedule
, is two-fold.
First of all, and probably most important, the sport is relatively healthy again. Go ahead, bring on the backlash to that comment. And don't forget to mention the lack of a central governing body, too many titles, far-from-ideal drug-testing protocols and, oh yeah, that whole promotional catfight. But all things considered, boxing appears to be moving in the right direction after such an up-and-down decade.
And it clearly had been a rough ride for the sport since 2004, when a clear and distinct changing of the guard began to take place. There was the sudden crumbling of the heavyweight division, with the retirements of Lennox Lewis and Vitali Klitschko, not to mention the fallout of two knockout losses in a 17-month span for current champion Wladimir Klitschko. You also had a group of fighters who had become the face of the sport over the previous seven or eight years -- Oscar De La Hoya, Roy Jones Jr., Shane Mosley, Felix Trinidad -- hit career snags as losses and the impact of age began to erode their elite status.
Every valley, however, eventually leads back to another peak, and boxing rebounded in a big way with a banner year in 2007. In fact, it was the sport's last truly great year.
You had the anchor of the highest-grossing fight in history between Floyd Mayweather and De La Hoya. There were marquee bouts between unbeaten fighters such as Mayweather-Ricky Hatton, Kelly Pavlik-Jermain Taylor I and Joe Calzaghe-Mikkel Kessler. There also was a run of memorable action fights: Miguel Cotto-Mosley, Paul Williams-Antonio Margarito, Cotto-Zab Judah, Juan Manuel Marquez-Marco Antonio Barrera and the first two Rafael Marquez-Israel Vazquez wars. (And let's not forget about the Bika-Jaidon Codrington "Contender" finale and the two Michael Katsidis fights with Graham Earl and Czar Amonsot.)
Seriously, take inventory of the past 10 years or so in boxing and you simply won't find a more action-packed and memorable year than 2007 ... until now. And that leads to my second point.
The buzz of excitement surrounding the sport in 2013 has been a virtual runaway train. For the first time in many years, boxing's traditionally cynical group of fans and experts have grown to expect things to go their way. This is a huge departure from just a year ago, when a flurry of injuries and drug suspensions wiped out nearly a complete summer of entertaining fights.
So what was the tipping point? Ironically, it was a date that was supposed to have been representative of the type of greed that continually has plagued the sport in recent years. With both HBO and Showtime airing competing blockbuster cards on Sept. 15 -- which pitted a Sergio Martinez-Julio Cesar Chavez Jr. PPV against a cable show headlined by Canelo Alvarez -- a night that was expected to further darken the sport's black eye somehow had the opposite effect.
Instead, the fighters on both cards applied the black eyes to each other. The momentum of the evening then spilled into a memorable three months to close out the year, highlighted by Marquez-Manny Pacquiao IV, and it hasn't slowed yet.
The fact that 2013's biggest fight to date -- Mayweather's May 4 win over Robert Guerrero -- featured a poor promotion, lackluster sales and a rather unexciting in-ring result, yet still hasn't killed the buzz, is proof that this will be a year to remember.
And think about this for a second: The next few months, we expect, will bring us continued excitement from the likes of Danny Garcia-Lucas Matthysse, Bradley-Marquez, Alvarado-Provodnikov and Pacquiao-Rios. But what about Mayweather-Canelo? What if this fight -- the one most experts continue to downplay as likely one-sided, with an almost predetermined result -- ends up bringing the kind of action, drama and excitement on par with what we've seen throughout most of 2013? What happens next?
It's crazy to think about, of course. But for a sport that is regularly labeled as cursed to yield a year so sublimely fun to be a part of, I'm not going to bet against it.
I have to admit, it's kind of weird going into a season of big fights and actually expecting them to live up to expectations. Don't lose heart -- this is really how it's supposed to be. Let's savor the flavor while we can.
July, 16, 2013
7/16/13
4:49
PM ET
By
Rodrigo Azurmendi
| Special to ESPNDeportes.com

LOS ANGELES -- Apparently the breakdown in the working relationship between Julio Cesar Chavez Jr. and Freddie Roach has been a one-sided issue. Roach recently spoke to ESPNDeportes.com about the subject, providing further explanation about the lack of communication between the trainer and his former pupil.

"He called me and asked if I wanted to work with him, and I said, 'I would love to do that,'" Roach said. "But after that, I never heard from him again."

Roach, who is currently working with two-time Olympic gold medalist Zou Shiming for his July 27 fight in Macau, said that he wasn't totally sure about his current status with Chavez. He did, however, all but rule out the possibility of working with the 27-year-old former middleweight titlist for his comeback fight against Brian Vera on Sept. 7 in Los Angeles.

"Sometimes I read the reports on the Internet about us being cool, and others that say that I'm out," Roach said. "I really have no idea about what's going on; he is not being consistent. I wish him the best because he is a great kid. I don't think that I will train him for the Vera fight, because it's such short notice and Julio is not here."

Despite their differences, Roach said he's open to a reunion with Chavez. "I would work with him again, sure," Roach said. "Our first four fights together were really good -- he never said no, he worked really hard and looked outstanding. However, suddenly, he wanted to change everything and be the man in charge, and he fought horribly."

Roach, a 2012 International Boxing Hall of Fame inductee and five-time trainer of the year, offered a succinct take on Chavez's performance in his most recent fight, last September's decision loss to Argentina's Sergio Martinez.

"He almost won by knockout in the end, but it would have been pure luck," Roach said. "You really don't want to fight based on luck; Julio could have easily won that fight if he had trained properly."

Roach also made sure to set the record straight about who would be in charge if he and Chavez work together again.

"If that happens," Roach said, "the very first day he is a no-show, I will go home."
December, 26, 2012
12/26/12
1:05
PM ET
There are two kinds of year-end awards: the ones that matter, and the ones you're about to read.

First, an acknowledgement: Boxing is a deadly serious sport, and just for having the guts to step into the ring, every professional fighter deserves the respect of us know-it-alls on press row.

But it is sometimes a writer's job to provide levity and to playfully mock the brave men (and women) whom he wouldn't dare mock to their faces. In that spirit, enjoy these awards recognizing some of boxing's best, worst and just plain weirdest from 2012:

The Fastest Way to Throw Away All of Your Street Cred Award goes to Floyd Mayweather Jr., whose carefully cultivated gangsta image unraveled when "Money May" went to prison and insisted he couldn't survive without bottled water. I'm pretty sure when Suge Knight did time, he didn't complain about the scarcity of Evian. I can't wait until Floyd meets Dewey Bozella and bends Dewey's ear with tales of how tough his two-month stretch was.

The Male Undergarment Trendsetter of the Year Award goes to Julio Cesar Chavez Jr., who turned heads and burned out retinas with his neon pink briefs on "24/7." It could have been worse, I suppose; at least Chavez never forced HBO to go to the blurcle.

The Most Appropriate Name Award goes to Guy Robb, who was the guy robbed when ref Vic Drakulich called a premature stoppage in his January fight with Joel Diaz. Sure, Robb was behind on points and probably going to lose anyway. But I'm willing to stretch a bit to give him this award, because the alternative involved making a bunch of jokes about Adrien Broner's last name that would have put my editor in an uncomfortable position. Speaking of Mr. Broner ...

The Most Polarizing Figure in Boxing Award was a tight race between Broner and Danny Garcia's father Angel, but in the end, I'm giving it to the Twinkie-tweetin' lightweight sensation. By a nose, it's the "Can Man" over the least popular man in Pakistan.

The Live TV is not for Everyone Award goes to Chuck Giampa, who in his debut appearance as a Showtime analyst in January took us inside the mind of a boxing judge ... revealing it to be an awful lot like going inside Al Capone's vault. Giampa hit for the cycle of on-camera work: The freeze, the repeat-your-line, the four-letter word and the premature cutaway were all represented in his first 10 seconds on the air.

The Wasted Year Award goes to Gary Russell Jr., who, at age 24, followed up his ESPN.com Prospect of the Year campaign by fighting just twice against nondescript opposition. If Russell doesn't show up to collect his award (a realistic possibility, given his recent disinclination toward public appearances), we'll instead give it to his Olympic teammate Demetrius Andrade, in recognition of his racking up five rounds of professional experience this year as a fellow 24-year-old.

The Best Performance of a Bette Midler Song by Two Men About to Fight Each Other Award goes to Kevin Johnson and Tyson Fury, who delivered a stirring piano-and-vocals rendition of "Wind Beneath My Wings" in December. Full-on "Beaches" remake, anyone?

The Best Story About Biting out Another Dude's Eye Award goes to Freddie Roach, as revealed on the outstanding HBO documentary series "On Freddie Roach." Meanwhile, the Worst Investigative Journalism Award goes to the production team behind "On Freddie Roach." Freddie tells this amazing and gruesome story about getting jumped and biting out the eyeball of one of his attackers, a one-eyed man happens to work at his gym and appears regularly on the show ... and we don't get any follow-up questions?

The Most Inspiring Fighter Award (hey, nobody said we couldn't mix in a serious category or two) goes to Paul Williams, who handled his motorcycle crash and subsequent partial paralysis with more positivity than I ever would have thought possible. A runner-up nod to Orlando Cruz, who this year became the first openly gay active pro boxer.

The You Might Want to Stick to Promoting Award goes to 50 Cent, for the quality of his rapping during Yuriorkis Gamboa's ring entrance in December.

The Worst Refereeing Award goes to Luis Pabon, who simply wouldn't get out of the way in February's Marco Huck-Alexander Povetkin heavyweight fight and almost certainly cost Huck a knockout win as a result. Pabon proved to be the fight game's equivalent of a helicopter parent, always hovering, always looking to break clinches before they even happened. Pabon even got clocked by an errant punch at one point -- which is the sort of thing that happens when a ref inserts himself while the fighters are actively attempting to, you know, fight.

The Hottest Twitter Trending Spectacles of the Year Award goes to Jim Lampley's tortoise-shell frames. Better luck next year, Jim Lampley's matte black frames and Jim Lampley's wire frames.

The Please do Your Business Off TV From Now on Award goes to Miguel Vazquez, who put two audiences to sleep in a six-week span late in the year with his action-free decision wins over Marvin Quintero and Mercito Gesta. Vazquez is a skillful fighter who has every right to make a living in the ring. I just don't want to know about it until the fight is over and the result is posted somewhere on the Internet.

The Least Welcome Fight of the Year winner is a toss-up between Christy Martin-Mia St. John II and Wladimir Klitschko-Jean-Marc Mormeck. In the end, I lean toward Klitschko-Mormeck because it lacked the potential for a wardrobe malfunction from a former "Playboy" cover girl.

The Chin of the Year Award would have gone to Mariusz Wach for the beating he endured from Klitschko, but because Wach's performance was tainted by a positive drug test, I'm instead giving this one to all the loyal boxing fans who took it on the chin from the sport's feuding, counterprogramming power brokers on Sept. 15. The fans who support this sport take enough abuse week in and week out without being forced to miss either a Chavez fight or a Canelo Alvarez fight because rival promoters and rival networks need to have their diva standoffs. Hopefully, in 2013 more of the powers that be will consider what's best for the fans and the Chin of the Year Award can be bestowed on an actual fighter.