September, 3, 2013
9/03/13
11:28
AM ET
Name recognition is quite a big deal in boxing. Someone like a Shane Mosley will get opportunity after opportunity, years after lesser lights would have been strongly encouraged to exit the stage and let fresher players have a turn.
[+] Enlarge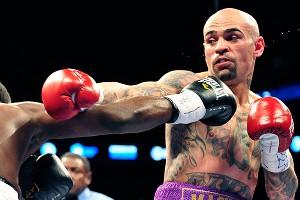 Joe Camporeale/USA TODAY SportsLuis Collazo
Luis Collazo's name doesn't ring the same number of bells as Mosley, but as the former welterweight titlist -- he beat Jose Antonio Rivera in 2005 to snag the crown and had a defense against Miguel Angel Gonzalez before dropping the strap to Ricky Hatton in 2005 -- he is somebody who might be aided by his former exploits while being considered for a title crack.
But another title shot, maybe against interim welter titlist Keith Thurman or "regular" beltholder Adrien Broner, could only come soon if Collazo got past 22-year-old Alan Sanchez on Monday night. And that he did; Collazo looked like the consummate vet he is, using his superior ring generalship and superb stamina to stay fresh until the 10th and final round. After the duration of the welterweight tangle, the Brooklyn-bred Collazo, who lives in Queens, got the unanimous decision win -- scored 99-91, 98-92, 99-91 by the arbiters -- at Cowboys Dance Hall in San Antonio.
Collazo played the calm vet, working behind the jab, adeptly slipping Sanchez's shots in the first and second. A sharp left hand told Sanchez he needed to be aware of the off-stance boxer's backhand in the second frame. Sanchez's body work made Collazo drop his guard to protect the breadbasket some in the third. Collazo upped the aggression in the fifth, yet kept looking energized every minute of each round. A cut on Collazo's left eye didn't look too severe as he sat down after the sixth.
Three- and four-punch combos made Collazo look busy in the seventh. He kept his front foot outside Sanchez's lead foot, cutting the ring off on the kid, making him go where he wanted him to go. His experience was in effect all the way to the final round. Could Sanchez pull off a stunner turnaround KO, we wondered? Nope. Sanchez didn't have the gas left to take the bout to another place, to so much as try and overwhelm the vet with psychotic flurries.
I asked Collazo to assess his performance. "I give myself a B-minus," he said. "Sanchez was tall and long, I couldn't get my shots off the way I wanted. So I had to be smart and take whatever he gave me."
Fox Sports 1 analyst Paul Malignaggi, who has known the winner for many moons and is fond of him, as he admitted on the show, said afterward that Collazo "is on to bigger and better things." He said he "deserves a big fight; let's hope he gets it."
September, 1, 2013
9/01/13
7:52
PM ET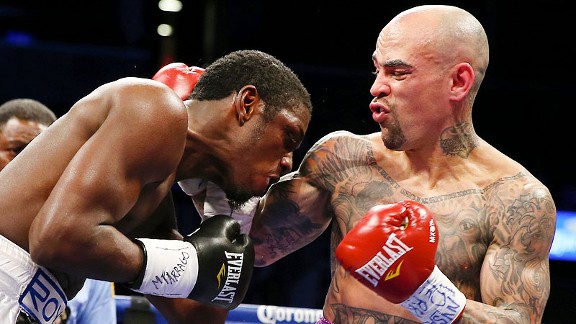 Elsa/Getty ImagesLuis Collazo, right, hopes that a win on Monday yields an Adrien Broner or Keith Thurman matchup.
It's Labor Day Weekend, and for many, there is no resting their weary bones or minds. There will be some rest, but not much, for Brooklyn-born Queens resident Luis Collazo as he counts down to a Monday contest in Texas.
The 33-year-old former welterweight titlist, who is keen on getting back to that apex he enjoyed in 2005, is fighting Alan Sanchez at Cowboys Dance Hall in San Antonio (Fox Sports 1).
Collazo (33-5, 17 KOs) hasn't had to go far to fight of late. His two most recent contests -- wins against Steve Upsher Chambers last October and Miguel Callist in April -- came at Brooklyn's Barclays Center.
I recently reached out to Collazo and asked him what brought him to Texas for a Labor Day weekend gig.
"I was originally supposed to fight Shawn Porter," he said. "I said yes, but it fell through. So this was another fight Golden Boy came up with. I just want to fight. This is something I love doing. I like entertaining the fans."
Collazo will be fighting Sanchez (12-2-1, 6 KOs), of Fairfield, Calif., for a minor welterweight title.
"Alan Sanchez is tough, young and hungry," said Wilson Oswaldo Naranjo, Collazo's manager. He's coming off of seven straight wins. But we are pretty confident."
And if Collazo wins, what's next? Is he nearing a title shot? "I'm not sure of the promoters' plan, but I know my plan. That's to bring the belt home, back home to Brooklyn," Collazo said. "That's my plan."
Naranjo clued me in a bit more: "After the win, we would like to fight Keith Thurman or Adrien Broner."
Broner is expected to clash with Marcos Maidana next. Thurman (21-0, 19 KOs), who holds a welterweight world title and doesn't yet have a scrap set, would seem to be the smart bet for Collazo.