September, 26, 2013
9/26/13
5:01
PM ET
Barclays Center will stage its fifth fight night on Monday, with a card unfolding in the Cushman & Wakefield Theater, topped by a Sadam Ali-Jay Krupp main event.
[+] Enlarge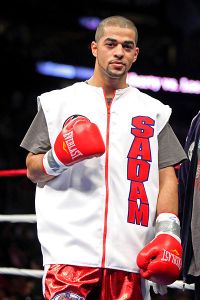 AP Photo/Gregory PayanSadam Ali
Ali and others on the bill, including Staten Island's Marcus Browne, showed up at Gleason's in DUMBO on Thursday to hype the Golden Boy event.
Ali, a Brooklyn resident who had a place on the 2008 U.S. Olympic squad, has taken his time to get to this place. He staged his own cards and stayed independent until he and his father/manager, Mahmoud, who stood next to the 25-year-old hitter while he chatted with NYFightblog, found the right terms. I asked Sadam if he had ever gotten impatient, to the point of severe frustration, since turning pro in March 2010 and seeing some other folks who arguably might not be as skilled as he is get signed to promotional deals.
"No," he said, "not at all. I knew this day would come."
And what about the father?
"Of course I did," the father admitted with a tiny grin. "I'm just always wanting what's best for my son."
The 16-0 welterweight takes on the 17-5 Krupp, who features a Mike Tyson-style peek-a-boo look he honed under ex-Tyson trainer Kevin Rooney. Ali didn't seem phased by the Tyson talk. "He can't peek-a-boo me if he can't see me," Ali said.
The 22-year-old Browne finished skipping rope, and I approached him for a quick chat. What if, I said, you upstage your pal Sadam, I asked. Will you feel bad?
"Of course not," the 6-0 light heavy said. "That's what you're supposed to do! Boxing isn't a team sport." Browne takes on 5-1-1 Lamont Williams, who is a half-step up from anyone he has tangled with before as a pro.
All the fighters seemed to be on message, and Ali, for one, was tested. Thursday was his birthday, and publicist Kelly Swanson presented him with a cupcake.
"I can't eat it," Ali said. "I'll eat it after the fight."
August, 30, 2013
8/30/13
4:30
AM ET
Barclays Center's commitment to boxing is reaching another level, with word that Golden Boy will be putting on a show at the Cushman and Wakefield Theater, a smaller venue within the building, on Sept. 30.

Sadam Ali, a new signee to Golden Boy, will make his promotional debut on the card.

A Carlos Molina-Michael Perez bout will also be featured, and Staten Island's Marcus Browne will return to the ring as well. Fox will televise portions of the Monday evening promotion.

The event is being promoted as an anniversary fete for the building. Jay Z kicked open the doors with a gig on Sept. 28, 2012.

"There's no place like home," said Ali (16-0, 10 KOs), who had been acting as his own promoter. "I've seen some great fights at Barclays Center and I have waited for my name to be called to fight here. Now that day has come and I couldn't be more excited. This is going to be a performance and a win you won't forget."

Welterweight Ali was a heralded amateur, a two-time N.Y. Golden Gloves champ, a two-time National Golden Gloves winner and a member of the 2008 US Olympics squad. He turned pro in January 2009. His foe on Sept. 30 will be Jay Krupp (17-5, 8 KOs), a Louisiana-born hitter who lives in Catskill, N.Y., and has been trained by ex-Mike Tyson trainer Kevin Rooney. "I'm part of the Cus D'Amato legacy," Krupp has said, speaking of the sage who molded young Tyson into "Kid Dynamite."

Perez (18-1-2, 10 KOs), a 23-year-old Jersey boy (Newark), will meet Molina (17-1-1, 7 KOs), the 27-year-old Californian who fought Amir Khan and was stopped in Round 10 of their Dec. 15, 2012 faceoff. A junior welter title will be up for grabs.