Boxing:

Mayweather-Canelo
September, 16, 2013
9/16/13
1:22
AM ET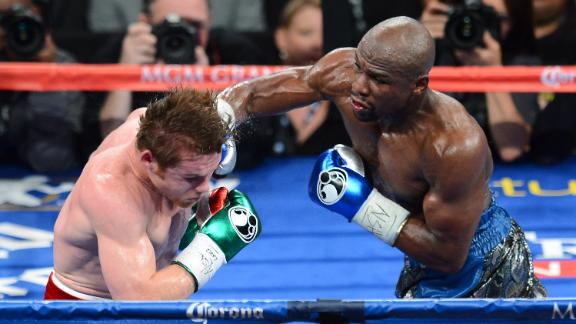 LAS VEGAS -- Canelo Alvarez was the right opponent for Floyd Mayweather Jr.
When trying to pinpoint what made this weekend the most successful in boxing since 2007, it might be as simple as that. Even before the fight started, it felt as though Alvarez had succeeded where many others failed, simply by convincing a certain portion of boxing fans that he had a chance.
Juan Manuel Marquez was, after all, far too small. Shane Mosley was too old. Miguel Cotto, thanks to losses against Manny Pacquiao and Antonio Margarito, too beat up.
With Alvarez, though, the worst thing anyone could really say about him was that he was too young, which is hardly a terrible thing. True, he never possessed the boxing talent to really give Mayweather a run on Saturday, but he was intriguing nevertheless. Betting odds on Alvarez were the shortest on a Mayweather opponent in six years.
Now that Mayweather (45-0, 26 KOs) has so brilliantly and effortlessly turned Alvarez into win No. 45, the question to Golden Boy Promotions CEO Richard Schaefer becomes: Who is the next right opponent for Floyd Mayweather Jr.?
"At this point, it almost doesn't seem to matter," Schaefer said. "You could probably put the [heavyweight champion] Klitschko brothers in front of him and he would beat them too.
"I'm going to have to sit down with Floyd and his team. Whether it's going to be someone at 147, 154 or -- who knows? -- even 160 [pounds], we'll have to see what's out there and put together a big fight again."
The clear favorite to face Mayweather next, as of Saturday, is fellow Golden Boy Promotions fighter Danny Garcia, who picked a fight with a violent attack dog in Lucas Matthysse and surfaced with his unbeaten record still intact.
The unified 140-pound titleholder, Garcia (27-0, 16 KO) was once described on a fight broadcast as "not great at anything, but good at everything." That description rang true again Saturday, as he navigated his way through the difficult 12-round decision victory over arguably the biggest puncher in the division.
Garcia won't provoke the same amount of confidence in casual fans the way a Mayweather fight with Alvarez did, but his reputation as an unheralded, consistently underrated champion is as good a storyline as any for a Mayweather opponent.
Additionally, Garcia was refreshingly honest when asked of a potential Mayweather fight on Saturday, as opposed to being obnoxiously adamant about it, as most fighters would be in his position. His accomplishments speak for him.
"You know, I really don't know," Garcia said when asked about a potential fight with Mayweather next May. "At the end of the day, I'm just a fighter. I come to fight with heart and I give the fans what they want. If Golden Boy and [adviser] Al Haymon want it, I'll do it. It is what it is."
Another option would be the winner of a Dec. 7 welterweight title bout between Amir Khan and Devon Alexander. Neither of them would particularly instill confidence in the general public either, in terms of giving Mayweather a legitimate foe.
Khan (28-3, 19 KOs), who at one point stood very much poised to become boxing's next biggest star, seems like a fragile option. A bout with Khan would likely build more anticipation for Mayweather's first knockout victory in two years than it would a real threat to his undefeated record.
Fact is, despite being heavily criticized for handpicking opponents, Mayweather has reached a level at which, as Schaefer correctly points out, it doesn't seem to matter much who you put in front of him. In any case, the outcome is easily predictable.
With four fights remaining on the six-fight, 30-month deal Mayweather signed with Showtime and CBS this year, it's likely that Mayweather will face Garcia next May, probably at welterweight, and possibly Khan or Alexander in September.
Should he get through 2014 as easily as 2013, the hope will be that fans, media, history, Showtime and a general lack of opponents will force him into the type of challenge that many thought Alvarez was ready to provide -- whether that winds up being a fight against his protégé, Adrien Broner, finally negotiating a bout with Manny Pacquiao or a legitimate move up to 160 pounds.
September, 14, 2013
9/14/13
1:50
AM ET
By
Salvador Rodriguez
| ESPNDeportes.com

LAS VEGAS -- The idea has begun to take hold that Saturday's Floyd Mayweather Jr.-Canelo Alvarez clash at the MGM Grand Garden Arena could be boxing's best in years. The expectations for the bout confirm it: Records already have been broken for live-gate revenue and closed-circuit sales, and it's hoped that the pay-per-view bount for the card will exceed, or at least approach, the total that Mayweather and Oscar De La Hoya set six years ago in their blockbuster, also staged at the MGM Grand.

And if you think about it, the Mayweather-Alvarez main event would seem to check every box that we would want in a prizegfight: a confrontation between skilled, popular and undefeated representatives of the sport, fighters who together span cultures and generations.

Mayweather and Alvarez are the yin and yang of boxing. The former has speed, exceptional defensive gifts and ring intelligence that has gone unmatched in the past quarter century, and he has been the standard bearer for American boxers for at least a decade. The latter is young, strong and precocious, having demonstrated his popularity in drawing almost 40 thousand people to San Antonio's Alamodome and specifically connecting with his Mexican countrymen.

And the matching of these fighters, although compelling, is actually trumped by the stakes: Either Mayweather or Canelo is going to lose his unbeaten status on Saturday night. Pondering how that will happen is an interesting enough thought, but take it a step further and imagine how this will affect not only the future of both fighters, but also of boxing itself.

Floyd has the chance to reach the magical mark of 50-0, which would not only surpass the touchstone career record of the legendary Rocco Francis Marchegiano (better known as Rocky Marciano), but would also funnel more millions into his considerable bank account.

Is "Money" going for broke in this fight? If he recognizes any risk in Alvarez, it's also true that he knows -- and, more importantly, knew when it came time to decide on an opponent -- he is the favorite, regardless of any age or weight disadvantages. But the fact remains: The public sees a risk, and in that sense, Mayweather is giving fight fans what they want.

Canelo, for his part, has a chance to begin a new era. His popularity has grown by leaps and bounds in the shortest of spans, and he is convinced that he has what it takes to become the new face of boxing -- a title that he would instantly take on if he were able to upset the reigning P4P and PPV champ.

Speaking of, Canelo is headlining his first PPV event, one that will reach nearly two million homes -- an extraordinary figure that he stands to gain greatly from, even in a loss. In that sense, this fight is enormous -- and, yes, perhaps the biggest in a decade. The exploits of Manny Pacquiao and Juan Manuel Marquez last year were nothing to scoff at, but considering what hinges on this fight -- one star adding another win to his record and the other adding a "1" to the other side of the ledger -- the hype of "The One" figures to hold up over time.
September, 13, 2013
9/13/13
2:13
PM ET
By
Andrew R. Davis
| ESPN Sports & Information Group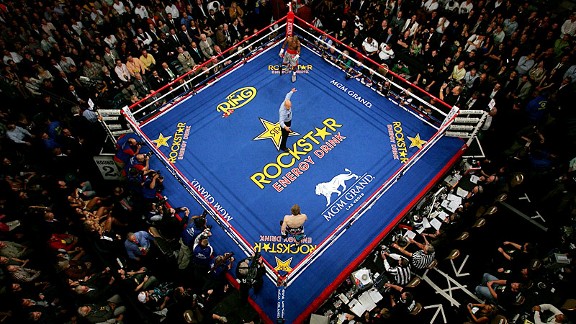 Al Bello/Getty ImagesFloyd Mayweather Jr. has made the ring mat at the MGM Grand a canvas for his greatest masterpieces.
After Floyd Mayweather Jr.'s victory over Robert Guerrero in May, fans were treated to an updated version of a quote that has become a Mayweather staple: "Forty-four have tried and 44 have failed." Although that number should technically be amended to 43 (Mayweather fought Jose Luis Castillo twice), it's all academic for Canelo Alvarez, who on Saturday will try to avoid becoming the next number on Money's ledger.
Earlier in the week, our Stats & Information Group gave you several important fight factors for Mayweather, including experience, speed and defense. But there's one more element to be taken into account: the venue. Since a unanimous decision win over Gregorio Vargas in 2000, Mayweather has compiled a 10-0 record -- and fought all of his past seven fights -- on the grounds of Las Vegas's MGM Grand (including the Garden Arena). Canelo has fought there on three occasions, but Las Vegas is Mayweather's adopted hometown and the MGM Grand is his home court, despite numerous opponents having had the crowd in their favor.
Mayweather's greatest triumph at the MGM Grand came in 2007 when he fought Oscar De La Hoya for a junior middleweight belt -- the same title, in fact, that he will be fighting for on Saturday. In that fight, De La Hoya threw 106 more punches and 100 more power punches, but it was Mayweather who was the more accurate fighter. According to Compubox, Mayweather landed 43 percent of his punches (compared to De La Hoya's 21 percent), while also landing 57 percent of his power punches. The officials scored it 116-112, 115-113 Mayweather, 113-115 De La Hoya in what many consider to be Mayweather's toughest victory. Attendance for the fight was listed at 16,200 (15,432 paid). The live gate of $18.4 million remains the largest in boxing history.
Mayweather vacated the junior middleweight title to defend his welterweight title against England's undefeated Ricky Hatton later in the year. Mayweather overcame a large, raucous contingent of U.K. fans in the crowd and, in the early rounds of the fight, a very aggressive Hatton. Mayweather adjusted, landing 39 percent of both his power and total punches, according to Compubox, compared to just 17 for Hatton. Mayweather hit Hatton with a left hook in the 10th round that put the challenger on his back, and when Hatton tried to regain his composure and the fight resumed, Mayweather attacked and knocked him down again, prompting a TKO stoppage from referee Joe Cortez. Despite the pro-Hatton crowd of 16,459 (15,488 paid), Mayweather improved to 5-0 at the MGM Grand. The live gate came in at $10.3 million.
With no titles upon his return in 2009 from a nearly two-year retirement, Mayweather defeated Juan Manuel Marquez ($6.8 million live gate) in front of 12,009 paid fans to go 8-0 against Mexican fighters. He would then defeat Shane Mosley ($11 million live gate) before winning back his welterweight title from Victor Ortiz ($9 million live gate) in September 2011.
Miguel Cotto was next, the prize being a junior middleweight title. Before a crowd of 16,047 (14,612 paid), Mayweather landed his lowest percentage of punches (26 percent) that Compubox has tracked in any of his fights, while Cotto landed 21 percent. Mayweather outlanded Cotto in 11 of 12 rounds and held a 179-105 advantage on punches connected en route to a unanimous decision, 118-110, 117-111 and 117-111. The live gate for the fight was $12 million, ninth-largest in history.
Mayweather defended his welterweight title against Guerrero in May ($9.9 million live gate), and on Saturday he will face Canelo Alvarez in a fight that has sold out the approximately 16,800-seat MGM Grand Garden Arena, with a rumored 65 percent of those sales coming from the Mexican public. According to Golden Boy Promotions CEO Richard Schaefer, the live gate for Mayweather-Canelo will surpass $20 million, which would be an all-time high in the state of Nevada.
-- Attendance and live gate numbers courtesy of Nevada State Athletic Commission
-- Statistical data provided by Compubox
September, 12, 2013
9/12/13
3:20
PM ET
By
Salvador Rodriguez
| ESPN.com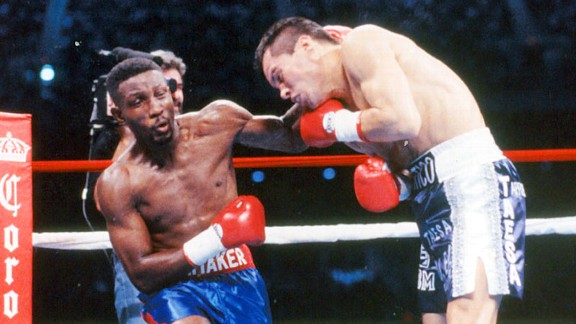 The Ring Magazine/Getty ImagesJulio Cesar Chavez, right, fell short against Pernell Whitaker but helped establish a fight tradition.
LAS VEGAS -- It was exactly 20 years ago this past Tuesday that Julio Cesar Chavez headlined the main event in a Mexican Independence Day celebration at San Antonio's Alamodome, before 60,000 fans, on a mission to become the first Mexican fighter in history to become a four-time champion.
Chavez was unable to achieve the feat, of course, and his draw against Pernell Whitaker in a welterweight title bout that night initiated a series of mishaps for Mexican boxing in the month of September -- although it didn't stop the country's top fighters from becoming staples at stateside shows celebrating the national holiday.
After the Whitaker draw, Chavez went on to star in four more major events around the annual September festivities. He bested Meldrick Taylor in 1994, defeated David Kamau in '95 and fell to Oscar De La Hoya in '98, all in Las Vegas, before bowing out in a technical defeat to Grover Wiley after suffering a fracture hand in 2005 -- Chavez's final fight.
In a gradual, symbolic passing of the torch, it was De La Hoya who took over as the ringleader of boxing's Mexican Independence Day celebrations. He outpointed Hector Camacho in Las Vegas in 1997, the year before his clash with Chavez. And in a blockbuster that remains one of the most significant editions in boxing's Mexico-Puerto Rico rivalry, De La Hoya saw his September winning streak ended by Felix Trinidad in a majority decision in Las Vegas.
"The Golden Boy" renewed his participation in the September ritual in 2002, defeating Fernando Vargas in a battle between Mexican-Americans, but in 2003 he dropped a decision to Shane Mosley in their rematch, and a year later was knocked out by Bernard Hopkins -- all in Sin City.
In 2005, Erik Morales took up the mantle from De La Hoya, but on a night of surprises, 'El Terrible' lost to Zahir Raheem in a duel that was supposed to be a tune-up Morales' second war with Manny Pacquiao. He bounced back with a September triump in 2010, knocking out Willie Limond in Mexico City, and a year later won an interim junior welterweight title by topping Pablo Cesar Cano in Las Vegas.
Also headlining Mexican Independence Day events in recent years, all of them staged on the Vegas Strip, were Marco Antonio Barrera -- against Robbie Peden in 2005 and Rocky Juarez in '06, both unanimous decision wins -- and Juan Manuel Marquez in a spectacular knockout of Joel Casamayor in 2008 and a 2009 points loss to Floyd Mayweather Jr., who has a history of raining on Mexico's Independence Day parades.
And what of the new guard? Last year Julio Cesar Chavez Jr. and Canelo Alvarez brought Las Vegas to a standstill with fights at the Thomas & Mack Center and MGM Grand on the same night. Chavez came up just short of a thrilling last-minute knockout, but lost his middleweight belt and undefeated record to Sergio Martinez. Alvarez, meanwhile, overwhelmed Josesito Lopez in a hail of body punches for a fifth-round TKO. That performance helped lead him to the doorstep of this year's most important night for Mexican boxing -- and maybe the highest-profile night the sport has seen in a decade.
Canelo won't be the favorite on Saturday, but win or lose, he seems poised to become a mainstay as Mexico's next September superstar.
September, 11, 2013
9/11/13
2:09
AM ET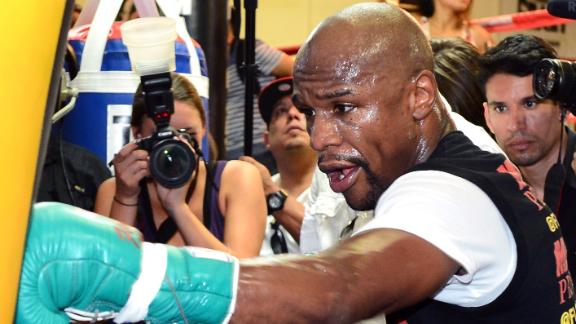 It has become the big Tuesday-of-fight-week tradition at the MGM Grand: The fighters make staged entrances to the casino and then, after talking with fans, they slip into a back room to sit down for a half hour or so with members of the media.
Few have been through this rigmarole more often than Floyd Mayweather Jr., and as he has grown in stature, and as his relationship with the media has become less prickly than it once was, these sessions have often become stream-of-consciousness abstractions: a news conference as imagined by Salvador Dali. Which is fair enough. There are only so many times you can ask a man about his defense, his training or his opponent -- and on Tuesday, Mayweather showed irritation when questioned how Canelo Alvarez ranked on the Index of Tough Fights because, as he pointed out, he couldn't say as he hadn't actually fought him yet.
So instead Mayweather relaxed, talked about his friends and his team, berated one employee who put honey in his coffee ("You don't put honey in coffee, you put honey in tea," he chided) and who then had to put up with his boss explaining how he once almost put diesel in one of Floyd's Ferraris and generally had a tendency to fail at most tasks, "but I keep him around anyway because he's my friend."
There was also a brief detour into discussion of shopping at Dupont Registry. The "Money" advice: Never buy yachts, but private jets are OK. Floyd did, however, take the opportunity to reflect on his progress from a man who felt frustrated with his career direction at Top Rank to one who is inarguably the single most powerful athlete in the sport. In hindsight, he says, he understands some of the decisions against which he chafed while with his former promoter.
"When I was younger, I didn't understand business," he said. "For Top Rank, Oscar De La Hoya was their cash cow. They're not going to take the risk of me fighting him and him taking a loss. Eventually, Oscar left and [Top Rank President Bob Arum] wouldn't let me fight Miguel Cotto, because 'Floyd's going to leave, and I can't let him beat Cotto and then leave. I need to build Cotto to become my cash cow.' And then when he got Manny Pacquiao, he said, 'Pacquiao's my cash cow,' and he didn't mind feeding Cotto to Pacquiao."
In that same vein, was he concerned that his present promotional partners, Golden Boy, might be viewing the 23-year-old Alvarez as the future star to take over from the 36-year-old Mayweather?
"He's not the future," Mayweather said without hesitation. "He's not the future. He's still going to be a star after this promotion. After he loses, he's still going to be a star because he's young, he's still going to be able to do pay-per-view numbers. But I've got a lot of young guys under my banner who are going to make a lot of noise."
He is unconcerned by the presence among Saturday's judges of C.J. Ross, one of two who infamously scored Timothy Bradley Jr. the winner over Manny Pacquiao.
"I can't fight the judges," he said. "I can judge myself. I can rate myself. Like with the Robert Guerrero fight."
Guerrero, of course, is his most recent foe, who came up short in a May bout in which Mayweather, according to most ringside and couch-bound observers, was nothing short of masterful, despite his long layoff and two-month incarceration for a domestic assault charge. Mayweather, however, disagreed.
"I gave myself a D," he insisted. "I wasn't impressed with myself. I could have been better. But I had been off a year, my body had totally changed because I got big from doing push-ups every day [in jail]. But you know, things happen. But I wasn't impressed with myself at all. I know me as a fighter. I could have done better, and in this fight I'm going to be totally different."
He smiled.
"Watch!"
September, 10, 2013
9/10/13
11:51
PM ET

Floyd Mayweather Jr.'s opponents have a habit of insisting that they will be the first to blot his thus far perfect professional record, but all too often they sound as if they're trying to convince themselves as much as anyone who will listen.

The one recent exception was Miguel Cotto, who is the personification of cool, calm self-confidence. Many of the rest -- from Oscar De La Hoya to Ricky Hatton to Victor Ortiz to Robert Guerrero -- seemed at times almost overwhelmed by the whole experience.

Canelo Alvarez seems different. He may be a mere 23 years old, but his approach throughout the prefight promotion, and as he sat down with reporters at the MGM Grand on Tuesday, was one of total relaxation, to the point of serenity.

"Of course," he said through a translator. "I feel very good and calm, because I've worked very, very hard, and that's what's going to help me."

Nor does the pomp and circumstance that surrounds a Mayweather fight appear to have distracted him, or added to his stress, in any way.

"This is a part of it. I understand that," he said. "And all I can do is try and enjoy it, enjoy every single moment. I love what I do and I'm enjoying it."

There is, he says, no special secret, no particular preparation to facilitate such a laid-back attitude.

"It's my personality," he said. "I've always been like that. I've got a very strong mind. I've always been that way."
September, 10, 2013
9/10/13
3:56
AM ET
By
Carlos Nava
| ESPN.com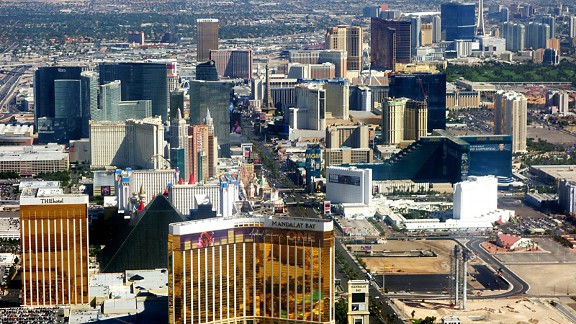 Saul Loeb/AFP/Getty ImagesFight fans are descending on Las Vegas this week to witness one of boxing's biggest cards in years.
LAS VEGAS -- If the rain that fell here on Monday is a foreshadowing of what's to come in Las Vegas this weekend, then boxing fans can expect a storm inside and outside the ring.
Sin City received fans arriving for Saturday's Floyd Mayweather Jr.-Canelo Alvarez junior middleweight unification bout with a thunderclap -- one that may not match the growing rumbling for what figures to be boxing's biggest fight of the year.
As usual for this kind of date, the city expects a lot of fans, many of them crossing the Mexican border to bear witness to their country's biggest current sporting attraction in Alvarez. The difference is that they already are arriving in droves for the fight card -- a day before even the fighters' grand arrivals at the MGM Grand Hotel and Casino on Tuesday.
"We already started receiving fans here at the hotel, and it's just Monday," said Susy Gomez, a hotel clerk at fight headquarters. "There is a lot of movement early, and we were warned that in a couple of days it will be madness."
From McCarran Airport to "The Strip," the boxing breeze is building into a gale sweeping through Vegas well before Saturday's downpour.
The spectacular posters featuring "The One" -- a card also including the co-featured bout between junior welterweight titlist Danny Garcia and Lucas Matthysse -- reach their peak levels of glamour along the main stretch of Las Vegas Boulevard.
The fight card, predictably, is a hot topic among both tourists and locals in the immediate environment of the MGM Grand. A source at fight promoter Golden Boy confirmed with ESPNDeportes.com that of the total gate for the card -- which sold out as soon as tickets hit the market -- about 65 percent went to the Mexican public.
"Do you think Canelo will have any chance?" asked an arriving guest of her companion in Spanish. "I think Mayweather will win."
"I don't know -- Canelo is doing well," another guest interjected. "He has improved a lot, and you saw what happened with [Juan Manuel] Marquez and [Manny] Pacquiao. A punch can change everything."
Marquez knocked out Pacquiao in the final seconds of their showdown last December, in the same ring where Mayweather and Alvarez will clash at the MGM Garden Arena.
The check-in line at the MGM was full on Monday, promising an arriving guest a wait of nearly half an hour, despite the best efforts of about 20 receptionists to empty the long line, which included some preliminary boxers for Saturday's card.
Also checking in were guests who had no idea what all the fuss was about, uninitiated visitors sprinkled amid the fans and media members who will be covering the event from Tuesday's official start of fight week through the final bell of Saturday's main event.
The hotel souvenir shop welcomed a constant influx of customers, many of whom were willing to pay at least $40 for a commemorative fight T-shirt or, for the same price, a ball cap featuring the logo of "Money" Mayweather.
On Sept. 15 of last year, two Las Vegas venues were filled on the same day for separate, simultaneous boxing cards staged just a few blocks away from each other. Similarly, those events -- Julio Cesar Chavez Jr.'s unsuccessful middleweight title defense against Sergio Martinez, and Alvarez's destruction of Josesito Lopez -- were witnessed by a considerable majority of Mexicans who had crossed the border to be in attendance.
And now many of those same Mexican nationals are expected to fill Las Vegas' nightclubs, bars and restaurants (many of them offering closed-circuit events) and, it's undoubtedly hoped, will attend weekend performances by two of Mexico's most beloved artists, Luis Miguel and Alejandro Fernandez.
The party officially begins on Tuesday at 5 p.m. ET, when fighter arrivals kick off and Mayweather and Alvarez (along with Garcia, Matthysse and the top undercard fighters) take their turns being presented in the ceremonial boxing ring that has been erected in the main lobby of the MGM.
September, 9, 2013
9/09/13
8:26
AM ET
By
Andrew R. Davis
| ESPN Stats & Information
On Saturday night at the MGM Grand in Las Vegas, Canelo Alvarez will face his toughest competition as a pro when he takes on Floyd Mayweather Jr. Both fighters will enter the ring as junior middleweight titlists; one will leave with both belts. If Canelo is going to be that man, this is likely how he'll do it.
[+] Enlarge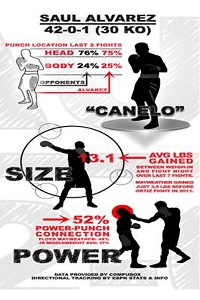 ESPN
Body punching
"The first thing you have to do is forget about the head. The head is smaller than the body. You have to break a man down, and in order to do so, you're going to hit him in the kidneys and he'll slowly begin to stop his movement."

-- Roberto Duran, in a July 2013 interview with BoxingScene.com
According to ESPN Stats & Information video tracking and CompuBox punch tracking, 25 percent of Alvarez's offense in his two most recent fights (a 12-round decision win over Austin Trout and a fifth-round TKO of Josesito Lopez) has come on body punches. In the Lopez fight, Alvarez fought a natural junior welterweight who was stepping up to 154 pounds for the first time. (Mayweather will be fighting as a junior middleweight for the third time in his career.) Alvarez used his power to chop down Lopez with body shots, putting him on the canvas three times. In the fifth and final round, Canelo landed 20 body punches on Lopez, five more than in any other round.
Against Trout, Alvarez threw at least 10 body shots over the first six rounds. Over the final six rounds, Canelo landed 40 percent of his body punches (16 of 40). Mayweather has absorbed his share of body punches -- he has been hit with at least six per round over his past 24 rounds. The question will be whether the power of Alvarez's body punches can inflict enough damage to slow Mayweather down.
Size advantage
"I'll be fine for the fight. ... It's no big thing. Actually, I feel I'm ahead of the curve. I'm not worried at all. The weight will come off and I will be fine."

-- Canelo Alvarez, in an Aug. 30 interview with ESPN.com's Dan Rafael
When the fighters hit the scale on Friday, they will be expected to be at or below the contracted weight of 152 pounds, a catchweight below the junior middleweight maximum of 154 pounds. While Mayweather should easily make weight, some question whether cutting down will affect Alvarez. On fight night, Canelo figures to weigh roughly 12 pounds more (164) than the contracted weight limit; Mayweather likely will stick around the 152 mark.
Both camps would claim that those numbers favor their fighter, but what can't be denied is that adding weight back will provide Canelo superior strength. In his past seven fights, Alvarez has gained an average of 13.1 pounds between the weigh-in and fight night, bulking up to as high as 172 against Trout.
Power punches
"Canelo has good skills, just not as good as Floyd's. But he has that size and power which he is gonna need because Floyd got the speed on him."

-- Austin Trout in a Sept. 2013 interview with Boxing News 24
With a replenished Alvarez checking in somewhere in the neighborhood of 164 pounds, he figures to aggressively attack with power punches. Over his past seven fights, according to CompuBox, Canelo landed 52 percent of his power punches -- a higher rate than any other fighter who qualified. Don't expect much out of Alvarez in Round 1: He threw just 14 first-round power punches against Trout and 23 against Lopez, well below his average of 31 per round. But for the next 11 rounds against Trout, Alvarez landed at least 30 percent of his power punches in every round. Overall, CompuBox numbers indicate Alvarez connected on 43 percent of his power punches (compared to 27 percent for Trout).
Against Lopez, Alvarez clearly sought to finish his opponent. He threw between 23 and 32 power punches in Rounds 1 through 4, according to CompuBox, but after knocking down Lopez twice, he increased his output to 50 in Round 5. Canelo landed an amazing 72 percent of his power shots in that final round, stopping Lopez late.
If Canelo can bully Mayweather against the ropes by using his power punches to the head and body, it will go a long way toward neutralizing his opponents' speed advantage. If he can't, Mayweather will skate by his opponent -- just as he has done in his previous 44 fights.
-- Statistical data provided by CompuBox
September, 6, 2013
9/06/13
11:03
PM ET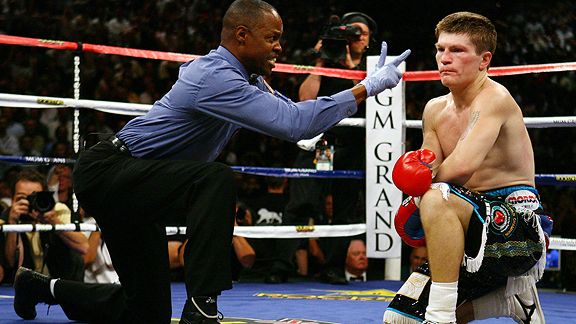 Al Bello/Getty ImagesKenny Bayless, a well-seasoned official, will referee the Floyd Mayweather Jr.-Canelo Alvarez fight.
With the Sept. 14 Floyd Mayweather Jr.-Canelo Alvarez blockbuster almost here, no details are too small for fans to consider, and among the fight's main ingredients are the officials.
The referee for the main event at Las Vegas' MGM Grand will be Kenny Bayless, a well-seasoned official who has worked many high-profile fights in the past. Bayless, a professional boxing referee for more than 20 years who also was a ringside inspector for more than a decade, is a no-nonsense ref who uses solid judgement at all times.
Bayless has worked Mayweather fights on three previous occasions: against Shane Mosley (2010), Oscar De La Hoya (2007) and Roberto Apodaca (1996), in Mayweather's first pro fight. This will mark Bayless' first fight in the ring with Canelo Alvarez.
Most referees will let two boxers fight out of the clinch as long as the holding isn't excessive, and Bayless is no different. When a fighter is hurt, he will look closely into his eyes during the action and perhaps call in the ringside doctor to evaluate him during the rest period -- although he will stop the fight immediately any time he believes a fighter is in danger. Like most refs, he would rather stop a fight a punch too soon than a punch too late.
Neither fighter's camp has expressed any concerns about the referee or judges assigned to the fight.
The judges will be Dave Moretti (100-plus world championship fights in more than 30 years of judging) and C.J. Ross 30-plus title fights over more than two decades), both of Nevada, and Canada's Craig Metcalfe (several title bouts in his 15 year-career).
A few of the ABC unified rules that will govern this fight: There will be light and hard warnings from the referee for infractions and, if excessive, point deductions for fouls. If an intentional foul is committed, there may be no warning and the offending fighter automatically penalized with a one- or two-point deduction, depending on the severity of the foul. The three-knockdown rule won't be in effect; a stoppage would be up to the discretion of the ref. An accidental cut or foul that would keep a fighter from continuing after six completed rounds will send the fight to the scorecards.
A reminder to fans: A judge will sometimes miss a punch (or punches) because the referee, ring ropes or angle of the fighters obscures the officials' view. A lopsided decision or controversial outcome can result from something as simple as the position of a judges' seat. It happens. Hopefully that won't be the case in this fight.
Joe Cortez, a former New York Golden Gloves winner, professional fighter and long-time referee, is a 2011 inductee into the International Boxing Hall of Fame.
May, 31, 2013
5/31/13
10:40
AM ET
By
Julio Gonzalez
| Special to ESPNdeportes.com

Joe Cortez was the third man in the ring with some of the best boxers in history, and he holds the unofficial record for world championship fights as a referee. Yet he's still capable of being thrilled by the announcement of the Floyd Mayweather Jr.-Canelo Alvarez fight.

"I want to see the fight in person, to chat with fans and talk about this matchup that will be very special," said Cortez, who entered the International Boxing Hall of Fame in 2011 and retired last year. "This will be one of the biggest fights in boxing in the last 10 years."

Cortez officiated four Mayweather fights and one Alvarez bout, when the junior middleweight titlist knocked out Josesito Lopez last September. That was also Cortez's farewell fight.

When asked what impressed him most about Mayweather, Cortez pointed to the pound-for-pound king's intelligence and preparation.

"In the ring, having been with [some of the best fighters in the world], I could see that Mayweather had an amazing style. He's always thinking, he knows when to throw his combinations," said Cortez, 69, who oversaw Mayweather's controversial knockout of Victor Ortiz in 2011. "Mayweather throws his punch, and most times he's going to land that punch.

"He's very smart, he brings style and spirit [to the ring]. When he moves in the ring, you say, 'Wow!' He's very hard to beat."

But Cortez, who refereed almost 3,000 fights in a career that lasted 35 years, also was impressed by Alvarez in the Lopez fight (after which the Mexican star symbolically placed his title belt on the referee's waist, knowing it was Cortez's last fight).

"He was very poised, never lost his control in the ring and had tremendous power," Cortez said of Alvarez. "He connected with good body shots, good combinations and had good defense. He looked like a much more experienced fighter than [his age implied]."

That said, Cortez considers Mayweather the favorite against Alvarez. He warns, though, that boxing always has the potential to surprise, and Alvarez could hurt Mayweather with his powerful right hand, as he did in a win over Austin Trout in April.

"Canelo Alvarez is a superstar today, he's a kid who is 22 and has a great future, a boxer with a tremendous style and a guy who is hungry," Cortez said. "I don't know if he has the experience yet that he should have in one or two more years. Mayweather is 36, and 36 is not the same as 22, but he brings a lot of experience to the ring and has a style that is very hard to beat. He has good power, and I think that right now it will be a little hard for Canelo to beat him because Mayweather has the experience and he, in his last fight, fought like a 22-year-old boxer.

"It will be really interesting because I think the two are coming to battle, but the experience always wins over the youth. It's going to be very close, but I'm favoring Mayweather simply because of the history he already has."

Cortez was the referee in another megabout -- the first meeting between Julio Cesar Chavez and Oscar De La Hoya, in 1996 -- which he says resembles the Mayweather-Alvarez matchup.

"Mayweather being Julio and Canelo, Oscar -- one being older and the other younger," Cortez said.

Young De La Hoya, undefeated at the time and already a star in his own right, won that fight 17 years ago. When Alvarez tries to follow his lead on Sept. 14, Cortez plans not to miss it.