December, 16, 2013
12/16/13
11:46
PM ET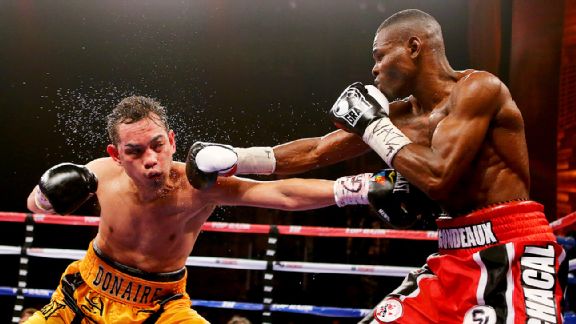 Al Bello/Getty ImagesGuillermo Rigondeaux, right, prefers to work at arm's reach, but one fighter might get him to engage.
In the spirit of the holidays, ESPN is celebrating the season with our own "12 Days" wish list of the fights we want to see most, regardless of promotional or other entanglements. Keep checking back over the coming days to see new fights revealed, discuss our choices or even suggest some of your own in the comments section or via Twitter using #ESPN12Days.
Guillermo Rigondeaux wants you to know something: He doesn't care a whit whether you like him.
He hasn't put it in those terms, not exactly. And surely the sentiment is nothing personal. But the former Cuban amateur titan and current professional pariah to a seemingly growing legion of fight fans -- one whose sensibilities are offended by any bout that falls short of a Mike Alvarado-Brandon Rios bloodletting -- clearly isn't interested in what you think of his style.
Otherwise, why else would Rigondeaux (13-0, 8 KOs) have coyly toyed with Joseph Agbeko for the first half of his Dec. 7 junior featherweight defense and then gone into boxing's version of a four corners offense down the stretch? After the curmudgeons shook their fists at his brilliant but slow-played points win over Nonito Donaire to unify belts at 122 pounds in April, the fight against Agbeko -- traditionally a high-volume puncher -- should have been Rigondeaux's get-out-of-jail-free card. All he needed to do to get back into the good graces of fight fans was, when Agbeko nibbled, to hook him hard and reel him in.
Instead, Rigondeaux waited for his fish to jump into the boat.
At his best, Rigondeaux is a quicksilver athlete, a defensive savant and an unrivaled ring general -- half-warrior and half-warlock. Try hitting a shadow and then dodging a lightning strike. That's what it's like to face Rigo -- assuming you take the fight to him. Because at his worst, he's languid and disengaged, unwilling to press opponents -- even those who are hopelessly overmatched. He's always ready to fight, but
only
on his terms.
So who do you put in with that kind of fighter to create the sort of combat theater we can all appreciate? How about someone who will take Rigondeaux's terms, try to pound them through his teeth and won't quit coming until the bell or the referee puts a stop to the punching? How about Leo Santa Cruz?
Yes, I'm aware of the promotional issues surrounding a Rigo-Santa Cruz fight. And guess what? I couldn't care less about them. This exercise isn't about speculating on which matchups will be made next, handicapping likely opponents or considering whether there's enough money or power to go around for two grown men to stop behaving like child-pageant brats long enough to make a compelling fight. Hey, Tricky Dick and Uncle Bob: Sit this one out.
Why let those two jokers ruin the great fun of pondering how Rigondeaux, one of the least-busy punchers at nearly any level -- let alone a champion in the lower weight classes -- would approach (or, more aptly, evade) the human windmill that is Santa Cruz? Simply put, LSC throws more punches per round than any active, CompuBox-tracked fighter in boxing. And it's not even close.
So, Irresistible Force, meet Too-Movable Object. All that's left is to debate which gives out first: Rigo's feet or Santa Cruz's arms? The unified champ's cardio or the titlist and challenger's fists? Or will it be the icy hearts of all those former Rigondeaux-haters when the world's fastest turtle finally comes out of his shell?
And about the last question -- who wins? -- that's easy:
Everyone
who loves boxing.
You know that Mayweather vs. Pacquiao HAS to be the top fight at the end of the list #ESPN12Days

— Will Bryant (@WBSupreme12) December 18, 2013
@danrafaelespn @BCampbellESPN I know it won't happen but could you imagine a @ChinoMaidana and @RuslanProvod fight? #ESPN12Days

— Nick Olney (@The1andOlney) December 18, 2013
November, 9, 2013
11/09/13
11:59
PM ET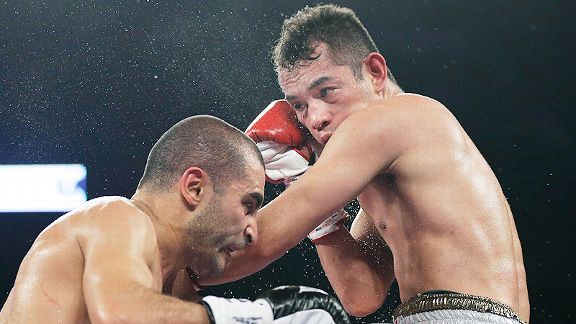 AP Photo/Eric GayNonito Donaire, right, was gun-shy against Vic Darchinyan before breaking through in Round 9.
It wasn't the sort of get-back-on-the-horse performance Nonito Donaire and his followers hoped for Saturday in Corpus Christi, Texas, but the end result put Donaire back on the winning side of the ledger and possibly helped the 30-year-old former three-division titlist rediscover his mojo.
After a tentative, almost skittish showing from Donaire through most of his rematch with Vic Darchinyan -- an opponent he dominated and blasted out by TKO in 2007 -- the old, familiar "Filipino Flash" arrived on the scene in Round 9. With Darchinyan in trouble and tucked in a corner, Donaire launched and landed a screaming right hand, a left hook and, from his bootlaces, a left uppercut before Laurence Cole had seen enough to end Darchinyan's night.
Key moment:
At 2:10 in the ninth, Donaire landed his most damaging punch to that point -- a left hook that stunned Darchinyan and sent him into defensive mode. Donaire sensed it, stalked him and, moments later, crumpled Darchinyan with another hook upstairs. Darchinyan rose from the knockdown quickly enough, but he never got his footing back, and from there it wasn't so much a matter of if, but how long, Donaire would need to finish him.
We've got your number:
Twenty-one. That's how many punches Donaire threw in Round 6 -- a dramatically low output for Donaire, but one that was fairly typical of his per-round numbers on Saturday.
Last word:
Something was off about Donaire in his first fight following an April loss to Guillermo Rigondeaux, his first defeat in more than 11 years. At different points in the fight, trainer Robert Garcia and Nonito Donaire Sr., the fighter's father, all but begged him to throw more often. Donaire looked nothing like the crowd-baiting, free-wheeling, all-angles puncher we've come to know over the years, but there were glimpses of his old swag as he closed the show by going after Darchinyan and emptying the chamber while going for the knockout. On balance, it was a step in the right direction for Donaire.
May, 15, 2013
5/15/13
7:56
AM ET
By
Salvador Rodriguez
| ESPN.com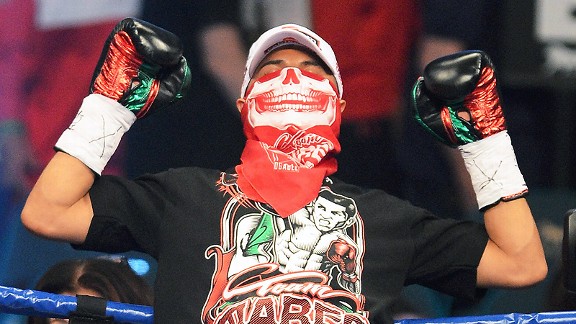 Ethan Miller/Getty ImagesAbner Mares won't rule out a move back to 122 pounds if it means making the best fight available.
MEXICO CITY -- With his shiny green championship belt in hand, sunglasses perched on his nose and an ear-to-ear smile on his face, junior featherweight titlist Abner Mares arrived in this city on Monday fresh off his May 4 defeat of Daniel Ponce De Leon -- and for the first time as a three-division champ.
A native of Guadalajara who has been adopted by Mexico City, Mares spoke to ESPNDeportes.com about his future, the possibility of challenging for another belt and whether he might return to his former weight class to settle old scores.
"I want to offer good fights," he said. "Where there are good fights, I'll be there -- either at super featherweight, or even at featherweight. ... I'm even willing to go down again to super bantamweight to face Nonito [Donaire] or Guillermo Rigondeaux. Where I'm offered a good fight, I'll be there."
Mares was reminded that Rigondeaux outclassed Donaire as no one had since Donaire's second professional fight (his only other defeat), and that the Cuban is a difficult matchup and a largely non-marketable fighter.
"I am aware that styles make fights," Mares said. "Nonito tried at times to figure out Guillermo's style, but Nonito lacked the fire that I think I have. I have the fire, I know that I can beat Ringondeaux, and that's why I'm challenging him."
Mares' immediate plans' are a vacation in Acapulco and Cancun with his family. But looking further ahead, he didn't close the door on a potential fight with Donaire, who had been expected to continue campaigning as a junior featherweight after his defeat. Mares, for one, believes that Donaire might reconsider.
"I think Nonito is more interested in the fight than before," Mares said. "Now I'm the champion, and he's not. He lost, and people know that I was asking for that fight. He also said he wanted to fight me, but you never saw that interest from his promoters."
April, 9, 2013
4/09/13
8:03
PM ET
Freddie Roach -- who was in the corner of Top Rank prospect Zou Shiming, the two-time gold medalist from China, last Saturday in Macau -- chatted with NYFightblog about the faceoff between Nonito Donaire and Guillermo Rigondeaux, which unfolds Saturday night at Radio City Music Hall.

Roach trained the Cuban-born Rigo for a couple fights in 2010, but that boxer has a tendency to switch support personnel more than most people change toothbrushes.

Who does Roach see getting his hand raised in the showdown between the two super-bantam aces?

"I like both guys," he said. "It's a tossup, 50-50. Whoever lands the most clean punches. ... It'll be a thinking-man's fight, with both countering. I see someone being knocked down, I'm not sure which one. I'm down the middle that one."
February, 14, 2013
2/14/13
1:34
PM ET
Floyd Mayweather Jr. certainly knows how to make the most of social media. He doesn't just post random tweets of betting slips; he knows how to use 140 characters to stir things up.

One day, he's proclaiming that he's likely to fight Devon Alexander on May 4, despite all the evidence to the contrary. Then, yesterday he tweeted: "Me & my trainer (my dad) back working together getting ready for May 4th." To prove the point, there was a photograph of the two standing together, a scene that seemed improbable at best after their bust-up in the gym in front of HBO's cameras on "24/7" in August 2011.

The notion that the two Floyds might reunite in the corner had been mooted recently (even as Roger Mayweather -- senior's brother and, in recent years, junior's trainer -- struggles with health issues). So this is another twist in the ongoing saga of their personal and professional relationship. Of course, they are far from the only notable father-and-son corner team in boxing, and like parental-filial relationships elsewhere, they run the gamut. Here is a short selection of some of the more colorful, sometimes successful and sometimes painful case studies:

1. Roy Jones Jr. and Roy Jones Sr.

At times, the apparent dysfunction between these two has been enough to make Floyd Sr. and Jr. look like Bill Cosby and Malcolm-Jamal Warner (kids, ask your parents). On the plus side, Big Roy did teach his son how to box; against that, he also shot his boy's favorite dog. After years of personal and professional estrangement, Jones invited his father to work in his corner for the third fight against Antonio Tarver. When Jones lost that bout by a wide margin, he essentially said he didn't try to win because he didn't want his father to take the credit.

2. Nonito Donaire Jr. and Nonito Donaire Sr.

Donaire pere trained Donaire fils until an incident during training for the son's November 2008 fight with Moruti Mthalane led to the end of their professional relationship. Despite occasional talk of reconciliation, the father-son personal relationship, too, has become strained, at times very publicly so.

3. Danny Garcia and Angel Garcia

There doesn't appear to be any strain between Angel and junior welterweight titlist Danny. If anything, Angel's love for Danny at times verges on the overwhelming, as his extreme defensiveness of his son leads to intense verbal confrontations with Danny's opponents, including Amir Khan and most recently Zab Judah.

4. Shane Mosley and Jack Mosley

It's easy to forget now, but in 1998 Jack and Shane Mosley became the first ever father-son tandem to receive trainer of the year and fighter of the year honors from the Boxing Writers Association of America. But after losses to Vernon Forrest and Winky Wright, Jack and Shane -- who remained close personally -- broke up professionally before reuniting and breaking up again. They were slated for another reunion if Shane's putative bout with Paulie Malignaggi had taken place as planned this month.

5. Joe Calzaghe and Enzo Calzaghe

An unalloyed success: Enzo steered Joe to world titles at super middleweight and light heavyweight. And after Joe retired with an undefeated record, he and Enzo then formed a promotional partnership. Although Joe had well-documented personal troubles in his immediate post-retirement years, his relationship with his father has evidently remained strong.
December, 24, 2012
12/24/12
9:36
AM ET
2012 will not go down as the year in which boxing developed a PEDs problem. But it will go down as the year in which boxing was forced to admit it has a problem.
This was the year in which the average fan's view of the average fighter shifted from a presumption of innocence to a presumption of guilt.
[+] Enlarge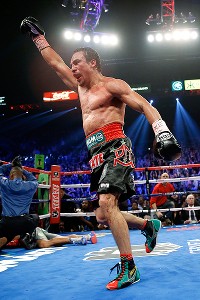 AP Photo/Eric JamisonJuan Manuel Marquez's physique in his historic knockout of Manny Pacquiao proves none of the PED suspicions against him, but his win should speak volumes in the 2012 boxer of the year race.
So it's only fitting that, as 2012 draws to a close, the topic of performance-enhancing drugs plays a major role in the discussion of who should be named boxer of the year.
With all due respect to solid candidates such as Danny Garcia, Brian Viloria and Robert Guerrero, the decision comes down to two fighters: Nonito Donaire (
officially the ESPN.com Boxer of the Year
) and Juan Manuel Marquez.
Donaire and Marquez put together very different campaigns, both in terms of their in-ring appearances and what they did between those appearances. Donaire was referred to recently by HBO's Jim Lampley as "the beacon of hope," because he's the only fighter submitting to year-round testing by the Voluntary Anti-Doping Agency. Marquez is the current poster boy for fighters whom it's suspected wouldn't do so well on those same VADA tests.
Who wins this debate, and whether it even
is
a debate for you, depends heavily on what your criteria are for determining the boxer of the year. Is it partially a sportsman of the year award, where ancillary factors -- such as a boxer's stance on drug testing -- matter? Or is it just about performance? And even if it's purely based on what happens between the ropes, how do you weight quantity and quality?
My personal criteria have always included a preference for fighters whose results exceed expectations. For example, in 2007 -- the last time there was really any debate over the award -- I voted for Kelly Pavlik, who knocked out both Edison Miranda and Jermain Taylor as a betting underdog, over Floyd Mayweather Jr., who did what I expected him to do against Ricky Hatton and did less than I expected against Oscar De La Hoya.
I don't mean to denigrate Donaire's 2012 campaign in the least, but whereas quantity is clearly on his side -- he fought four times, something championship-level fighters almost never do anymore -- I'm not exactly blown away by his level of opposition, nor the manner in which he dispatched most of that opposition.
His ninth-round knockout of Toshiaki Nishioka was first-rate on both counts. But his bout with the aging Jorge Arce was a pointless mismatch, and everyone knew it. Wilfredo Vazquez Jr. (who lost to Arce in 2011) and Jeffrey Mathebula were both fringe contenders, and "The Filipino Flash" certainly didn't exceed anyone's expectations with decision wins over the two of them. If anything, the boxing community was expressing mild disappointment with Donaire midway through his year.
Of Donaire's four showings in 2012, three were solid and one was outstanding. But that busy schedule, that number -- four -- was what set Donaire apart and has made him the most popular pick for the top fighter of 2012.
Marquez gets crushed in the quantity department, as he fought just twice this year (the same number as every ESPN.com Boxer of the Year since '06). And the first of his two victories was entirely forgettable, a decision win in April over little-known Sergiy Fedchenko.
But the other victory was, by a wide margin, the best win anyone in boxing scored all year. His right hand read Manny Pacquiao a bedtime story, propelling Marquez to the consensus knockout of the year in the consensus fight of the year over a three-time boxer of the year. Maybe two or three times a century, a fighter as legendary as Pacquiao gets iced like that within spitting distance of his prime.
Whatever your expectations of what Marquez was going to do in his fourth bout with Pacquiao, he exceeded them. Quality is on his side.
But again, quantity is on Donaire's. And so is the hot-button issue of the moment: boxing's PEDs problem. And that's where this debate gets a lot more complicated for those leaning toward Marquez, and a lot less complicated for those leaning toward Donaire.
Donaire is blazing a trail by volunteering himself for random testing in or out of training camp. He's the one and only fighter the public knows to be clean (unless you want to go hard-core on conspiracy theories and suggest that, with the help of infamous former BALCO head Victor Conte, he could be a cheater who is unfailingly confident that he can outrun the testers).
By contrast, while Donaire chose VADA, Marquez chose nada. His bout with Pacquiao required nothing beyond standard Nevada urine testing, which catches cheaters about as effectively as Mr. Miyagi's chopsticks caught flies.
That fact alone shouldn't subject Marquez to serious suspicion. Unfortunately, his conditioning coach is former BALCO chemist Angel Hernandez, and Marquez showed up for the Pacquiao fight looking like the Ultimate Warrior, minus the biceps tassels and face paint. In our new boxing world, in which everyone is presumed guilty, the insinuations and accusations flew at Marquez at a rate CompuBox couldn't possibly count.
It should be noted that Marquez reportedly spent four months in training camp honing his new physique, and also that his physical transformation began in 2011, when he brought an almost-as-eye-catching musculature into his third fight with Pacquiao. So this wasn't an overnight overhaul.
But there are those who simply take that to mean that Marquez was also juicing in 2011.
Nobody outside Team Marquez knows with certainty, one way or the other, what has or hasn't pumped through the fighter's veins. But just about everybody has their suspicions. And those suspicions might be enough to prevent some folks from naming him boxer of the year, even if they prefer his 2012 résumé to Donaire's.
In the year in which boxing's PEDs problem went from flicking us with a pesky jab to throwing haymakers below the belt, it seems appropriate that performance enhancers could serve as the decisive factor in the boxer of the year race.
If you pick Donaire, you do so as much for what he stands for as for how he fought.
If you pick Marquez, you do so either not caring what anyone stands for, or fully prepared to regret your pick if the suspicions surrounding him ever become more than just suspicions.
October, 11, 2012
10/11/12
6:41
PM ET
By
Brian Campbell
| ESPN.com
There's a certain population of the boxing community that abhors the mere idea of a pound-for-pound list used as a scientific tool to compare fighters.

They'll point to the fickle nature of the voters and the ever-changing criteria. There's also the "what have you done for me lately?" debate that tends to value spectacular performances over sustained longevity.

Consider the case of Nonito Donaire, whose four-year run of nine knockouts and 10 straight victories across three weight classes culminated with the ultimate statement win, a brutally sensational KO of bantamweight champion Fernando Montiel in February 2011.

It was a victory that made Donaire the darling of P4P lists worldwide, with the only question being how high to rank him. It also gave him the perishable status of red-hot/must-see -- the Manny Pacquiao of the smaller weight classes, with the perceived power of Mike Tyson.

But three fights later, after three unspectacular decision victories, there's a lingering feeling that Donaire is treading water. It also begs an odd question: Was the Montiel victory as much a curse -- for creating unreachable expectations -- as a blessing?

"Not really," Donaire told ESPN.com. "Being a top pound-for-pound guy, they always will expect something. They want knockouts. They want everything that is positive. That's how the sport is. I try to give them that, but it's the effort that I give and that's good enough for me. I keep trying to please people, but if [the knockouts] don't happen and I get the victory, that's the most important thing."

The debate, of course, is without merit (if not unfair). In fact, it touches on exactly what can be wrong about P4P debates in the first place. Donaire's accomplishments in his past three fights -- all title bouts against respected current or former champions -- are arguably more impressive than his initial run, when you consider his jump in weight and the obstacles he has overcome.

In his final bantamweight title defense, Donaire intimidated a defensive Omar Narvaez into abandoning his game plan and hiding. He overcame a broken hand to knock down and defeat Wilfredo Vazquez Jr. in his junior featherweight debut. Then, facing an opponent five inches taller, Donaire broke the jaw of Jeffrey Mathebula in two places before claiming a wide decision.

Still, it would be disingenuous to suggest the victories had anywhere near the same resonance as the Montiel fight to the impressionable fans and critics who crave the big moment. If the "Filipino Flash" is the superhero alter ego of Donaire, his past three fights had a pedestrian, workmanlike air to them, akin to watching Clark Kent navigate air travel without the use of his special powers.

"I guess people just want to have something to look forward to, which is good, but they've got to understand that these guys are world champions that I've been fighting," Donaire said. "They're just not top-15 or top-20 guys; these guys are world champions for a reason, they are good at what they do, and I beat them."

Whether the shine has subjectively dimmed on his mainstream appeal or not, Donaire believes he's gained much perspective from the three challenging victories that followed his emphatic thumping of Montiel.

"There is a lot of things I've gained, experience-wise," Donaire said. "How to wait out an opponent from a shorter version and from a taller version, and looking at their weakness, how can I get them? The last three fights have been more of an experiment for me to get better, and I feel like I have learned a lot."

Although there's no tangible evidence to suggest he has changed as a fighter after moving up in weight -- or whether simply the expectations have -- even Donaire admitted a nostalgic yearning for the Nonito of old.

"I'm trying to go back to who I was and what made me that tactical guy who could break you down and set up a good punch," Donaire said.

There are likely a few who obsess over mythical pound-for-pound lists that'll be anxiously waiting to see if he can.
October, 8, 2012
10/08/12
4:32
PM ET
By
Brian Campbell
| ESPN.com

As junior featherweight champion Nonito Donaire prepares for his Oct. 13 title defense against Toshiaki Nishioka, he's well aware of the reality of his situation.

At any hour of any given day, Donaire is one knock on the door away from being subject to mandatory drug testing -- and he wouldn't have it any other way.

This is how Donaire, the first fighter to agree to random blood and urine testing -- 24 hours a day, 365 days a year -- by the Voluntary Anti-Doping Agency (VADA), envisions the day-to-day existence for all fighters, whether inside of training camp or not. It's the Filipino fighter's way of giving back to a sport that has been so good to him, by progressively getting out in front of something he believes in.

"I love this sport of boxing; it's something that has provided me all of the blessings that I have in life," Donaire told ESPN.com. "It's the least that I can do for myself, my fans and for the sport. To me, it's just a normal thing because I really don't have anything to hide in terms of my ability. I'm proud of where I am at because of my natural talent and hard work."

Donaire's most recent test came before a training session on Oct. 2, when VADA's Jennifer Hunter -- who had unsuccessfully surprised him at the gym minutes earlier -- met the fighter at his hotel after he communicated his whereabouts over the phone.

After confirming verbally through the door that Donaire was present, Hunter entered the room and began administering the test.

"The first thing that they'll do is have you unwrap all of the things that they have, so you open it yourself," Donaire said.

After giving blood, Donaire watched as Hunter filled four separate tubes with the samples. Donaire then securely fastened the tubes inside their respective clear bottles, added a label with the matching serial number that appears on the bottle, and placed them inside a clear bag to secure it.

Donaire then provided a urine sample, which was separated into two bottles, marked samples "A" and "B."

The test was Donaire's second since his June announcement to begin testing, with the first coming Aug. 22 under similar circumstances. After testing agents missed Donaire at the gym, they surprised him with a knock on the door of his hotel. The only difference this time was the amount of blood taken (two tubes on the first test; four on the second).

"You have to tell them anywhere, anytime where you are going to be at," Donaire said. "So if I am going to the Philippines, you have to give them the date, location and if you are going anywhere else. You have to let them know, and they will have people come out there randomly."

Donaire's most recent test left him weak during training, something he attributes more to not having eaten beforehand and the fact that he had a rough night of sleep the night before.

Regardless, Donaire says there isn't a potential scenario concerning the hassles of random testing that he hasn't thought of or isn't able to handle. That includes a test the day before a fight, although he hopes it doesn't happen.

"I don't think they do that, but if they do, it doesn't matter to me because I'm just so used to it," Donaire said. "I think a lot of it is all mental. It's how your mind works and how strong you are mentally. It wouldn't bother me."

Donaire admits he hasn't talked to any fighters about agreeing to similar year-round random testing, but he'd like the opportunity to educate them if approached.

"I'm hoping others will want to," Donaire said. "It's a difficult thing and an extra hassle for their body and time. There's a lot of certain aspects that could make them shy away. But I'm hoping that I can encourage them to do it for the sport of boxing and for their fans."

The willingness of Donaire to undergo such stringent testing is as refreshing as it is unprecedented. He has taken the noble blueprint laid out by Floyd Mayweather Jr. -- who has insisted on random testing for opponents and himself during training camp -- to the next level.

The reaction has been positive, albeit meager, in a sport that isn't lacking for negative headlines about the illegal use of performance-enhancing drugs. The implications in boxing -- where the lasting effects of PEDs pose as much (or more) danger to a user's opponent as they do to himself -- dwarf the sort that merely inflate home run records.

There just might come a day when Donaire's new reality is simply standard operating procedure, a day when we'll remember fighters like him and Mayweather for being pioneers for safety as much as we will for titles held in an already brutal sport.

It's a day that boxing needs.