Boxing:

Paulie Malignaggi
October, 26, 2013
10/26/13
10:22
PM ET
By
Shaun Brown
| ESPN.com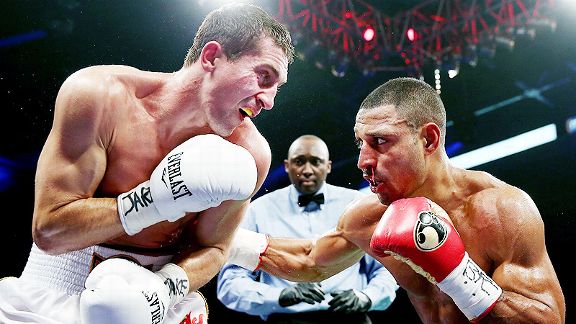 Scott Heavey/Getty ImagesKell Brook, right, controlled Vyacheslav Senchenko on Saturday, but hasn't swayed his doubters yet.
Delight and relief appeared to be the two overriding emotions from Kell Brook and his team after the 27-year-old Brit passed his "toughest test" against Vyacheslav Senchenko on Saturday in Sheffield, England, with a fourth-round TKO victory.
As sounds of triumph bellowed around the Motorpoint Arena for the local hero, Brook mouthed to his trainer, Dominic Ingle, "Thank f--- for that" after his career was rescued from the potential obscurity that could have followed a defeat.
After the wake-up call that was his first contest against Carson Jones (a majority-decision win after a trip to hell and back in July 2012), it had been hoped that Brook would rub his eyes and realize the word "potential" had been placed over his head for far too long and that he would throw it away for good. Fast-forward 15 months, and "All of the Lights" -- the tune that Brook walks out to -- were more or less switched on, but with one still flickering against the 36-year-old Ukranian.
Brook controlled and, for the most part, dominated Senchenko despite suffering a wobble of his own in the fourth round. The fact of the matter is that boxing fans are never going to know how good "The Special One" really is until he has had ring time with a marquee name at welterweight, such as titleholder Devon Alexander, domestic rival Amir Khan or even Paulie Malignaggi, who is kicking keen to fight, again, in the United Kingdom. Not all of the blame can be laid at Brook's door, however. On three occasions this year his challenge for Alexander's strap was cancelled, with injuries to one fighter or the other delaying a bout that now looks further away than ever.
At his best, Brook is like a Rolls-Royce going through the gears smoothly and delivering performance that makes one's head turn. But this particular vehicle has stalled at times and, at worst, still looks like it's being developed on the production line.
Many fighters never fulfill their god-given talents until they are met with their greatest challenge, and after tonight's postfight interview with Brook promoter Eddie Hearn, we are none the wiser as to who might provide it.
"I want the best out there, I'm ready, bring on whoever you want," Brook declared. Then, moments afterward, Hearn, with a glint in his eye, said, "We've got options."
Wait, what? So Brook verus the winner of Alexander-Shawn Porter isn't the foregone conclusion we all thought? So what are these options?
Khan on pay-per-view in the UK, and with their heated rivalry stemming from the usual "Who beat up whom in sparring?" does a right treat on these shores. And, hey, if it don't make dollars, it don't make sense, right? I mean, are we really all holding our breath for Khan to face the king of kings, Floyd Mayweather Jr.?
Hearn also said that one fight he would love to make in the UK is Brook-Adrien Broner. But is Broner and his circus really going to up sticks for someone with no profile in America? And as alluded to earlier, Malignaggi-Brook sells out tonight's venue comfortably and boosts Brook's reputation stateside.
When the Sheffield native looks around at who holds the four shiny belts, then all he will see is an obstacle that is far greater than a fighter who managed to overcome a shadowy figure of Ricky Hatton. But maybe, just maybe, that's when we'll see all of his lights switched on permanently.
"The Special One"? Not just yet.
October, 15, 2013
10/15/13
6:37
PM ET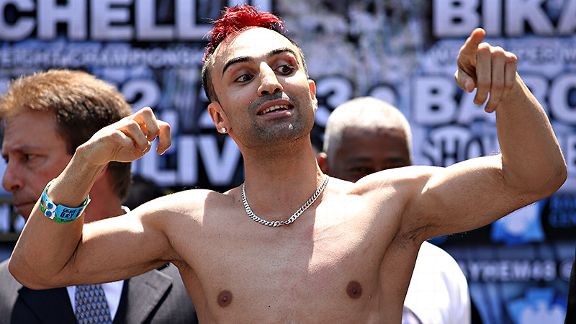 Nick Laham/Getty ImagesPaul Malignaggi could get another title opportunity ... if he defeat Zab Judah on Dec. 7.
Floyd Mayweather Jr. has emerged as the face of boxing this year. His Sept. 14 bout against Canelo Alvarez vaulted him to another level of awareness in the minds of folks outside the hardcore fight crowd, including casual viewers of boxing. After last month's win, he was booked on "The Colbert Report," and even MSNBC, if you need proof that "Money" has transcended the narrow channel of boxing stardom to something a bit beyond that.
Paul Malignaggi and Zab Judah -- talented pugilists who have toiled as professionals since 1996 and 2001, respectively -- face off, in a battle of Brooklyn, at Barclays Center, on Dec. 7.
No title will be at stake, but "bragging rights" will be on the line, as Barclays (and Nets) CEO Brett Yormark noted during Tuesday's news conference to hype the Golden Boy promoted clash, which will run on Showtime. And maybe more than bragging rights will be at stake.
The bout will take place at 147 pounds, which is Mayweather's territory. Do not be surprised, boxing fans, if the winner of this bout gets kicked up a notch higher in the Floyd-stakes, that short list of boxers who could be Floyd's opponent in the near future (Floyd has had two fights in his six-fight deal with Showtime, and is booked to fight next May, and September).
Judah said he'd be keen to tangle again with Mayweather. They battled in 2006, and fought some tight rounds before the bout dissolved in disarray (Mayweather won a unanimous decision after 12 rounds, but the flow was interrupted when a fracas, involving both corners, broke out in round ten).
"That sounds great, where the check at?," Judah said when I asked him about that prospect. "I'd like some of that Mayweather money. They call him 'Money May,' check it out, let's work," he said.
As for Malignaggi, he's proven himself to be one of the best self-managers in the game. He has the incredible ability to mix severe candor -- when he excoriated the boxing press, or portions of it, at Tuesday's news conference for being "fanboys" instead of real-deal journalists -- and activist trash-talking (a couple times, he publicly chided promoter Golden Boy for low-ball monetary offers), yet he retains a seat as a Showtime analyst and secures himself high-profile bouts. I have zero doubt that he'd love to finish out his professional run with a clash against Mayweather, the desired IRA bout for practically every world-class boxer from 140 to 160 pounds.
Showtime executive Stephen Espinoza agreed that this bout could in fact be something of a Mayweather eliminator.
"If the winner gets some solid wins, why not?" he told me.
September, 26, 2013
9/26/13
5:01
PM ET
Barclays Center will stage its fifth fight night on Monday, with a card unfolding in the Cushman & Wakefield Theater, topped by a Sadam Ali-Jay Krupp main event.
[+] Enlarge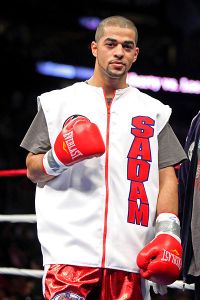 AP Photo/Gregory PayanSadam Ali
Ali and others on the bill, including Staten Island's Marcus Browne, showed up at Gleason's in DUMBO on Thursday to hype the Golden Boy event.
Ali, a Brooklyn resident who had a place on the 2008 U.S. Olympic squad, has taken his time to get to this place. He staged his own cards and stayed independent until he and his father/manager, Mahmoud, who stood next to the 25-year-old hitter while he chatted with NYFightblog, found the right terms. I asked Sadam if he had ever gotten impatient, to the point of severe frustration, since turning pro in March 2010 and seeing some other folks who arguably might not be as skilled as he is get signed to promotional deals.
"No," he said, "not at all. I knew this day would come."
And what about the father?
"Of course I did," the father admitted with a tiny grin. "I'm just always wanting what's best for my son."
The 16-0 welterweight takes on the 17-5 Krupp, who features a Mike Tyson-style peek-a-boo look he honed under ex-Tyson trainer Kevin Rooney. Ali didn't seem phased by the Tyson talk. "He can't peek-a-boo me if he can't see me," Ali said.
The 22-year-old Browne finished skipping rope, and I approached him for a quick chat. What if, I said, you upstage your pal Sadam, I asked. Will you feel bad?
"Of course not," the 6-0 light heavy said. "That's what you're supposed to do! Boxing isn't a team sport." Browne takes on 5-1-1 Lamont Williams, who is a half-step up from anyone he has tangled with before as a pro.
All the fighters seemed to be on message, and Ali, for one, was tested. Thursday was his birthday, and publicist Kelly Swanson presented him with a cupcake.
"I can't eat it," Ali said. "I'll eat it after the fight."
September, 3, 2013
9/03/13
11:28
AM ET
Name recognition is quite a big deal in boxing. Someone like a Shane Mosley will get opportunity after opportunity, years after lesser lights would have been strongly encouraged to exit the stage and let fresher players have a turn.
[+] Enlarge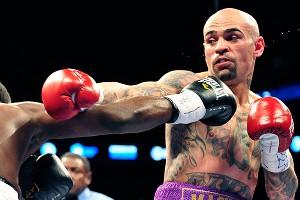 Joe Camporeale/USA TODAY SportsLuis Collazo
Luis Collazo's name doesn't ring the same number of bells as Mosley, but as the former welterweight titlist -- he beat Jose Antonio Rivera in 2005 to snag the crown and had a defense against Miguel Angel Gonzalez before dropping the strap to Ricky Hatton in 2005 -- he is somebody who might be aided by his former exploits while being considered for a title crack.
But another title shot, maybe against interim welter titlist Keith Thurman or "regular" beltholder Adrien Broner, could only come soon if Collazo got past 22-year-old Alan Sanchez on Monday night. And that he did; Collazo looked like the consummate vet he is, using his superior ring generalship and superb stamina to stay fresh until the 10th and final round. After the duration of the welterweight tangle, the Brooklyn-bred Collazo, who lives in Queens, got the unanimous decision win -- scored 99-91, 98-92, 99-91 by the arbiters -- at Cowboys Dance Hall in San Antonio.
Collazo played the calm vet, working behind the jab, adeptly slipping Sanchez's shots in the first and second. A sharp left hand told Sanchez he needed to be aware of the off-stance boxer's backhand in the second frame. Sanchez's body work made Collazo drop his guard to protect the breadbasket some in the third. Collazo upped the aggression in the fifth, yet kept looking energized every minute of each round. A cut on Collazo's left eye didn't look too severe as he sat down after the sixth.
Three- and four-punch combos made Collazo look busy in the seventh. He kept his front foot outside Sanchez's lead foot, cutting the ring off on the kid, making him go where he wanted him to go. His experience was in effect all the way to the final round. Could Sanchez pull off a stunner turnaround KO, we wondered? Nope. Sanchez didn't have the gas left to take the bout to another place, to so much as try and overwhelm the vet with psychotic flurries.
I asked Collazo to assess his performance. "I give myself a B-minus," he said. "Sanchez was tall and long, I couldn't get my shots off the way I wanted. So I had to be smart and take whatever he gave me."
Fox Sports 1 analyst Paul Malignaggi, who has known the winner for many moons and is fond of him, as he admitted on the show, said afterward that Collazo "is on to bigger and better things." He said he "deserves a big fight; let's hope he gets it."
July, 14, 2013
7/14/13
12:27
PM ET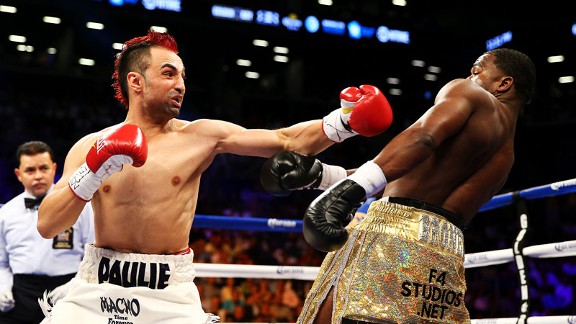 Al Bello/Getty ImagesCould we see a Paulie Malignaggi and Adrien Broner rematch sometime in the future?
Paulie Malignaggi, many smart and studied boxing folks said leading up to his June 22 clash with Adrien Broner, was quite likely to get steamrolled into oblivion at the Barclays Center. Broner -- the younger, stronger, faster fighter -- would be a bridge too far for the Brooklyn-bred Malignaggi, who turns 33 in November. The fight itself would be simply a formality, a torch-wresting exercise, they reasoned.
It didn't play out that way, as is often the case.
Then-welterweight titlist Malignaggi didn't disgrace himself in the least and proved he wasn't in over his head against a man tabbed by some as a leading contender to be the sport's top performer within a few years. One judge, Tom Miller, was taken with Malignaggi's showing, especially his volume edge, and scored the fight for the vet 115-113. He was outvoted by Tom Schreck (117-111) and Glenn Feldman (115-113), who both decided Broner's power edge spoke louder than Paulie's busy work.
In the week after the bout, Team Malignaggi litigated the scrap, making their case that Broner didn't win and in fact was exposed as an overhyped attraction, and pushed for a rematch.
Malignaggi adviser Anthony Catanzaro makes some solid points when he lobbies for a rematch:
It was a success at the gate, with 11,461 fight fans showing up at Barclays Center to take in the card that night, he pointed out. Also, the headline clash drew a peak of 1.3 million viewers during the broadcast on Showtime, he noted. Since Showtime began tracking individual fights in 2009, Broner-Malignaggi is its second highest-rated bout, trailing only Austin Trout's victory over Miguel Cotto in December. This being the boxing
business
, that the fight did well in that arena looms large. Money and eyeballs were generated, which has to factor into a decision to do it again.
"It was a very entertaining fight that Paulie won, so why not?" Catanzaro said to NYFightBlog.
Barclays and Nets CEO Brett Yormark told me he thought Malignaggi won as well, so Catanzaro has good backup to point to.
I'd be curious to see what Malignaggi could and would do differently in a sequel. From my semi-expert seat, I think he'd have to at least consider factoring in that many, if not most, judges prize power over volume and might have to alter his strategy to attack the body and sub in more head shots. That could open him up to fire and potentially make a more explosive, and less tactical, bout.
What are your thoughts?
July, 4, 2013
7/04/13
9:01
AM ET
Back in July 2010, when the people from the Brooklyn arena that hadn't been built yet, Barclays Center, announced they were getting into boxing, with an exclusive deal with California-based Golden Boy Promotions, it's fair to say the reaction wasn't shock, awe and optimism across the board.
After all, the topic was boxing, that much-maligned throwback sport whose best days were in the rearview mirror of the Camaro. A niche sport, they sniffed, relevant once or twice a year -- and probably for not that much longer, once Floyd Mayweather Jr. and Manny Pacquiao packed it in.
I confess, I had doubts myself, whether the NYC region would sustain the demand for regular dates at the Barclays Center. At the time, I recall asking Brett Yormark, the CEO of Barclays Center and the
Brooklyn Nets
, if the arena would have a micro-arena built, a theater to accommodate 5,000 or so fans, max. The implication of my question was clear: I don't think you can find enough boxing fans to fill up the barn on a regular basis. He assured me then that there would be no mini arena and that the fans would come.
Fast forward to today; I admit my skepticism was misguided. Barclays and Golden Boy has put on four boxing shows, the most recent one taking place on June 22, topped by a Paulie Malignaggi-Adrien Broner welterweight tussle. The attendance for each event has been healthy, and
11,461 people watched Broner
take a split decision from the Brooklyn native.
I sat down last week for a chat with Yormark and asked him to reflect on the journey, getting boxing back to being more of focal point, not just a side dish, in the region.
"In some respects I feel vindicated," he said. "We've been able to do exactly what we hoped for, and more, and that's to bring an incredible sport back to Brooklyn, where it has a heritage, and have it flourish. And in less than a year we've been able to do that."
The grumblers, the tear-down artists, were out in force at the start. Boxing debuted on Oct. 20, 2012 at Barclays, and the "I told you so" crowd noted that they saw ticket markdowns and package deals available everywhere in the weeks leading up to opening night. They cited that as proof the endeavor would fail. In fact,
audience response has been quite respectable
, Yormark said. The
first show
drew 11,112; the second, on
March 9, 2013
drew 12,293; the third,
on April 27
, drew 13,048. All the main events and select undercard bouts were televised on Showtime.
Critics mumble under their breathe that those figures represent a large dose of "comps," or freebies, to paper the house. Not so, Yormark told me.
"We did not comp," he said. "We're not comping. There are very few comps. The first two fights we discounted probably a little more than we wanted to, but we have not comped. We don't believe in comping here. One of the things we had to learn, we had to learn price it right, and in the last two fights, I think we really priced it right."
Follow Woods on
Twitter here
.
June, 22, 2013
6/22/13
3:54
PM ET
NEW YORK -- Promoter Richard Schaefer breathed a sigh of relief when the Friday weigh-in for the Saturday card at Barclays Center concluded, and no premature violence broke out.

The event unfolded at Brooklyn Borough Hall Outdoor Plaza. Welterweight titlist Paulie Malignaggi and up-from-lightweight Adrien Broner talked trash and glared at each other, but held it together and no melee occurred.

Schaefer's ace in the hole is fighter Bernard Hopkins, who works for Golden Boy and was right there, in between the main-event boxers as they did a staredown after making weight. "I can take a step back and I don't have to worry about it and I know Bernard will have it under control," Schaefer said. "He's my secret weapon."

Schaefer said he thinks some last-minute smart money will go toward Malignaggi, and the 11-to-1 odds in favor of Cincinnati boxer Broner set by the smarts might be too high.

If Broner beats Malignaggi, a scrap with Marcos Maidana could be in the works, Schaefer said. "Who wouldn't want to see that?" he asked.

Other possibilities for Broner, if he prevails, include the Andre Berto-Jesus Soto Karass winner; Devon Alexander; Amir Khan; or veteran Shane Mosley, who won in his comeback fight against Pablo Cano last month.

Schaefer also said that the winner of a Danny Garcia-Lucas Matthysse fight, which Schaefer is working on, would be a good fit against Broner.

Asked about the rumor that 140-pound standout Garcia is more likely to first have a rematch with Zab Judah than meet Matthysse, his mandatory, Schaefer said, "I don't know where those rumors came from about Zab."

He said both teams indicated to him that they want to get it on. Judah will be in the mix again soon, the promoter said, but the people are demanding Garcia-Matthysse. "I don't believe in marinating too much," he said.
June, 18, 2013
6/18/13
7:25
PM ET

Adrien Broner admits that Floyd Mayweather Jr. is his role model. He regularly calls Mayweather "big bro," asks the pound-for-pound ace for advice and is exceedingly humble (for him) in admitting that Mayweather is boxing's top dog (for now anyway).

But Broner has also told the world that he sees himself as the sport's driver in the near future. To be the man, it makes sense for him to beat the man, right?

A Mayweather-Broner fight has been discussed in barrooms and chat rooms for a couple of years, but the issue becomes more salient now that Broner has leaped from 135 pounds to 147 pounds -- Mayweather territory. But Broner shut down the possibility of a Mayweather clash when asked at a Tuesday media gathering at Gleason's Gym in Dumbo, N.Y., ahead of Saturday's card, topped by a fight between Broner and welterweight titlist and Brooklyn native Paulie Malignaggi.

"My big brother got his legacy, I got mine," Broner said. "I want to see him retire undefeated. I don't want to hand him a loss."

But I do recall Broner having declared he wants to gross a billion dollars when all is said and done. It's a given that a fight with Mayweather would bring him $10 million dollars or so closer to that goal. That doesn't entice him.

"It's not about money," Broner declared. "I ain't hungry, I'm fine."

Both Broner and Mayweather will contradict themselves, a stance they took in days past, and leave fans and naysayers alike puzzling it out, trying to decipher their words and actions.
April, 19, 2013
4/19/13
9:22
PM ET
Welterweight titlist Paulie Malignaggi has been all over the fight week buildup for Saturday's Canelo Alvarez-Austin Trout clash, hosting the public workout in front of the Alamo on Wednesday and talking with fans and media at Friday's sun-drenched weigh-in in downtown Market Square. He's in San Antonio, of course, in his capacity as expert analyst for the Showtime broadcast, and accordingly he has been giving some thought to the possible ebbs and flows of tomorrow's bout.

"Well, I think for Canelo it's important to try and work his way inside, so he's able to throw hooks inside to the body," Malignaggi told ESPN.com. "I think Canelo has faster hands, but Trout is a tricky guy -- very slick, very slippery, he's very crafty. The trick will be, will Trout's craftiness disallow Canelo from getting inside to work? Because if Canelo can get close enough, his fast hands could cause problems for Trout. But Trout is very shifty, and if Trout doesn't let Canelo get in punching range, it could be a long night for Canelo."

If the key to real estate is location, location, location, Malignaggi offers that Saturday's contest is all about distance, distance, distance.

"So it's one way or the other, depending on who had the best preparation and who can match up that distance better," he said. "Because if Trout can be the master of the distance, it's Trout's fight. If Canelo starts to get close to him, it's Canelo's night. It goes down to who's mastering their game plan better. It seems Trout has the better feet, but Canelo has the faster hands. It's tricky to predict."

"The Magic Man" doesn't think Saturday's fight will necessarily be the sort that offers an immediately apparent outcome. Even if one man begins in the ascendant, he argues, fans shouldn't be surprised if the advantage changes hands frequently over the course of the contest.

"I think it's back-and-forth," he said. "I think we're going to see a lot of momentum changes. I think it's going to be a good fight. I think it's going to be an entertaining fight."

Malignaggi will be ringside again next week, at the Barclays Center in Brooklyn for Danny Garcia's junior welterweight title defense against Zab Judah. But he'll be there not only as an analyst but also as a participant in a media conference to officially announce his June 22 matchup, at the same venue, with lightweight titleholder and fellow pound-for-pound trash-talker Adrien Broner.

"Yes, yes," he confirmed. "It's signed, sealed and delivered. It's going to be cool. Absolutely, man, it's my house, so we'll give him a big welcome."
November, 19, 2012
11/19/12
6:51
PM ET
On a Monday conference call to hype his Saturday comeback fight against Vyacheslav Senchenko, beloved Brit pugilistic icon Ricky Hatton said he was keen on meeting Paul Malignaggi, in Brooklyn, N.Y., for his next bout if things go smoothly Saturday in England.

An everyman figure who made it no secret that, like the majority of us regular souls, he was prone to too many plates of takeout and excessive pints, Hatton, 34, last fought in May 2009. He got blown out by Manny Pacquiao in two rounds and spiraled into a pit of despair following that. He battled substance abuse and several times on the call referenced multiple suicide attempts. Hatton said that by climbing out of that quagmire he has already won a battle. He expects to be in good enough form to beat Senchenko at Manchester Arena.

Then, he'd love a scrap with Malignaggi. Maybe right after the comeback bout, in the U.S. or England?

"It's the easiest one to make," Hatton said, "because of [Malignaggi's] history with Golden Boy. I'd like to come to fight in New York. I like new challenges. It's nice that my fans follow me around the world [and] take over the place."

Hatton beat Malignaggi via 11th-round TKO in 2008. That bout sticks in the Brooklyner's craw. "I would love to see Ricky look spectacular on Saturday night, to build it up goo,d" said Malignaggi, who holds the welterweight crown he took off Senchenko in April. "I'm in Malta now and heading to England tomorrow. I will be at Hatton's fight, working with Primetime on the U.K. broadcast of the fight."

Senchenko, 35, is no pup, but he hasn't been retired, as Hatton has. It's anyone's guess -- and that includes Hatton's -- on how many layers of rust have accumulated on "The Hitman." This comeback could easily be a one and done.
October, 21, 2012
10/21/12
3:42
AM ET
BROOKLYN, N.Y. -- The headliners were from Philadelphia and Tijuana, Mexico, and the main televised card opened with fighters from St. Louis and Miami engaging in a bout that many would prefer to forget. But Saturday night's card was all about New York. Specifically, it was all about Brooklyn.

The Barclays Center has provided a new home and a new name for what are now the Brooklyn Nets of the NBA -- although early preseason results suggest it has done nothing to magically improve that team's results. The arena's first experiment in bringing big-time boxing back to the borough, however, saw the home team sweep the wins, sometimes in style.

OK, Paulie Malignaggi might have benefitted slightly from hometown cooking in eking out a split-decision win against Pablo Cesar Cano. But, close and hard-fought though it was, it was clear how much the win -- and the experience -- meant to the "Magic Man."

"This means the world to me," he said afterward. "I was born only 5 miles from here. This is an incredible feeling."

On one level, the evening felt a little like that night last December in Washington, D.C., when a rabid crowd roared Lamont Peterson to a controversial -- and ultimately tainted -- win against Amir Khan, just a block or so from where he and his brother once slept on the streets. But this is New York, so everything was bigger: the beautiful new venue, the crowd that didn't quite fill it in numbers but filled it with noise, and the number of local fighters who represented their city and their borough.

Of them all, few can have advanced their careers more than Peter "Kid Chocolate" Quillin, who dropped opponent Hassan N'Dam six times -- including twice in the final round, to ensure a championship-caliber finish to a true championship-quality contest -- and still found himself in a dogfight right down to the final bell. It is to the credit of the crowd that it rose to applaud N'Dam as he climbed the corner post at the end of the bout, recognizing a true warrior.

But there can be no doubt about the person around whom the cameras clustered, in whose beaming face the postfight microphones were thrust. The attention wasn't because Daniel Jacobs' victory was spectacular -- although his first-round knockout of overmatched Josh Luteran certainly was. It was because, as victories go, it wasn't even close to being the biggest he has secured in his career or in his life.

Eighteen months ago, Jacobs had cancer. Eighteen months ago, he had no idea whether he would live or die, let alone box again. And now here he was, not only fighting, not only winning, but winning by knockout, and doing so in front of his hometown fans -- fans who might have given him the very biggest ovation of all.

"First-round knockout in Brooklyn, this is electrifying," he said afterward, beaming. "This moment means the world to me. They told me I would never walk or box again, and I proved everyone wrong."

That he did -- and he did so in style. On a night of big Brooklyn winners, Jacobs was the biggest of them all.
August, 13, 2012
8/13/12
6:09
PM ET
Paul Malignaggi, the WBA welterweight champion, has begun light training for his Oct. 20 bout at the Barclays Center, presumably against Pablo Cesar Cano.

Malignaggi told NYFightBlog that Cano (25-1-1) hasn't been locked down 100 percent as of today, but he expects that the 22-year-old Mexican fighter will be the man standing across from him on the first fight night at the new Brooklyn arena.

Malignaggi jetted from New York to Los Angeles last week to begin training. "I'm training lightly," he said, "but will pick up the pace soon enough."

He's still saving room for some summer fun. The 31-year-old with a 31-4 record will judge a ring card girl competition in Las Vegas this weekend.

Once Cano has been locked in, Malignaggi will sit down with trainer Eric Brown and start talking about a game plan. He'll fly back to New York three or four weeks before the fight and resume training here so he can help with the promotional push.