September, 13, 2013
9/13/13
2:13
PM ET
By
Andrew R. Davis
| ESPN Sports & Information Group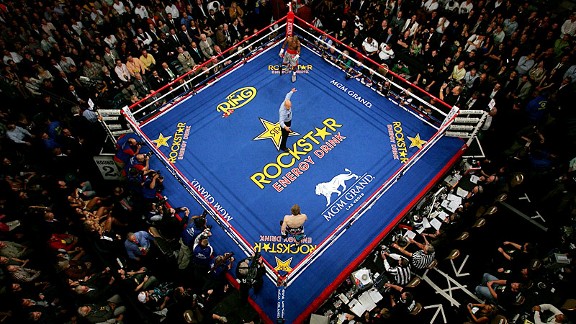 Al Bello/Getty ImagesFloyd Mayweather Jr. has made the ring mat at the MGM Grand a canvas for his greatest masterpieces.
After Floyd Mayweather Jr.'s victory over Robert Guerrero in May, fans were treated to an updated version of a quote that has become a Mayweather staple: "Forty-four have tried and 44 have failed." Although that number should technically be amended to 43 (Mayweather fought Jose Luis Castillo twice), it's all academic for Canelo Alvarez, who on Saturday will try to avoid becoming the next number on Money's ledger.
Earlier in the week, our Stats & Information Group gave you several important fight factors for Mayweather, including experience, speed and defense. But there's one more element to be taken into account: the venue. Since a unanimous decision win over Gregorio Vargas in 2000, Mayweather has compiled a 10-0 record -- and fought all of his past seven fights -- on the grounds of Las Vegas's MGM Grand (including the Garden Arena). Canelo has fought there on three occasions, but Las Vegas is Mayweather's adopted hometown and the MGM Grand is his home court, despite numerous opponents having had the crowd in their favor.
Mayweather's greatest triumph at the MGM Grand came in 2007 when he fought Oscar De La Hoya for a junior middleweight belt -- the same title, in fact, that he will be fighting for on Saturday. In that fight, De La Hoya threw 106 more punches and 100 more power punches, but it was Mayweather who was the more accurate fighter. According to Compubox, Mayweather landed 43 percent of his punches (compared to De La Hoya's 21 percent), while also landing 57 percent of his power punches. The officials scored it 116-112, 115-113 Mayweather, 113-115 De La Hoya in what many consider to be Mayweather's toughest victory. Attendance for the fight was listed at 16,200 (15,432 paid). The live gate of $18.4 million remains the largest in boxing history.
Mayweather vacated the junior middleweight title to defend his welterweight title against England's undefeated Ricky Hatton later in the year. Mayweather overcame a large, raucous contingent of U.K. fans in the crowd and, in the early rounds of the fight, a very aggressive Hatton. Mayweather adjusted, landing 39 percent of both his power and total punches, according to Compubox, compared to just 17 for Hatton. Mayweather hit Hatton with a left hook in the 10th round that put the challenger on his back, and when Hatton tried to regain his composure and the fight resumed, Mayweather attacked and knocked him down again, prompting a TKO stoppage from referee Joe Cortez. Despite the pro-Hatton crowd of 16,459 (15,488 paid), Mayweather improved to 5-0 at the MGM Grand. The live gate came in at $10.3 million.
With no titles upon his return in 2009 from a nearly two-year retirement, Mayweather defeated Juan Manuel Marquez ($6.8 million live gate) in front of 12,009 paid fans to go 8-0 against Mexican fighters. He would then defeat Shane Mosley ($11 million live gate) before winning back his welterweight title from Victor Ortiz ($9 million live gate) in September 2011.
Miguel Cotto was next, the prize being a junior middleweight title. Before a crowd of 16,047 (14,612 paid), Mayweather landed his lowest percentage of punches (26 percent) that Compubox has tracked in any of his fights, while Cotto landed 21 percent. Mayweather outlanded Cotto in 11 of 12 rounds and held a 179-105 advantage on punches connected en route to a unanimous decision, 118-110, 117-111 and 117-111. The live gate for the fight was $12 million, ninth-largest in history.
Mayweather defended his welterweight title against Guerrero in May ($9.9 million live gate), and on Saturday he will face Canelo Alvarez in a fight that has sold out the approximately 16,800-seat MGM Grand Garden Arena, with a rumored 65 percent of those sales coming from the Mexican public. According to Golden Boy Promotions CEO Richard Schaefer, the live gate for Mayweather-Canelo will surpass $20 million, which would be an all-time high in the state of Nevada.
-- Attendance and live gate numbers courtesy of Nevada State Athletic Commission
-- Statistical data provided by Compubox
November, 19, 2012
11/19/12
6:51
PM ET
On a Monday conference call to hype his Saturday comeback fight against Vyacheslav Senchenko, beloved Brit pugilistic icon Ricky Hatton said he was keen on meeting Paul Malignaggi, in Brooklyn, N.Y., for his next bout if things go smoothly Saturday in England.

An everyman figure who made it no secret that, like the majority of us regular souls, he was prone to too many plates of takeout and excessive pints, Hatton, 34, last fought in May 2009. He got blown out by Manny Pacquiao in two rounds and spiraled into a pit of despair following that. He battled substance abuse and several times on the call referenced multiple suicide attempts. Hatton said that by climbing out of that quagmire he has already won a battle. He expects to be in good enough form to beat Senchenko at Manchester Arena.

Then, he'd love a scrap with Malignaggi. Maybe right after the comeback bout, in the U.S. or England?

"It's the easiest one to make," Hatton said, "because of [Malignaggi's] history with Golden Boy. I'd like to come to fight in New York. I like new challenges. It's nice that my fans follow me around the world [and] take over the place."

Hatton beat Malignaggi via 11th-round TKO in 2008. That bout sticks in the Brooklyner's craw. "I would love to see Ricky look spectacular on Saturday night, to build it up goo,d" said Malignaggi, who holds the welterweight crown he took off Senchenko in April. "I'm in Malta now and heading to England tomorrow. I will be at Hatton's fight, working with Primetime on the U.K. broadcast of the fight."

Senchenko, 35, is no pup, but he hasn't been retired, as Hatton has. It's anyone's guess -- and that includes Hatton's -- on how many layers of rust have accumulated on "The Hitman." This comeback could easily be a one and done.