May, 2, 2013
5/02/13
2:51
AM ET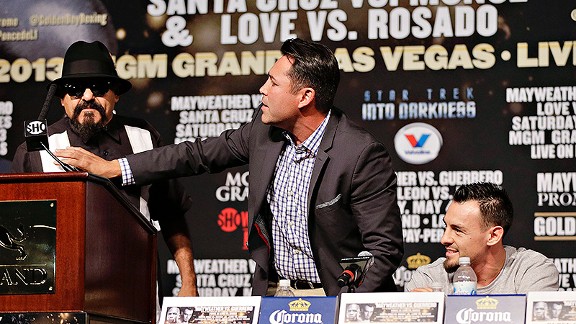 AP Photo/Julie JacobsonRuben Guerrero's comments on Wednesday had Oscar De La Hoya trying to hush him -- to no avail.
LAS VEGAS -- It was not exactly shaping up to be the most electrifying media conference of all time. Sponsors, promoters and broadcasters all took their turn at the podium, and the assembled media fidgeted and tweeted and waited for something interesting to happen.
And then Ruben Guerrero walked to the microphone.
"My son's blessed, I'm blessed," said the father and trainer of Robert Guerrero.
Fair enough, and all fairly uncontroversial so far.
"I'm the real deal, and I don't talk s---, baby, I back it up."
That, perhaps, suggested that the elder Guerrero had something more contentious in mind. Even so, the rapidity with which he accelerated the news conference from "Masterpiece Theatre" to "The Wire" took all in attendance by surprise.
"We're going to beat up that woman-beater -- the one that beat up his wife," Ruben suddenly proclaimed, a reference to last year's incarceration of Floyd Mayweather Jr., his son's opponent on Saturday, for domestic assault. "He beat up his wife in front of his kids. He must have learned that from his dad. We're going to beat that woman-beater."
That, unsurprisingly, prompted a retort from the aforementioned dad, Floyd Mayweather Sr., who began jawing at Guerrero from the audience, shouting at him to sit down and shut up, while the elder Guerrero continued to turn up the volume. After a period of stunned paralysis, promoter Oscar De La Hoya ushered Ruben away from the podium.
"It's OK, it's OK," he said.
Ah, but it wasn't.
After the news conference, Ruben Guerrero returned to his theme: "He's a woman-beater, man," he repeated to journalists. "He's talking s--- about my son, that he's a hypocrite. What about him? He's beating up women in front of his kids and then he's crying in jail? Be like a real man. Don't be crying."
And then Floyd Sr. emerged, as if from nowhere, flying toward Guerrero until he was tackled by promoter and light heavyweight champ Bernard Hopkins, who held him back as the two trainers/fathers yelled at each other.
"Hit me brother, hit me," shouted Guerrero. "Let's do it right now. You're scared, brother, you're shaking."
Robert Guerrero took it all in stride.
"He will throw down," the fighter said of his father, who was still taunting Floyd Sr., who in turn was yelling back at Ruben even as he was hustled away. "He's the real deal."
"Yeah, I can crack baby," exulted the elder Guerrero. "He ain't getting up if I hit him."
Amid the chaos, the two sons retained a detached calm.
"My thoughts are to think about the fight, not worry about what these guys are saying," Robert Guerrero said. "My job is to focus on what I got to do, to take care of my business in the ring."
"I don't have to sit here and bad-mouth his father," Floyd Jr. said. "Only God can judge me. I just say a prayer for him. I'm not upset at all."
The reason Mayweather's father was in the audience yelling at Ruben Guerrero and not up on the dais alongside his son was, said Mayweather, because he had asked him to sit down there expressly to avoid any possible conflict between the two men.
"I'm trying to avoid anyone getting hurt," Floyd Jr. said. "If I'm up here and my dad and his dad get to fighting, they fall on him or they fall on me, somebody's finger or something gets broke or something happens, somebody gets a cut, you're talking about millions of dollars going down the drain. You have to be smart."
May, 1, 2013
5/01/13
1:17
PM ET
LAS VEGAS -- Robert Guerrero says the gun charges stemming from a recent incident in New York are "taken care of," and haven't been a distraction as he prepares to face Floyd Mayweather Jr. at the MGM Grand Garden Arena on Saturday.
[+] Enlarge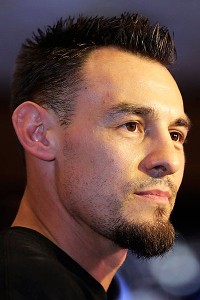 AP Photo/Julie JacobsonRobert Guerrero appeared to be unfazed when asked on Tuesday about his recent gun-possession arrest, calling the incident "a misunderstanding."
Guerrero, 30, was arrested March 28 at John F. Kennedy International Airport in New York when he attempted to check an unloaded gun onto a flight bound for Las Vegas. He is scheduled to appear in Queens Criminal Court on May 14.
"It's all taken care of," Guerrero said. "It was a misunderstanding. [Showtime] wanted to film me doing a thing here in Las Vegas. I'm an active fisherman, hunter. Unfortunately, they didn't make it here. I was just unaware of New York City law."
It's the most Guerrero has said about the incident since it occurred. He is charged with one count of criminal possession of a firearm and three counts of third-degree criminal possession of a weapon. The maximum penalty is four years in prison.
The May 14 court date is 11 days after he's scheduled to face Mayweather for a welterweight title in Las Vegas.
Guerrero (31-1, 18 KOs) appeared comfortable talking about the issue on Tuesday, but the fighter's manager, Luis DeCubas Jr., quickly redirected questions.
"I ain't got nothing to hide," Guerrero said. "Everything is all taken care of already. My main focus is getting ready for the fight. The bottom line is taking care of business."
Guerrero, who says he is a licensed weapons carrier in Gilroy, Calif., where he lives, flew to New York from Virginia on May 25 for a media tour. He admitted that the unloaded weapon was in his possession when he arrived.
Mayweather (43-0, 26 KOs), who served two months in a Las Vegas jail last year for a misdemeanor domestic battery case, hasn't passed up the opportunity to speak out on his opponent's legal matters, calling the declared Christian a "hypocrite."
"He's going to the '700 Club' and talking to kids, but then he's carrying a gun," Mayweather said. "If God's got your back, why are you carrying a gun?"
Guerrero laughed off Mayweather's comments.
"No, that's not my belief," answered Guerrero when asked if he thinks he'll have to serve time following the fight. "My belief is I'm going to go in there and beat him down on [Saturday]. He needs to be worried about that and not about what's going on with me after the fight."