January, 14, 2014
1/14/14
2:50
PM ET
LOS ANGELES -- Miguel Cotto wants a shot at middleweight champ Sergio Martinez and an elusive fourth title belt, but no matter the opponent, he said Monday, he will fight on June 7 at Madison Square Garden in New York City.
"We still do not have an extra name besides Sergio," Cotto told ESPNDeportes.com of his potential opponents, "but we will find them."
Still, Cotto, 33, said that many of the sticking points between his and Martinez's sides were apparently hammered out during a meeting the camps held two weeks ago in New York. Cotto declined to specify those details.
"We are still negotiating, trying to figure everything out for the event," Cotto said. "After we agree, then we can say we have a fight.
"It's closer than it was two weeks ago, so we can say it's more close than far apart."
Martinez has said he would like to fight Cotto, and even has been quoted as saying that only the contracts need to be signed, but the fight isn't yet a done deal.
Sources within both camps have said that decisions about who would enter the ring first and which name would appear first in promotional materials still need to be worked out.
"I would like to fight Cotto, but he's showing signs that he doesn't want to [fight me], comes out with complicated conditions," Martinez recently told Argentina-based news agency DYN. "He doesn't respect boxing, he doesn't respect history."
In December, Cotto said he would reject a $10 million offer from Golden Boy Promotions to fight Canelo Alvarez in order to seek a middleweight title. If he beats Martinez, Cotto would be the first Puerto Rican fighter to win world titles in four divisions.
Cotto's choosing to fight Martinez first, however, doesn't mean that Alvarez is out of the picture for the future.
"After June, we have six more months and at any moment in those six months we can have a fight with Canelo," said Cotto, who is essentially a promotional free agent who has no hang-ups negotiating an agreement with Top Rank (which likely would promote a Martinez fight) or its rival Golden Boy (which represents Alvarez).
Cotto (38-4, 31 KOs), who most recently fought in October -- a TKO victory over former junior welterweight contender Delvin Rodriguez -- went so far as to say he would be willing to serve as an intermediary between promoters to facilitate the process.
"I'm willing to help the sport that has given me all I have today," Cotto said. "If in any way I can mediate, take a message from here to there, from there to here, I'm available."
Golden Boy founder Oscar De La Hoya has sent out feelers through his Twitter account, suggesting the possibility of a thaw between his company and its rival. Although Top Rank's Bob Arum has seemed willing to listen, Golden Boy CEO Richard Schaefer hasn't been as receptive to the idea.
My boxing goal for the year is to end the "Cold War" #notgood #greatfights #fansr#1

— Oscar De La Hoya (@OscarDeLaHoya) January 11, 2014
Cotto has been a harsh critic of the so-called cold war, arguing that the rift affects both boxers and fans. Golden Boy is affiliated with Showtime Sports, while Top Rank airs major cards on HBO, which last year announced that it would no longer air Golden Boy cards.
"The fact that each promoter is identified with a network definitely affects boxing," Cotto said. "A fighter from this promoter can't fight with fighters from the other promoter. At the end of the road, only the boxing business is the one that it has hurt."
December, 21, 2013
12/21/13
10:13
AM ET
By
Brian Campbell
| ESPN.com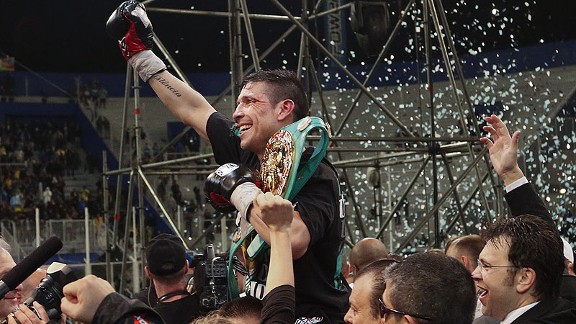 AP Photo/Victor R. CaivanoMiddleweight champion Sergio Martinez hasn't fought since April, when he outpointed Martin Murray.
In the spirit of the holidays, ESPN is celebrating the season with our own "12 Days" wish list of the fights we want to see most, regardless of promotional or other entanglements. Keep checking back over the coming days to see new fights revealed, discuss our choices, or even suggest some of your own in the comments section or via Twitter using #ESPN12Days.
For as spectacular a one-man wrecking crew as unbeaten middleweight titlist Gennady Golovkin has looked throughout his reign of terror in 2013, there are many who still need to see him against A-level competition before giving him his due.
All of this despite the fact that Golovkin (28-0, 25 KOs) has accomplished a devastating run of nine title defenses -- all by knockout -- and 15 consecutive stoppages overall, while showing unmistakable evidence of elite power, poise, chin and technique.
The bigger problem has been that the very best are unwilling to face Golovkin, 31, causing him to basically offer an open challenge to literally any fighter over an unprecedented four-division span from 154 to 175 pounds.
Meanwhile, the division's lineal champion, Sergio Martinez, has heard his own legion of doubters assert the notion that he has entered a state of marked decline thanks to an aggregated toll of injuries and age (he turns 39 in February).
The majority of the fuel for this argument was built up after Martinez's contested victory over then unbeaten Martin Murray in April, even though "Maravilla": (1) rushed back too quickly from knee and hand injuries suffered against Julio Cesar Chavez Jr., (2) took Murray lightly while focusing too much on putting on a show in front of his hometown fans in Buenos Aires and (3) fought outdoors in a driving rainstorm.
Martinez (51-2-2, 28 KOs), a late-bloomer who didn't take up the sport until age 20 or win a title until his mid-30s, is still just over a year removed from the most dominant performance of his career in the fight against Chavez (despite overcoming a knockdown in Round 12). With a break of more than one full year by the time he makes his expected return this spring, the reports of his demise could prove to be exaggerated.
The best remedy, of course, for either fighter to quiet the suspicions of his own critics would be the two to fight each other. It's not only a mouth-watering style matchup between two pound-for-pound-level talents -- one a slick counterpuncher and the other a stalking slugger -- it's also the best realistic fight in boxing that could be made in 2014.
Should Martinez secure a big-money showdown with Miguel Cotto in June and get through unscathed without defeat, injury or the announcement of his own retirement, the battle for true division supremacy against Golovkin would be unavoidable. Simply put: There would be no logical excuse for the fight not to be made.
Martinez has talked publicly in the past of his willingness to face Golovkin and has been nothing but a stand-up champion since taking the crown from Kelly Pavlik in April 2010. The question, of course, is whether his promoter, Lou DiBella, and manager, Sampson Lewkowicz, would share the same interest in making the fight.
Ironically, the only fighter this decade besides Golovkin who has endured a tougher time securing deserved fights with the biggest names in the sport is Martinez. Pairing them together would be the right thing to do.
By using his athleticism to land countershots from dynamic angles to beguile Golovkin and defend his crown, Martinez would secure a bookending victory to a Hall of Fame career no longer in question.
Conversely, if Golovkin proved able to walk down Martinez with power shots before forcing the aging champion into submission, it would cement his credibility and catapult him to stardom.
But there's an even more important dynamic to this fight, and it's something we don't always get to see in today's cold war promotional climate: the opportunity for an authentic changing of the guard in one of boxing's few glamour divisions.
And that still means something.
@BCampbellESPN Martinez vs Golovkin is a huge fight for boxing that has to happen in 2014. Looking forward to that showdown #espn12days

— Michael Hopson (@Mike32H) December 21, 2013
Canelo Alvarez v.s Gennady Golovkin #ESPN12days @ESPNBoxing @caneloOficial @gggboxing

— RJ BergerO (@CrispyCreamCris) December 18, 2013
If Martinez looks great against Cotto, then I want Martinez vs Mayweather @ 154, Sept, best challenge for Mayweather I'd buy it #espn12days

— Stan Griffin (@Stan_13) December 25, 2013
disagree with golovkin vs Martinez. Martinez will have to employ the same tactics he used against pavlik but with older legs #ESPN12Days

— Joydeep Sen (@Joydeep3000) December 25, 2013
October, 31, 2013
10/31/13
10:18
AM ET
By
Brian Campbell
| ESPN.com
There might be nothing more avoided in boxing than the acquisition of the title "boxing's most avoided fighter."
It might not be rain on your wedding day, but it's still plenty ironic. Don't you think?
Unbeaten middleweight titlist Gennady Golovkin has been wrestling with this very dilemma ever since exploding onto the radars of American boxing fans barely more than a year ago.
Although fans have clearly taken to his "Jekyll and Hyde" persona -- grinning choir boy struggling endearingly to command a new language outside the ring, void-of-emotion assassin inside of it -- that additional bit of irony hasn't turned Golovkin into a desired opponent.
He is simply too dangerous for his own good, a Kazakh crusher who lacks the built-in fan base to help create enough dollars to make it worth it for a big-name fighter to test himself against Golovkin's ferocious union of talents.
But Golovkin (27-0, 24 KOs), for his part, continues in his dogged effort to extinguish the "most avoided" label, attacking it with the same cold-blooded intensity that resulted in knockout victories in each his past 14 bouts.
If the best thing an avoided fighter can do is to stay busy while looking spectacular in doing it, Golovkin has overwhelmingly succeeded. His title defense against Curtis Stevens on Saturday (HBO, 10 p.m. ET) will be his fourth fight of 2013 and his fifth since making his American debut 14 months ago.
Saturday's bout is essentially a stay-busy fight wrapped in a flashy package, thanks to the backdrop of New York's Madison Square Garden Theater -- although there is the outside threat of Stevens' top-end power. Golovkin respects the challenge, calling it "a dangerous fight for us -- for him and for me."
[+] Enlarge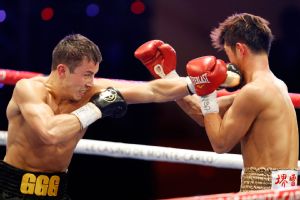 Valery Hache/AFP/Getty ImagesGennady Golovkin and his team are keenly aware of his talents, and they're willing to put him in a fight as high as 175 pounds to land a name opponent.
But he and his team are also keenly aware of just how sublimely talented he is. Golovkin knows the importance of getting through this test unscathed, yet before and since the fight with Stevens was made, he has routinely spoken of his willingness to fight anyone, at any time, with a flexibility regarding weight that's just about unprecedented at the highest levels.
What that had meant, previously, was a three-division window between 154 and 168 pounds that was open to willing opponents. But in recent months, Team Golovkin has boldly opened that window wider, now inviting 175-pounders to take their best shot.
Golovkin's confidence and commitment toward capitalizing on the relatively small remainder of his absolute prime -- he's already 31 -- is admirable. But you also have to wonder if the offer to potentially move up two weight classes to contend with a bevy of heavy hitters at light heavyweight is a bit too ambitious, if not excessive.
On the one hand, Golovkin has yet to be knocked down -- or even hurt -- in nearly 400 amateur and professional fights and he just might possess the kind of transcendent power that knows no divisional boundaries. Still, it's important to remember that he's not exactly a big middleweight to begin with.
And although politics and intelligent matchmaking probably will prevent him from luring cash cows Floyd Mayweather Jr., Canelo Alvarez and even Miguel Cotto into marquee fights at 154 pounds, Golovkin might not be in that bad of a spot, all things considered, if he focuses on what's available to him between 160 and 168 pounds.
Golovkin is on the right side of the firing line in terms of promotional politics, with the majority of big names in and around his division being HBO-friendly. In fact, the two most realistic options for him who could offer either pay-per-view buys (Julio Cesar Chavez Jr.) or critical respect on a pound-for-pound level (Andre Ward) have both expressed at least some level of interest in fighting him.
But one opponent could not only provide a gateway fight to launch Golovkin's brand skyward while offering him the kind of test to quiet his small legion of doubters, a foe who makes more sense than all the others: super middleweight titlist Carl Froch of England.
Froch, a mainstay on most P4P lists, is a marketable opponent with an exciting style that would nicely complement Golovkin's in a potential high-level slugfest.
He also appears interested in the idea
, provided he is unable to land a fight with Chavez.
"[Froch] is a big guy, a strong guy and a good fighter with good offense," Golovkin said. "That fight is important and is a great fight for everybody -- fans, fighters, HBO; a good deal for everybody. I want the big fight."
But none of those fights Golovkin seeks, including a potential showdown with injured middleweight king Sergio Martinez, will be possible unless GGG takes care of business against Stevens first. If he does what's expected of him, Golovkin says, he'll return as quickly as January to continue doing what he does best: staying busy, looking spectacular and trying like heck to lure the biggest and most dangerous names to face him.
"Right now is my time," Golovkin said. "I want next year to fight the same schedule of four to five fights. I feel great. I am here. I am ready. This [schedule] is very easy for me."
October, 7, 2013
10/07/13
2:08
PM ET
By
Javier Maymi
| ESPNDeportes.com
ORLANDO, Fla. -- After Miguel Cotto suffered consecutive losses to Floyd Mayweather Jr. and Austin Trout, the consensus was that the Puerto Rican star was finished, that his career as a world title contender and top draw had ended, and all that was left to be addressed was his legacy.

How wrong we were.

Instead, the former three-time champion arrived in Orlando last week ready to plant his flag on the junior middleweight division, and although he and trainer Freddie Roach had been telling anyone who would listen that Cotto would show that he is reinvented -- having returned to his roots as a puncher and proving that his lethal left hook was intact -- few took it seriously before witnessing it with their own eyes.

But seeing is believing. And it took only the first 10 seconds of his bout against Delvin Rodriguez at the Amway Center on Saturday to conclude that the changes foretold by Cotto and Roach weren't merely talk. The handle on his Twitter account -- @RealMiguelCotto -- was all but prophetic: Cotto is back.

Cotto's thrilling comeback -- a third-round TKO of Rodriguez -- was the result of a perfectly executed plan drawn up by Roach: Attack the body and top off the assault with power shots, specifically the left hook. This proved to be the blow that sent Rodriguez down for good.

Also significant were the accompaniments to Cotto's win: no entrance music, no hoopla. Only a show of courage from a fighter who knew he had everything to lose.

Cotto looked quick, lucid and comfortable returning to his former attacking style. His back never touched the ropes, and although Rodriguez isn't quite in Cotto's class, he's not a pushover, either. This was a brilliant performance against a capable opponent.

But here's the question now on the lips of fight fans: What's next for Cotto?

We can assume there won't be any adjustments to his corner in the near future. Cotto and Roach said they were "comfortable" with each other, and the pairing obviously produced excellent results. Meanwhile, there are zero promotional entanglements for Cotto, who is essentially a free agent.

General speculation has Cotto eyeing a fight with Canelo Alvarez, although there would a giant hurdle to clear if Cotto wanted to continue his relationship with Top Rank, which promoted Saturday's fight. (Alvarez is represented by Golden Boy.)

Another option could be Sergio Martinez. The only significant issue there would be settling the contracted weight for the fight. Martinez is a true middleweight, while Cotto has repeatedly said he feels best at junior middleweight. He fought Rodriguez at 153.2 pounds, just under the junior middle limit, and seemed as comfortable as a fish in water. His body shots were strong, lowering Rodriguez's defense to allow Cotto to land left hooks to the face that led to the victory.

There's also the possibility of having another go at Trout, who said he would welcome either a Canelo rematch or a fight with the winner of Cotto-Rodriguez.
For Cotto, a Trout rematch would present an opportunity to avenge his December 2012 defeat at Madison Square Garden.

But if you ask Roach, there's only one goal for Cotto at this point: Mayweather.

"Miguel is ready to go against Mayweather," Roach said after Saturday's fight. "He is in the best shape of his career. He returned to the style that he needed to go back to, and as Miguel said last week, if I had been in his corner for his fight against Mayweather, he would have won."

The junior middleweight picture might begin to come into focus as early as this weekend, when the spotlight will return to Las Vegas, where Juan Manuel Marquez is set to challenge for Timothy Bradley Jr.'s welterweight title. That result should clear up a few things at 147, 154 and 160 pounds.

But even while we speculate about what's to come in the weeks ahead, we know this much is clear: In any conversation about boxing's next big fight, Miguel Cotto's name is once again as relevant as ever.
October, 6, 2013
10/06/13
1:36
AM ET
Cynics -- and I dare say that is most of the folks who have been covering boxing for any length of time -- took it with two grains of salt when Miguel Cotto and new trainer Freddie Roach both said that they were working on bringing back the "old" Cotto, a left hook-happy hitter who sought and got KOs.
Darned if the trainer and boxer weren't on message, and Cotto, who turns 33 on Oct. 29, on Saturday night looked like a 10-years-younger version of himself who hadn't absorbed back-to-back losses to Floyd Mayweather Jr. and Austin Trout.

Granted, Cotto (38-4) took on just a solid journeyman in Delvin Rodriguez (28-7-3) at the Amway Center in Orlando, Fla. But he made Rodriguez look like a C-grade boxer as he imposed his will and skills, and a rib-battering left hook on the Connecticut-based brawler. In Round 3, two left hooks and a right sent Rodriguez to the mat, and the ref didn't even need to count, calling for a TKO.
The Puerto Rican boxer's stock jumped considerably, and social media buzz on whom he might face next percolated quickly. Maybe a jump to 160, from 154, to fight middleweight champion Sergio Martinez, in favorite old stomping ground Madison Square Garden next spring? Maybe a P.R.-versus-Mexico rumble against Canelo Alvarez, who looked worse against Mayweather on Sept. 14 than Cotto did when he met "Money" in May 2012?
So I'll throw the question to you, readers: Whom do you want to see Cotto fight next?
August, 20, 2013
8/20/13
4:26
PM ET
By
Brian Campbell
| ESPN.com
So let's be real with each other about boxing in 2013:
Like a no-hitter through seven innings, this year shouldn't be celebrated too early. Can't be too careful to avoid jinxing anything to do with this cruel and unpredictable sport. But ... this year has been crazy. Amazing. Riveting. Scintillating. And it just seems to keep getting better with every week.
[+] Enlarge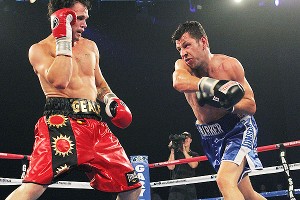 Courtesy of Alex Ridley.Saturday's fight between Daniel Geale and Darren Barker continued this year's trend of barnburners, stirring something unfamiliar in fight fans: hope.
From the blockbuster cards to the low-profile shows featuring prospects and journeymen, it isn't just that there has routinely been something to talk about at the proverbial watercooler. The talk has even been
positive
.
Even now, in the midst of a promotional cold war I personally abhor and will never accept as simply "Well, that's just the way it is," we are getting the fights we want -- and they are actually living up to expectation.
Fans have been able to enjoy at least five legitimate candidates for fight of the year (and that was before Saturday's Darren Barker-Daniel Geale scrap), including at least two -- Timothy Bradley Jr.-Ruslan Provodnikov and Mike Alvarado-Brandon Rios II -- that produced enough drama and savage artistry to be considered on par with the best of this century.
But it goes beyond that. We've also seen breakout campaigns from exciting and marketable action fighters such as Gennady Golovkin, Lucas Matthysse, Adonis Stevenson and Sergey Kovalev. We've seen the development of young stars who appear more than ready to be labeled "next." (I'm looking at you, Abner Mares, Adrien Broner and Mikey Garcia.) And we've seen more than the typical number of under-the-radar fights (think Omar Figueroa-Nihito Arakawa and Sakio Bika-Marco Antonio Periban) deliver unexpected fireworks.
What this all amounts to, especially with a jam-packed final five months already on the slate, with fight-of-the-year hopefuls and big-name pairings jumping off the
schedule
, is two-fold.
First of all, and probably most important, the sport is relatively healthy again. Go ahead, bring on the backlash to that comment. And don't forget to mention the lack of a central governing body, too many titles, far-from-ideal drug-testing protocols and, oh yeah, that whole promotional catfight. But all things considered, boxing appears to be moving in the right direction after such an up-and-down decade.
And it clearly had been a rough ride for the sport since 2004, when a clear and distinct changing of the guard began to take place. There was the sudden crumbling of the heavyweight division, with the retirements of Lennox Lewis and Vitali Klitschko, not to mention the fallout of two knockout losses in a 17-month span for current champion Wladimir Klitschko. You also had a group of fighters who had become the face of the sport over the previous seven or eight years -- Oscar De La Hoya, Roy Jones Jr., Shane Mosley, Felix Trinidad -- hit career snags as losses and the impact of age began to erode their elite status.
Every valley, however, eventually leads back to another peak, and boxing rebounded in a big way with a banner year in 2007. In fact, it was the sport's last truly great year.
You had the anchor of the highest-grossing fight in history between Floyd Mayweather and De La Hoya. There were marquee bouts between unbeaten fighters such as Mayweather-Ricky Hatton, Kelly Pavlik-Jermain Taylor I and Joe Calzaghe-Mikkel Kessler. There also was a run of memorable action fights: Miguel Cotto-Mosley, Paul Williams-Antonio Margarito, Cotto-Zab Judah, Juan Manuel Marquez-Marco Antonio Barrera and the first two Rafael Marquez-Israel Vazquez wars. (And let's not forget about the Bika-Jaidon Codrington "Contender" finale and the two Michael Katsidis fights with Graham Earl and Czar Amonsot.)
Seriously, take inventory of the past 10 years or so in boxing and you simply won't find a more action-packed and memorable year than 2007 ... until now. And that leads to my second point.
The buzz of excitement surrounding the sport in 2013 has been a virtual runaway train. For the first time in many years, boxing's traditionally cynical group of fans and experts have grown to expect things to go their way. This is a huge departure from just a year ago, when a flurry of injuries and drug suspensions wiped out nearly a complete summer of entertaining fights.
So what was the tipping point? Ironically, it was a date that was supposed to have been representative of the type of greed that continually has plagued the sport in recent years. With both HBO and Showtime airing competing blockbuster cards on Sept. 15 -- which pitted a Sergio Martinez-Julio Cesar Chavez Jr. PPV against a cable show headlined by Canelo Alvarez -- a night that was expected to further darken the sport's black eye somehow had the opposite effect.
Instead, the fighters on both cards applied the black eyes to each other. The momentum of the evening then spilled into a memorable three months to close out the year, highlighted by Marquez-Manny Pacquiao IV, and it hasn't slowed yet.
The fact that 2013's biggest fight to date -- Mayweather's May 4 win over Robert Guerrero -- featured a poor promotion, lackluster sales and a rather unexciting in-ring result, yet still hasn't killed the buzz, is proof that this will be a year to remember.
And think about this for a second: The next few months, we expect, will bring us continued excitement from the likes of Danny Garcia-Lucas Matthysse, Bradley-Marquez, Alvarado-Provodnikov and Pacquiao-Rios. But what about Mayweather-Canelo? What if this fight -- the one most experts continue to downplay as likely one-sided, with an almost predetermined result -- ends up bringing the kind of action, drama and excitement on par with what we've seen throughout most of 2013? What happens next?
It's crazy to think about, of course. But for a sport that is regularly labeled as cursed to yield a year so sublimely fun to be a part of, I'm not going to bet against it.
I have to admit, it's kind of weird going into a season of big fights and actually expecting them to live up to expectations. Don't lose heart -- this is really how it's supposed to be. Let's savor the flavor while we can.
July, 16, 2013
7/16/13
4:49
PM ET
By
Rodrigo Azurmendi
| Special to ESPNDeportes.com

LOS ANGELES -- Apparently the breakdown in the working relationship between Julio Cesar Chavez Jr. and Freddie Roach has been a one-sided issue. Roach recently spoke to ESPNDeportes.com about the subject, providing further explanation about the lack of communication between the trainer and his former pupil.

"He called me and asked if I wanted to work with him, and I said, 'I would love to do that,'" Roach said. "But after that, I never heard from him again."

Roach, who is currently working with two-time Olympic gold medalist Zou Shiming for his July 27 fight in Macau, said that he wasn't totally sure about his current status with Chavez. He did, however, all but rule out the possibility of working with the 27-year-old former middleweight titlist for his comeback fight against Brian Vera on Sept. 7 in Los Angeles.

"Sometimes I read the reports on the Internet about us being cool, and others that say that I'm out," Roach said. "I really have no idea about what's going on; he is not being consistent. I wish him the best because he is a great kid. I don't think that I will train him for the Vera fight, because it's such short notice and Julio is not here."

Despite their differences, Roach said he's open to a reunion with Chavez. "I would work with him again, sure," Roach said. "Our first four fights together were really good -- he never said no, he worked really hard and looked outstanding. However, suddenly, he wanted to change everything and be the man in charge, and he fought horribly."

Roach, a 2012 International Boxing Hall of Fame inductee and five-time trainer of the year, offered a succinct take on Chavez's performance in his most recent fight, last September's decision loss to Argentina's Sergio Martinez.

"He almost won by knockout in the end, but it would have been pure luck," Roach said. "You really don't want to fight based on luck; Julio could have easily won that fight if he had trained properly."

Roach also made sure to set the record straight about who would be in charge if he and Chavez work together again.

"If that happens," Roach said, "the very first day he is a no-show, I will go home."
June, 27, 2013
6/27/13
6:16
PM ET
By
Brian Campbell
| ESPN.com

Despite what you hear and read, there's a very good chance middleweight titlist Gennady Golovkin might actually be human.

You wouldn't necessarily know that, however, by listening to boxing experts -- this one included -- who unleash a gluttony of adjectives to describe his otherworldly power and exciting style.

Golovkin (26-0, 23 KOs), the 31-year-old unbeaten destroyer from Kazakhstan who holds the highest knockout percentage among active titleholders, has reached a cartoon-cult status within the sport. There is such a mythology that follows him from fight to fight (and subsequently knockout to knockout) that he might as well change his nickname from the delightfully cheesy "GGG" to boxing's "God of Thunder."

The main reason for the surrounding cloud of hype is Golovkin's calamitous power in both hands -- a sort of Tyson-esque equalizer that all fighters dream of being born with. It's the kind of power that keeps you in every fight and, in Golovkin's case, causes opponents and ringside writers to marvel at just how much different it sounds and feels when his punches land.

And Golovkin is far from a one-trick pony when it comes to his five-star talent. He says he has never been knocked down, or even hurt, in his entire career. And with a decorated amateur background that features a 2004 Olympic silver medal, multiple world championships and a record of 345-5, he's just as likely to outbox the rare fighter who proves able to withstand his best punch.

But therein lies the problem: Not only are fighters unable to typically get past the early rounds against him -- Golovkin has seen the ninth round just once in his career and hasn't had a fight go to the scorecards since the George W. Bush administration -- he also continues to have trouble getting big-name opponents into the ring with him.

The big concern surrounding the myth of Golovkin is that, despite holding a middleweight title since 2010 and having made seven title defenses -- with all seven ending by knockout -- he is still untested at the highest level. In fact, it's fair to ask what we really know about Golovkin until we see him in with a myriad of high-end punchers and slick boxers.

The good news is, we should have a better handle on his stock by the end of Saturday night's fight against two-time middleweight title challenger Matthew Macklin (29-4, 20 KOs), by far the most experienced opponent Golovkin will have faced. And Macklin, who has taken both former titlist Felix Sturm and current middleweight world champion Sergio Martinez into deep waters in back-to-back fights, also happens to be the perfect opponent at this point in GGG's rise.

Golovkin said he likes the fight so much because he believes both fighters "have [the] same size, same power and same speed. [Macklin] is very serious and I think he's a great fighter." More important, Macklin will serve as a litmus test to gauge whether Golovkin is simply a power puncher with a lot of buzz or a true future pound-for-pound threat. Macklin clearly has the chin, power and inclination to brawl to make him an attractive opponent, but he also proved in his two title fights -- particularly against Martinez -- an ability to adapt his style by utilizing a level of defense and counterpunching we hadn't previously seen from him.

Macklin also has the disposition not to be intimidated by anything Golovkin brings to the table and a willingness to go out on his shield if that's what it takes to give him the best chance to win. He describes himself as a throwback fighter from a different era, and expects to expose Golovkin for being "the middleweight champion of the world fighting B- and C-level junior middleweights."

Young fighters on the rise such as Canelo Alvarez and Adrien Broner have been routinely called out for their soft résumés, a criticism Golovkin has somehow mostly escaped. Maybe it's due to his willingness to fight anyone across three weight classes or how active he has remained -- Saturday will mark his fifth appearance in 13 months -- despite being unable to land the opponents of his choice. Heck, it could be chalked up to his endearing, almost boyish demeanor.

Years from now, we may look back at Golovkin's fight with the straight-ahead Macklin as another stop on a long road of highlight-reel knockouts that ultimately carried him to the top of the sport. Or maybe this one goes down as the key moment when at least a little air was taken out of Golovkin's balloon.

Either way, it will be exciting to watch thanks to enough intrigue, and even doubt, to mark this as something of an early defining fight for Golovkin.

Just don't start sizing the superhero Kazakh KO King for a cape and pair of blue tights until we can confirm that either Golovkin is from another planet or that he's just like one of us.

Believe me, I know, it's not easy.
June, 5, 2013
6/05/13
4:08
PM ET
By
Brian Campbell
| ESPN.com
In boxing, just as in all sports, there's nothing quite like a fresh set of rankings to stir debate and help bring order to the subject at hand.
We use
pound-for-pound rankings
as a method of classifying the best and most skillful fighters regardless of weight. We've seen lists similar to the
Grantland Relevance Rankings
, which aggregates superiority based on a combination of ability, marketability and importance. Heck, even HBO's Jim Lampley has his "Gatti List," named after the late Arturo Gatti, which attempts to order the best blood-and-guts warriors who lay it all on the line.
But what about a set of rankings aimed at the very reason why we watch fights? Which major-network attractions -- superseding in some cases titles won, drawing power and even likeability -- are the most entertaining, compelling and watchable fighters on any given Saturday?
This isn't a list of simply the best all-action brawlers or most artistically beautiful fighters, but in some ways a marriage of both, with a chunk of personality thrown in -- a nod to the fighters who do a better job than others of selling their brand through creative sound bites and flamboyant antics.
Without any further ado, here are boxing's current top 10 most entertaining fighters, with a tip of the cap to honorable mentions Julio Cesar Chavez Jr., Abner Mares, Sergio Martinez, Miguel Cotto and Carl Froch, who just missed the cut:
10. Leo Santa Cruz
Pros:
Fights at an absurdly relentless pace behind a high guard, using his long arms to punish with hooks to the body. He's as exciting on a minute-by-minute basis as any fighter in the sport. In his May 4 victory over Alexander Munoz, he became the first boxer in history to have both the Watson brothers and Mariachi Skull Guy in his corner at the same time during the prefight introductions. Now that's some serious representation.
Cons:
Even with an ambitious five appearances on television in 2012, Santa Cruz needs a bit more time to build a bigger following and audience.
9. Victor Ortiz
Pros:
It's getting to the point where fans can expect one of two scenarios each time Ortiz steps into the ring: It's either going to be a toe-to-toe battle or it'll end in a Tyson-esque meltdown. Sometimes we even get both. Interviews with Ortiz can be an equally bizarre ride. He is at times painfully honest -- such as following his loss to Marcos Maidana when, at 22, he openly contemplated retirement -- and at other times detached and almost unaware of the gravity of what just took place. He added to his fan base with a surprising appearance on ABC's "Dancing With The Stars" and never fails to entertain in some fashion.
Cons:
Oritz is the kind of personality you can only take in occasional doses, unlike other polarizing fighters who draw you to the screen time and again, regardless of your level of loathing. And, of course, there's always that
VO FaceLube commercial
.
8. Canelo Alvarez
Pros:
The red-haired and freckled Mexican warrior with the matinee idol looks is, despite having 43 pro fights under his belt, still just 22. Not only does he have an Oscar De La Hoya-like ability to attract mainstream female fans due to his smile, he brings in casual male fans with his exciting style. There's a certain star quality to Canelo that you can't teach, let alone describe, and few fighters his age have looked as comfortable as he does in the spotlight.
Cons:
Up until this year, he had been brought along far too slowly for a fighter of his popularity and potential, feasting on an unexciting mix of faded names and journeyman contenders. Although he has made strides, he still isn't fluent enough in English to give his own interviews.
7. Gennady Golovkin
Pros:
Has the face of a 12-year-old boy, but punches like Wreck-It Ralph. He also once endearingly referred to opponent Gabriel Rosado as "a good boy" in a postfight interview after stopping him. Such a polite fellow. In fact, you'd be hard-pressed to find another fighter who is as efficiently violent inside the ring and almost naively sweet outside of it. That contrast is compelling enough on its own, never mind his crushing right hand.
Cons:
Despite the fact that he's been a middleweight titlist for three years and is a featured player on HBO, the only thing holding back Golovkin's ability to entertain is the fact that he's too dangerous for his own good and could end up having difficulty finding big-name opponents -- same as Martinez did. But will it ever really get boring watching him knock out middle-of-the-road competition?
6. Amir Khan
Pros:
The combination of his dynamic and top-end offensive talents mixed with his shaky chin make the vulnerable Khan, who fights with a tremendous amount of courage, a must-see attraction. He also has a way of speaking with a confidence that defies the reality of his own limitations, which is encouraging to some and tremendously irritating to others. Either way, we keep watching.
Cons:
He's somehow equally overrated and underrated at the same time, making it impossible to get a grasp at any point on just how good he really is.
5. Manny Pacquiao
Pros:
Still brings a very exciting style to the table and has arguably the most recognizable name among active fighters. Also, the expectant drama that should come as he attempts to recover from a brutal one-punch knockout against Juan Manuel Marquez while navigating the twilight of his career could be interesting. And, you know, there's always Buboy Fernandez.
Cons:
Outside of a pair of recent bouts with Marquez, we really haven't seen Pacquiao in a competitive and evenly matched fight since 2009. The storylines in his personal life have also been played out ad nauseam in the various documentary series leading up to his fights.
4. Brandon Rios
Pros:
There might not be another fighter in the sport who loves brawling at close range and testing his manhood more than Rios, who not only doesn't know how to make a bad fight, but might actually be crazy. Rios very well may have more talent and potential inside the ring than his style lets on, meaning he doesn't go to war each fight because he has to, but does so instead because it's too much fun for him not to. He's got the Gatti gene.
Cons:
Only a lack of one-punch knockout power really separates Rios from becoming a breakout star and topping this list.
3. Lucas Matthysse
Pros:
He has the best nickname in the sport -- "The Machine" -- and an explosive, wrecking-ball style to match. Oh yeah, and he don't need no stinking judges. (How does an 86.5 percent knockout rate grab ya?) Throw in the rat tail, tattoos and the raw emotion with which he fights, and Matthysse has become appointment viewing. The power in his hands, even on grazing shots, is frightening.
Cons:
With his stock at the moment being as hot as a fighter's could be, Matthysse has a window to make a crossover leap. But although you could argue that his fists do enough talking for him, the opportunity to address the masses in English after one of his spectacular knockouts would greatly improve his value to the casual American audience.
2. Adrien Broner
Pros:
If you find yourself irritated at the end of a Broner interview, it means he's doing it right. Although some say the fighter owes too much of his style and swagger to Floyd Mayweather Jr., Broner is slowly carving out his own niche with his intentionally polarizing persona outside of the ring and his spectacular potential inside of it. By standing right in front of his opponents and sitting down on his power punches, all the while with a smirk on his face, viewers will be tuning in to see Broner knock people out -- or end up the victim of one -- for years to come.
Cons:
Even if you're sick of the postfight hairbrush already, no one provides a sound bite quite like the self-proclaimed "Can Man." But Broner often steps too far over the line of decency. See his recent comments during the buildup to his welterweight debut against titlist Paulie Malignaggi.
1. Floyd Mayweather Jr.
Pros:
The greatest reality star the sport has ever seen, Mayweather dominates the spotlight he helped create and does so despite a defensive style that is appreciated but not always considered entertaining. Along with his brilliant ability to market fights and the general buzz he creates by making claims that he is the best fighter in history, "Money" never fails to deliver inside of the ring despite his advancing age and multiple layoffs. His pursuit of perfection and the ongoing debates about his legacy remain boxing's biggest storylines. There isn't a more consistently compelling figure in the sport who demands our attention and keeps us watching.
Cons:
Outside of any differences you might have with his lifestyle or opinions, the only criticism anyone can rightfully hurl at Mayweather relates to the fights he failed to provide fans when the opportunity was there. His September bout with Alvarez should help quiet the critical chatter.
April, 25, 2013
4/25/13
4:39
PM ET
By
Brian Campbell
| ESPN.com
There may not be a more respectful term that can be used to label a boxer than to call him an honest fighter.

Typically the term has dual meanings, addressing either a fighter's proclivity to speak a refreshing level of truth when hit with piercing questions or referring to his in-ring style of coming straight ahead and making exciting fights.

Unbeaten British middleweight Martin Murray (25-0-1, 11 KOs) happens to be both. And although there is no doubt that he believes he can pull the upset against middleweight world champion Sergio Martinez (50-2-2, 28 KOs) on Saturday in the Argentine's homecoming bout in Buenos Aires, he is realistic about the challenge he's up against.

Not only will Murray be walking into enemy territory inside the 50,000-seat soccer stadium that will house the fight -- filled to the rafters with Martinez's adoring fans -- he also will have to deal with a dynamic champion who has a difficult, awkward style.

"Well, you can't really prepare for punches that you don't see coming, can you?" Murray told ESPN.com. "I know that's going to be the case, because when he unleashes that combination of punches with how fast he is, it's one of his great qualities. You can't prepare for that. I know he's going to be awkward. We've had all kinds of southpaws in camp, and that's the only way I can do my best to prepare. We just have to wait and see on fight night truly how difficult and awkward he really can be."

But despite any factors that might suggest Martinez, 38, could be vulnerable -- everything from his age, recent knee surgery and the late knockdown he suffered against Julio Cesar Chavez Jr. -- Murray isn't necessarily buying that.

"I don't see him as [vulnerable], to be honest with you," Murray said. "I've said this many times: He is a great fighter. Everything he does, he does well. But if you want to say one tiny little thing -- and it's not a negative, it's just really the fact that he's shown it in a couple of his fights -- it's the fact that he's not unbeatable. He can be beat. It's not mission impossible by any means, and I can overcome it."

Murray's take is atypical considering the normal bravado that dominates the buildup to most fights. Murray, 30, is unbeaten, but still relatively untested despite a split draw with then-middleweight titlist Felix Sturm in 2011. He looks at the underdog role as something to motivate him entering Saturday's fight.

"Have I been undersold? A little bit, to be honest with you," Murray said. "But it's a good thing. There's not a lot of people giving me a chance, and it's a very motivating thing in the end. It was a great learning experience being in the Sturm fight on that level. I did myself justice. People were writing me off and didn't think that I deserved a chance. But I shocked them just the same way I am going to shock them on Saturday."

Even more than the prospect of upsetting a fighter as talented as Martinez and snatching away the lineal crown in the 160-pound division, Murray thinks it's important to make a splash given his platform on Saturday.

"I am fighting someone like Martinez, who is a big star in America, and the fight is going to be seen by a big American audience," Murray said. "It gives me the chance to show what I am about. I want to be fighting in America. I know if everything goes well on Saturday, I won't captivate the American audience -- I will captivate the world, because I will shock them when I beat him."
March, 31, 2013
3/31/13
2:52
PM ET

LAS VEGAS -- It was an eventful night of boxing on two continents on Saturday, from an impressive knockout by Gennady Golovkin in Monaco to a war at the Mandalay Bay. Here are five thoughts on what we saw and learned:

1. Despite itself, boxing continues to amaze
Far too often, boxing coverage and chatter dwells on the negative: fights that don't get made or don't live up to the hype; judging decisions that seem improbable at best or larcenous at worst; promoters not talking to networks and vice versa; ear bitings and Fan Man; boxers getting arrested, publicly burying their faces into very private parts or otherwise acting like buffoons.

And yet, when boxing gets it right, all that even the most cynical observer can do is stand back, applaud and acknowledge that professional prizefighters are athletes like no other. Think of the endlessly cycled "SportsCenter" highlights when a shortstop suffers a nose bleed after a seemingly routine grounder bounces into his face; and then look at a picture of Brandon Rios and, especially, Mike Alvarado at the end of their 12-round war. Grueling doesn't begin to describe their combat. The physical conditioning of both men has to have been off the charts for them to have dished out and withstood what they did, to say nothing of their extraordinary heart and courage.

There were times during Saturday night's battle in Las Vegas when the punches were flowing with such speed and ferocity and the momentum was shifting with such whiplash rapidity, that there was no hope of keeping up and making accurate, detailed notes; there was nothing to be done except to sit slack-jawed in amazement at it all. And although the attention will rightfully be on the punishment each man meted out, there was subtlety, as well -- boxing brains as well as brawn, particularly on the part of Alvarado, whose success came not just from his right hands and left hooks but from his feet and his ability to move laterally, shift position and reduce his opponent's effectiveness.

It was one of those truly remarkable nights when it was a privilege to be able to sit ringside. And at the risk of returning to the extra-curricular shenanigans touched on earlier, with this war coming on the heels of Timothy Bradley Jr.-Ruslan Provodnikov, do you really think HBO is missing Adrien Broner or Bernard Hopkins right now?

2. Being respectful outside the ring doesn't preclude going to war inside it
Forget the tension in the ring in the immediate aftermath of the fight, which came when adrenaline was pumping and Rios, having had his brain rattled around in his skull for 12 rounds, was coming to terms with his first loss. Focus instead on the build-up to this contest and the mutual respect from both men. They had been to war once and were about to do so again, but in the interim they smiled, shook hands, even hugged on the weigh-in stage. At the end of the night, they both went to the same trauma center at the same hospital. What do you want to bet that, a la Arturo Gatti and Micky Ward, they at one point found themselves in adjacent beds and, in the small hours of the morning, exchanged compliments about what they had just done to each other?

3. GGG keeps rolling
Granted, nobody expected Nobuhiro Ishida to defeat Gennady Golovkin. It's doubtful many people not called Mrs. Ishida even expected him to make it an especially close contest. And Ishida himself didn't aid his own cause by eschewing his jab and reach, and choosing instead to stand in Golovkin's wheelhouse and fight.

But if there aren't official style points awarded in boxing, the way in which a boxer wins a fight still counts for a lot, and the spectacular right hand that dropped Ishida onto his back and out in the third round added to the growing Golovkin mythology. Golovkin combines the pressuring, stalking, suffocating style of a python with the sudden, vicious finishing strike of a rattlesnake. He is as much of a beast inside the ring as he is a gentleman outside of it. Once Dmitry Pirog heals from a back injury, his postponed clash with Golovkin is aching to take place. And the prospect of GGG ultimately colliding with Sergio Martinez to see who truly is the best middleweight in the world is something to savor.

4. There are few things to match British fight crowds
In the grand scheme of things, there is nothing extraordinary about either Derry Mathews or Anthony Crolla. Crolla, by way of illustration, was previously stopped by Mathews, who was in turn halted by Gavin Rees, who was swatted aside with contempt by Adrien Broner. Matthews and Crolla had 12 losses between them as they walked to the ring in the Liverpool Echo Arena in the co-main event for Tony Bellew's light heavyweight battle with Isaac Chilemba, but the British fans roared them into the ring as if Lennox Lewis were fighting the ghost of Henry Cooper.

Part of that came down to the fact Mathews is from Merseyside and Crolla from Liverpool's hated local rival, Manchester. But as anyone who will recall Ricky Hatton's magical nights in Las Vegas can verify, British fight fans display a genuine passion that few, if any, North American cities outside Montreal can match.

5. Macau awaits its turn on the stage
This week Monte Carlo, Liverpool and Las Vegas. Next week, the boxing world turns its eye to Macau for what promises to be both an entertaining card and, potentially, the first of many to come. Top Rank's Bob Arum has long talked of staging a fight in Macau, and now circumstances have conspired to make it possible. The signing of Chinese amateur standout Zou Shiming is an important key to unlocking the door. At the same time, Macau itself brings increasing riches to the table, with the territory's casinos generating more income in January this year than all of the Las Vegas strip's properties average in six months.

Over dinner with media members on Friday night, Arum sounded confident that Manny Pacquiao's next bout -- slated for Sept. 14 -- would be at the same venue as next Saturday's card, unless its sister property in Singapore proves able to wrest it away. None of which is to say that the MGM Grand will go without a fight. Nor does it mean that Sin City's position as the undisputed fight capital of the world is under any imminent threat just yet; a number of factors, including geography and TV money, will see to that. And plenty of other rivals -- Atlantic City, Cowboys Stadium in Dallas, even Madison Square Garden -- have come and gone or continue to fall short of what the MGM Grand and Mandalay Bay offer. But if the trial balloon floats as planned next week, then with the right boxers and the right cards, catering to the right demographics and fighting for the right money, Macau may place itself in contention as a major stop on the global boxing circuit.
January, 16, 2013
1/16/13
11:47
AM ET
By
Brian Campbell
| ESPN.com
The more that middleweight titlist Gennady Golovkin succeeds in his quest to conquer America, the more imminent danger it poses to any boxer within a stone's throw of contention at 160 pounds.

The unbeaten Golovkin has knocked out 21 of his first 24 opponents using a fighting style he calls "power boxing." In fact, it has been nearly five years since an opponent has been able to go the distance with him.

But Golovkin, who fights out of Stuttgart, Germany, is more than just a knockout machine. A 2004 Olympic silver medalist for his native Kazakhstan, he is a veteran of more than 350 amateur fights and is just as comfortable boxing as he is digging a left hook to the body.

Golovkin, 30, dismantled a game Grzegorz Proksa in his U.S. television debut last September and enters his second fight on American soil Saturday against Gabriel Rosado (21-5, 13 KOs) on the undercard of an HBO tripleheader from the Theater at Madison Square Garden in New York. The underground buzz he has created within the sport as a must-see fighter is just about off the charts. But it's how threatening Golovkin appears to be that could prove to be a double-edged sword as he continues to gain exposure.

Look no further than the saga of middleweight champion Sergio Martinez as a cautionary tale. It was the serially avoided Martinez who went from overnight sensation in 2010 to being forced to wait two full years before landing an opponent of any legitimate name recognition. Martinez, like Golovkin, is a man of multiple countries -- hailing from Argentina before coming of age as a fighter in Spain -- but without a marketable American fan base that is representative of either.

Before ultimately lucking out that Julio Cesar Chavez Jr. had improved enough in a short period of time to make a pay-per-view fight against him viable, Martinez was left for too long toiling in title defenses against inferior and unheralded European opponents who did little to further his career. In the cold-hearted business of boxing, it's the relationship equivalent of falling into the friend zone.

Is Golovkin at risk of becoming the next Martinez? Is it possible the more impressive Golovkin looks, the less likely he is to land a big-name opponent?

"Yeah, this is a good question, you know," Golovkin told ESPN.com. "But it doesn't matter for me. Seriously. It doesn't matter, the name. I'll fight everybody."

Golovkin's attitude is refreshing and one can only hope contagious, as well. He's thoroughly enjoying each step of his journey in a way that is palpable, having recently achieved lifelong goals of not only fighting in the U.S. on American TV, but also securing a fight at Madison Square Garden.

Rather than worrying about becoming the next Martinez, Golovkin is too busy having fun trying to figure out how to land a fight against him.

"I want this fight with Sergio," Golovkin said. "I expect to fight him. He is a great champion, and it will be good for my career."

But the similarities between Golovkin and Martinez end nearly as quickly as they begin. Golovkin has been willing to do all of his interviews in English (Martinez has only recently begun brushing up), and he has more time to build his brand than "Maravilla," who was already in his mid-30s when he captured the lineal middleweight crown.

Martinez also had more limitations on potential opponents considering his unwillingness to move up to 168 pounds for a money fight and the fact he was toiling in a then-barren 160-pound division. Finding worthy opponents in his natural division, at junior middleweight, also proved difficult because the big-name welterweights who moonlighted at 154 pounds considered him too big and talented.

The 5-foot-10 Golovkin, meanwhile, has repeatedly stated that he's willing to fight anyone in all three divisions. Just 10 days ahead of the Rosado fight, Golovkin said he sparred comfortably at 162 pounds and felt great. He also referred to the idea of moving down even further, to 154 pounds, as something that "is easy for me."

"Right now my focus is 160; I want to be the best at middleweight," Golovkin said. "Next, it doesn't matter for me. I think next fight, [if] I'm going down to 154, I don't know with who, but it doesn't matter to me. Seriously, it doesn't matter. I just want to fight, and maybe in the future I'm going to 168. I think for me it's good to find good fights there in the future. I like Andre Ward, Carl Froch. There's a lot out there [at 168 pounds]."

With the upper half of his body crouched forward and his chin precariously extended within reach, Golovkin competes with a fighting stance that invites excitement by almost daring his opponents to engage, and that in-ring style could have the same effect on viewers at home. Golovkin, who is promoted by the Wladimir and Vitali Klitschko-owned K2 Promotions, also has a savvy understanding of the business. He calls building a fan base in America his most important goal in 2013.

"I love the fans, and my style a lot of fans like, with hard punch -- like Mike Tyson-style," Golovkin said. "People want power and knockouts and drama. I like this as my style."

In boxing, if you build a reputation for devastating knockouts, the fans will come. And if they keep coming, the marquee opponents won't be too far behind.
September, 14, 2012
9/14/12
12:39
AM ET
Peter Quillin will be watching Saturday's middleweight clash between Sergio Martinez and Julio Cesar Chavez Jr. carefully. Because the 29-year-old New York City resident could easily find himself facing off against either man in the near future. Quillin has his own mountain to climb, on Oct. 20, when he meets Hassan N'Dam N'Jikam, the WBO interim title-holder, of course, so he is in focus mode on that scrap. He was kind enough to fire me a prediction on the tussle, which unfolds at the Thomas & Mack in Las Vegas and airs on HBO PPV.

"Chavez doesn't seem focused like Sergio," said Quillin (27-0 with 20 KOs). "I'm picking Sergio. I think Sergio will use his legs and I believe Chavez hasn't fought a puncher like Sergio ... but Chavez's weight should help him and may give Sergio problems. That's why this fight is important to boxing."