November, 17, 2013
11/17/13
1:40
PM ET
Andre Ward returned from a 14-month layoff Saturday night in Ontario, Calif., showing that he remains a masterful pugilist, one who has a stranglehold on the intricacies of the sweet science.
Ward's jab was a most potent weapon against the overmatched but willing and sturdy-chinned Edwin Rodriguez. And Ward's left hook, although not a concussion inducer, sent note to Rodriguez that he would pay mightily whenever he let his left hand drop away from his cheek.
Ward (27-0, 14 KOs), the super middleweight champ, confirmed what hard-core fight fans already knew -- that there is nobody in his division who has more than a minute's chance to defeat him. So, we wonder, who could challenge Ward?
Some names that have popped up include KO cravers and titlists Sergey Kovalev and Adonis Stevenson, both of whom are slated to fight on Nov. 30, against separate foes. One could surmise they would most likely meet each other in a light heavyweight showdown if both have their hands raised in two weeks.
Bernard Hopkins, the soon-to-be-49-year-old craftsman, could challenge Ward in the boxing knowledge department. But because he's aligned with promoter Golden Boy, which doesn't do work with HBO (the network has aired Ward's bouts), that matchup doesn't seem to be a viable coupling.
On social media, there seems to be a consistent call for middleweight star Gennady Golovkin, someone who can truly lay claim to the over-used nickname "Baby-Faced Assassin," if he chose to employ it, to jump from 160 to 168 to face Ward. With that in mind, I asked Golovkin's trainer, Abel Sanchez, what he thought of Ward's outing against Rodriguez.
"I would give Ward a 9.5 out of 10," said the trainer, who enjoyed Golovkin's last scrap, a TKO win over Curtis Stevens at the MSG Theater on Nov. 2. "He is who he is; he is not going to get any better. He didn't let Rodriguez bully him, and Edwin is limited, so he had no other tactics to try and get Ward. I was happy to see that Ward made more of a fight in some rounds, but he did so because he had a limited opponent in front of him."
So how would Golovkin deal with Ward if they tussled? "Gennady is a fighter with superior power, skills, strength," Sanchez said, adding with a chuckle, "and grappling ability." That crack was a reference to a knock on Ward -- that most of his bouts feature excessive wrestling, better suited to the octagon.
And, I wondered, could fans be treated to a Ward-Golovkin matchup in the near future?
"I hope so," Sanchez said. "Time will tell. Right now, they are both on top, and Andre must believe he is in a superior bargaining position, but not for long. The masses are catching on to GGG!"
You can follow Michael Woods on Twitter.
November, 10, 2013
11/10/13
11:17
AM ET
NEW YORK -- Gabriel Bracero's left hook landed early, often and hard on Dmitriy Salita in the main event at the Aviator Complex in Marine Park, Brooklyn, on Saturday night. The judges got it right, bless them, and saw it 97-92, 99-90, 100-89, as Bracero picked up a regional welterweight belt.

Bracero also gets an extra bit of satisfaction, as this was an old-school-style turf war, with Sunset Park (Bracero-Town) gaining bragging rights over Flatbush (Salita-ville).

As solid as his showing was, Bracero's postfight chat with Steve Farhood, for airing on Lou DiBella's "Broadway Boxing" show, made perhaps an even greater impact.

"I changed my life around, and I deserve to have my story out there," said the 32-year-old Bracero, addressing the major-cable network suits, who would be in a position to OK a meaningful bout, maybe even a title shot, versus a big name at 140 or 147 pounds. "I have a story!" His trainer-mentor Tommy Gallagher looked on, beaming with pride.

And Bracero, indeed, has a story to tell. He went to prison for almost six years after getting pinched for attempted murder, getting out in 2009. "I have friends still in prison who are afraid to come out," Bracero said, indicating that many believe they won't be able to navigate a complicated and expensive world. "I'm their hope!"

Salita, age 31, entered at 35-1-1, while Bracero was 22-1. An unofficial decibel poll, by the way, told me that Bracero fans vastly outnumbered Salita fans in the hangar-style arena. Would that affect the contest at all, if and when someone needed a pick-me-up?

Bracero scored the best punch of the first round, a left hook, which buzzed Salita. "Tito!" chants, for Bracero, were heard, and a roar erupted when another stiff left hook landed clean on Salita. A leaping left hook in the third for Bracero had the crowd jazzed. Salita kept dropping his right and getting popped. He picked it up in spots, but his hands were slower all night, and his reflexes weren't as sharp as we've seen, as he got hit with leads many a time.

Bracero scored a knockdown in the eighth, off the left hook. Salita backed up Bracero some in the ninth, but he was cut under his left eye and then had another gash on his hairline by Round 10. We went to the cards and breathed heavily in relief when the judges got it right.

One wonders if we'll see Salita again; the fighter had told me that he would consider exiting the sport if he couldn't beat a Bracero-level boxer. Well, he couldn't. I'm assuming there will be some serious contemplation in Salita's mind in the days ahead.

Junior featherweight Heather Hardy (7-0) heard on the grapevine that foe Laura Gomez (4-4) was no pushover, no easy "W" ripe to be picked. The Gerritsen Beach native, fighting a stone's throw from her old digs -- she now lives in Williamsburg -- pressured Gomez and had the ringside doc stepping in and pulling the plug to save the green loser from excess punishment. The end came at 1:44 of Round 2.

Promoter DiBella, "Combustible Lou" as I refer to him fondly, came to the press table and ranted -- quite rightly, I thought -- about the scorecard that read 76-76 in the Charlie Ota-Mike Ruiz fight. "I don't know the name of the judge that scored that, but I never want her working on one of my shows again!" he said. "That fight could have been stopped." (The judge in question was Robin Taylor, for the record.)

Indeed, Japan-resident Ota is a 154-pounder on the rise. He served notice, with his aggression and discipline, that he is close to a title crack in the near-ish future. He landed hard and clean on Ruiz, a Freeport, N.Y., resident, and you wouldn't have blinked twice if around Round 6 the Ruiz corner had kept their man on his stool. Instead, it went eight, and Ota needed the two cards reading 78-74 and 77-75 to rise to 24-1-1.

After, DiBella said he can see a scenario where Ota gets one more win and then nails down a title crack. Demetrius Andrade, a new 154-pound belt holder, is a name DiBella mentioned for the Ota wish list.
October, 15, 2013
10/15/13
6:37
PM ET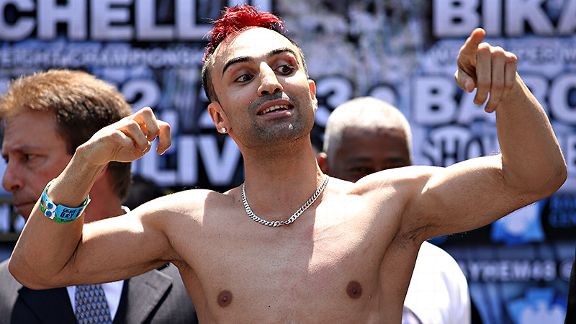 Nick Laham/Getty ImagesPaul Malignaggi could get another title opportunity ... if he defeat Zab Judah on Dec. 7.
Floyd Mayweather Jr. has emerged as the face of boxing this year. His Sept. 14 bout against Canelo Alvarez vaulted him to another level of awareness in the minds of folks outside the hardcore fight crowd, including casual viewers of boxing. After last month's win, he was booked on "The Colbert Report," and even MSNBC, if you need proof that "Money" has transcended the narrow channel of boxing stardom to something a bit beyond that.
Paul Malignaggi and Zab Judah -- talented pugilists who have toiled as professionals since 1996 and 2001, respectively -- face off, in a battle of Brooklyn, at Barclays Center, on Dec. 7.
No title will be at stake, but "bragging rights" will be on the line, as Barclays (and Nets) CEO Brett Yormark noted during Tuesday's news conference to hype the Golden Boy promoted clash, which will run on Showtime. And maybe more than bragging rights will be at stake.
The bout will take place at 147 pounds, which is Mayweather's territory. Do not be surprised, boxing fans, if the winner of this bout gets kicked up a notch higher in the Floyd-stakes, that short list of boxers who could be Floyd's opponent in the near future (Floyd has had two fights in his six-fight deal with Showtime, and is booked to fight next May, and September).
Judah said he'd be keen to tangle again with Mayweather. They battled in 2006, and fought some tight rounds before the bout dissolved in disarray (Mayweather won a unanimous decision after 12 rounds, but the flow was interrupted when a fracas, involving both corners, broke out in round ten).
"That sounds great, where the check at?," Judah said when I asked him about that prospect. "I'd like some of that Mayweather money. They call him 'Money May,' check it out, let's work," he said.
As for Malignaggi, he's proven himself to be one of the best self-managers in the game. He has the incredible ability to mix severe candor -- when he excoriated the boxing press, or portions of it, at Tuesday's news conference for being "fanboys" instead of real-deal journalists -- and activist trash-talking (a couple times, he publicly chided promoter Golden Boy for low-ball monetary offers), yet he retains a seat as a Showtime analyst and secures himself high-profile bouts. I have zero doubt that he'd love to finish out his professional run with a clash against Mayweather, the desired IRA bout for practically every world-class boxer from 140 to 160 pounds.
Showtime executive Stephen Espinoza agreed that this bout could in fact be something of a Mayweather eliminator.
"If the winner gets some solid wins, why not?" he told me.
October, 12, 2013
10/12/13
9:53
PM ET
Seanie Monaghan took another step toward a place many folks didn't think he would get to -- pay-per-view land -- with a win over Anthony Caputo-Smith on Saturday night.

No, he didn't headline the card, which unfolded at the Thomas and Mack Center in Las Vegas. But that he opened the pay-per-view portion of the card topped by a Timothy Bradley Jr.-Juan Manuel Marquez welterweight scrap was something of a marvel, considering he was dismissed by many -- and not just snobs, either -- as being a lunch-pail sort who was good for selling seats at local club shows, and that's it. But promoter Bob Arum saw something in the light heavyweight, and Monaghan showed Arum that Top Rank's investment in Seanie is a good one.

The Long Beach, Long Island resident Monaghan (19-0) stopped Caputo-Smith in Round 3, raking him with combos on the ropes. He landed left hooks and nasty rights when Smith was backed up against the ropes. Monaghan sometimes forgets to move his head, but to be honest, that's part of his charm. We can see him, at 32, maybe getting matched with a Julio Cesar Chavez Jr. in a year or so. Smith, from Pennsylvania, dropped to 14-2.
October, 10, 2013
10/10/13
11:40
AM ET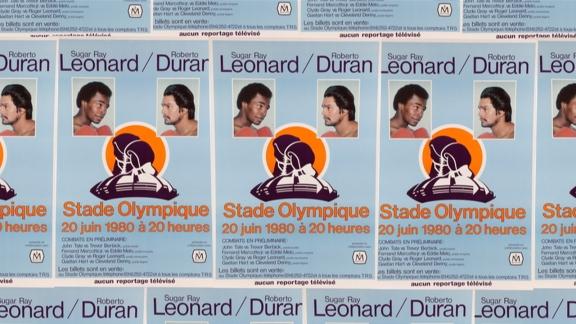 I left the IFC Center in Greenwich Village on Wednesday night pondering deep philosophical issues, and also what a badass Roberto Duran was in his prime and how skilled Sugar Ray Leonard was in his.
I'd just watched Eric Drath's documentary production "No Mas," which will run Tuesday on ESPN as part of the network's "30 for 30" series. The film examines the rivalry between Leonard, the 1976 Olympic golden boy who took the baton from Muhammad Ali and ran with it before Mike Tyson wrested it away; and Duran, the man with the Manson-esque eyes, whose extraordinary malevolence outside and inside the ring affected Leonard to the point that he admitted he felt fear.
Closure, and the ability to attain it, was the primary philosophical matter I chewed on after watching the doc. I cannot and will not give away too much of the film here. But suffice to say, Leonard has been affected since Nov. 25, 1980, when he clowned Duran and saw the Panamanian shame his nation by quitting during Round 8, by the way the bout ended and how it was perceived. Instead of being glorified for his supreme display of clever pugilism, Leonard found the press and fans obsessed with Duran, now age 62, and why he quit. It was not noted, to Leonard's satisfaction, how he had rebounded so robustly following the first fight, which took place five months earlier and saw Duran win a decision after 15 rounds.
[+] Enlarge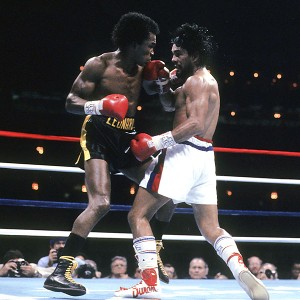 Focus On Sport/Getty ImagesRay Leonard found his footing and redemption in a rematch against Roberto Duran.
If Duran had since admitted that Leonard's skills and game plan and preparation were too much for him to handle, physically and mentally, and that is why he said -- or didn't; that's part of the story -- "No mas," then I suspect Leonard could have closed the book on what became a recurring torment.
During a post-screening Q&A, I asked Leonard, now 57, about his current degree of closure regarding the fight.
To be candid, I'm of the school that believes achieving total closure is a rarity in this life, and I'm an admitted cynic when anyone announces, "It's all good" -- that they have made total and complete amends with a wound that festered for decades. That isn't to say it's an impossible feat, but ... let me put it this way: Even Mother Teresa had doubts about the meaning of it all. Again, I will let you screen the film and decide how you perceive Leonard's viewpoint toward the "No mas" debacle, rather than give away plot points.
Striding out of the theater, I saw Leonard and addressed him: "Sugar Ray, I have to say, I think you schooled Duran. You outboxed him, masterfully. No matter if he can admit it or not, or you need to hear him admit that, or don't, that is what happened. I think that is why he quit. And I think true-blue boxing fans know this to be the case."
Leonard said nothing with his mouth, but his grin and smiling eyes told me something else.
I believe that more so than Duran's partying, or rapid weight loss, or cold water, or hot coffee, or too big a meal ingested prefight, or cramps, it was Leonard's in-ring wizardry that forced Duran to surrender.
Will we ever know the truth? You have to watch "No Mas" and decide for yourself.
Follow Woods on
Twitter.