October, 15, 2013
10/15/13
6:37
PM ET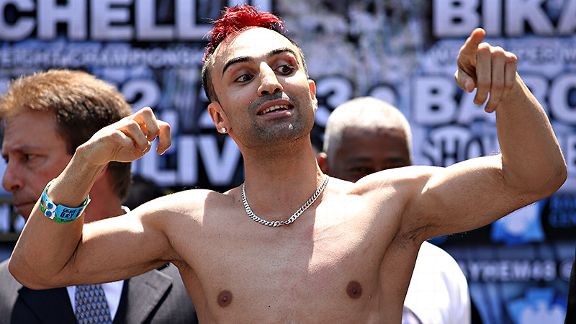 Nick Laham/Getty ImagesPaul Malignaggi could get another title opportunity ... if he defeat Zab Judah on Dec. 7.
Floyd Mayweather Jr. has emerged as the face of boxing this year. His Sept. 14 bout against Canelo Alvarez vaulted him to another level of awareness in the minds of folks outside the hardcore fight crowd, including casual viewers of boxing. After last month's win, he was booked on "The Colbert Report," and even MSNBC, if you need proof that "Money" has transcended the narrow channel of boxing stardom to something a bit beyond that.
Paul Malignaggi and Zab Judah -- talented pugilists who have toiled as professionals since 1996 and 2001, respectively -- face off, in a battle of Brooklyn, at Barclays Center, on Dec. 7.
No title will be at stake, but "bragging rights" will be on the line, as Barclays (and Nets) CEO Brett Yormark noted during Tuesday's news conference to hype the Golden Boy promoted clash, which will run on Showtime. And maybe more than bragging rights will be at stake.
The bout will take place at 147 pounds, which is Mayweather's territory. Do not be surprised, boxing fans, if the winner of this bout gets kicked up a notch higher in the Floyd-stakes, that short list of boxers who could be Floyd's opponent in the near future (Floyd has had two fights in his six-fight deal with Showtime, and is booked to fight next May, and September).
Judah said he'd be keen to tangle again with Mayweather. They battled in 2006, and fought some tight rounds before the bout dissolved in disarray (Mayweather won a unanimous decision after 12 rounds, but the flow was interrupted when a fracas, involving both corners, broke out in round ten).
"That sounds great, where the check at?," Judah said when I asked him about that prospect. "I'd like some of that Mayweather money. They call him 'Money May,' check it out, let's work," he said.
As for Malignaggi, he's proven himself to be one of the best self-managers in the game. He has the incredible ability to mix severe candor -- when he excoriated the boxing press, or portions of it, at Tuesday's news conference for being "fanboys" instead of real-deal journalists -- and activist trash-talking (a couple times, he publicly chided promoter Golden Boy for low-ball monetary offers), yet he retains a seat as a Showtime analyst and secures himself high-profile bouts. I have zero doubt that he'd love to finish out his professional run with a clash against Mayweather, the desired IRA bout for practically every world-class boxer from 140 to 160 pounds.
Showtime executive Stephen Espinoza agreed that this bout could in fact be something of a Mayweather eliminator.
"If the winner gets some solid wins, why not?" he told me.
June, 22, 2013
6/22/13
3:54
PM ET
NEW YORK -- Promoter Richard Schaefer breathed a sigh of relief when the Friday weigh-in for the Saturday card at Barclays Center concluded, and no premature violence broke out.

The event unfolded at Brooklyn Borough Hall Outdoor Plaza. Welterweight titlist Paulie Malignaggi and up-from-lightweight Adrien Broner talked trash and glared at each other, but held it together and no melee occurred.

Schaefer's ace in the hole is fighter Bernard Hopkins, who works for Golden Boy and was right there, in between the main-event boxers as they did a staredown after making weight. "I can take a step back and I don't have to worry about it and I know Bernard will have it under control," Schaefer said. "He's my secret weapon."

Schaefer said he thinks some last-minute smart money will go toward Malignaggi, and the 11-to-1 odds in favor of Cincinnati boxer Broner set by the smarts might be too high.

If Broner beats Malignaggi, a scrap with Marcos Maidana could be in the works, Schaefer said. "Who wouldn't want to see that?" he asked.

Other possibilities for Broner, if he prevails, include the Andre Berto-Jesus Soto Karass winner; Devon Alexander; Amir Khan; or veteran Shane Mosley, who won in his comeback fight against Pablo Cano last month.

Schaefer also said that the winner of a Danny Garcia-Lucas Matthysse fight, which Schaefer is working on, would be a good fit against Broner.

Asked about the rumor that 140-pound standout Garcia is more likely to first have a rematch with Zab Judah than meet Matthysse, his mandatory, Schaefer said, "I don't know where those rumors came from about Zab."

He said both teams indicated to him that they want to get it on. Judah will be in the mix again soon, the promoter said, but the people are demanding Garcia-Matthysse. "I don't believe in marinating too much," he said.