Knockout bonus a step forward for boxing
September, 20, 2012
9/20/12
2:13
PM ET
By
Brian Campbell
| ESPN.com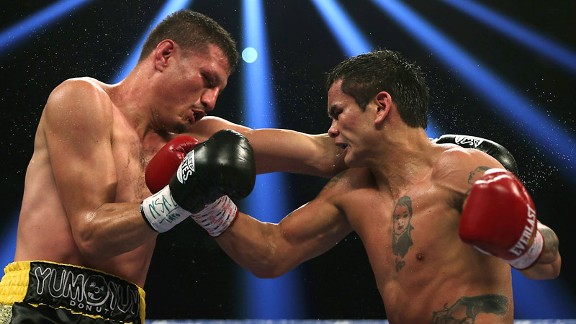 Josh Hedges/Getty ImagesMarcos Maidana, right, and Jesus Soto Karass traded with abandon. Did a KO bonus provide incentive?
Somewhat lost in boxing's explosive return to center stage last Saturday was a sweet little cash bonus offered by Golden Boy Promotions on the B-side of dueling Las Vegas cards.
Golden Boy, which promoted the aptly titled "Knockout Kings" card -- headlined by Saul "Canelo" Alvarez's fifth-round stoppage of Josesito Lopez at the MGM Grand -- awarded a cool $100,000 to the fighter who recorded the best knockout, as voted by the fans.
Set aside the fact the fans got it wrong (Alvarez won the popular vote for his TKO in a mismatch with Lopez, overshadowing Marcos Maidana's thrilling finish in a rousing war against Jesus Soto Karass) and that the premise itself reeked of a gimmick.
Whether the bonus itself raised the levels of expectation or whether the ensuing results were simply a case of happenstance when you consider the all-action tendencies of the fighters involved, the results were spectacular. And that, my friends, is progress.
The promise of action created by the KO bonus helped spice up (no Canelo pun intended) an already stacked Showtime undercard, one created to pull viewers away from purchasing the pay-per-view of the Sergio Martinez-Julio Cesar Chavez Jr. card being held simultaneously at the nearby Thomas & Mack Center.
How much of the card's success and attention had to do with the mere presence of Alvarez, the rising 22-year-old Mexican star, is hard to ignore, as the main event produced Showtime's largest audience (1.04 million) since it began tracking bout viewership. But the overall card still produced the network's second-highest rating for a boxing telecast since 2007.
The bonus also offered the fighters a substantial financial carrot, even if
most kept a poker face
as to their intentions to capitalize on it. Still, when you consider that five of the eight eligible fighters had an opportunity to at least double their
purse figures
with the bonus, it's hard to deny its impact.
Which leads to the bigger question: Did boxing just improve its future by taking a page from its past?
In a sports landscape so heavily dominated by guaranteed contracts, boxing is no different with its financial gain rewarded up front. The final product -- what actually ends up happening inside the ring -- becomes a crapshoot.
Does that mean that every fight needs to be a brawl to be compelling, or that all fighters should be forced to throw caution to the wind, thrusting themselves into sure danger to satisfy the unceasing appetite of a combat-crazed society? Not necessarily.
But let's not forget something equally important. We are talking about a sport once known universally as "prizefighting," and the further we depart from the essence of what that term implies, the closer the sport moves toward irrelevance, and possibly extinction.
Boxing needs more incentive for its participants to give their all, something to help steer the sport away from the typical black eyes (bad decisions, boring main events, crooked promoters) that continue to set it back. When viewed against that backdrop, knockout bonuses are an exceptional step forward.
Look at the business model and practices of the UFC, an entity rescued from the brink by a group of boxing fans looking to inject elements into its fledgling product that were missing from the sport they once loved. Some of those same tactics include bonuses on every card for best knockout, fight and submission.
Although boxing doesn't have the same central governing system that has helped the UFC stoke excitement via monetary rewards, promoters should follow Golden Boy's lead -- as long as the incentives don't punish those who actually make an art out of the science of boxing. Some kind of incentive for a fighter to be the best boxer-puncher he can be is a great thing for all fans.
Certain fighters will always command more money based on their marketability alone, and rightfully so. But a future in which two fighters compete for a set percentage of both purses as a reward for the winner would be a fantastic compromise.
In the end, Golden Boy's knockout bonus could turn out to be nothing more than a gimmick. But if you look closely, it also could open the door to opportunities that just might stem the tide of a sport suffering from self-inflicted decay.