November, 9, 2014
11/09/14
2:51
AM ET
By
Brian Campbell
| ESPN.com

After Sergey Kovalev's one-sided domination of ageless wonder Bernard Hopkins in Saturday's light heavyweight title unification bout from Boardwalk Hall in Atlantic City, New Jersey, here are five things we learned:

1. Kovalev is who we thought he might be.

It was easy to question whether Kovalev (26-0-1, 23 KOs) was everything his gaudy knockout percentage led you to believe entering the fight. But despite his never having been past eight rounds as a professional or having faced an elite opponent, the Russian destroyer finally earned the critical respect he has coveted. In fact, he might even be better than we thought. Facing a durable, difficult opponent who was able to take the fight into the championship rounds, Kovalev showed us there was far more to his craft than a big right hand. After making a statement by knocking the 49-year-old Hopkins (55-7-2, 32 KOs) down in the opening round, Kovalev nearly bookended the feat by coming dangerously close to becoming the first fighter to finish Hopkins in the closing seconds of the final round. In between, it was all Kovalev, all the time, in a performance that solidified him as for real.

2. There are plenty of wrinkles in Kovalev's game.

Through 26 professional fights entering Saturday night, Kovalev hadn't been in too many situations in which he needed to prove he can box. His power has been more than enough. But Kovalev made a statement with both his poise and his accuracy in the way he systematically dismantled Hopkins. The "Krusher" was never in a hurry and held back from emptying the tank until the final minute of Round 12. He was prepared to box for 12 full rounds and did that by using his jab and footwork to constantly corner Hopkins. Even when he had Hopkins in compromising situations, Kovalev never overextended himself, and by doing that, he avoided falling into any traps. His head movement was strong. There was a thought coming in that if Hopkins could make Kovalev think instead of react, the wily veteran could gain control. But Kovalev not only never gave him that chance, he proved he has both power and polish. And that's a dangerous combination.

3. Give Hopkins full credit for taking the fight.

Hopkins entered the ring less than two months shy of 50 (50!!!). Sure, you already knew that. Hopkins' age was -- rightfully so -- the major selling point for the fight, as "The Alien" once again looked to defeat a younger fighter in his prime, who they said he couldn't beat. But this was a fight Hopkins didn't need to take. It was an old-school gesture from a guy who wrote the book on daring to be great. It was a gift for the sport in a year when more often than not, the best refused to face the best. Hopkins ended up spending the majority of the night in survival mode amid Kovalev's constant onslaught. He needed every inch of his legendary chin to make the final bell. But he took on a dangerous challenge against arguably boxing's biggest puncher to find out how great he can be. That's how things used to be. And that's how they still should be.

4. The fight was a passing of the torch.

Adonis Stevenson might still be, from a lineal sense, the champion of the world at 175 pounds. But Kovalev's shutout victory proved he is very much the division's most dangerous fighter. Saturday's fight was also a passing of the torch in a way that is bigger than simply the light heavyweight division. Historically, a new star in boxing doesn't fully begin to shine until he takes out an established name. Kovalev did just that against Hopkins, and a new star was born -- a humble knockout artist with a big smile and unique sense of humor.

5. Sadam Ali had a coming out party.

Unbeaten welterweight Sadam Ali had the glossy record and strong amateur pedigree as a 2008 U.S. Olympian entering his step-up fight with hard-punching Luis Carlos Abregu. But what he sorely lacked was experience against an established name. To make matters worse, he was coming off a shaky split-decision win in his latest bout. All of that quickly became null and void once Ali (21-0, 13 KOs) entered the ring in the co-main event. After boxing circles around the surprisingly cautious Abregu (36-2, 29 KOs) in a fight that thoroughly lacked excitement, Ali stepped forward to make a statement in Round 6 by flooring the durable Argentine with a big right hand. Ali continued to pour it on in Round 9 to score a breakthrough stoppage that announced him as a welcome new name to a loaded division at 147 pounds. We knew Ali could box, but we didn't know he could punch -- at least not on this level. But his performance has many taking notice.
August, 3, 2014
8/03/14
3:37
AM ET
By
Brian Campbell
| ESPN.com

After a wild, split-site telecast of boxing Saturday featuring a light heavyweight title bout in Atlantic City and a pair of controversial endings in Las Vegas, here are five things we learned.

1. If you try, sometimes, you get what you need

Boxing hasn't been kind to fans when it comes to consistently finding competitive match-ups on pay cable in 2014. Light heavyweight titlist Sergey Kovalev's bout with unbeaten yet unheralded Australian Blake Caparello was, on paper, par for the course. But a stunning announcement the day before the fight drastically changed the bout's meaning. With a victory guaranteeing "Krusher" a November title unification bout against Bernard Hopkins, Kovalev carried out his end of the bargain at the Revel Resort in Atlantic City, New Jersey, with a second-round TKO of Caparello. Not only does this guarantee an interesting fight no one saw coming, but it also provides fans with an intriguing style matchup for Kovalev when his opponent pool appeared all but dried up. Hopkins, the ageless wonder whose story doesn't get the credit it deserves on a mainstream level, surely doesn't need to go out of his way to make a fight against arguably the sport's most dangerous puncher. But his willingness to dare to be great -- while pushing 50 -- is a credit to his truly special makeup and a gift to fight fans.

2. Kovalev aims to please

The reaction of promoter Kathy Duva of Main Events from ringside as her star fighter, Kovalev, fell to the canvas in the opening round on a flash knockdown was priceless. With her hands separated on either side of her face like Macauley Culkin in "Home Alone," Duva wasn't alone, considering what the impact of a Kovalev upset loss would have been. But with the super-fight against Hopkins hanging in the balance for a matter of seconds, Kovalev never wavered. The Russian native dusted himself off and stalked his opponent with the same fury that has led him to to a frightening 88 percent knockout rate. One round later, after a vicious trio of knockdowns led referee Sparkle Lee to mercifully save Caparello from any more punishment, Kovalev added another victim to his growing list of exciting finishes. He's about as honest, inside the ring and out, as fans could hope for and a knockout fighter who truly wants to test himself against the very best. Following the disaster of seeing his 175-pound summit with recognized champion Adonis Stevenson fall apart in such a back-breaking manner, it's only right that one of boxing's most exciting fighters -- and the perfect candidate to be avoided -- finds himself on the doorstep of such a major fight.

3. Referee to blame in Rios-Chaves

The bizarre ending in the welterweight bout between Brandon Rios and Diego Chaves at The Cosmopolitan of Las Vegas ruined what had the potential to be a memorable action bout. With Chaves ahead on two of three scorecards in Round 9, referee Vic Drakulich, who took away a total of three points to both fighters (including two from Chaves) disqualified Chaves at 1:26 after roughhousing from both. The fight opened with enough toe-to-toe action in a rousing first round that caused an instant stir on Twitter, but it came unraveled round by round thanks to a constant stream of fouling as Drakulich simply lost control and was inconsistent in his policing. He set a bad precedent by taking a point away from Chaves after very little warning for holding in Round 3 while ignoring a steady stream of head-first spearing attempts by Rios. He also began to lose his cool and wasn't clear or consistent in his addressing of the constant violations. But the timing in which he called the fight off and gave the decision to Rios was the most questionable. Both fighters were dirty throughout, but to single out just Chaves instead of both (or, preferably, none at all) when it came to a disqualification didn't seem justified. By doing so, Drakulich inserted himself into the storyline and overshadowed what could have been a great fight.

4. The jury is still out on Rios

In his first fight since he dropped a near-shutout decision to Manny Pacquiao this past November in Macau, Rios entered his second fight at welterweight in need of snapping a two-fight skid. While he was able to pull out the much-needed win in unusual fashion, Rios failed to fight off fears that his best days are well behind him. Possessing possibly the sport's best chin, Rios was able to take Chaves' best shots while continuing to come forward. But in what has become a recurring theme throughout his all-action run in recent years, Rios continues to take far too many clean punches. It's a result of his exciting style that was less dangerous at 135 pounds. But now, as a welterweight and a veteran of one memorable brawl after another, lingering doubt remains whether Rios has a bright future ahead of him.

5. Judges way off on Vargas-Novikov

Unbeaten Jessie Vargas seems to have a knack for pulling out contentious decisions in his hometown of Las Vegas, and Saturday was no different. One fight after winning a secondary 140-pound title from Khabib Allakhverdiev in a unanimous decision many felt should have gone the other way, Vargas edged Russian southpaw Anton Novikov in similar fashion. The fight, with Vargas getting out to a quick start and Novikov rallying late as Vargas slowly faded, gave the feeling that it could go either way after 12 rounds. But unlike the relatively close decision he got against Allakhverdiev, this time Vargas took home a much wider one against Novikov by scores of 118-111 (twice) and 117-111. The scores, without question, failed to match the reality of what most fans and media on social media saw at home. It has become almost cliché to expect a bad decision in these spots of late, and more often than not our cynicism is rewarded.
December, 23, 2013
12/23/13
2:57
PM ET
The clichéd "irresistible force versus immovable object" paradox makes for a pretty darned good stylistic showdown in the boxing ring. But it's second-best in terms of excitement to when the irresistible force meets another irresistible force.
The truth is, we don't really know how immovable either lineal light heavyweight champion of the world Adonis Stevenson or unofficial "baddest man" in the division Sergey Kovalev are. Kovalev has yet to have his chin and will properly tested. Stevenson lost by knockout once 3½ years ago, but that feels like ancient and irrelevant history -- and like Kovalev, he hasn't had to show his mettle much since. Stevenson and Kovalev are both destroyers, guys who bulldoze whatever you put in front of them. We don't know if they can take as well as they can give.
But good lord, can they both give it.
Stevenson boasts 20 knockouts among his 23 wins -- 10 of them coming in the opening round. He has won 10 straight, all by stoppage, since that 2010 loss (since avenged) to Darnell Boone. Kovalev has 21 knockouts in 23 wins, 15 of them coming in the first two rounds. He has never had to go beyond the eighth round (interestingly, it was Boone who took him the full eight back in 2010).
Stevenson-Kovalev would be irresistible force versus irresistible force, two heat-seeking missiles pointed directly at each other and released. Combustion is guaranteed -- and whoever emerges from the flaming wreckage is the universally recognized king of the 175-pound division.
And the best part is, there are no network rivalries or promotional entanglements to prevent this fight from happening. The only thing standing in the way of Stevenson-Kovalev, it would seem, is Stevenson's preference for one or two more defenses first that offer him a more favorable risk-reward ratio.
When they shared an HBO card in Quebec on Nov. 30 and Kovalev was asked who he wanted next, he declared simply, "Adonis." As a mere beltholder and not the true champion, it's obvious why he is so motivated to make the fight.
But when Stevenson was asked the same question, he tap-danced around Kovalev's name, instead calling out Carl Froch and Bernard Hopkins. Hey, we get it. Hopkins is still a household name who brings money to the table. Froch is a more established fighter than Kovalev, and he happens to be a weight class smaller and coming off a shaky performance. Neither of them is half the knockout threat at 175 that Kovalev is. So it's understandable why the "Krusher" from Russia wouldn't be Stevenson's first choice.
But he's undoubtedly the first choice of fight fans. This is the matchup that needs to happen, two of boxing's best pound-for-pound punchers, coming off breakthrough years, determining in an all-offense fight who rules the division.
It's irresistible force versus irresistible force, making for an irresistible attraction for boxing fans.
#ESPN12days @AdonisSuperman vs @KrusherKovalev; @Carl_Froch vs @StGeorgeGroves; @ChinoMaidana vs @DannySwift; @BCampbellESPN #boxingwishlist

— Chito Muñiz (@chitomuniz) December 23, 2013
December, 12, 2013
12/12/13
8:57
AM ET
By
Brian Campbell
| ESPN.com

There's only so much that unbeaten light heavyweight titlist Sergey Kovalev can say about division champion Adonis Stevenson until the two fighters one day (hopefully) meet in the ring.

The anticipated showdown between two of the sport's most devastating punchers seemed like a slam dunk when HBO featured both fighters in showcase bouts on the same Nov. 30 card. It's a fight just about everyone in the boxing world is salivating over, from the fans and promoters to the network.

But that doesn't mean we'll see it right away. Stevenson, 36, who came out of nowhere in 2013 to make a case for fighter of the year consideration, with four knockout wins, is hoping to be handsomely rewarded for his efforts, seeking either more money from HBO or an opportunity for financially friendly options elsewhere.

Kovalev (23-0, 21 KOs), 30, typically deflects most questions about future opponents to the capable hands of promoter Main Events and manager Egis Klimas. But the Russian-born fighter makes no bones about the fact that he wants to stay active, with the goal being four more fights in 2014, including at least one against Stevenson.

"I hope he wants the fight [with] me, but maybe [he wants more] money. Maybe not yet, maybe later," Kovalev told ESPN.com. "Maybe he don't want [to fight] -- I don't know. You need to ask him. But what I'm thinking is that it will be a good fight and a very interesting fight for [boxing] fans.

"I want to fight Stevenson. I'm still waiting."

Kovalev clearly has respect for Stevenson (23-1, 20 KOs) as a fighter, calling him a dangerous puncher with both hands, especially from distance with his left. But he doesn't have the same admiration as others for the quality of Stevenson's biggest wins, including a first-round knockout of lineal champion Chad Dawson in June.

"You know, when I saw Chad Dawson go into the ring, I understood that he will lose because he [had] not recovered after he fought Andre Ward," said Kovalev, in reference to Ward's knockout of a weight-drained Dawson in September 2012. "[It was] the same look Mike Alvarado had against [Ruslan] Provodnikov. Alvarado already [went] into the ring [looking] like he is going to die. [Meanwhile,] Provodnikov just went into it. Alvarado had lost already before the fight."

Kovalev isn't necessarily speaking from a place of bravado or trash talk, although he did his fair share of the latter when provoked in his recent knockout of Ismayl Sillakh. He comes across as simply an honest fighter sharing his thoughts, which continued when he was asked about Stevenson's one-sided drubbing of Tavoris Cloud in September.

"Tavoris Cloud, he's a dangerous fighter, but he can only punch," Kovalev said. "If you will be boxing with him in the ring, you saw what [Cloud] can do. It was same fight like against [Gabriel] Campillo. He's only like a bull, like a fighter. There's no boxing. [Cloud] is ready for one punch and only that. At least that is my opinion."

Kovalev's notion that Stevenson's biggest wins need to be put into perspective isn't a great stretch considering both Dawson and Cloud were one fight removed from devastating losses against top-end fighters when Stevenson picked them off. Still, Stevenson did look spectacular in those wins -- both of which, it deserves to be mentioned, were bigger than any on Kovalev's résumé.

The timing for the light heavyweight showdown couldn't be any more perfect than now, with the slugger Kovalev having come into his own as a boxer through six fights with trainer and former two-division titlist John David Jackson.

"It's like [Jackson] is polishing a diamond," Kovalev said. "He is making me into a diamond and polishing out the little mistakes. He has improved my skills. He is keeping [me prepared] with hard work for any fight."

Kovalev, and just about everyone else in boxing, is hoping "any fight" turns out to be one with Stevenson. But does the fighter who instills fear in the hearts of opponents carry his own misgivings about the possibility of seeing such a must-see bout potentially marinate for too long?

"Maybe, you know? Maybe," Kovalev said. "But if he is not crazy and I am not crazy, this fight will [happen]."

Unfortunately for the rest of us, crazier things have happened.
December, 1, 2013
12/01/13
12:51
AM ET
By
Shaun Brown
| Special to ESPN.com

Things went according to plan late Saturday night in Quebec City as the light heavyweight division edged closer to the fight that everyone wants.

After Sergey Kovalev delivered a two-round shellacking of Ismayl Sillakh to retain his belt, Adonis Stevenson had to deliver the goods in his title defense against Britain's Tony Bellew to ensure HBO and promoters Yvon Michel and Main Events walked away with smiles on their faces.

Bellew -- who talked a good game, as he always does -- had brought up Stevenson's anger at a fiery weigh-in, but unfortunately the fuel to that fire was extinguished in six rounds with a confident performance and conclusive stoppage from the champion.

Key moment: That would have been whenever the sometimes-unorthodox left hook landed from Stevenson's southpaw stance. It found its home in Round 1 and thereafter despite the challenger carrying a high right hand. Bellew's plan was to frustrate and take the fight to Stevenson late in the contest, but best-laid plans were put to rest long before that could begin.

We've got your number: Zero, and the paymasters will wonder how many they will have to add to the fighters' bank accounts to make a salivating unification super-fight between Stevenson and Kovalev. The former, however, talked about facing the super middleweight champion Carl Froch and "The Alien" Bernard Hopkins, and seemingly showed little interest in taking on Kovalev right away.

Last word: Froch and Hopkins line Stevenson's pockets rather handsomely, but given what he and Kovalev have done in the ring lately, all the stars will, one hopes, align to have two of the most fearsome punchers in the modern era lock horns in a bout that will have little odds of going the distance.
November, 29, 2013
11/29/13
9:46
AM ET
By
Shaun Brown
| Special to ESPN.com

Tony Bellew insists he will be forced to overcome more than light heavyweight champion Adonis Stevenson and his fans Saturday at the Colisee de Quebec in Quebec City, Canada.

"The best way to say it is, I'm the fly in the ointment," he said.

Bellew also believes he will need to contend with far greater powers that are being seduced by a unification superfight in the distance involving the Haitian-born Stevenson, 36, and 175-pound titlist Sergey Kovalev, who defends his title against Ismayl Sillakh in the co-feature.

"I've said I'm under no illusions that a points decision is enough for me in Canada," said Bellew, when asked if he will have to take more risks than normal in this fight.

"I get it. I'm not just up against one of the most formidable fighters in the division, I'm up against HBO and I'm up against two rival promoters in Yvon Michel and Main Events. These guys all want a multimillion dollar blockbuster in Kovalev and Stevenson. They don't want me around. I'm a big f---ing bogeyman in this big plan that they have. HBO has big plans for the two of them. They want this superfight and I'm the stumbling block."

Bellew, 30, is making his second world title attempt after falling short in a 2011 grudge match against British rival Nathan Cleverly. Lessons have been learned and two years later, a more refined Bellew believes that not only is this his time, but that the defending champion will likely be overlooking him.

"I don't believe he's paying the same respect to me that his trainer, [Javan] 'Sugar' Hill, is," Bellew said. "Stevenson wants the big paydays, that's what he's about. Hill can do all the studying he wants for him but Stevenson is not studying me for three hours at a time on a DVD. He doesn't have the concentration levels, anyway. I've been studying him for hours on end. I know what his feet are going to do and I know his move after he shows a feint. I know what he's going to do all the time, I know what he's about.

"Stevenson is cocksure of himself. He believes his own hype. He said to me at the press conference to announce the fight, 'You're facing a big dog now.' And my response was, 'Are you having a f---ing laugh? All 5-foot-10 of you?' He was quite shocked, he now understands I'm not there to f--- about or boost his ego. I'm there to prove a point and it will be proven on Saturday night."

August, 20, 2013
8/20/13
4:26
PM ET
By
Brian Campbell
| ESPN.com
So let's be real with each other about boxing in 2013:
Like a no-hitter through seven innings, this year shouldn't be celebrated too early. Can't be too careful to avoid jinxing anything to do with this cruel and unpredictable sport. But ... this year has been crazy. Amazing. Riveting. Scintillating. And it just seems to keep getting better with every week.
[+] Enlarge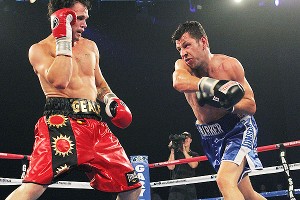 Courtesy of Alex Ridley.Saturday's fight between Daniel Geale and Darren Barker continued this year's trend of barnburners, stirring something unfamiliar in fight fans: hope.
From the blockbuster cards to the low-profile shows featuring prospects and journeymen, it isn't just that there has routinely been something to talk about at the proverbial watercooler. The talk has even been
positive
.
Even now, in the midst of a promotional cold war I personally abhor and will never accept as simply "Well, that's just the way it is," we are getting the fights we want -- and they are actually living up to expectation.
Fans have been able to enjoy at least five legitimate candidates for fight of the year (and that was before Saturday's Darren Barker-Daniel Geale scrap), including at least two -- Timothy Bradley Jr.-Ruslan Provodnikov and Mike Alvarado-Brandon Rios II -- that produced enough drama and savage artistry to be considered on par with the best of this century.
But it goes beyond that. We've also seen breakout campaigns from exciting and marketable action fighters such as Gennady Golovkin, Lucas Matthysse, Adonis Stevenson and Sergey Kovalev. We've seen the development of young stars who appear more than ready to be labeled "next." (I'm looking at you, Abner Mares, Adrien Broner and Mikey Garcia.) And we've seen more than the typical number of under-the-radar fights (think Omar Figueroa-Nihito Arakawa and Sakio Bika-Marco Antonio Periban) deliver unexpected fireworks.
What this all amounts to, especially with a jam-packed final five months already on the slate, with fight-of-the-year hopefuls and big-name pairings jumping off the
schedule
, is two-fold.
First of all, and probably most important, the sport is relatively healthy again. Go ahead, bring on the backlash to that comment. And don't forget to mention the lack of a central governing body, too many titles, far-from-ideal drug-testing protocols and, oh yeah, that whole promotional catfight. But all things considered, boxing appears to be moving in the right direction after such an up-and-down decade.
And it clearly had been a rough ride for the sport since 2004, when a clear and distinct changing of the guard began to take place. There was the sudden crumbling of the heavyweight division, with the retirements of Lennox Lewis and Vitali Klitschko, not to mention the fallout of two knockout losses in a 17-month span for current champion Wladimir Klitschko. You also had a group of fighters who had become the face of the sport over the previous seven or eight years -- Oscar De La Hoya, Roy Jones Jr., Shane Mosley, Felix Trinidad -- hit career snags as losses and the impact of age began to erode their elite status.
Every valley, however, eventually leads back to another peak, and boxing rebounded in a big way with a banner year in 2007. In fact, it was the sport's last truly great year.
You had the anchor of the highest-grossing fight in history between Floyd Mayweather and De La Hoya. There were marquee bouts between unbeaten fighters such as Mayweather-Ricky Hatton, Kelly Pavlik-Jermain Taylor I and Joe Calzaghe-Mikkel Kessler. There also was a run of memorable action fights: Miguel Cotto-Mosley, Paul Williams-Antonio Margarito, Cotto-Zab Judah, Juan Manuel Marquez-Marco Antonio Barrera and the first two Rafael Marquez-Israel Vazquez wars. (And let's not forget about the Bika-Jaidon Codrington "Contender" finale and the two Michael Katsidis fights with Graham Earl and Czar Amonsot.)
Seriously, take inventory of the past 10 years or so in boxing and you simply won't find a more action-packed and memorable year than 2007 ... until now. And that leads to my second point.
The buzz of excitement surrounding the sport in 2013 has been a virtual runaway train. For the first time in many years, boxing's traditionally cynical group of fans and experts have grown to expect things to go their way. This is a huge departure from just a year ago, when a flurry of injuries and drug suspensions wiped out nearly a complete summer of entertaining fights.
So what was the tipping point? Ironically, it was a date that was supposed to have been representative of the type of greed that continually has plagued the sport in recent years. With both HBO and Showtime airing competing blockbuster cards on Sept. 15 -- which pitted a Sergio Martinez-Julio Cesar Chavez Jr. PPV against a cable show headlined by Canelo Alvarez -- a night that was expected to further darken the sport's black eye somehow had the opposite effect.
Instead, the fighters on both cards applied the black eyes to each other. The momentum of the evening then spilled into a memorable three months to close out the year, highlighted by Marquez-Manny Pacquiao IV, and it hasn't slowed yet.
The fact that 2013's biggest fight to date -- Mayweather's May 4 win over Robert Guerrero -- featured a poor promotion, lackluster sales and a rather unexciting in-ring result, yet still hasn't killed the buzz, is proof that this will be a year to remember.
And think about this for a second: The next few months, we expect, will bring us continued excitement from the likes of Danny Garcia-Lucas Matthysse, Bradley-Marquez, Alvarado-Provodnikov and Pacquiao-Rios. But what about Mayweather-Canelo? What if this fight -- the one most experts continue to downplay as likely one-sided, with an almost predetermined result -- ends up bringing the kind of action, drama and excitement on par with what we've seen throughout most of 2013? What happens next?
It's crazy to think about, of course. But for a sport that is regularly labeled as cursed to yield a year so sublimely fun to be a part of, I'm not going to bet against it.
I have to admit, it's kind of weird going into a season of big fights and actually expecting them to live up to expectations. Don't lose heart -- this is really how it's supposed to be. Let's savor the flavor while we can.
July, 9, 2013
7/09/13
5:13
PM ET
By
Brian Campbell
| ESPN.com
As the dog days of summer kick into low gear, we reach the midyear mark of the 2013 boxing calendar. So what have we learned from this small sample size of the sweet science? In a fun, taking-stock exercise to cure the summertime blues, this week we unveil our midyear awards for the categories of best boxer, fight, knockout and round through the year's midpoint.

Agree with our selections? Disagree? In any case, let your voice be heard and weigh in on each category in our SportsNation polls » and on Twitter.
Have you ever seen the perfect punch before in a boxing match?

I'm talking about the kind of shot so brilliantly executed in terms of mechanics and technique that it connects with a level of artistic beauty that perfectly contrasts the calamitous results left in its wake.
Basically, you know it when you see it.
A single punch that fit this description perfectly was thrown on March 30 when unbeaten slugger Gennady Golovkin traveled to Monte Carlo for a stay-busy fight with respected journeyman Nobuhiro Ishida. And by the time it connected late in the third round, the punch produced one of the most sublime and devastating one-punch knockouts that you will ever witness.
In fact, it was so impressive that it easily gets the nod as the best knockout of 2013 at the midyear point.
Golovkin, who was making the seventh defense of his middleweight title, extended his consecutive knockout streak to 13 with the victory. But this one was extra special, even when compared to the Kazakh KO King's ever-burgeoning career highlight reel.
The fight didn't carry any extra meaning, not with the 37-year-old Ishida having entered the bout with eight career defeats. But the fact the durable native of Japan had never been stopped in 35 pro fights raised the ante, especially considering the balance between the otherworldly hype Golovkin entered the fight with and the finality of what one right hand did to Ishida.
Golovkin set up the knockout shot -- the final blow in an immaculate three-punch combination -- with a level of aesthetic brilliance. After stalking forward and forcing the straight-up Ishida to backpedal toward the corner, Golovkin landed a flush jab before missing on a left uppercut attempt.
What the missed uppercut did, however, was distract Ishida and blind him to the fact a pivoting Golovkin was about to step forward and land a crushing overhand right for the ages. As Ishida stood helpless, with his hands low, Golovkin got full extension on the punch and threw him onto the mat with the force of a hurricane wind.
Not only was Ishida knocked cold by the impact of the punch, the top half of his body was catapulted under the ring ropes and nearly to the floor. Ishida's head had to be supported by a quick-responding official at ringside to prevent it from slamming back onto a table adjacent to the ring.
As far as visual devastation goes, it was about as good as it gets for a knockout punch. It wouldn't, however, be the last time a Golovkin finishing shot was in the conversation for best of the year.
Honorable mentions
Adonis Stevenson KO1 Chad Dawson:
By claiming the lineal light heavyweight title with one demolishing shot on June 8 in Montreal, 35-year-old Adonis Stevenson scored the biggest victory of his career and easily the most important knockout so far in 2013. The Haitian-born southpaw connected on a textbook 1-2 combination by slinging a right jab and coming right over the top with a missile left hand that landed flush to the right side of Dawson's head. The veteran champion reached his feet, but he was unable to show referee Michael Griffin enough signs that it was safe for him to continue.
Golovkin KO3 Matthew Macklin:
The knockout blow -- a pulverizing left hook to the body in the third round that crumpled Macklin like a house of cards -- was almost as exciting and eye-opening as what the punch represented. This was the much-hyped GGG's true coming-out moment, which proved that he was more than merely a must-see knockout attraction. The punishing body shot, which sounded like a shotgun blast from ringside, floored Macklin -- the first legitimate title contender that Golovkin has faced -- and left him writhing in pain on the canvas for minutes after the final bell was rung to end the fight.
Javier Fortuna KO1 Miguel Zamudio:
Fortuna, the unbeaten featherweight prospect from the Dominican Republic, unleashed a stunningly vicious knockout shot just 68 seconds into this bout against the overmatched Miguel Zamudio on April 19 in Atlantic City, N.J. The southpaw Fortuna had roughed up and floored Zamudio, a native of Mexico who had built up a mark of 25-1 against relatively soft opposition, early in the round before finishing him moments later on a short left cross. Zamudio was out cold and seemingly lifeless with his eyes open, and stayed down for an extended period as the medical staff examined him.
October, 13, 2012
10/13/12
4:28
AM ET
By
Brian Campbell
| ESPN.com
There's a point in every horror movie when the audience begins to question whether the villain is human after absorbing so much damage only to keep marching forward.

Donovan George had the fans in Montreal thinking the same exact thing after his ultra-gutsy effort in defeat against Quebec resident Adonis Stevenson in their super middleweight title eliminator Friday night at the Bell Centre.

Knocked down five times before referee Marlon B. Wright called a halt to the bout 55 seconds into the 12th round, George (23-3-1, 20 KOs) was never truly out of the fight and nearly stole the show from what became an impressive and thorough performance from Stevenson (19-1, 16 KOs).

"You a f------ warrior, man," Stevenson told an emotional George while the two fighters embraced after the bout. "Respect. Respect."

With the victory, Stevenson became the No. 1 contender for IBF titlist Carl Froch -- but he almost didn't get there, even in winning a wild thriller that was postponed twice in the past two months.

George, 27, didn't simply prove he could take a beating; the Chicago native was able to dramatically save himself from the verge of being stopped on multiple occasions to stun Stevenson with powerful right hands, each time nearly stealing the momentum of the bout.

Stevenson, a southpaw, built an early lead on the scorecards by working the body and landing a series of stinging left hands from multiple angles. He floored George twice in a dramatic fifth round, only to see George get off the ropes to hurt him with multiple right hands as the two fighters brawled until the bell.

George hit the canvas again in the sixth round on another body shot before running out of gas in the 12th round as Stevenson emptied the tank with combinations.

The victory allowed Stevenson, a native of Haiti, to seemingly make the leap from devastating puncher to legitimate contender at 168 pounds. With knockouts in his past nine victories -- including many of the highlight-reel variety -- Stevenson is surely a tough out for anyone in the division.

A potential date with Froch, who will defend his title against Yusaf Mack in England on Nov. 17, has the makings of pure excitement considering the way Stevenson has been able to mix hand speed and body punching with his dangerous left hand.

More important, it's also a fight that the 35-year-old Stevenson, a veteran of just 20 professional fights, could legitimately win.

Lemieux continues comeback with thrilling KO

Following back-to-back upset defeats, 23-year-old middleweight David Lemieux of Montreal continued his comeback with a knockout of the year candidate against Alvaro Gaona.

Lemieux (27-2, 26 KOs), a former prospect who suffered stunning defeats to Marco Antonio Rubio in April 2011 and Joachim Alcine last December, won his second straight bout by knockout.

After knocking down Gaona (11-2, 7 KOs), 27, of Mexico, with a straight right hand midway through the first round, Lemieux came back with a looping right hand and a textbook short left hook to knock his opponent cold at 2:48 of the opening round. Gaona, whose head bounced off the canvas twice upon impact, was able to walk off on his own power after the fight.

It's unclear whether Lemieux has what it takes to someday become the best fighter in his division. But with the kind of exciting power in both hands and style that originally created buzz throughout the sport, it almost doesn't matter. There will be plenty of fun fights for Lemieux to pick from as long as he keeps climbing the ladder back to contention.
August, 16, 2012
8/16/12
12:19
PM ET
By
Diego Morilla
| ESPN.com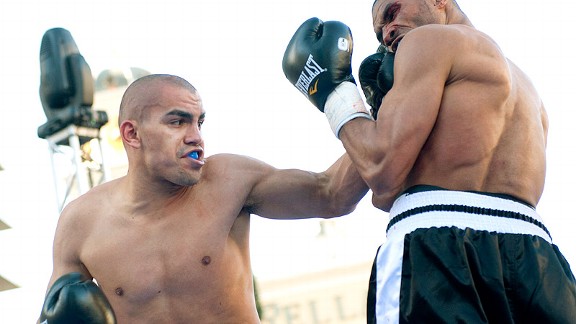 Chris Cozzone/Fightwireimages.comA bit more exposure may be all that Carlos Molina needs to land a top-shelf opponent at 168 pounds.
In a year when so many fights are being postponed or scrapped, the silver lining is that cancellations help other deserving fighters gain much-needed TV exposure. And this week's "Friday Night Fights" season finale is a prime example.
With super middleweight contender Adonis Stevenson's hand injury scuttling a main event title eliminator against Donovan George, the co-feature was moved up, putting one of boxing's unsung heroes in the spotlight. In a 10-round junior middleweight bout, Mexico's Carlos Molina (19-5-2, 6 KOs), fighting out of Chicago, will face Cuba's Damian Frias (19-4-1, 10 KOs), currently living in Miami, in what could be viewed as karma working for Molina after a couple of years of hard work and uneven results.
Molina arrived on the scene in a scrappy 2005 draw with Julio Cesar Chavez Jr., and although he lost their rematch, Molina stood his ground and continued to mingle with the top dogs in the division. He dropped consecutive eight-rounders against unbeaten contenders Wayland Willingham and Mike Alvarado in his next two bouts, but then ripped off an 11-0-1 streak that was capped by a win over former welterweight titlist Kermit Cintron.
But even that run came with its share of tough luck. In a bout in which he was a late replacement, Molina drew with hot Cuban prospect Erislandy Lara despite most observers giving the nod to Molina after 10 rounds of back-and-forth action. And in March, following the Cintron bout, Molina turned in a solid effort against fellow contender James Kirkland but was dropped to the canvas at the bell to end the 10th round and was controversially disqualified when one of his cornermen entered the ring during the ensuing eight-count.
"I was doing what I trained to do, which was apply pressure, work his body and push him back," Molina said about the Kirkland fight. "I wanted to do a little bit of everything, and I did. I was not hurt in the 10th round. I was ready to fight the full 12."
His status as a professional opponent du jour and regular underdog doesn't bother Molina, especially after recently outperforming his most notable foes.
"Mentally, I take it as an advantage," Molina said. "When somebody says that you can't do this or you can't beat this guy, it makes you work harder to prove that you can. I like the way I did it, and I wouldn't change it for anything else."
In order to keep adding to his growing résumé, Molina will have to go through a less talented but highly motivated Frias. A converted southpaw and boxer-puncher with a decent record against quality opposition, Frias hopes to build on his most recent outing, last September's upset of Henry Crawford. It was Frias' third straight win following an 0-3-1 skid.
"I'm a learning pro," said Frias, the son of a former amateur fighter in Cuba. "I only had three amateur fights, but I got a good team -- head trainer John David Jackson, who was a southpaw just like me -- who I listen to. I don't just go out there and throw punches. Anybody can just throw punches, but skills win fights."
The co-main event will now feature Chicago's George (22-2-1, 19 KOs) against replacement Dionisio Miranda (21-7-2, 18 KOs), of Colombia, in a 10-rounder that will probably fail to match the intensity expected from the original bout with Stevenson. Still, it's a fight that could decide who stays in the conversation for significant fights at 168 pounds and who slips into trialhorse territory.
Coming off a loss to contender Edwin Rodriguez (and with a 2-2 mark over his past four outings), George -- who has an illustrious amateur background -- can begin working out of his rut against a proven contender in Miranda, a tough customer with a checkered past that includes victories over Sebastien Demers and Lajuan Simon mixed with defeats to Peter Quillin, Giovanny Lorenzo, Roman Karmazin, Renan St. Juste and, more recently, Avtandil Khurtsidze. That fight happened in mid-2011, so Miranda will have the double challenge of shaking off his ring rust and stepping in against a fighter who had earned the right to face one of the toughest super middleweights in the world.
"I have a really bad taste in my mouth from the last fight, so I am more motivated than ever now," George said. "We dropped the ball -- I didn't fight good and he didn't do his best, and we acknowledge that. We know we didn't do our best, so this is a chance, basically, for us to redeem ourselves. We're going to go out there and do the best we can, and go out fighting and get a big win."
With the winner slated to meet Stevenson later in the year, the only concern for George should be to stay healthy and finally make that fight happen. A win against Miranda isn't something he can take for granted, but he should be able to pull through to set up a Stevenson fight, with the winner finally getting a title shot, likely against England's Carl Froch.
April, 19, 2012
4/19/12
2:33
PM ET
I do not recall a pro fighter debuting at age 29, as Adonis Stevenson did, and being on the cusp of a title shot within five years.

The same goes for Emanuel Steward, Stevenson's trainer/manager. He wasn't aware of how late Stevenson (17-1, 14 KOs) had turned pro.

"That's amazing!" Steward said when I asked him about the late start for his boxer, who is ranked as high as No. 2 at super middleweight by the International Boxing Federation.

Steward is truly enamored of Stevenson, who was born in Haiti and has lived in Canada since he was 5, and the trainer proves his commitment by choosing to also manage his fighter. Steward is asked to manage fighters every day, but unless someone has the physical goods and a stellar work ethic, is open to tutoring and is a solid citizen outside the ring, he won't bother.

Steward, the godfather of Kronk, had received a call from a pal of Stevenson's asking him to hook up with the fighter. Yeah, yeah, Steward thought. Lo and behold, Stevenson showed up, and he didn't leave.

Steward was blown away when Stevenson once showed up at 11 p.m. at the trainer's house -- a two-mile jog from where the fighter was staying -- during a snowstorm. Steward offered to drive him home.

"That's OK, I'll just run home," Stevenson said.

"That's the kind of guy he is," Steward said.

Steward trained the fighter for three weeks leading up to his most recent bout, against 27-1 Jesus Gonzalez on Feb. 18. Stevenson knocked out Gonzalez in Round 1, his fourth straight knockout since being TKO'd by journeyman Darnell Boone in April 2010.

Now, Stevenson isn't a polished product, not like Steward's diamond centerpiece, Wladimir Klitschko. Stevenson has issues with balance, footwork and staying patient. But the trainer says all of that is improving. One thing that leaped out at me while I watched video of Stevenson, a 5-foot-11 southpaw, came in his February bout. He backed up Gonzalez with a lead hook and followed with a straight left that mummified the loser, literally leaving him on the canvas on his back with limbs stiffened from body shock.

And then Stevenson leaped in celebration, to the ceiling, with NBA-level hops. The guy has athleticism and explosivity, and if Steward can refine the rough edges, look out, 168-pound champs Andre Ward, Lucian Bute and Robert Stieglitz.

Steward told me he envisions Stevenson winning a crown, and there's something else he particularly likes about the "old" new kid on the block: "He's dangerous all the way through," Steward said. "We got some kind of weird-ass guy here, one of these stamina freaks." That may be aided by Stevenson's late start, as his body doesn't have much mileage on it.

One more thing: Steward loves Stevenson's mindset, in that he seeks to stop his foe. "There's nothing like knocking [expletive] out. That's what made [Mike] Tyson special. I train all my fighters to go for the KO. But they have the stamina in case it doesn't happen."

Across the ring at the Bell Centre in Montreal on this week's "Friday Night Fights" will be Noe Gonzalez, a 32-year-old fighter from Uruguay who is ranked No. 2 by the WBC. The 28-1 hitter, who lives in Argentina, has fought only once in the U.S., but remember on last week's FNF show, Albert Mensah, from Ghana? He had previously fought just once in the U.S., then showed ex-champ Michael Katsidis that he has the goods, winning a majority decision. Gonzalez is described by his adviser, Sampson Lewkowicz, as "a counterpuncher, very powerful, has well-educated defense, and his only problem is sometimes he's not very active."

So, is this one a toss-up?

"I know that Gonzalez will knock out Stevenson," Lewkowicz told me.

All right then.

Yes, Stevenson has been stopped before, by Boone. But Lewkowicz put that ending in context.

"On Friday, it will not be a bad night for Stevenson," he said. "It will be a KO by a better fighter. Stevenson is a good fighter, but he's not elite. Once Gonzalez wins, we look forward to continue fighting in Canada."

Those are fighting words, Lewkowicz promising a KO on Stevenson's turf and then saying that his guy will take over that turf, stealing market share.

Yes, I am officially pumped for this fight, and even if the show starts late, I promise I will not be a wuss like last week and DVR it. Mensah made me look foolish, so I'm nervous about picking a winner. Gonzalez looks more polished to me. He has power in both hands and mixes shots well. Stevenson will need to be ready to dodge or absorb straight shots, left hooks and the odd uppercut. With great internal conflict, I'm leaning toward Gonzalez, liking his experience and polish.