Boxing:

Alexander Povetkin
February, 15, 2014
Feb 15
8:42
PM ET
By
Brian Campbell
| ESPN.com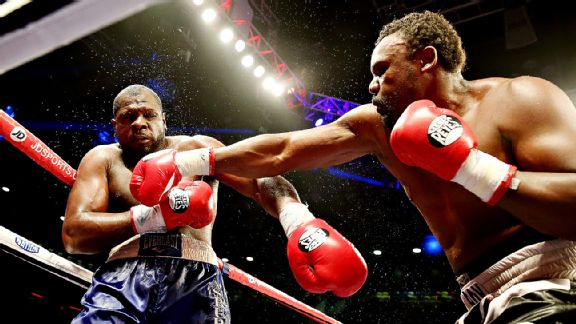 Scott Heavey/Getty ImagesDereck Chisora, right, was very effective pressuring Kevin Johnson during 12 rounds.
One thing you can say about heavyweights Dereck Chisora and Tyson Fury is they just might be perfect for each other.
Fighting on the same card, each against inferior opponents brought in as late replacements, the brash yet always entertaining British heavyweights each scored convincing victories at London's Copper Box Arena to set up a possible summer rematch.
One thing was certain from Saturday's card: Chisora, who fought the much more difficult opponent of the two, was clearly more impressive than the plump Fury, who weighed in at a career-high 274 pounds -- or 23 more than his April 2013 knockout of Steve Cunningham in his last bout.
Chisora (20-4, 13 KOs), 30, was much closer to his peak shape and relied on his conditioning to simply outwork veteran Kevin Johnson to claim a unanimous decision (118-109 twice, 118-110). ESPN.com scored it 116-111 for Chisora.
Johnson (29-5-1, 14 KOs), 34, who lost his lone title shot to Vitali Klitschko in 2009 and also dropped a decision to Fury in 2012, kept his streak alive of never having been knocked out.
"I give enough credit to Kevin Johnson, he came to survive," Chisora said. "I tried to go for the knockout but couldn't get it. Now we move on to the next chapter."
As effective as Chisora was with a style predicated on lunging forward with looping right hands, he was equally as sloppy and connected to the back of the Johnson's head on multiple occasions. But his constant pressure paid off as Chisora hurt the American to close Round 4 before flooring him in the next round on a wild right hook to the top of the head.
Fury, meanwhile, found himself in a bit of a slugfest with American club fighter Joey Abell (29-8 28 KOs). Fury took more flush shots than he likely should have from the heavy-handed southpaw, but finished the job just the same by scoring four knockdowns in a fourth-round TKO.
[+] Enlarge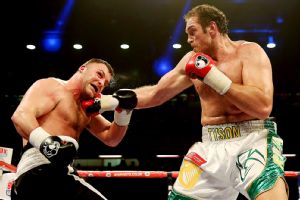 Scott Heavey/Getty ImagesTyson Fury, right, dropped Joey Abell four times on his way to a KO victory.
While the 6-foot-9 giant certainly filled his entertainment quota with an expected amount of trash talk and in-ring antics, Fury (22-0, 16 KOs), 25, failed to look all that impressive despite the showcase fight's inevitable stoppage. In fact, the reality surrounding Fury, who has long been looked at as more of an attraction than a legitimate contender for a title, is that he hasn't shown all that much improvement in the nearly three years since scoring his biggest win -- a unanimous decision over a then-unbeaten Chisora.
Fury outboxed Chisora on that July 2011 night in an exciting bout to hand "Del Boy" the first defeat of his career. And while Chisora will likely always remain a fringe title contender considering both the state of the division and his ability to market fights with his outrageous behavior, he has found defeat all four times he has stepped up to the highest level.
What this means is a summer rematch against each other is probably the most potentially exciting and evenly matched bout either could make in the near future.
Chisora talked after Saturday's bout of wanting a showdown in Russia with former titlist Alexander Povetkin. Fury, meanwhile, talked in the days leading up to the fight of needing another tuneup before he would be ready -- a claim supported by the size of his waistline.
But more than likely the two will eventually find their way back into a ring against one another. And unlike most heavyweight fights these days, you can bet the result will live up to its billing.
October, 21, 2013
10/21/13
4:28
PM ET
Wladimir Klitschko had his way with challenger Alexander Povetkin on Oct. 5 in Moscow -- there is no debate about that. But the manner in which he did it drew a good degree of criticism in the media and on message boards.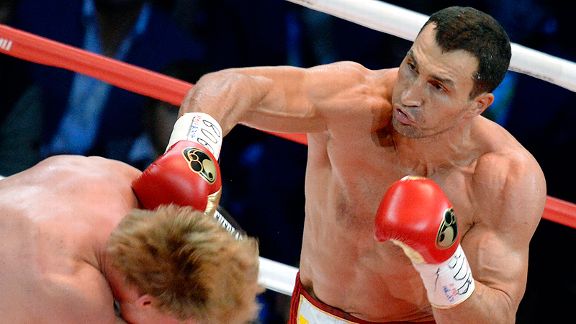 Alexander Nemenov/Getty ImagesFor all the clinching in their fight, Wladimir Klitschko clearly clobbered Alexander Povetkin.
I reached out to Wladimir, 37, who called me from Hamburg to discuss the bout, and gave his reaction to the critiques.
"Boxing is an art, and I will defend my style," said Klitschko, without an edge of defensiveness in his voice. "I understand, a lot of people have different opinions about how I fight, and some might say it's boring. That's nothing new. But I am thankful to you for the criticism -- you have to pay attention to it -- and I will continue to defend the titles as long as I'm enjoying it."
I asked Wladimir (61-3, 51 KOs) if he found himself during the unanimous decision victory over the 34-year-old Povetkin (26-1, 18 KOs), or after, or both, thinking about what late trainer Emanuel Steward might have said. Steward protégé Johnathan Banks worked Klitschko's corner against Povetkin, the third time he had done so since Steward died last October.
"Yes," the heavyweight champ said with a chuckle. "Emanuel would always say, 'Just go knock this m-----f----- out. Especially during Rounds 7 and 8, I could kind of hear his voice. And I would've answered, 'Emanuel, what do you think I'm trying to do? I'm trying!"
Klitschko, for the record, apologized for using that profanity.
Povetkin surprised him, he said, by not fading, and that's why he fought, perhaps, in the manner he did. Klitschko wanted to control his opponent's head, and that's why he didn't aim for the body much. But, he noted, "I know what I'm doing in the ring. I didn't get hit once. Try and run five miles and not sweat! To be fighting a world champion, and not get hit!
"But I understand I could be better. I will work on it and try to make it better next time," he said.
And when might that be, and versus whom, and where, pray tell?
Names that have been mentioned include Kubrat Pulev, Denis Boytsov and Cris Arreola. "And obviously Deontay Wilder as well," Klitschko said.
Mandatory defenses for the various sanctioning bodies will need to be sorted out. "We are getting all of our cards on the table," he said.
I wondered if we might see Klitschko fight next in the U.S., especially considering that the Broadway show he's helping produce, "Rocky on Broadway," kicks off next March.
"It's been one of my dreams to fight back in the States," he said. (Wlad last scrapped in the U.S. in February 2008, against Sultan Ibragimov in New York.) "I know Madison Square Garden is always welcoming."
TV would have to be settled, he said, with HBO and Showtime being the two likeliest suitors to give a platform to a Wladimir bout.
"March is a good month," he said. "I hope to see you guys back in the U.S. for a show."
December, 26, 2012
12/26/12
1:05
PM ET
There are two kinds of year-end awards: the ones that matter, and the ones you're about to read.

First, an acknowledgement: Boxing is a deadly serious sport, and just for having the guts to step into the ring, every professional fighter deserves the respect of us know-it-alls on press row.

But it is sometimes a writer's job to provide levity and to playfully mock the brave men (and women) whom he wouldn't dare mock to their faces. In that spirit, enjoy these awards recognizing some of boxing's best, worst and just plain weirdest from 2012:

The Fastest Way to Throw Away All of Your Street Cred Award goes to Floyd Mayweather Jr., whose carefully cultivated gangsta image unraveled when "Money May" went to prison and insisted he couldn't survive without bottled water. I'm pretty sure when Suge Knight did time, he didn't complain about the scarcity of Evian. I can't wait until Floyd meets Dewey Bozella and bends Dewey's ear with tales of how tough his two-month stretch was.

The Male Undergarment Trendsetter of the Year Award goes to Julio Cesar Chavez Jr., who turned heads and burned out retinas with his neon pink briefs on "24/7." It could have been worse, I suppose; at least Chavez never forced HBO to go to the blurcle.

The Most Appropriate Name Award goes to Guy Robb, who was the guy robbed when ref Vic Drakulich called a premature stoppage in his January fight with Joel Diaz. Sure, Robb was behind on points and probably going to lose anyway. But I'm willing to stretch a bit to give him this award, because the alternative involved making a bunch of jokes about Adrien Broner's last name that would have put my editor in an uncomfortable position. Speaking of Mr. Broner ...

The Most Polarizing Figure in Boxing Award was a tight race between Broner and Danny Garcia's father Angel, but in the end, I'm giving it to the Twinkie-tweetin' lightweight sensation. By a nose, it's the "Can Man" over the least popular man in Pakistan.

The Live TV is not for Everyone Award goes to Chuck Giampa, who in his debut appearance as a Showtime analyst in January took us inside the mind of a boxing judge ... revealing it to be an awful lot like going inside Al Capone's vault. Giampa hit for the cycle of on-camera work: The freeze, the repeat-your-line, the four-letter word and the premature cutaway were all represented in his first 10 seconds on the air.

The Wasted Year Award goes to Gary Russell Jr., who, at age 24, followed up his ESPN.com Prospect of the Year campaign by fighting just twice against nondescript opposition. If Russell doesn't show up to collect his award (a realistic possibility, given his recent disinclination toward public appearances), we'll instead give it to his Olympic teammate Demetrius Andrade, in recognition of his racking up five rounds of professional experience this year as a fellow 24-year-old.

The Best Performance of a Bette Midler Song by Two Men About to Fight Each Other Award goes to Kevin Johnson and Tyson Fury, who delivered a stirring piano-and-vocals rendition of "Wind Beneath My Wings" in December. Full-on "Beaches" remake, anyone?

The Best Story About Biting out Another Dude's Eye Award goes to Freddie Roach, as revealed on the outstanding HBO documentary series "On Freddie Roach." Meanwhile, the Worst Investigative Journalism Award goes to the production team behind "On Freddie Roach." Freddie tells this amazing and gruesome story about getting jumped and biting out the eyeball of one of his attackers, a one-eyed man happens to work at his gym and appears regularly on the show ... and we don't get any follow-up questions?

The Most Inspiring Fighter Award (hey, nobody said we couldn't mix in a serious category or two) goes to Paul Williams, who handled his motorcycle crash and subsequent partial paralysis with more positivity than I ever would have thought possible. A runner-up nod to Orlando Cruz, who this year became the first openly gay active pro boxer.

The You Might Want to Stick to Promoting Award goes to 50 Cent, for the quality of his rapping during Yuriorkis Gamboa's ring entrance in December.

The Worst Refereeing Award goes to Luis Pabon, who simply wouldn't get out of the way in February's Marco Huck-Alexander Povetkin heavyweight fight and almost certainly cost Huck a knockout win as a result. Pabon proved to be the fight game's equivalent of a helicopter parent, always hovering, always looking to break clinches before they even happened. Pabon even got clocked by an errant punch at one point -- which is the sort of thing that happens when a ref inserts himself while the fighters are actively attempting to, you know, fight.

The Hottest Twitter Trending Spectacles of the Year Award goes to Jim Lampley's tortoise-shell frames. Better luck next year, Jim Lampley's matte black frames and Jim Lampley's wire frames.

The Please do Your Business Off TV From Now on Award goes to Miguel Vazquez, who put two audiences to sleep in a six-week span late in the year with his action-free decision wins over Marvin Quintero and Mercito Gesta. Vazquez is a skillful fighter who has every right to make a living in the ring. I just don't want to know about it until the fight is over and the result is posted somewhere on the Internet.

The Least Welcome Fight of the Year winner is a toss-up between Christy Martin-Mia St. John II and Wladimir Klitschko-Jean-Marc Mormeck. In the end, I lean toward Klitschko-Mormeck because it lacked the potential for a wardrobe malfunction from a former "Playboy" cover girl.

The Chin of the Year Award would have gone to Mariusz Wach for the beating he endured from Klitschko, but because Wach's performance was tainted by a positive drug test, I'm instead giving this one to all the loyal boxing fans who took it on the chin from the sport's feuding, counterprogramming power brokers on Sept. 15. The fans who support this sport take enough abuse week in and week out without being forced to miss either a Chavez fight or a Canelo Alvarez fight because rival promoters and rival networks need to have their diva standoffs. Hopefully, in 2013 more of the powers that be will consider what's best for the fans and the Chin of the Year Award can be bestowed on an actual fighter.
February, 26, 2012
2/26/12
1:23
AM ET
A boxing fan learns quickly it is sometimes best to be satisfied with small victories.
It makes ample sense to book the fight all of us are hungering for, Floyd Mayweather-Manny Pacquiao, but for some reason, that isn't occurring. So rather than dwell excessively on that and fall into a river of mopiness, I will instead look on the bright side, and acknowledge that Friday and Saturday passed, and there were no egregious judging screw-ups in big fights.
Here are five other takeaways from the big bouts this weekend.
5. Boxing's not like a cold
Omar Sheika, almost a dozen years after his first title crack against Joe Calzaghe (TKO5 loss in London) is still at it. The Paterson, N.J., resident fought on Friday in Pennsylvania, and scored a 10-round unanimous decision over Tony Ferrante. Sheika is 35 years old and no longer in the mix for title shots, not unless we're talking about maybe a state strap. But he soldiers on. Because it's in his blood, it's who he is, it's what he knows. Boxing for many isn't like a cold; it's not something that passes through your blood after a certain span of time.
4. Cleverly should be careful what he wishes for
Nathan Cleverly hasn't been shy about calling out some big names at 175. So it was a bit surprising that the Welshman went along with the program, and agreed to meet the unheralded Tommy Karpency, a 21-2-1 American lefty with a genetically modified record. Cleverly rose to 24-0 with a shutout win in Wales over the catcher Karpency, but did it really do him any good? Sure, he got some rounds in, but he drew scorn on both sides of the pond for accepting such a gimme defense. And if he does ever lure someone like Carl Froch or Bernard Hopkins into a tussle, he will find rounds with Karpency didn't do anything to prep him.
3. Devon wasn't great, but was darn good
There was a lot to like about
Devon Alexander's showing against Marcos Maidana
in St. Louis, but, to be nitpicky, some things to critique. Yes, he shut out the bomber Maidana, but at 147, the Argentine is not really a bomber. Alexander took to welter seamlessly, but Maidana, as he stated post-bout, is best at 140. Plus, Devon can craft combos and use his feet so smartly; why then does he so often resort to the John Ruiz method of operation, the toss-and-clinch style? To his credit, he said post-bout to Max Kellerman that he knows he's still a work in progress. So all in all, tag us as Alexander fans.
2. Broner can become a star
Alexander had his moments against Maidana, yes, but I left the weekend being most intrigued by thoughts of how far Broner, the 22-year-old from Cincinnati, can go. His hand speed is ridiculous, as Eloy Perez, no slouch, figured out when he ate a nasty shot and was separated from his senses in round four in St. Louis. I'm looking forward to WBO super featherweight champ Broner moving to a sexier division and seeing what he can accomplish. I'm thinking he can be big, and can beat "AmeriCANS, MexiCANS," etc. (You did see his post-fight interview with Kellerman on HBO, right?)
1. Paging Dr. Atlas
I have my doubts whether Teddy Atlas would even take the call, he's so hurt by the split. But Alexander Povetkin proved he's about 100 times better with Atlas in his corner, and in his life, than without.
Povetkin was chomping for air
in Stuttgart early on against Marco Huck, and if rounds went 3:25, Huck would today be the holder of the WBA heavyweight strap. He had Povetkin
thisclose
to being KO'd in Germany Saturday night. Povetkin should pick up the horn and beg and plead Atlas to come back and work with him, because his prep and game need fixing up.
January, 24, 2012
1/24/12
8:29
AM ET
Teddy Atlas is gainfully employed by ESPN to be its analyst for "Friday Night Fights." And while the FNF season runs, the Staten Island-based trainer makes sure he sticks close to home so he can call fights for the Worldwide Leader. Atlas is pretty darned sure that he communicated this to his client, WBA heavyweight champion Alexander Povetkin. Atlas has been training the Russian for 2½ years and has helped mold him to the point that he fought Ruslan Chagaev in August for a vacant belt and won it. So he thought he had a decent line of communication with the 32-year-old boxer. Not anymore.

Atlas won't train Povetkin for his next bout, which will take place Feb. 25 against cruiserweight Marco Huck in Germany. Atlas is miffed that Povetkin won't come to the U.S. to train so that Atlas can continue his work for ESPN. Atlas maintains that the terms of the training arrangement are explicitly worded in a contract. "Our agreement from the beginning has been that I would go to Russia to train Sasha [Povetkin] when 'Friday Night Fights' was off season, and he would come to the United States to train when I was committed to being here for my ESPN duties," Atlas said. "That was what we both agreed to, and both sides know it. I have an obligation to ESPN that I have to fulfill, and I intend to fulfill it. Povetkin has an obligation, too, but I'm being told he doesn't want to come to the U.S. I had expected him to live up to his obligation and am very disappointed in Sasha."

Povetkin's manager, Vlad Hrunov, was quoted five days ago on the subject of Atlas and Povetkin and where the fighter will train.

"It is Teddy Atlas' opinion and Teddy Atlas' choice -- we are awaiting him in Russia," Hrunov told BoxRec.com. "We have a possibility to make an agreement because we are ready to pay a concession because he lose the ESPN money. He knows very well this possibility, but he wants to make [the] decision that he wants."

It looks like a standoff. Stay tuned to see if anyone blinks. I'm guessing Atlas won't. He's not the blinking type. What about you, readers?