March, 5, 2014
Mar 5
3:03
PM ET
By
Rodrigo Azurmendi
| ESPNDeportes.com
OAKLAND, Calif. -- Alfredo "El Perro" Angulo opened camp in Northern California with the same cordiality as always when talking about the preparation for his next fight.
The Mexican will lock horns with countryman Canelo Alvarez on Saturday at the MGM Grand in Las Vegas in a fight that will match two opponents who are coming off defeats.
Angulo looked relaxed and in a good mood as he remarked that he liked his camp, meticulously run by Virgil Hunter.
"All has gone perfectly," Hunter said. "We are already waiting for the preparation phase to get behind us so that we can then go to Vegas and fight."
Angulo avoided stressing any specific area of focus, but said he is ready for everything.
"We have truly worked on everything, including the slightest detail that could concern us," he said. "I think that we have done a phenomenal all-around preparation."
For Angulo, this will not be just another box office fight in his career. It will be the chance to avenge his last loss to Erislandy Lara, when he was unable to continue due to an injury.
"I think everyone saw what happened," he said. "My eye was completely swollen. Nothing could be done, and they stopped the fight. We'll keep working."
The fight against Lara was high profile, with the Cuban boxer hitting the canvas and Angulo kissing the mat one time on his own before having to withdraw in Round 10 due to a fracture of his left orbital bone.
Nevertheless, the Mexicali native said the fight was a learning experience.
[+] Enlarge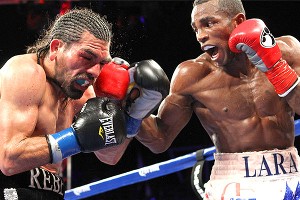 Tom Hogan/Hoganphotos/Golden Boy PromotionsAgainst Canelo Alvarez on Saturday, Alfredo Angulo (left) will attempt to leave his defeat to Erislandy Lara in the past.
"I think that you learn something from every fight, especially in the fights in which I did what was necessary to win and make the audience happy and emotional," he said.
His next opponent will basically be the opposite, given that Alvarez is a much more offensive boxer.
"These are two totally different boxers," he said. "One is an elusive fighter, a boxer, and the other has good, fast hands."
Despite this, Angulo acknowledges that, at the moment, Lara is the better fighter.
"I think Lara is a fighter with a lot of experience on both the amateur and professional levels," Angulo said. "I think that the fight with Lara will serve us well for this fight."
Angulo said he doesn't pay attention to the betting line that pegs his opponent as the favorite.
"Anyone can name anyone a favorite, but the only ones who will climb into the ring, the only ones stepping on the canvas, will be Canelo Alvarez and me," he said.
Regarding the progression of the fight and reading between the lines, it's clear that Angulo wants to have a battle.
"I would like to imagine a certain type of fight, but sincerely, I don't know," he said. "The fight is being called toe-to-toe, and if Canelo wants to honor this, then I'd be happy to oblige. But if not, we are ready. Don't worry."
Despite this, the former Mexican Olympian said that nothing would surprise him.
"The way 'El Perro' will fight, he will be the winner on fight night," Angulo said. "We have done excellent preparation for winning the 12 rounds, and that is all."
Regarding his opponent, Angulo agrees with the majority of experts and fans about Alvarez's performance against Floyd Mayweather Jr.
"I think that [Alvarez] fought a match that disillusioned a lot of people," Angulo said. "I think that many people expected more from Canelo Alvarez that night but unfortunately it wasn't to be."
Despite Mayweather's dominant performance, Angulo lamented not being able to use aspects of the American's strategy due to the stark difference in styles.
"I really doubt it because Floyd Mayweather and I have two totally different styles," he said. "If I were a boxer like Mayweather it would work for me, but we are totally different. He likes more punching. I've seen him fight live, and I can remember it perfectly."
Angulo (22-3) also hoped Alvarez wouldn't suffer from a loss of confidence in the aftermath of suffering his first loss, wanting instead to face the best that Alvarez has to offer.
"Each mind is its own world," Angulo said. "I hope he is 100 percent recovered so we can put on a good show for the people."
January, 22, 2014
Jan 22
5:05
PM ET
By
Rigo Cervantez
| ESPNdeportes.com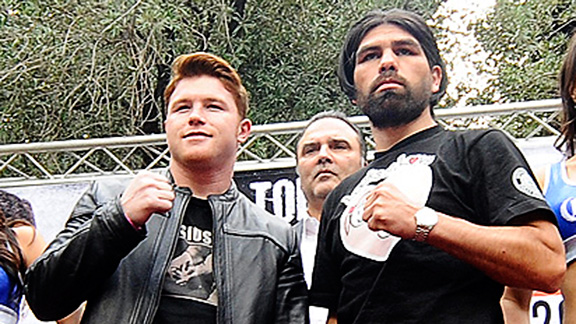 Gene Blevins/Hoganphotos/Golden Boy PromotionsCanelo Alvarez will face Alfredo Angulo, his first fight since his lopsided loss against Floyd Mayweather.
LOS ANGELES -- Canelo Alvarez kicked off the promotion for his impending return to the ring on Tuesday, going face to face with Alfredo Angulo, whom he'll take on March 8 at the MGM Grand in Las Vegas.
The matchup will mark the former junior middleweight titleholder's first fight since a deflating split-decision loss to Floyd Mayweather Jr. in September -- Alvarez's first defeat as a professional.
"

Why 'Perro' Angulo? Because he's a strong fighter who always comes forward, withstands punishment, someone who comes to fight.

"

-- Canelo Alvarez
"It was a great experience for me, a fight that taught me a lot, and that education is something that will serve me well in future fights," Alvarez said during Tuesday's promotional event, held at an outdoor L.A. restaurant before a crowd of fans and media. "So I'm training with everything I've got to return this March 8."
It's an interesting pairing -- two Spanish-speaking, Mexican-born fighters spearheading a pay-per-view event (Angulo's first as a headliner) in the U.S. But both fighters resonate with American fans, and the hard-core among them surely recognize that an Alvarez-Angulo fight likely will make for far better theater than Canelo's matchup with Mayweather.
"Why 'Perro' Angulo?" Alvarez asked at Tuesday's event. "Because he's a strong fighter who always comes forward, withstands punishment, someone who comes to fight."
Then, in a clear swipe at Mayweather: "Fans want to see a fight, not someone who runs all the time."
Angulo (22-3, 18 KOs), who won an interim title at 154 pounds, has been through some wars -- especially recently. But although he is just 2-2 in his past four fights, he is by no means a soft touch. Even in defeats to Erislandy Lara (June) and James Kirkland (2011) during that stretch, he nearly finished each opponent more than once.
"It's a very hard fight against a difficult rival," Angulo said of the Alvarez fight. "I want to thank all my fans. They are the best."
In the undercard, relentless puncher Leo Santa Cruz (26-0-1, 15 KOs) will defend his junior featherweight title against Cristian Mijares (49-7-2, 24 KOs).
"It's going to be a war, and I'm ready to finish with my hand held high, beating a great champion such as Mijares," Santa Cruz said.
Also on the card, Carlos Molina (22-5-2, 6 KOs) will defend his junior middleweight title against prospect Jermall Charlo (17-0, 13 KOs), and burgeoning action fighter Omar Figueroa (22-0-1, 17 KOs) will take on Canelo's older brother, Ricardo Alvarez (23-2-3, 14 KOs) in a lightweight bout.
December, 8, 2013
12/08/13
3:11
PM ET
By
Brian Campbell
| ESPN.com

ATLANTIC CITY, N.J. -- Despite the unpredictability of James Kirkland's run as a name action fighter during the past few years, there's a scary truth each of his opponents must face.

If the rugged junior middleweight, who on Saturday ended a 20-month layoff due to legal and promotional issues that have hampered his career, is in top-level shape and completely focused, you'll have to knock him cold to get him off of you.

But being "in shape" is a nebulous, sometimes relative designation. Most would associate the phrase with quality cardio vascular capacity. But in reference to the horrors of an Ann Wolfe training camp, it means something altogether different.

Kirkland, who has endured multiple falling-outs with Wolfe to create, without question, boxing's most complicated and unique trainer-fighter relationship, was reunited with the former four-division female champion here in A.C. on Saturday, and the results were spectacular.

In a relatively obscure crossroads fight thought to have potential for fireworks, Kirkland and unbeaten prospect Glen Tapia took the concept to another level in Kirkland's sixth-round TKO victory at the Adrian Phillips Ballroom at Boardwalk Hall.

Kirkland (32-1, 28 KOs) outlasted the 23-year-old New Jersey native and ultimately quieted a passionate pro-Tapia crowd in one of 2013's most brutal action fights. And he did it by channeling the Kirkland of old -- the same guy who walked through hell in the first round against Alfredo Angulo in their memorable 2011 slugfest to ultimately break one of boxing's toughest fighters.

The same sequence unfolded against Tapia (20-1, 12 KOs), although the game fighter who showed tremendous heart simply didn't have the punching power to do enough damage.

Tapia dominated the first round and landed just about everything he threw to cut, bruise and even stagger Kirkland. But an Ann Wolfe camp, featuring a list of unconventional and even cruel training methods, doesn't prepare a fighter to simply endure 12 rounds. It prepares him for actual warfare, and that was the difference in the fight.

"I told y'all: I can train a pussy cat to go in a dog pen," Wolfe said. "James got it in him already, and he's a killer, but I know how to bring it out of him."

Kirkland walked through the damage of the opening round to pin Tapia against the ropes in the final 30 seconds, planting a seed in Tapia's head that he was in deep with a different kind of animal.

Tapia went toe-to-toe with Kirkland over the next few rounds, visibly hurting Kirkland with a left hand in Round 3. But the fight increasingly became one-sided as Kirkland's maniacal stalking wore down Tapia. The end came on a brutal left hook in the corner at 38 seconds of Round 6 as referee Steve Smoger jumped in to catch Tapia from falling.

"Glen had heart, too, but he ain't have this kind of heart," Wolfe said. "He ain't do what we did. Glen can't do what we do. Glen couldn't last a f---ing week in my training camp."

You have to wonder if anyone else could.

Kirkland and Wolfe proved once again that they are perfect for each other, despite how difficult it remains to keep their relationship -- and ultimately Kirkland's career -- on track. He is simply a different fighter under her care, with his career ceiling raised considerably thanks to her no-nonsense and intimidating approach pushing him on.

"I had to go through such hell in this camp with Ann," Kirkland said. "But we're a team."

You'll never confuse Kirkland with another fighter who actually implements defense as part of his game plan. But just try to find one as tough and savage, with such a relentless motor, willing to throw an endless stream of punches through heavy counter fire in order to break his opponent's will.

And that's a scary proposition for anyone.
September, 17, 2013
9/17/13
1:35
PM ET
By
Salvador Rodriguez
| ESPNDeportes.com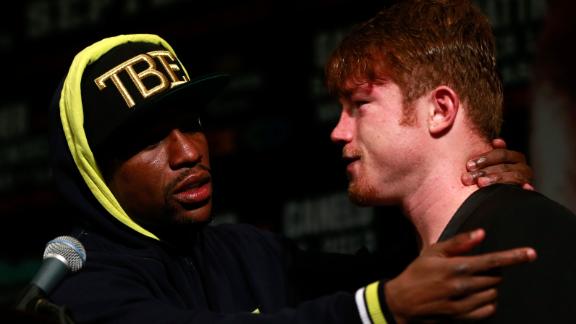 The future of Canelo Alvarez might have a few more options compared to what might be in store for Floyd Mayweather Jr., and Golden Boy Promotions could have the right recipe to help Alvarez make a huge comeback with a competitive fight.
While the buzz about Mayweather's next challenge included facing Amir Khan at London's Wembley Stadium or Danny Garcia in Las Vegas, the options for Alvarez are quite interesting, including the possibility of pursuing another world title.
Alfredo Angulo, Erislandy Lara and Carlos Molina -- who became a junior middleweight titlist on Saturday after defeating Ishe Smith -- are at the top of Golden Boy's list to become Alvarez's next opponent in 2014.
Molina is the only one of the three candidates who is not promoted by Golden Boy, but a title defense against Alvarez is viable. Despite recently losing to Lara, the crowd-pleasing Angulo (22-3, 18 KOs) still belongs to the elite group at 154 pounds. He is a bit slower than Alvarez, but has more punching power, so it could be quite a competitive challenge for both fighters.
Lara (18-1-2, 12 KOs) got off the canvas twice to defeat Angulo in June, after Angulo could not continue after suffering an eye injury in the 10th round, but left a few doubts. The interim junior middleweight titlist from Cuba is an effective and elusive fighter.
Molina (22-5-2, 6 KOs) is not exactly a powerful puncher, but he can be a nightmare inside the ring. According to Mayweather, Molina would be a nice fit for Alvarez to show his boxing skills, something he wasn't able to do Saturday.
Victor Ortiz (29-4-2, 22 KOs) also might be another option, despite being out of action for more than a year. Ortiz was next-in-line to fight Alvarez last September, but a broken jaw suffered in a clash against Josesito Lopez in June 2012 scratched those plans.
Former junior middleweight titlists Cornelius Bundrage and Cory Spinks are also possible opponents who, despite their recent slumps, could generate an attractive fight for Showtime.
The Alvarez camp also may wait for the winner of the Miguel Cotto-Delvin Rodriguez bout, set for Oct. 5 at the Amway Center in Orlando, Fla., due to Cotto's status as a promotional free agent.
June, 9, 2013
6/09/13
5:36
PM ET
By
Brin-Jonathan Butler
| ESPN.com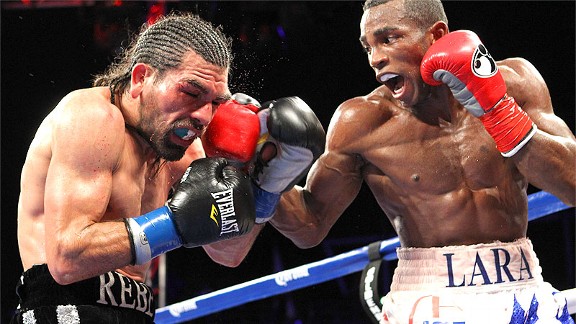 Tom Hogan/Hoganphotos/Golden Boy PromotionsAlfredo Angulo had Erislandy Lara on the ropes before suffering an injury and calling it quits.
CARSON, Calif. -- Cus D'Amato once said, "When two men are fighting, what you're watching is more a contest of wills than of skills, with the stronger will usually overcoming the skill."
On Saturday night in Carson, Calif., Erislandy Lara's demonstrative advantage of skill over Alfredo Angulo only served to inflame Angulo's reserve of willpower. The elegance of Lara's skills simply weren't capable of removing Angulo's will from the equation of the fight. Then, in the fourth round, Angulo's fiendish efforts were rewarded when he dropped Lara, the first knockdown Lara has suffered as a professional. For the duration of the round, every fan in attendance stood to roar approval. Round after round, Angulo took even more risks, applying pressure and striving to close out the fight while eating enough leather to reconfigure his face. Again Angulo dropped Lara, yet the Cuban got off the deck to continue.
In the 10th round, Angulo ate nearly everything Lara threw at him in order to land something meaningful of his own. Then a crisp left hand from Lara struck the swelling over Angulo's eye. Angulo grimaced as another left followed, then another, and finally the referee called off the bout, fearing a broken orbital bone.
Boos. Beer tossed into the ring. "Tijuana style!" a writer next to me laughed. Everywhere you looked, aggrieved faces contorted in expressions of betrayal.
It was all a little incomprehensible to me. Everyone on hand had enjoyed a brilliant fight stopped only after one fighter's health was gravely in danger.
Boos?
Wait a minute. When exactly was enough
enough
? What was the expectation here?
Victor Ortiz quit against
both
of Saturday's headliners, Marcos Maidana and Josesito Lopez. Were those unreasonable decisions? In one of those fights, Ortiz's jaw was broken in two places. Should he have been booed for not fighting on with a broken jaw, as Muhammad Ali did against Ken Norton? Ali was praised for such courage. Oscar De La Hoya was fully capable of getting off his stool to continue against Manny Pacquiao, yet sensibly recognized the futility. Does he get a pass? At the time, his corner asked if he felt like continuing, and Oscar didn't launch much of a protest when it was suggested he not bother. Joe Frazier was legally blind in the only good eye he had left against Ali in the "Thrilla in Manilla." Was his trainer, Eddie Futch, right to call off the fight? Did Futch betray his fighter?
What about the most famous quitter in boxing history? Is Duran's "No Mas" a more defining moment in his career than his victory over Sugar Ray Leonard in their first fight? For many, it is. Mike Tyson notoriously looked for a way out against Evander Holyfield when it was clear Holyfield had his number. Suddenly, Tyson's cowardice in gnawing off Holyfield's ear overshadowed nearly everything he had accomplished as a fighter. Twice, Andrew Golota snatched defeat from the jaws of victory against Riddick Bowe when he swung gratuitously low. His career never recovered.
So in boxing, when is it acceptable to quit? How much abuse is a fighter expected to endure before he can be allowed to show some concern for his own welfare? Anyone who has been around fighters knows they all share the same secret: They are more afraid of embarrassment and humiliation than injury. Do fans and writers use this fact against them in what we celebrate or criticize?
In the documentary "Facing Ali," nearly half the fighters involved required subtitles despite speaking English, their speech slurred by the physical toll of their ring lives. This was their reward for testing their furthermost physical and mental boundaries.
As Guillero Rigondeaux's recent near-shutout of 2012 ESPN.com fighter of the year Nonito Donaire demonstrated, the days of fans cheering Willie Pep for winning a round without throwing a punch are long over. Arturo Gatti's induction into the Boxing Hall of Fame is further testament of boxing giving fans what they clearly reserve their loudest cheers for: fighters who lay their lives on the line at every possible moment of every fight. The truth is, fighters have always done this. We just didn't used to boo the ones who committed the cardinal sin of trying to minimize some of the risk.