December, 7, 2013
12/07/13
12:57
AM ET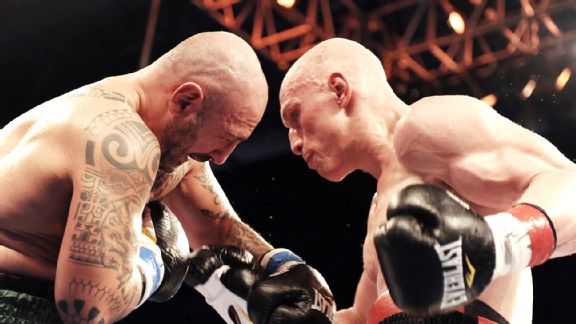 Tom Barnes/MpsportimagesCruiserweight titlist Krzysztof Wlodarczyk finished off Giacobbe Fragomeni in a seventh-round TKO.
It appeared on paper and, initially, in the ring to be one of those all-too-frequent boxing mismatches: The chiseled 32-year-old Krzysztof Wlodarczyk stood across from the, shall we say, pleasantly plump 44-year-old Giacobbe Fragomeni during fighter introductions at the UIC Pavilion in Chicago on Friday, and the bout seemed over before it had begun.
Age and aesthetics aside, Wlodarczyk had already proved how much he had learned since his first bout with Fragomeni -- a 2009 draw -- when he bested him in an eighth-round TKO win a year later. And if anything, Wlodarczyk, who had made five consecutive defenses of his cruiserweight belt going into Friday's fight, had only made forward progress from there.
And although Fragomeni (31-4-2, 12 KOs) would walk away bloodied and Wlodarczyk (49-2-1, 35 KOs) would take each round Friday leading up to a seventh-round TKO triumph, before the lights were dimmed and Chicagoans trudged off into the chilly night, Fragomeni gave them, and Wlodarczyk, more fight than any thinking fan had a right to expect.
Key moment:
Late in Round 4, Fragomeni got caught and cut by a left hook on the break when he seemed to think he was out of harm's way. With Fragomeni's left arm hooked behind his neck and his body pinned to his opponent, Wlodarczyk pushed out of the semi-clinch and cuffed Fragomeni with a left hook that opened a deep, bloody cut on his left cheek and sent him to the canvas. Fragomeni rose and survived the round, but it dashed his best hope for an upset: hanging on for the full 12 rounds and stinking out Wlodarczyk.
Instead, after the sixth round (and several more minutes of Fragomeni's cheek being tenderized), referee Rocky Burke consulted with the ring doctor and decided to call an end to the challenger's night.
We've got your number:
Three. Wlodarczyk, who speaks passable but stilted English, and who shifted between English and Polish in his postfight interview, was asked about the possibility of his unifying the cruiserweight titles in the near future, and the trio of fellow belt-holders were rattled off one by one: Yoan Pablo Hernandez, Marco Huck and Denis Lebedev.
His answer, shot back in a heartbeat: "Why not?"
Last word:
It wasn't an A-plus performance for Wlodarczyk, who for extended moments fought Fragomeni's fight, standing in the pocket and letting the shorter, less-rangy man fire short-arcing uppercuts and hooks to the body through and around Wlodarczyk's guard.
But there was enough to like -- a sharp jab, heavy combinations and surprisingly deft footwork and head movement from a 200-pounder -- to concur with Wlodarczyk that the time is right to match him with another cruiserweight titlist. Why not?
August, 15, 2013
8/15/13
2:37
PM ET
Whether it should be blamed on bad luck, officials' incompetence or boxing's business as usual, Gabriel Campillo has irrefutably been handed a raw deal.

Few, if any, active fighters operating at the highest professional levels have been saddled with as many shady decisions as Campillo -- the 34-year-old former light heavyweight titlist -- has. For several years, his 2010 split-decision loss to Beibut Shumenov, in which Shumenov received an immediate chance to reclaim the belt he had lost to the Spanish southpaw, was held up as Exhibit A in the case of Campillo vs. Highway Robbery. But a 2008 majority-decision defeat to Karo Murat in his native Germany and, more recently, last year's split-decision loss to Tavoris Cloud in -- brace yourself -- Texas were every bit as egregious. Campillo, now 22-5-1, could just as easily be 26-2.

So as this week's fight promotion wrapped up, Campillo began narrowing his focus for Friday's bout with Poland's Andrzej Fonfara in Chicago (ESPN2/ESPN3, 10 p.m. ET), where Fonfara now lives and has a growing fan base. Lingering doubts about his chances of getting a fair shake against another local guy, and specifically in the U.S. (where Campillo is now 0-3), could have been forgiven. But Campillo had none.

"To me, I won the fights," he said of the Cloud and Shumenov decisions. "[As far as I'm concerned] I won two titles of the world right here. And I'll keep coming back as long as they want me."

Fonfara (23-2, 13 KOs), no doubt, wants Campillo, who is his ticket to a title shot after Friday's fight at U.S. Cellular Field -- the first pro fight at a Chicago baseball stadium in more than 50 years -- was recently declared an eliminator. Friday's winner will land a major fight with 48-year-old legend and current 175-pound titlist Bernard Hopkins, assuming B-Hop wins his Oct. 26 defense in Atlantic City, N.J.

Then again, how sweet would it be for Campillo if Hopkins were upset by the challenger, who is none other than Murat? Regardless, if he handles Fonfara, Campillo either gets an A-list fight against a future Hall of Famer or a chance to set things right against the man who stung him not once, but twice (there was also a 2011 split-draw in their rematch, also in Germany).

Campillo claims to harbor no frustration about the setbacks he's encountered along the way -- "I'm fine," he said -- instead preferring to look ahead. And why not? A win against Fonfara, whose most notable achievement to date was outlasting a faded Glen Johnson in a unanimous decision last year, leaves Campillo at the foot of yet another title shot.

It's hardly a done deal, though. Setting aside Fonfara's limited experience against top opposition, he appears to be growing into his power at age 25. The Johnson decision was the lone outlier in a string of knockouts for Fonfara dating back to a 2009 no-contest against Skyler Thompson. That's 10 stoppages in 11 fights, after Fonfara had finished his man just three times in his first 14 bouts.

But although Fonfara's length (6-foot-2, 77-inch reach) and stiff jab have recently given many light heavyweights fits, those advantages will be all but moot against Campillo (6-foot-1½, 76-inch reach), a slick counterpuncher -- and a southpaw to boot. There's little that could prepare Fonfara for the technique and activity level that Campillo will bring to the ring on Friday.

"I'm going to use everything I have: my power, my speed, my stamina," Campillo said. "I've trained for it."

No one questions those attributes. What Campillo must prove, though, after being savaged by Sergey Kovalev in a third-round TKO loss in January -- one of the unimpeachable defeats on his record -- is that his mind and chin are sound. A June stoppage win over sub-.500 opponent Ionut Ilie was useless in terms of gauging Campillo's current fitness.

But if his only other previous KO loss is any indicator, Campillo has a right to feel confident. A 2007 stoppage at the hands of Vyacheslav Uzelkov -- Campillo's first professional defeat -- was followed by the Spaniard's steady climb to a 175-pound title. And, at least as far as the immediate future is concerned, no one is comparing Fonfara's power to that of Kovalev.

"After the loss with the knockout, I learned a lot," Campillo said. "But I don't think it will happen again."
July, 14, 2012
7/14/12
5:40
AM ET


CHICAGO -- It was bound to end here.

No, Glen Johnson wasn't destined to call it a career in Chicago, and it's not that 24-year-old hometown fighter Andrzej Fonfara was precisely the fighter meant to send the former light heavyweight champ into retirement. But the cramped, sparsely appointed locker room that Johnson occupied as he reflected on his brilliantly workmanlike (and occasionally just brilliant) career after Friday's unanimous decision loss was strangely fitting.

In boxing, endings are almost never awash in glory. They're ugly or bloody. Sometimes embarrassing or shameful. A fighter's swan song isn't a battle cry, but a whimper.

Yet it was none of those things for Johnson (51-17-2, 35 KOs), who gave a solid account of himself against a determined opponent who had a height advantage, throaty crowd support and the energy of a kid 20 years Johnson's junior. But the UIC Pavilion isn't the Garden, and Fonfara (22-2, 12 KOs) isn't a prime Roy Jones Jr. or Antonio Tarver. For "The Road Warrior," it seemed right that he finished propped on a folding chair tucked in the corner of a glorified walk-in closet in some other guy's hometown arena, with Johnson's sullen, silent crew assembled a few paces away while the fighter matter-of-factly critiqued his final ring performance.

Now, this seems an appropriate time to mention some personal feelings. In this line of work, you're taught that athletes should be treated like your kids: You don't play favorites. But you'd have to be made of stone not to have a soft spot for Johnson. He fought anyone, anywhere. He took bouts on short notice. He's been up, down, up again, down again and then up. And now down again. None of it fazes him. Johnson's honesty and thoughtfulness are often expressed through a toothy smile. In a business where B.S. is the business and self-delusion is a job skill, Johnson offered the smooth candor of a Magic 8-Ball.

"I'm fine with the decision," Johnson said when asked about the 99-91, 97-93 (twice) scores in favor of Fonfara. "I think I fought pretty good, but I can't argue with it. I think he won."

Johnson wasn't necessarily outboxed. And at no point over 10 rounds did he seem to start rehearsing that retirement speech in his mind. In fact, after appearing a little sluggish and perhaps puzzled about how to get around Fonfara's jab in the first few rounds, Johnson started to turn the fight. He began timing that long left in Round 4, ducking and then hammering Fonfara's midsection.

Johnson never had his opponent in trouble -- Fonfara acknowledged two of Johnson's biggest shots with a smile and a retaliatory flurry of his own -- but after seven rounds, the fight seemed to be a toss-up. By then, though, Johnson was breathing through his mouth, and in the eighth he threw an off-balance punch that seemed to carry him halfway across the ring and required two beats too long to recover his footing. To hear him tell it, Johnson, 43, just ran out of time.

"I decided to get a little more aggressive," he said of his approach in the middle rounds, "but I just couldn't keep it up. I know how to win that fight. It's just that I wasn't able to be consistent. Every time I would go at it in a particular way, to do what I needed to win, I would need a break. And then when I would take a break, he would come on again. I needed to maintain it and be consistent, like I did when I was younger. But Father Time caught up. I still know what to do, but I just don't have what it takes to maintain it."

Fonfara was respectful enough in victory, calling Johnson "a warrior" and giving props to his opponent for game efforts in recent battles with Carl Froch and Lucian Bute. But when pressed, he was as candid about Johnson's performance as Johnson was himself.

"He's an easy boxer," Fonfara said. "He was like, jab, jab, right hand and left body. That's it, you know? And I prepared for that. And I know he doesn't have [other] combinations or have something else."

Fonfara might have held on to that last thought if he had considered Johnson's elbow injuries -- torn ligaments in both joints -- that were discovered after the Bute fight. Or if he were aware of the number of oily decisions that had gone against Johnson over the years, including an April 2000 defeat against Silvio Branco in Padua, Italy. ("I thought I fought and won clearly," Johnson said. "Ray Charles could see it.")

And one wonders whether Fonfara knew that Johnson -- who arrived in Miami from his native Jamaica at age 15 -- was a late starter in boxing, learned on the job as a pro, worked construction jobs deep into his fighting career to pay the bills or that he practically willed himself to three separate acts as a contender.

The 2004 fighter of the year challenged for world titles at middleweight (losing to Bernard Hopkins in 1997), super middleweight (falling to Sven Ottke in 1999), light heavyweight (stunning Jones by KO and beating Tarver by split decision in his career year) and again at 168 pounds (getting outgunned by Froch in the Super Six last June).

But Fonfara, born in Warsaw and fighting out of Chicago (whose Polish community had his back Friday), was clearly more excited for his win than deliberately indelicate when discussing a man whom earlier in the week he had called "a legend."

And what about Johnson's take on Fonfara?

"It's hard for me to judge," he said. "I think he's a good fighter, solid, he's got a good chin, he's strong. But me not being what I was, I don't know if that's a good measuring stick. I can say he's better than what I had to be, so that should count for something."

The better man won. No excuses. Hats off. On to the next challenge. That's Johnson.

But what exactly will Johnson's next challenge be? He mentioned some of the usual paths for ex-pugs: trainer, TV analyst and, less typical, concert promoter.

"I have a few options," he said. "I'm not for sure 100 percent which way I'll go. But there are some things out there I'd like to do."

As fight fans, let's just be glad Johnson liked doing boxing's dirty work -- going on the road, standing in the pocket and slugging away -- for as long as he did, all while carrying himself as one of the sport's few true gentlemen.