February, 2, 2013
2/02/13
1:23
AM ET
CHICAGO -- If Carlos Molina is a snake-bitten fighter, the only evidence that betrayed it Friday at the UIC Pavilion was a small cut near his right eye -- which he wore, along with a smile on his face, in a cramped locker room after his main event bout.
It was virtually the sum total of damage that Molina suffered -- on a head-butt, no less -- in a start-to-finish beatdown of former two-division titlist Cory Spinks. Ringside judges scored it 119-106 (twice) and 120-105 for Molina. ESPN.com had it 119-106 for Molina.
"He clinched me and he held me, he bought himself a little more time, but he should have given me a little more space," Molina said of the butt.
It was that sort of fight for Molina (21-5-2, 6 KOs), who did what he could with what he had in front of him. Facing constant pressure from Molina, Spinks countered occasionally, but his stock answer seemed to be to clinch, drop his head or get on his bike. Molina had implied before the fight that he'd be gunning for a knockout, but Spinks did everything in his power not to comply.
"Of course you always want to put on a good show," Molina said. "Fans love a good show, and I'm a No. 1 boxing fan, too. I'm not just a boxer -- I love boxing. So I try to put on a good show but at the same time come out with the victory."
So Molina settled for the latter, delivering a withering body attack to take out the 34-year-old Spinks' legs. He often led with shots downstairs, and he frequently chopped at Spinks' hips and ribs in the clinch.
[+] Enlarge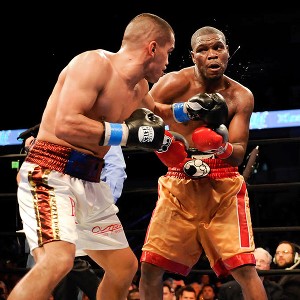 Tom Barnes/MPsportimages.comCarlos Molina didin't get the KO, but managed to punish Cory Spinks during 12 dominating rounds.
The work paid off in the second half of the fight as Spinks slowed down, and Molina added one adjustment that seemed to sap the last of Spinks' spirit: In the eighth round, he began arcing uppercuts at Spinks' chin when he would duck into his exaggerated crouch. There was little left for Spinks to do but hold on -- and in the ninth, he was docked a point for doing exactly that. A round later, a bent-over Spinks took a looping right hand across the mouth that punctuated another Molina combination, fell forward and dropped his gloves to the canvas for a knockdown.
"I was working that body," Molina said, "and I felt him lose his breath a little bit, and then I came back with the right hand."
Molina had endured a near-Shakespearean run of recent bad luck in the ring, but Friday's bout proved to be more comic (in its ease) than tragic. Although he didn't get the decisive ending he'd hoped for -- and the lack of finishing power, especially in a fight where Molina admitted to more aggressively seeking a knockout, has to be considered a mark against him -- he is rewarded a mandatory bout against the winner of the Feb. 23 title fight between Cornelius "K9" Bundrage and Ishe Smith.
After being on the south end of squirrely decisions against Erislandy Lara and Julio Cesar Chavez Jr., not to mention a shady disqualification against James Kirkland, it seems a more-than-just reward.
In the featured bout, Jose Luis Castillo (64-11-1, 55 KOs) looked every one of his 39 years, dropping a clear decision to Antwone Smith (22-4-1, 12 KOs). Although Castillo hooked gamely to the body throughout the fight and even had Smith bleeding from the mouth in the later rounds, his legs had long since deserted him by then. A stationary target waving a token guard, he took jab after jab from Smith, who coasted 100-90, 98-92, 99-91.
March, 22, 2012
3/22/12
10:51
AM ET
I confess: I often make a prediction on who will win each week's "Friday Night Fights" main event based more so on what the boxers say to me, and how they say it, than on their respective styles or strengths.

After talking to both Roberto Garcia (30-3, 21 KOs), a 31-year-old Mexican-born Texas resident, and Antwone Smith (21-3-1, 12 KOs), a 25-year-old living in Miami, I'm leaning toward Garcia at the Pharr Events Center in Pharr, Texas, on Friday night.

Garcia, as much as any of the main-eventers I've chatted with this season, blended fire and confidence when I spoke with him. And here's an X factor: Twenty-four days ago, his first child, a little girl named Gia, was born. Garcia flew from his camp in New Jersey, fingers crossed all the way that wife Adriana wouldn't deliver the bundle until papa made it to the delivery room.

"I saw the birth, and then it was right back to camp," Garcia told me on Wednesday.

I asked him if being a dad changes how he sees himself as a fighter. He said he's now different as an all-around human being.

"More important than changing me as a boxer, it changed me as person," said Garcia, who is best known for losing to Antonio Margarito in the latter's first fight back after PlasterGate. "It does change my responsibilities. It's made me think about everything I do, how I talk to you. Before, I was alone, I'd be with different kinds of people. Now I have a beautiful wife and baby, and I want to be with them more than anyone."

A busy fighter who likes to come forward and bang, and who has a left hook that Smith has to watch out for, Garcia said fans can expect an action fight Friday. He won't look for the knockout, saying that stoppage-hunting has gotten him into trouble in the past. But his confidence was lifted by the 10-round unanimous decision loss to Margarito in May 2010, as it proved to him that he can hang with the big boys.

Now, none of this is to say Smith came off like a reluctant warrior, or gave off vibes that he wasn't ready to rumble. In fact, he told me he considers this as a "must-win" fight. He lost a decision in his signature bout, against Kermit Cintron on Aug. 12, but he insists he should've been given a draw, at worst. In November, Smith got back on a winning track, winning an eight-round unanimous decision against Yoryi Estrella in Miami. He said he learned from the Cintron fight, gaining valuable experience.

Smith has admitted before that he has been dismayed by the what-have-you-done-for-me-lately attitude of the media and fans, and their (our) tendency to build up a fighter and then just as gleefully tear him down, but he didn't revisit that topic with me on the phone.

No, he hasn't seen any video of Garcia ("a fight is a fight"), and he ended with a message for those who don't care for his habit of grunting like Monica Seles when he throws. That's probably a habit he picked up from being in the gym so many years with master grunter Glen Johnson, he said, and if you don't like it, "you can watch the fight on mute."

Neither man is a mad bomber, so I expect a distance scrap. Smith will likely have more snap in his launches than you saw against Cintron, but I expect Garcia's physical strength to be a considerable edge, and see him taking a unanimous decision.