April, 23, 2014
Apr 23
7:13
PM ET
By
Bernardo Pilatti
| ESPNDeportes.com

Former world title challenger Josesito Lopez headlines a special Thursday edition of ESPN's "Friday Night Fights" in a 10-round junior welterweight bout.

Lopez (31-6, 18 KOs), who moves back down to 140 pounds after a four-fight run at welterweight and above, faces Aron Martinez (ESPN2, 9 p.m. ET) at the Agua Caliente Casino Resort and Spa in Rancho Mirage, Calif.

Known for taking on difficult challenges in recent years against household names like Victor Ortiz, Canelo Alvarez and Marcos Maidana, Lopez enters the bout fresh off a victory over Mike Arnaoutis last December. "The Riverside Rocky" is best known for his most memorable victory, when he broke the jaw of the heavy favorite Ortiz in June 2012, which launched him into the junior middleweight title bout against Alvarez.

Lopez, who essentially moved up two weight classes to face Alvarez, was stopped in the fifth round despite showing plenty of courage. He also gave Maidana all he could handle in an another all-action bout before falling by stoppage in Round 6.

In Martinez (19-2-1, 4 KOs), Lopez faces a tough fighter who has been in the ring with the likes of Prenice Brewer, Jessie Vargas and Joseph Elegele. The bout will be Martinez's first since a unanimous decision over Alberto Herrera in April 2013.

"Every fight comes with a challenging opponent; Martinez is no different," Lopez said. "He comes to fight and I'm sure I'm going to get his best. I have a lot of respect for anyone that steps into the ring. He's looking to inflict damage on me, and I plan to do the same to him."

Martinez likes to work from a distance, move laterally and surprise his opponent with quick combinations of straight lefts inside and right hands to the outside. He has good defense and avoids a lot of punches with movement. His biggest problem is his lack of firepower, which is reflected in his low knockout percentage. He has managed to knock his opponents out in just four of his 19 victories.

"If [Lopez] wants to bring it, I'll be ready for that," Martinez said. "If he wants to box, we can box, too. I'm sure he's going to try to take me out and he's going to be surprised when he finds out he won't be able to do that."

Lopez employs a much more aggressive style with power in both hands. Look for him to exert early pressure on Martinez and set the pace with his jab, powerful combinations and hooks to the body at close distance.

"People watching at home on ESPN and those in attendance are going to get treated to an excellent fight," Lopez said. "We're both exciting boxers that like to move forward. It's a shame that one of us has to lose, but it won't be me though."

In the co-main event, unbeaten Thomas Williams Jr. (16-0, 11 KOs) squares off with veteran Enrique Ornelas (34-8, 22 KOs) in a 10-round light heavyweight bout.
September, 13, 2012
9/13/12
10:55
AM ET
By
Diego Morilla
| ESPN.com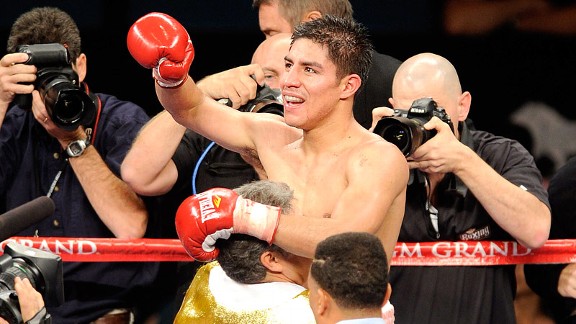 Ethan Miller/Getty ImagesUnbeaten welterweight prospect Jessie Vargas, a protege of Floyd Mayweather Jr., headlines a special edition of "Friday Night Fights" from Las Vegas in a 10-round bout against Aaron Martinez.
The drawing power of a big boxing weekend in Las Vegas usually implies the appearance of at least one additional boxing card during the week, catering an additional serving of pugilism to the large amount of fans making their way through Sin City in the sport's biggest weekend of the year.
That's why, even though the "Friday Night Fights" 2012 season is officially over, ESPN2 will air a special Top Rank card from the Hard Rock Hotel & Casino on Sept. 13 to showcase several of the crossroad fights so typical of the fan-friendly TV series.
In the main event of the evening, local fighter Jessie Vargas, a protege of Floyd Mayweather Jr. and his powerful adviser Al Haymon, will be taking center stage to put his undefeated record on the line against Aaron Martinez, from Los Angeles, in a 10-round welterweight bout.
Vargas (19-0, 9 KOs), 23, was born in Los Angeles and moved to Las Vegas at an early age. He developed a great amateur career and had a meteoric rise through the paid ranks as well, with tons of exposure stemming from his good relationship with Mayweather, who managed to place him on his undercards several times.
In his last fight, Vargas won a 10-round unanimous decision against 35-year-old Steve Forbes -- a late substitute and former IBF junior lightweight world champion -- on the undercard of the Mayweather-Miguel Cotto title bout in May.
The selection of Vargas as the headliner of a Vegas card on such an important date (with the Canelo Alvarez-Josesito Lopez and the Sergio Martinez-Julio Cesar Chavez Jr. fights happening on Saturday only a few blocks away) is not an accident.
Vargas is the last man to beat Lopez, in a highly disputed 10-round split decision in September 2011, and almost one year before that, he knocked out current Martinez trainer Pablo Sarmiento in the first round of a fight that took place in Los Angeles. Guys like Lanardo Tyner and former WBA super lightweight world champion Vivian Harris can also be counted as victims of this genuinely two-fisted fighter who, although lacking the KO power that could one day be asked of him on the next level, has the boxing skills needed to bring his game into championship territory very soon.
"I fight right-handed, but I'm kind of ambidextrous," said Vargas, who is trained by former Oscar De La Hoya trainer Robert Alcazar and manged by Cameron Dunkin. "I throw a baseball with my right, I throw a football with my left, I bat with my left, I write with my right. I kind of mix it up. Anything I can't do with my left, I can do with my right."
In Martinez (18-1-1, 4 KOs), Vargas will be facing a fighter currently riding a 10-fight winning streak that stretches back to November 2008, with his most notable highlights being his split-decision win against Prenice Brewer in July and a 2011 victory against previously unbeaten Joseph Elegele by technical decision.
Despite his lack of firepower, Martinez, 30, of Michoacan, Mexico, now living in Los Angeles, seems serious about his plan to derail Vargas and place himself, instead, on the track to bigger and better fights.
"They're obviously looking at Aron as a good stepping-stone," said Martinez's manager, Hector Morales. "As far as Aron is concerned, he knows he's got to do certain things in order to move up in this business. Jessie Vargas is a good boxer, has good speed, but there's nothing that he does that's out of the ordinary. Aron's not very powerful, he doesn't have a great knockout record, but he's tough and gutsy. Look what he did against Prenice Brewer -– he was just in his chest the whole time, and all Prenice did was run away."
Common sense indicates that Vargas won't be running away from a cut-prone, non-puncher like Martinez, who will have to step up his game substantially if he wants to survive to fight another day.
The smart money says that this will be another landslide win for Vargas, but carrying the name Martinez into a Vegas ring on this particular week might prove to be a good omen for Aron after all. If he does manage to have some of the Sergio Martinez mojo working for him, Aron might be on his way to do some damage in a fight that should be fun while it lasts.
[+] Enlarge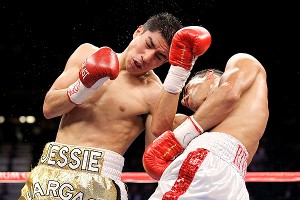 Al Bello/Getty ImagesJessie Vargas, left, handed Josesito Lopez his last defeat by a disputed split decsion in Sept. 2011. Both fighters will headline separate cards this weekend in Las Vegas.
In the co-main event, another protege of a major PPV star will make his first appearance after losing his undefeated status in his last fight. Puerto Rico's Luis Cruz (20-1, 16 KOs), 26, fights under the Miguel Cotto promotional banner and is trained by the same trainer, Pedro Diaz.
The highly respected Cruz got one of the coveted PPV slots in the Pacquiao-Marquez III undercard, only to be defeated by Juan Carlos Burgos in a mild upset after a closely disputed majority decision. But Cruz's previous strong showings against tough journeymen such as Antonio Davis and Martin Honorio lead us to believe he's not ready to be called out just yet.
Cruz, born in Philadelphia before migrating to Puerto Rico with his parents only a few years later, is still considered a work in progress by his team, and his renewed dedication after his only loss is the key to what his manager, Gabriel Penagaricano, sees as a new stage in his career.
"Pedro is like a one-man show," said Penagaricano of Diaz, who was brought in to train Cruz at the behest of Cotto. "He does all of the conditioning, all of the strength training, all of the boxing training, all of the runs in the morning, all of the nutrition -– everything is done according to Pedro's instructions."
Across the ring, Cruz will have a dedicated fighter who still has his undefeated record intact, Mexico's Josesito Felix (20-0-1, 17 KOs), 20, from the talent-rich boxing town of Los Mochis. As is typical of many young prospects at this stage of their career, Felix has built his impressive record against limited opposition and is taking a significant step up in class against Cruz, something his corner has no problem admitting.
"Jose has a built-up record so far, but he's been fighting his whole life," said adviser Ray Alcorta. "I think it's the right time for him to step up, and I think Luis Cruz is the right opponent for him."
Felix is related to former world champ Fernando Montiel, and he will have to summon the best strains of his family's DNA if he wants to make a splash against what appears to be a very motivated and far more experienced Cruz.