August, 3, 2014
Aug 3
3:37
AM ET
By
Brian Campbell
| ESPN.com

After a wild, split-site telecast of boxing Saturday featuring a light heavyweight title bout in Atlantic City and a pair of controversial endings in Las Vegas, here are five things we learned.

1. If you try, sometimes, you get what you need

Boxing hasn't been kind to fans when it comes to consistently finding competitive match-ups on pay cable in 2014. Light heavyweight titlist Sergey Kovalev's bout with unbeaten yet unheralded Australian Blake Caparello was, on paper, par for the course. But a stunning announcement the day before the fight drastically changed the bout's meaning. With a victory guaranteeing "Krusher" a November title unification bout against Bernard Hopkins, Kovalev carried out his end of the bargain at the Revel Resort in Atlantic City, New Jersey, with a second-round TKO of Caparello. Not only does this guarantee an interesting fight no one saw coming, but it also provides fans with an intriguing style matchup for Kovalev when his opponent pool appeared all but dried up. Hopkins, the ageless wonder whose story doesn't get the credit it deserves on a mainstream level, surely doesn't need to go out of his way to make a fight against arguably the sport's most dangerous puncher. But his willingness to dare to be great -- while pushing 50 -- is a credit to his truly special makeup and a gift to fight fans.

2. Kovalev aims to please

The reaction of promoter Kathy Duva of Main Events from ringside as her star fighter, Kovalev, fell to the canvas in the opening round on a flash knockdown was priceless. With her hands separated on either side of her face like Macauley Culkin in "Home Alone," Duva wasn't alone, considering what the impact of a Kovalev upset loss would have been. But with the super-fight against Hopkins hanging in the balance for a matter of seconds, Kovalev never wavered. The Russian native dusted himself off and stalked his opponent with the same fury that has led him to to a frightening 88 percent knockout rate. One round later, after a vicious trio of knockdowns led referee Sparkle Lee to mercifully save Caparello from any more punishment, Kovalev added another victim to his growing list of exciting finishes. He's about as honest, inside the ring and out, as fans could hope for and a knockout fighter who truly wants to test himself against the very best. Following the disaster of seeing his 175-pound summit with recognized champion Adonis Stevenson fall apart in such a back-breaking manner, it's only right that one of boxing's most exciting fighters -- and the perfect candidate to be avoided -- finds himself on the doorstep of such a major fight.

3. Referee to blame in Rios-Chaves

The bizarre ending in the welterweight bout between Brandon Rios and Diego Chaves at The Cosmopolitan of Las Vegas ruined what had the potential to be a memorable action bout. With Chaves ahead on two of three scorecards in Round 9, referee Vic Drakulich, who took away a total of three points to both fighters (including two from Chaves) disqualified Chaves at 1:26 after roughhousing from both. The fight opened with enough toe-to-toe action in a rousing first round that caused an instant stir on Twitter, but it came unraveled round by round thanks to a constant stream of fouling as Drakulich simply lost control and was inconsistent in his policing. He set a bad precedent by taking a point away from Chaves after very little warning for holding in Round 3 while ignoring a steady stream of head-first spearing attempts by Rios. He also began to lose his cool and wasn't clear or consistent in his addressing of the constant violations. But the timing in which he called the fight off and gave the decision to Rios was the most questionable. Both fighters were dirty throughout, but to single out just Chaves instead of both (or, preferably, none at all) when it came to a disqualification didn't seem justified. By doing so, Drakulich inserted himself into the storyline and overshadowed what could have been a great fight.

4. The jury is still out on Rios

In his first fight since he dropped a near-shutout decision to Manny Pacquiao this past November in Macau, Rios entered his second fight at welterweight in need of snapping a two-fight skid. While he was able to pull out the much-needed win in unusual fashion, Rios failed to fight off fears that his best days are well behind him. Possessing possibly the sport's best chin, Rios was able to take Chaves' best shots while continuing to come forward. But in what has become a recurring theme throughout his all-action run in recent years, Rios continues to take far too many clean punches. It's a result of his exciting style that was less dangerous at 135 pounds. But now, as a welterweight and a veteran of one memorable brawl after another, lingering doubt remains whether Rios has a bright future ahead of him.

5. Judges way off on Vargas-Novikov

Unbeaten Jessie Vargas seems to have a knack for pulling out contentious decisions in his hometown of Las Vegas, and Saturday was no different. One fight after winning a secondary 140-pound title from Khabib Allakhverdiev in a unanimous decision many felt should have gone the other way, Vargas edged Russian southpaw Anton Novikov in similar fashion. The fight, with Vargas getting out to a quick start and Novikov rallying late as Vargas slowly faded, gave the feeling that it could go either way after 12 rounds. But unlike the relatively close decision he got against Allakhverdiev, this time Vargas took home a much wider one against Novikov by scores of 118-111 (twice) and 117-111. The scores, without question, failed to match the reality of what most fans and media on social media saw at home. It has become almost cliché to expect a bad decision in these spots of late, and more often than not our cynicism is rewarded.
January, 15, 2014
Jan 15
4:08
PM ET
By
Brian Campbell
| ESPN.com
Beginning with his 2001 destruction of then-unbeaten Felix Trinidad, you could draw a correlation between just about every opponent who has crossed paths with Bernard Hopkins.
Whether they have won or lost against the ageless wonder, none have really ever been the same after facing him. In fact, you could argue, not a single fighter has gone on to score another meaningful victory in his career.
The merits of such statements depend as much upon your exact definition of a meaningful victory as it does your belief in whether some of Hopkins' foes were either already on the decline or not elite to begin with. Still, it's quite an eye-opening exercise to check out Hopkins' resume and make a run at disproving the assertion.
"

Honestly, I don't like to brag about myself, but I really think I'm the only boxer who came out better from a Hopkins fight.

"

-- Jean Pascal
Former light heavyweight champion Jean Pascal is one who fully buys in to the theory. In fact, he has helped give it the most traction throughout the recent buildup to his showdown Saturday against Lucian Bute in Montreal (HBO, 10:15 p.m. ET/PT).
It's an interesting stance for Pascal (28-2-1, 17 KOs) considering, on the surface, he appears to fit this exact mold since losing to Hopkins in their May 2011 rematch. Pascal missed the next 17 months due to injuries and has nothing more than a pair of innocuous wins against inferior competition to show for himself over the past three years -- a unanimous decision victory over Aleksy Kuziemski in December 2012 and a TKO against George Blades last September.
But this is where his one caveat to the equation comes into play: Pascal believes he's the one Hopkins opponent to have beaten the system.
"Honestly, I don't like to brag about myself, but I really think I'm the only boxer who came out better from a Hopkins fight," Pascal told ESPN.com. "Jermain Taylor, even though he won both fights, was never the same. Kelly Pavlik was never the same. Antonio Tarver was never the same. The southpaw [Winky Wright] wasn't the same. Even [Joe] Calzaghe went on to retire and wasn't the same.
"I'm the only one who came out better from my fight against Bernard and [it's] probably because I know that in my mind I won those two fights."
[+] Enlarge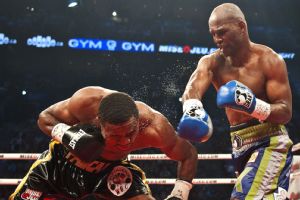 Rogerio Barbosa/AFP/Getty ImagesWhen Bernard Hopkins took Jean Pascal's light heavyweight belt in 2011, he also robbed Canada of its only titleholder at the time.
Pascal, long one of boxing's most colorful quotes, has never been afraid to use a bit of hyperbole in order to passionately make a point. But both his December 2010 disputed majority draw (which most felt Hopkins had won) and tight unanimous-decision defeat in the rematch clearly offered Pascal prudent opportunities to learn from his mistakes.
Hopkins not only exposed deficiencies in the footwork and technique of the fighter 18 years his junior, he simply owned Pascal in all aspects of the mental game. It was something that has stuck with Pascal, 31, who, to his credit, claims to have grown from the setback.
"It doesn't matter what the results were, those two fights got me a lot of experience against a smart fighter," Pascal said. "I learned from those fights and it gave me the leverage to be a better fighter and to dominate my opponent both inside and outside the ring for my next fights."
Pascal has an opportunity against Bute, in a fight being promoted as the biggest in Canadian history, to do more than become the first to break the curse of "The Executioner" by scoring a significant win. It would also set him up for big opportunities in a suddenly red-hot division.
"Even though I'm not champion, I'm still relevant in the division," Pascal said. "People must've forgot. I'm the one who put out the blueprint how to beat [Chad] Dawson. I'm the first one who gave Dawson -- the prime-time Dawson -- his first loss. Even though I'm not champion, I'm making more money than those champions. I'm like the cash cow. So I know I'm still relevant. People must've forgot."
September, 11, 2013
9/11/13
10:30
PM ET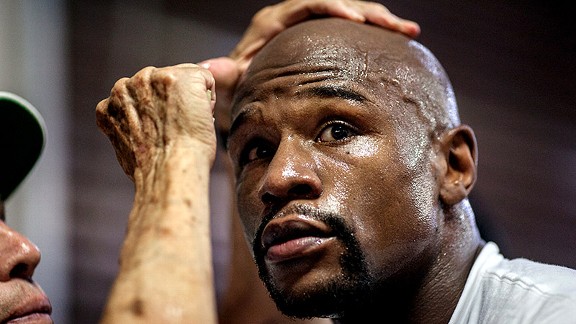 Benjamin Lowy for ESPN The MagazineAs Floyd Mayweather Jr. closes in on age 37, can he maintain his standing as the world's top fighter?
Floyd Mayweather Jr. has never lost a fight -- he also has never been so close to age 37.
The No. 1 pound-for-pound boxer in the world will celebrate his 37th birthday on Feb. 24 next year. Although Mayweather has shown few, if any, effects of age in the ring, we all know Father Time is undefeated and undisputed in the athletic world.
Of course, time treats all fighters differently, and in Mayweather's case, it likely will be less harsh. "Money" has taken phenomenal care of his body and has avoided damage throughout his career.
It's worth taking a look, though, at how different fighters fared in their last fight prior to their 37th birthday -- and afterward.
George Foreman
Born: Jan. 10, 1949; Returned from a 10-year retirement on March 9, 1987.
Following a 10-year absence from the ring, Foreman returned at age 38 and even used age as a partial reason for his comeback, wanting to prove doubters wrong. He eventually challenged 28-year-old Evander Holyfield for the heavyweight title in April 1991 and lost. Three years later, at 45, he became the oldest heavyweight champion in history when he knocked out Michael Moorer.
Post-37 record: 31-3
Evander Holyfield
Born: Oct. 19, 1962; Draw with Lennox Lewis on March 13, 1999.
This is the timeline Mayweather hopes to not follow. Many saw the draw as a robbery of Lewis, who outworked Holyfield throughout the bout. One could argue Holyfield never truly bounced back, even though he fought until 2011.
Post-37 record: 8-7-1
Bernard Hopkins
Born: Jan. 15, 1965; Defeated Felix Trinidad via TKO on Sept. 29, 2001.
Age is nothing more than a number for Hopkins. For the first time in years, oddsmakers had pegged the much older Hopkins as an underdog in the Trinidad fight. That reportedly prompted Hopkins to bet $100,000 on himself in that fight. He won.
Post-37 record: 13-4-1 (active)
Roy Jones Jr.
Born: Jan. 16, 1969; Lost to Antonio Tarver via UD on Oct. 1, 2005.
If Jones went from young to old in one night, it actually was most likely the previous year when he suffered a stunning second-round TKO loss to Tarver in May 2004, conceding his light heavyweight title.
Post-37 record: 7-4
Shane Mosley
Born: Sept. 7, 1971; Lost to Miguel Cotto via UD on Nov. 10, 2007.
Mosley saw a five-fight win streak end 10 months prior to his 37th birthday, but age didn't appear to be the reason. He rebounded with solid performances in knockouts over Ricardo Mayorga and Antonio Margarito -- but he has looked old in five fights since.
Post-37 record: 3-3-1 (active)
Sugar Ray Robinson
Born: May 3, 1921; Defeated Carmen Basilio via UD on March 3, 1958.
After retiring in 1952, Robinson returned to the ring in 1955 and reclaimed the middleweight world title. He lost it and reclaimed it again in 1957 ... and again in 1958. The win over Basilio, however, would be his final victory in a world title fight.
Post-37 record: 32-13-3
May, 29, 2013
5/29/13
2:58
PM ET
By
Brian Campbell
| ESPN.com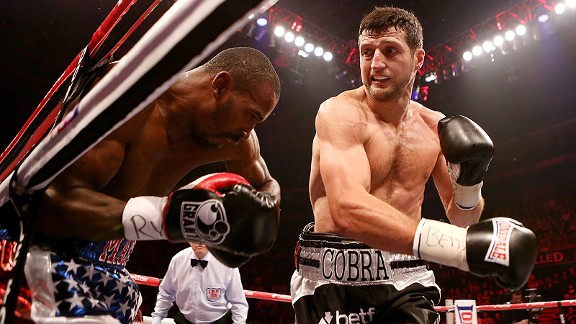 Scott Heavey/Getty ImagesCarl Froch's recent run has raised the ceiling in terms of his potential legacy -- but by how much?
There was a time when Carl Froch's mouth did as much talking for his career as his performances inside the ring.
Beginning with his first fight on American soil -- a 2009 come-from-behind TKO of Jermain Taylor in the 12th round that put him on the radar in the U.S. -- Froch used his new platform as an attempt to lure recently retired, and fellow U.K. star, Joe Calzaghe back into the ring.
Froch, of course, never did end up fighting Calzaghe, the longtime super middleweight king who retired in 2009 with a perfect 46-0 record, over their two-year public feud that followed. (They have since made amends, with Calzaghe openly backing Froch entering his rematch with Mikkel Kessler this past Saturday. Froch won by unanimous decision.)
But in the three full years since Froch's career-making victory over Taylor, the native of Nottingham, England, has done nothing but continue to impress with each performance. In fact, he's on such a hot run right now -- and doesn't appear to be slowing down entering the peak of his marketability at age 35 -- that if things continue to go his way, it's not completely out of the realm of possibility that he ends up defeating Calzaghe in a way that few had thought possible: by surpassing his legacy in the pantheon of great British fighters.
It might sound premature to think about. And I won't begin to make the case that if they had mythically faced off in their prime, the result would be anything different than a Calzaghe victory. But the glaring weakness on Calzaghe's résumé has always been his lack of top competition and the fact that it took him until age 38 to fight outside of Europe.
Calzaghe scored the biggest victories of his career over his final three years against unbeatens Jeff Lacy and Kessler, along with his two triumphs in America over Bernard Hopkins and a faded Roy Jones Jr. He carries the glitz of having walked away unblemished as one of the top super middleweights in history thanks to a 10-year title run and 21 defenses, not to mention the lineal light heavyweight crown he took from Hopkins.
But as things stand now, Froch (31-2, 22 KOs), who endears himself to the hard-core fan with his willingness to constantly face the best, may have already fought better competition than the protective Calzaghe did throughout his entire run.
Froch was not only the first fighter to hand defeats to the likes of Jean Pascal, Andre Dirrell and Lucian Bute, he also has scored additional victories over former champions Taylor, Arthur Abraham, Glen Johnson and now Kessler, without taking anything resembling a soft touch in between.
And with his debated 2010 defeat to Kessler now avenged, Froch is focusing on correcting his other blemish: a 2011 decision loss to unbeaten super middleweight champion Andre Ward in the finals of the Super Six World Boxing Classic.
Any designs on besting Calzaghe's legacy would be heavily bolstered by Froch's defeating boxing's
almost unanimous
No. 2 pound-for-pound fighter. And it's clearly a hard sell to try to create a scenario in which Froch could do such a thing considering Ward's versatility, toughness and the fact that we still likely haven't seen him pushed enough to find out how great he truly is.
But if there's a fighter who is relentless and confident enough to come close, it might be Froch who, despite appearing to have lost by a fairly wide margin against Ward, used his pressing style to persuade two of the judges sitting ringside to score it daringly close at 115-113.
Could Froch do any better in a rematch? That remains to be seen. But he clearly has shown himself to be the rare fighter who has improved into his mid-30s with each fight, while others have begun to fade. And claiming he has four big fights left before retirement, Froch isn't just saving his best for last, he's forcing us to recalculate his ceiling.
Suddenly Froch is in high demand and could find himself in a number of high-profile bouts, from additional rematches with Kessler and Ward to showdowns with Hopkins or fellow super middleweight titlist Robert Stieglitz. Froch has shown himself to be an exciting, honest and durable fighter, but how many expected to see him setting up shop at this stage of his career
in the pound-for-pound Top 10
?
It may be a reach to expect Froch to defeat a fighter the class of Ward and to carry on his remarkable run should they meet again, just as it might be too much to expect him to surpass Calzaghe when it's all said and done. But what makes it refreshing to watch is that Froch is willing to go down swinging while giving it a try.
April, 20, 2013
4/20/13
6:58
PM ET
By
Franklin McNeil
| ESPN.com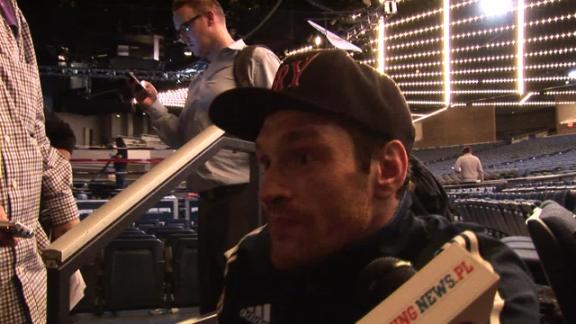 NEW YORK -- Heavyweight Tyson Fury promised to call it quits if he failed to look impressive Saturday against Steve Cunningham in The Theater at Madison Square Garden.
Fury can continue fighting. He knocked out a game, but much smaller, Cunningham in the seventh round to improve to 21-0 as a professional.
But Fury might want to tone down the volume on his trash talk. Though the win will look impressive on paper, there were several moments during the fight when he was anything but.
Cunningham exposed a flaw in Fury's game during the second round: His chin is suspect. A right hand to the jaw did the damage. That punch did more than just put the 6-foot-9, 250-pound slugger on the seat of his pants; it momentarily halted his swagger.
Gone was the smirk that Fury wore on his face throughout the buildup to this title eliminator. He was extremely confident going into this fight, even suggesting that it was disrespectful to put Cunningham in the same ring with him.
But for a brief period, Fury probably wished he could take back that promise of retirement.
After returning to his feet, Fury remained a bit woozy. His balance was a little off, his punches lacked the sharpness of the first round, and he was holding on tightly for his professional boxing life.
Fury regained his confidence after a solid fifth, even attempting to entertain the fans in attendance with a dance before the start of the sixth round. Most in the crowd, however, did not approve of his dancing skills, booing loudly.
Though his confidence was back in full force, and his punches were again finding their intended target, the damage to Fury's reputation had been done. That didn't prevent Fury from still regarding himself as the best fighter worldwide.
"Absolutely, 100 percent," Fury told ESPN.com when asked if he is still the best fighter. "Nothing went according to the game plan. My entire game plan went out the window.
"And I turned it into a dogfight. The fighter in me came out tonight."
But Fury isn't nearly the fighter he thinks he is. And it's time he put that silliness to rest.
While on the subject of best fighter in the world, Fury might consider putting an end to the talk of taking on UFC heavyweight champion
Cain Velasquez
.
That fight isn't going to happen, and it no longer deserves media attention each time Fury mentions it. For now, Fury needs to focus on becoming the best boxer in the heavyweight division.
As far as Cunningham (25-6) is concerned, Fury isn't close to being the best heavyweight boxer at this time.
"He's a good fighter," Cunningham told ESPN.com. "His size is his advantage. He did what he is supposed to do, which is be the big man.
"But he is not the best man in the world. That's my opinion. I mean, I'm 6-foot-3, 208 pounds. If he didn't do a little damage to me, then he should do like he said and retire."
There is no need for Fury to retire. He won this fight by knockout, though not nearly as impressively as he promised.
But based on the holes exposed in his game by Cunningham, a former cruiserweight champion who isn't a power puncher, Fury might want to tighten his defense and never utter the word "retirement" before a fight again.
Fury is a good talker, but that won't earn him best-fighter accolades. He has to accomplish that feat in the ring.
March, 12, 2013
3/12/13
1:06
PM ET

First, the caveat:

Purely from the perspective of its immediate importance in the world of boxing rankings, what Bernard Hopkins did at age 48 to Tavoris Cloud in New York on Saturday night was of less significance than what he meted out to Jean Pascal when Hopkins was a mere 46 years old a little less than two years ago.

Pascal, after all, was widely considered the man at light heavyweight, and Hopkins' comprehensive victory on that May evening in Montreal allowed the Philadelphian to usurp that position. But since then, the veteran has surrendered that title to Chad Dawson, and the fact Dawson dropped down to super middleweight to be taken apart by Andre Ward doesn't change that equation.

So Hopkins is still not the light heavyweight champion, but he is once more a light heavyweight titlist (which we note and celebrate even as we are supposed to spend all our waking days railing against sanctioning bodies' very existence. So be it). Had Hopkins been 20 years younger, Saturday's main event might have been regarded as a technically brilliant if not always aesthetically pleasing triumph over a lesser contender. However, Hopkins isn't 28, but a full two decades older -- and that, of course, is the point.

For all its achievements, for all its moments of brilliance, Hopkins' career is now defined by its longevity, and arguably has been ever since his seminal victory, when he stopped Felix Trinidad in September 2001 to become the undisputed middleweight champion of the world.

"I have a history of destroying young champions and never having to see them again," Hopkins said after his win over Cloud. And in that vein, it's worth noting that Trinidad, Oscar De La Hoya and Kelly Pavlik are all among the relatively young guns he has dispatched in the past 10 years or so and who are now retired; at the time of their last fight, they were all younger than Hopkins was when he overcame the Puerto Rican, and he has since added an additional decade-and-counting of ring victories.

As a way of grasping the length of The Executioner's presence on boxing's biggest stage, consider some of the following:

When Hopkins first challenged for a world title, a tilt for a vacant middleweight belt that he lost to Roy Jones Jr. in May 1993, Bill Clinton was president of the United States, George W. Bush had not declared his candidacy to be governor of Texas and Barack Obama was a lecturer at the University of Chicago Law School.

Osama bin Laden had not yet moved his base of operations to Afghanistan.

The U.S. national debt that year was almost 12 trillion dollars lower, and summer Arctic sea ice extent was approximately 1 million square miles greater, than they were in 2012.

J.K. Rowling was an unpublished writer. George Clooney played a recurring guest role on "Roseanne." Jennifer Lawrence was not quite 3 years old. Justin Bieber was not even a zygote.

O.J. Simpson was a popular former NFL running back and "The Naked Gun" co-star. His automobile association was with rental car commercials not Ford Broncos.

As a consequence, nobody had heard of Kato Kaelin.

Monica Lewinsky would not become a White House intern for two years.

There was no Viagra.

There was no ESPN.com -- or, indeed, very much .com at all. No Amazon, no Google, no Yahoo, Facebook or YouTube. No iPod or iPhone or BlackBerry. There would be, for at least a few more months, only one ESPN network. Max Kellerman's only TV outlet was on a New York public access station.

Oscar De La Hoya had just run his professional record to 7-0. Floyd Mayweather Jr. was a 106-pound amateur. Manny Pacquiao was living in poverty in Manila. Mike Tyson was in jail. Evander Holyfield had 100 percent of both his ears. What is today the biggest venue in boxing -- the MGM Grand Garden Arena in Las Vegas -- was in the process of being built.

And all of this, recall, was when Hopkins first challenged for a title. He made his professional debut before that -- when Ronald Reagan was still president and the Soviet Union still existed. But the remarkable element of Hopkins' career is not solely its length, per se, but the period over which it has been conducted at the highest level. The Philadelphian made reference in the wake of his win over Cloud to the fact he has left his contemporaries Roy Jones Jr. and James Toney in his dust. And indeed, whereas boxing fans everywhere cringe at every mention of Jones' next fight and Toney long ago waddled into irrelevance, Hopkins has adapted to age rather than yielding to it, his years of experience more than compensating for any inevitable physical decline.

While one might whimsically imagine a yet more aged Hopkins still fighting when, to quote Sheldon Cooper, we are transported to work at the Thinkatorium by telepathically controlled flying dolphins, even he apparently now has his sights set on the finish line. In the immediate aftermath of victory on Saturday, he joked that he wouldn't be around for more than five years. By the time of the postfight news conference, he had acknowledged that he wouldn't be in the ring when he turned 50. Come Sunday morning, he was telling the Associated Press that, "If I'm not motivated, and the competition is not there, if it's a meaningless fight, it's time to roll, man."

Time will tell. After all, Hopkins had already famously promised not to fight past age 40. Still, even popes retire these days -- something else that has changed since Hopkins started boxing. If Saturday were to prove the final time we see him in the ring (and it says here that it won't be), it would be a fitting finale, a Jedi master schooling a wannabe Padawan before riding off into the sunset -- a performance by the aged to cap a career for the ages.
March, 6, 2013
3/06/13
10:54
PM ET
By
Brian Campbell
| ESPN.com
Unbeaten light heavyweight titlist Tavoris Cloud is far from being in awe of Bernard Hopkins and everything the 48-year-old legend has accomplished.

Sure, Cloud (24-0, 19 KOs), 31, holds a loose and somewhat leery respect for the opponent he'll face Saturday (9:30 p.m. ET, HBO) at the Barclays Center in New York. But the aggressive slugger knows full well the one area he needs to be careful of when dealing with the wily Hopkins.

"Bernard Hopkins is a slick fighter -- a dirty fighter -- and he knows every trick in the book," Cloud told ESPN.com. "But the challenge that I think he brings to the table is that if you let this man get inside your head, it can be a long night for you. You can wind up losing the title if you let a man take you out of your game. That's one of the main weapons that I believe Bernard Hopkins is going to try to use."

Cloud doesn't need to look any further than the mistakes made by former champion Jean Pascal when he dropped the title to Hopkins in May 2011.

The fight not only proved to be a masterpiece for Hopkins inside the ring -- arguably the most impressive performance of his career -- but it also was his starkest demonstration of outclassing another fighter mentally. From the moment the promotion of the match kicked off, up until the final bell to end the historic bout, Hopkins had the fighter 18 years his junior rattled and second-guessing every decision he made.

It was Pascal, in fact, who twice had Hopkins hurt after landing heavy right hands -- including once during the final 90 seconds of Round 12 -- but cautiously held back instead of going for the finish, saying after the fight that he was apprehensive due to Hopkins' tricks and defensive skills.

It's simply not in Cloud's personality to think that way or to hold off on attacking at any given point. That attribute makes this fight with Hopkins so intriguing: It's either going to lead Cloud to become the first fighter to stop Hopkins or it will play directly into the veteran fighter's hands.

Either way, Cloud isn't willing to follow the blueprint sketched out by Pascal detailing how to simply hang with Hopkins for 12 rounds. The Tallahassee, Fla.-bred fighter, who credits his impoverished youth with creating a boxer who "fights hard and wants to hurt you," is focused exclusively on finishing Hopkins -- and, more specifically, sending him off into retirement.

"I think Jean Pascal just had too much respect for him from the start," Cloud said of Hopkins. "Pascal was like, 'Oh, I love you. You like my idol. I finally get to fight you.' And Hopkins just fed off it, because in Pascal's head, this man was his idol already and he worshipped this man in his head.

"In Cloud's head, I don't worship no motherf---ing body. So [Hopkins] definitely won't have an advantage over me. He is a chess player, [but] I been playing chess for a while. I'm prepared for him."
August, 27, 2012
8/27/12
6:07
PM ET
By
Brian Campbell
| ESPN.com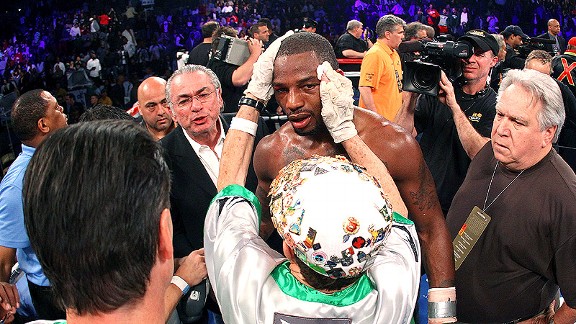 Al Bello/Getty ImagesChad Dawson's career has been messy and unfulfilling. Will an Andre Ward fight mark a new start?
Sometimes there's just no nice way to sugarcoat the truth.
For all of light heavyweight champion Chad Dawson's considerable talent, it's hard to shake the feeling that he's about as insufferable a figure as there is in boxing today.
Armed with a public persona that's equal parts whiny, brooding and defensive (with an in-ring style to match), Dawson has trudged through a prime as unremarkable as anyone could imagine for a 30-year-old American champion with a 31-1 record.
He has been a hard sell to fans who rightfully believe Dawson's safety-first style is what's increasingly wrong with the sport. It's also hard to imagine that there has been a fighter as talented who looks so painfully uninterested in the performance aspect of his craft or the maximizing of his skills.
Most observers have long given up on the day when Dawson wakes up and realizes just how good he really is. That's what made his recent decision to willingly move down seven pounds to challenge super middleweight champion Andre Ward all the more puzzling -- and equally fantastic.
Has the prodigal son of boxing's pound-for-pound elite finally come full circle after years of us selling him short?
Although that question remains to be seen, Dawson's willingness to move down and challenge the best -- setting up a rare matchup between lineal champions -- is a positive trend that we can only hope becomes contagious. It's also a sign that he's moving his career in the right direction.
It wasn't so long ago that Dawson was almost universally lauded as an exciting prospect with a bright future, but soon something changed in his demeanor.
Dawson survived an all-action slugfest in his first meeting with Glen Johnson, in 2008. Despite showing a ton of heart in claiming a disputed victory, he never again displayed the same hunger and willingness to do more than the bare minimum to win, evidenced in uninspiring wins against Antonio Tarver (twice) and in a rematch with Johnson. Despite being an unbeaten champion, Dawson drifted into boxing purgatory as a high-risk/low-reward opponent with a sour attitude and limited marketing potential.
He continued to unsuccessfully lure Bernard Hopkins into the kind of marquee fight that would elevate his name, eventually landing the bout years later only by accepting step-aside money to allow for Hopkins' immediate rematch with Jean Pascal. And the ensuing fights with Hopkins couldn't have been more disastrous for Dawson, from the debacle ending of their first bout (a pay-per-view, no less) to his childish behavior in the aftermath. Dawson received little credit for winning the excruciatingly bland rematch, seeming reluctant to attack the 47-year-old Hopkins when he had him in trouble.
That's what made Dawson's decision to make the Ward fight so pleasantly surprising. Dawson publicly offered a drop to super middleweight without the aid of a catchweight -- in a fight that will be held in Ward's Oakland, Calif., hometown -- and enters as the underdog despite advantages in height and reach.
Finally, Dawson finds himself in a rare win-win situation. A victory would be the biggest of his career, catapulting him up the P4P rankings. Meanwhile, a respectable loss still leaves him as the champion at 175 pounds, in line for potential paydays in both divisions.
Maybe we have sold Dawson short all along, despite the fighter himself giving us plenty of reasons to disbelieve our eyes. Or maybe this is merely a case of an underachiever coming of age before the window of his prime passes him by.
By showing the boldness to move down in weight to secure a fight against an opponent on the verge of true stardom -- an undefeated champion and undisputed top-five pound-for-pounder, no less -- Dawson proved he is willing to go all-in on maximizing his true potential. Now it's up to him to produce a performance that's equally inspiring.
August, 22, 2012
8/22/12
9:56
PM ET
LAS VEGAS -- Under the cover of a rare rainfall, light heavyweight champion Chad Dawson slips into a nondescript boxing gym for his afternoon workout.
No one will ever confuse a Dawson workout with that of a Floyd Mayweather Jr., who does his training in Las Vegas about 15 minutes northwest of where Dawson has set up shop.
[+] Enlarge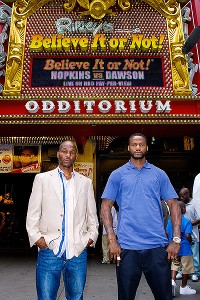 Jeff Fusco/Hoganphotos/Golden Boy PromotionsChad Dawson, right, has already been through the media circus with Bernard Hopkins, among others. He's happy to let his Sept. 8 fight with Andre Ward sell itself.
There is no entourage with Dawson, let alone a celebrity best friend. No camera crews. The gym itself you would have trouble finding even when looking for it -- a small room with a ring and two treadmills, attached to a dance studio of all things.
This is how Dawson (31-1) prepares for (and promotes) his Sept. 8 fight against super middleweight champ Andre Ward. The fight will take place at Ward's weight class of 168 pounds and in his hometown of Oakland, Calif.
Dawson produces no sound bites proclaiming he's the greatest ever, and there are no by-the-round knockout predictions from his trainer, John Scully. But in Dawson's eyes, he has done the biggest thing necessary to promote this fight: He made it.
"Me taking this fight and being willing to go down to 168 and to his backyard, I'm testing myself," Dawson said. "That's what champions need to do. Regardless of what you know you can do in the ring, at the end of the day, you have to test yourself."
Immediately after defeating Bernard Hopkins by majority decision in April, Dawson started his campaign for a fight with Ward (25-0) -- a man he said he has wanted to fight for two years.
To potentially speed up the process, Dawson declared he would easily make 168 pounds -- which the Ward camp ultimately held him to.
Pushing for an opponent is one thing, but immediately accepting terms that favor him is something not often seen in today's boxing model. Dawson shrugs at this.
"It's a fight I know I can win," Dawson said. "I have every advantage in that fight. He makes a lot of mistakes, and it's my job to make him pay for those mistakes.
"This doesn't happen enough in boxing. It just so happens that me and Andre Ward are fighting each other, then the week after that you've got [Sergio] Martinez and [Julio Cesar] Chavez Jr. So I think us four fighters are making a statement for boxing. That's two big fights back-to-back."
Dawson, who opened interviews with, "As you can see, I'm looking real slim," said he's on track for an easy cut to 168. He weighed 176 pounds on Wednesday.
It has been a different type of buildup for the Ward fight than some of the others Dawson is accustomed to. He just wrapped up back-to-back fights with one of the more colorful boxers ever in Hopkins, and not too long before that there were the consecutive meetings with the similarly outspoken Antonio Tarver.
Those fights perhaps needed the sideline commentary, with the now-30-year-old Dawson taking on older opponents at the tail end of their careers.
Dawson hopes, and believes, the challenges he has accepted in this fight and the fact that two of the sport's best were interested in seeking, instead of sidestepping, each another will be storyline enough.
"Andre Ward is a class act," Dawson said. "There haven't been any controversies. This is how champions are supposed to behave.
"This fight does speak for itself. You've got two guys who didn't have to take this fight. We both agreed to it and the fight's happening. Hopefully, fans in the boxing world will open their eyes and see this is a big fight."
April, 21, 2012
4/21/12
1:33
PM ET

There had been no public clamoring for a rematch of the controversial first fight between Bernard Hopkins and Chad Dawson, but next Saturday we'll get one nonetheless. On the bright side: It's an event whenever Hopkins fights at this point, Dawson is a quality light heavyweight contender who deserves another stab at Hopkins' belt and, well ... at least this show won't be on pay-per-view.

For an early Hopkins-Dawson preview from "Friday Night Fights" analysts Teddy Atlas and Joe Tessitore, check out the clip above.
February, 23, 2012
2/23/12
8:55
AM ET
One might've expected he'd come out guns a blazing verbally, use some of that rhetorical magic which makes him the most effective fighter of his era when it comes to talking the talk that will help him walk the walk on fight night. But Bernard Hopkins shocked the room when he swerved us with silence at the NYC press conference to hype Hopkins-Dawson II on Wednesday at Planet Hollywood.

"All has been said," was all Hopkins, age 47, the oldest man to win a true world title, said in NYC after Chad Dawson and his promoter Gary Shaw had their say at the mike.

The mouths of the assembled press hung agape. We expected Hopkins to tear Dawson, who'd just called him a "punk" and Shaw, who'd just about accused the Philly legend of faking a shoulder injury in the October bout which ended in round two, a new one. Shaw had offered his historical take on what went down in October and the aftermath. He and Dawson both said that Dawson was having his way with Hopkins, and when they collided, and Dawson dumped Hopkins onto the canvas, Hopkins took the opportunity to opt out. He told the ref he couldn't continue, and the fight was over, with Dawson declared the winner.

Not so fast...Protests were made, and Hopkins' promoter Golden Boy was able to get the result changed to a No Contest. Thus, Hopkins held onto his light heavyweight crown, and Dawson was left fuming.

One reason we all thought Hopkins would go into blast mode is because he'd taken severe umbrage at the allegations that his shoulder injury was not so severe. When I brought that up to him, he said that those allegations, which Team Dawson, especially trainer John Scully, have been dispensing for months, should be summarily dismissed.

As usual, when pondered, it emerges that Hopkins' choice, not to litigate the shoulder in public, was a smart move. The evidence may not support him as he'd prefer to be supported. The MRIs that Scully has called for haven't surfaced. So, the sage decided to shift the conversation, curtail it rather than prolong it.

And lest you fear that he's lost his edge, and been cowed into a silence, and that perhaps has lost his lust for verbal combat and maybe physical combat as well, fear not. Hopkins spent the next hour in typical form, talking to press in smaller groups, discussing the parts of the October fight he wanted to discuss, and the parts of his career he wanted to play up.

Hopkins-Dawson II will unfold on April 28, at Boardwalk Hall in Atlantic City. HBO will televise.

Note: I was talking to Hopkins' publicist and pal, Kelly Swanson, at the end of the affair. I told her that I thought the 29 year-old Dawson was too much physically for the ole man at this point, but if pressed, I'd have to admit, I'm sort of rooting for Hopkins. He motivates and encourages all of us who feature a gray hair or two or two hundred, and he is a fascinating and entertaining character study in how he approaches the mental and psychological side of the sport. But I fear that the age thing might be insurmountable on April 28. We shall see...
December, 23, 2011
12/23/11
11:10
AM ET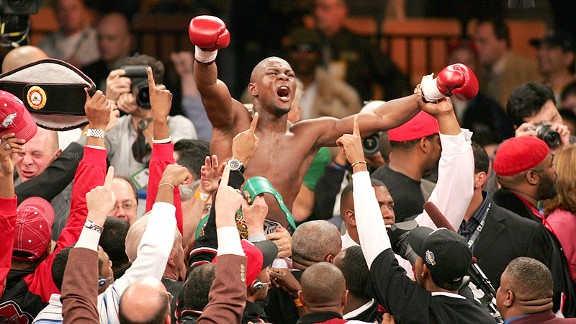 Craig Durling/WireImageJermain Taylor at the height of his powers, in December 2005, after beating Bernard Hopkins in a rematch.
Death, taxes and boxers who make comebacks. These are some of life's certainties, though many fight fans and pundits believed that Jermain Taylor might be one of the rare exceptions to the rule.
They thought the Arkansas native might stay away from the ring when he announced at the end of 2009 that he was taking a break from boxing, after learning that he had sustained bleeding in his brain from punishment absorbed during his 12th-round knockout loss to Arthur Abraham in October 2009.
(
Here is Dan Rafael's Dec. 11, 2009, piece
discussing Taylor's decision to step away and the decision of his promoter, Lou DiBella, to sever ties with the fighter.)
Instead, Taylor, 33, who won bronze at the 2000 Olympic Games, is returning to the ring, and after a two-year layoff will meet Maryland's Jessie Nicklow (22-2-3 with just 8 KOs; age 24) on Dec. 30 at the Morongo Casino in Cabazon, Calif. Showtime will televise.
Taylor, the ex-middleweight champion who reached his professional apex in 2005 with a split decision over undisputed middleweight champion Bernard Hopkins and a unanimous-decision victory in a rematch with Hopkins six months later, didn't get back to ESPN.com about a request for an interview. But DiBella, who is satisfied that the fighter is medically fit to fight and working with Taylor again, chatted with us about his return and what Taylor -- who has been KO'd in three of his past four defeats -- hopes to accomplish in his ring return.
"Jermain had significant time off and was put through a battery of tests at the best hospitals, with the best neurologists in the world and multiple athletic commissions, and was cleared unanimously," DiBella told ESPN.com. "I personally spoke to doctors at the Cleveland and Mayo clinics, and they told me his risk does not exceed that of any other boxer."
DiBella said Taylor (28-4-1) in recent years didn't have the same focus he had earlier in his career, when he held the middleweight crown, which he dropped to Kelly Pavlik in September 2007.
"He was not giving himself the best chance to win, at the tail end of 2008 and 2009," he said. "His lifestyle was a bit unhealthy, his weight was fluctuating. He's got a rededicated attitude, he's a different guy."
Will DiBella be looking at Taylor with extra scrutiny, making sure he responds to punches properly, and was there any hesitance at working with him again?
"I am going to take a hard look, sure," he said. "I've known him since he was a kid, done every fight of his as a pro, and I think [he should work with me]. And I think Jermain will take a hard look at himself."
DiBella spoke of that jones that sometimes makes fighters contemplate comebacks -- and no one yet knows whether this is the case here -- long past the point of sensibility. "He hasn't got this out of his system," the promoter said.
Taylor will campaign at 160, DiBella said, after fighting his most recent three bouts, against Jeff Lacy, Carl Froch and Abraham, at super middleweight.
DiBella believes that Taylor working with old coach Pat Burns -- who was dumped after the Hopkins fight and replaced with Manny Steward and then longtime Taylor cohort Ozell Nelson, who brought him into boxing in Little Rock -- will pay dividends.
"He's back with Burns and his conditioning is superb and sparring been great," DiBella said, "but we do not know what we have until he's in the ring."
And is Nicklow a soft touch or a true test?
"Jessie is a tough guy but the kind of guy Jermain should beat if he's the old Jermain Taylor. He's a good opponent for a guy out of the ring for a couple years, but you don't go from Jessie to the top of the division immediately after."
DiBella can foresee, if Taylor looks solid, a bout against current IBF middleweight champ Daniel Geale or current WBA middleweight champ Felix Sturm taking place by the middle of 2012. Julio Cesar Chavez Jr., the WBC middleweight champ, is a fight to be considered as well.
"I'm not rushing to make a Sergio Martinez-Jermain Taylor fight, not in near future," DiBella said. "Jermain needs activity. We'll learn a lot Dec. 30."