May, 23, 2013
5/23/13
8:59
AM ET
By
Bernardo Pilatti
| ESPN.com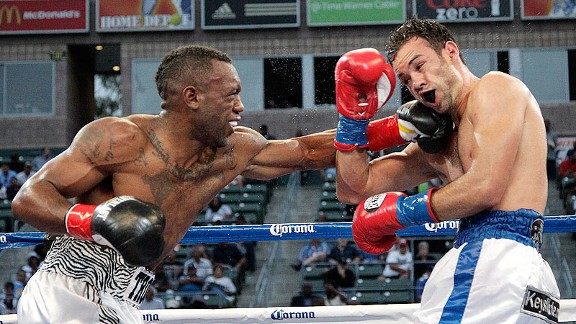 AP Photo/Jae C. HongDelvin Rodriguez is looking for another title opportunity after losing against Austin Trout last year.
In another step towards a new chance at a world title in the junior middleweight division, Delvin Rodriguez is facing a tough challenge against former world title challenger Freddy Hernandez in the main event of "Friday Night Fights" (ESPN2, 10 p.m. ET) on his home turf at the Mohegan Sun Casino in Uncasville, Conn.
Rodriguez (27-6-3, 15 KOs) comes off a dominant sixth-round knockout of George Tahdooahnippah in his first fight since a lopsided loss against former titlist Austin Trout. It was the second time Rodriguez was defeated in a world title fight after losing to Isaac Hlatshwayo in 2009 for a vacant welterweight title.
Now, focused on his future, Rodriguez believes that by defeating Hernandez in an impressive way, he will be in line for another title shot.
"This will not happen in my next fight, but it will put me in a position to be in line," said Rodriguez, who admits his dream is to face junior middleweight titlist Canelo Alvarez. "And early next year I'll be ready to fight for a title. If that doesn't happen, my plan is to fight at least four times a year.
"It will be an emotional fight [against Hernandez]," Rodriguez said. "I feel very well physically and mentally, and I feel positive that I will look good and I am going to defeat my opponent."
Rodriguez knows it won't be easy. Hernandez is a good fighter who has a lot of experience after having faced many high-profile opponents.
"I am taking him very seriously," Rodriguez said. "That's why I am well prepared and confident in my victory."
Hernandez (30– 4, 20 KOs), of Mexico, is coming off decision losses in his past two fights, against Demetrius Andrade and Erislandy Lara. He has won against the likes of Luis Collazo, Mike Anchondo, DeMarcus "Chop Chop" Corley, Jesus Soto Karass and Ben Tackie, but is best known for his knockout loss to former welterweight titlist Andre Berto.
As much as Rodriguez respects his opponent's experience, he was quick to remind about his own when it comes to fighting strong opposition.
"I believe that I also have a lot of experience," Rodriguez said. "My opponents have been good fighters, and I know I have the fight plan and the skills to beat [Hernandez] and other guys who are better than him. I have demonstrated this throughout my career."
Hernandez typically fights with a high work rate and doesn't shy away from exchanges. He has moments when he overwhelms his opponents with aggression, and at the same time he can assimilate punches very well. Those factors could set up a battle similar to the one Rodriguez had with Pawel Wolak in their July 2011 fight of the year candidate.
"When it comes to pressure, it's true that this could be a similar war, because I'm not thinking about going backwards," Rodriguez said. "I'll be the one applying the pressure and the aggression."
When proposed with a possible change of plans in favor of a more elusive brand of boxing -- with more movement and punches in flurries, similar to the style used by Lara against Hernandez -- Rodriguez discarded that option because his own style is so different.
"For now, the idea isn't to use a strategy of movement, but rather the plan will be to land combinations of two or three punches and apply a lot of pressure," Rodriguez said. "Nevertheless, a great fighter is the one who knows how to adapt to the moment of the battle whenever necessary."
In the co-main event, a pair of junior welterweights square off in a 10-round fight when unbeaten Issouf Kinda (16-0, 6 KOs) faces Chris Howard (15-2-1, 7 KOs). If he wins convincingly, Kinda, who was born in Burkina Faso and now lives in New York, may be considered as a future title challenger. He is fresh off a knockout victory against Javier Loya and holds a victory over Mike Arnaoutis.
September, 28, 2012
9/28/12
12:19
AM ET
By
Diego Morilla
| ESPN.com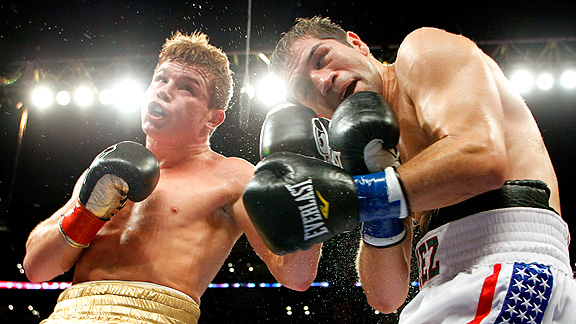 AP Photo/Danny MoloshokWith his style, looks and roots, Canelo Alvarez is the best pick for Floyd Mayweather Jr.'s next foe.
The boxing calendar for 2012 is almost full, and recent history has taught us that Floyd Mayweather Jr. rarely fights more than once a year. With a tough fight against Miguel Cotto and a brief jail stint behind him, Mayweather might have accumulated just the right amount of excuses to call it a year and start drumming up interest in a big fight for early 2013.
With that in mind, and with the most logical opponents (Cotto, Sergio Martinez and -- dare we say it? -- Manny Pacquiao) already headed in different directions, Mayweather's choices are now limited. But there is one natural fit. All things considered, given his energy, youth and huge appeal to fans of both sexes, his enormous (and growing) Mexican fan base and an unbeaten record to boot, Saul "Canelo" Alvarez is the obvious choice.
Here are five reasons why Alvarez should be the leading candidate to pull the winning number in the latest Mayweather sweepstakes:
1. A crossroads fight for the ages:
A young and feisty undefeated lion versus a crafty, experienced unbeaten fox? The meshing of styles is so apparent that it needs little elaboration. Alvarez, 22, is a freight train of a fighter who has power in both hands and the heart of a warrior, always charging forward with little regard for his safety. Mayweather is the lightning-fast consummate technician with seemingly unlimited resources and the boxing equivalent of Wikipedia downloaded to his brain. It's the old matador-versus-raging bull paradigm, and people have always paid to watch it. You can bet they'll pony up to witness this one.
2. Canelo has muchos amigos:
Floyd always echoes the sentiments expressed in Muhammad Ali's famous analysis on the composition of his audience: "I think 100 percent of the people will come to see me," Ali used to say, "but 99 percent of those people will come to see me get beat because they think I talk too much." Whatever the percentages, there's a similar split with regard to Canelo. Most women come to see him win. A lot of guys watch to see him get his butt kicked. But the vast majority of Mexico will be watching, rooting for either cause. In any case, the likelihood of a new PPV record for a Mayweather-Canelo matchup is very high, and when the guy who has the final say on his opponent goes by the nickname "Money," that's a factor in Alvarez's favor.
3. A true fiesta for Cinco de Mayo:
May 5 is a national holiday in Mexico and traditionally a blowout weekend for boxing. If you're a fight fan, you can circle that Saturday on your calendar and know you'll get to take in at least one of the year's biggest bouts that night. But at the risk of sounding jingoistic, last year's Mayweather-Cotto matchup -- an American against a Puerto Rican -- was like serving tacos, burritos and tequila at a St. Patrick's Day party. Give the fans what they want, when they want it. Mayweather versus Alvarez on Cinco de Mayo weekend will surely draw one of the biggest TV audiences in boxing history, in no small part due to its timing.
4. The grass is not greener on the other side:
A lack of options shouldn't serve as an endorsement for Alvarez, but it's impossible to get around: Mayweather's alternatives
really
strengthen Canelo's case. The question is, if you don't pick the kid from Jalisco, who
do
you pick? Martinez is banking on milking whatever is left of the Julio Cesar Chavez Jr. business while Junior is still marketable. Pacquiao still has who-knows-how-many-more fights with Marquez, plus a rematch with Timothy Bradley Jr., left to cash in. And Cotto will keep pricing (and maybe weighing) his way out of a Mayweather rematch until no one cares anymore. And with Amir Khan and Victor Ortiz on the rocks (and Roberto Guerrero still green at 147), Canelo is just what the doctor ordered.
5. Great possible card names:
"The Young and the Restless" is already taken, but there are plenty of directions this one could be taken. "Sugar and Spice" clicked better for Canelo's bout with Shane Mosley, but it's apt here, too. And the pairing could lead to scores of clever headlines from the always-imaginative press row. "Money Talks, Cinnamon Swirls" could trumpet a Mayweather victory. Not enough reason on its own to put together a multi-million dollar boxing card, but it always helps to have some built-in entertainment value, eh?
September, 20, 2012
9/20/12
2:13
PM ET
By
Brian Campbell
| ESPN.com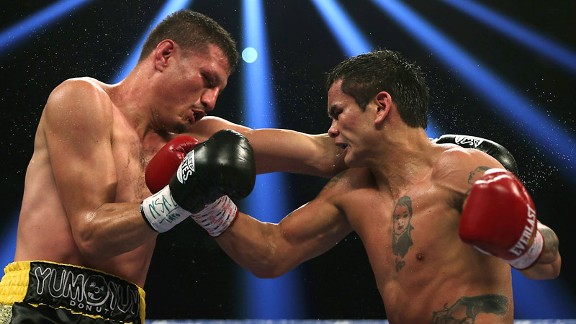 Josh Hedges/Getty ImagesMarcos Maidana, right, and Jesus Soto Karass traded with abandon. Did a KO bonus provide incentive?
Somewhat lost in boxing's explosive return to center stage last Saturday was a sweet little cash bonus offered by Golden Boy Promotions on the B-side of dueling Las Vegas cards.
Golden Boy, which promoted the aptly titled "Knockout Kings" card -- headlined by Saul "Canelo" Alvarez's fifth-round stoppage of Josesito Lopez at the MGM Grand -- awarded a cool $100,000 to the fighter who recorded the best knockout, as voted by the fans.
Set aside the fact the fans got it wrong (Alvarez won the popular vote for his TKO in a mismatch with Lopez, overshadowing Marcos Maidana's thrilling finish in a rousing war against Jesus Soto Karass) and that the premise itself reeked of a gimmick.
Whether the bonus itself raised the levels of expectation or whether the ensuing results were simply a case of happenstance when you consider the all-action tendencies of the fighters involved, the results were spectacular. And that, my friends, is progress.
The promise of action created by the KO bonus helped spice up (no Canelo pun intended) an already stacked Showtime undercard, one created to pull viewers away from purchasing the pay-per-view of the Sergio Martinez-Julio Cesar Chavez Jr. card being held simultaneously at the nearby Thomas & Mack Center.
How much of the card's success and attention had to do with the mere presence of Alvarez, the rising 22-year-old Mexican star, is hard to ignore, as the main event produced Showtime's largest audience (1.04 million) since it began tracking bout viewership. But the overall card still produced the network's second-highest rating for a boxing telecast since 2007.
The bonus also offered the fighters a substantial financial carrot, even if
most kept a poker face
as to their intentions to capitalize on it. Still, when you consider that five of the eight eligible fighters had an opportunity to at least double their
purse figures
with the bonus, it's hard to deny its impact.
Which leads to the bigger question: Did boxing just improve its future by taking a page from its past?
In a sports landscape so heavily dominated by guaranteed contracts, boxing is no different with its financial gain rewarded up front. The final product -- what actually ends up happening inside the ring -- becomes a crapshoot.
Does that mean that every fight needs to be a brawl to be compelling, or that all fighters should be forced to throw caution to the wind, thrusting themselves into sure danger to satisfy the unceasing appetite of a combat-crazed society? Not necessarily.
But let's not forget something equally important. We are talking about a sport once known universally as "prizefighting," and the further we depart from the essence of what that term implies, the closer the sport moves toward irrelevance, and possibly extinction.
Boxing needs more incentive for its participants to give their all, something to help steer the sport away from the typical black eyes (bad decisions, boring main events, crooked promoters) that continue to set it back. When viewed against that backdrop, knockout bonuses are an exceptional step forward.
Look at the business model and practices of the UFC, an entity rescued from the brink by a group of boxing fans looking to inject elements into its fledgling product that were missing from the sport they once loved. Some of those same tactics include bonuses on every card for best knockout, fight and submission.
Although boxing doesn't have the same central governing system that has helped the UFC stoke excitement via monetary rewards, promoters should follow Golden Boy's lead -- as long as the incentives don't punish those who actually make an art out of the science of boxing. Some kind of incentive for a fighter to be the best boxer-puncher he can be is a great thing for all fans.
Certain fighters will always command more money based on their marketability alone, and rightfully so. But a future in which two fighters compete for a set percentage of both purses as a reward for the winner would be a fantastic compromise.
In the end, Golden Boy's knockout bonus could turn out to be nothing more than a gimmick. But if you look closely, it also could open the door to opportunities that just might stem the tide of a sport suffering from self-inflicted decay.
May, 19, 2012
5/19/12
12:25
AM ET
By
ESPN.com staff
| ESPN.com

"Friday Night Fights" analyst Bernardo Osuna has the latest on Miguel Cotto's possible next opponent (hint: Could be another classic Puerto Rico-versus-Mexico throwdown), where Amir Khan goes from here and Marcos Maidana's next move.