April, 19, 2013
4/19/13
9:22
PM ET
Welterweight titlist Paulie Malignaggi has been all over the fight week buildup for Saturday's Canelo Alvarez-Austin Trout clash, hosting the public workout in front of the Alamo on Wednesday and talking with fans and media at Friday's sun-drenched weigh-in in downtown Market Square. He's in San Antonio, of course, in his capacity as expert analyst for the Showtime broadcast, and accordingly he has been giving some thought to the possible ebbs and flows of tomorrow's bout.

"Well, I think for Canelo it's important to try and work his way inside, so he's able to throw hooks inside to the body," Malignaggi told ESPN.com. "I think Canelo has faster hands, but Trout is a tricky guy -- very slick, very slippery, he's very crafty. The trick will be, will Trout's craftiness disallow Canelo from getting inside to work? Because if Canelo can get close enough, his fast hands could cause problems for Trout. But Trout is very shifty, and if Trout doesn't let Canelo get in punching range, it could be a long night for Canelo."

If the key to real estate is location, location, location, Malignaggi offers that Saturday's contest is all about distance, distance, distance.

"So it's one way or the other, depending on who had the best preparation and who can match up that distance better," he said. "Because if Trout can be the master of the distance, it's Trout's fight. If Canelo starts to get close to him, it's Canelo's night. It goes down to who's mastering their game plan better. It seems Trout has the better feet, but Canelo has the faster hands. It's tricky to predict."

"The Magic Man" doesn't think Saturday's fight will necessarily be the sort that offers an immediately apparent outcome. Even if one man begins in the ascendant, he argues, fans shouldn't be surprised if the advantage changes hands frequently over the course of the contest.

"I think it's back-and-forth," he said. "I think we're going to see a lot of momentum changes. I think it's going to be a good fight. I think it's going to be an entertaining fight."

Malignaggi will be ringside again next week, at the Barclays Center in Brooklyn for Danny Garcia's junior welterweight title defense against Zab Judah. But he'll be there not only as an analyst but also as a participant in a media conference to officially announce his June 22 matchup, at the same venue, with lightweight titleholder and fellow pound-for-pound trash-talker Adrien Broner.

"Yes, yes," he confirmed. "It's signed, sealed and delivered. It's going to be cool. Absolutely, man, it's my house, so we'll give him a big welcome."
April, 19, 2013
4/19/13
8:08
PM ET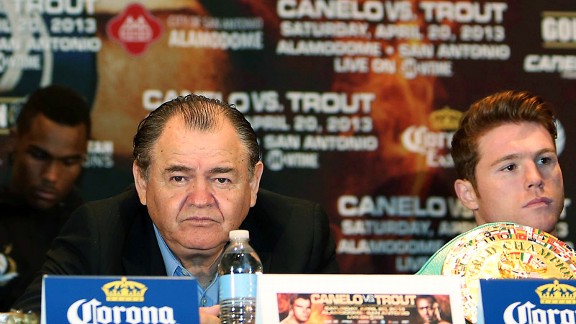 Stephanie Trapp/ShowtimeChepo Reynoso says Canelo Alvarez can handle Austin Trout's skill, experience and southpaw style.
Jose "Chepo" Reynoso, the manager of Canelo Alvarez, is under no illusions about the difficulties posed by Canelo's opponent, Austin Trout, at the Alamodome on Saturday night.
"He's a lefty, but besides being a lefty, he's a fighter who has a lot of talent and experience," Reynoso told ESPN.com. "That makes him a very respected fighter, someone we have to be careful of." But, he said, at the same time, "we're ready for that."
Naturally, Team Alvarez fully expects Trout to use as much of the ring as possible, to stick and move behind his southpaw jab and keep Alvarez at a distance. "Of course he's going to try and do that for 12 rounds," smiled Reynoso, before asking rhetorically, "but will he be successful?"
That, of course, is the multi-million-dollar question and what makes this such an intriguing fight: the clash of styles between Trout's slick combination boxing and movement, and Canelo's steady, relentless jabs, hooks and power punches.
"It's going to be very intense, because neither of them has lost and neither of them wants to lose," said Reynoso, before offering a prediction that is, well, predictable -- if understandable: "We're going to win by knockout. We're very confident."
April, 18, 2013
4/18/13
11:34
PM ET
From 1981 to 1984, junior lightweight Louie Burke ran up a professional record of 18-0, including a couple of victories over a popular TV fighter named Freddie Roach -- the second of which appeared on the undercard of a bout between two decent fighters called Marvin Hagler and Roberto Duran. Then Burke dropped a close and controversial decision to Charlie Brown, was stopped by Hector Camacho and, after collapsing from dehydration in his next bout, decided he was done.

But although he left the ring, he didn't leave the sport. Boxing was in his blood -- his father and brother boxed, too -- and after hanging up the gloves, he trained fighters out of the PAL Gym in Las Cruces, N.M. Had he won his final fight, the one in which he collapsed, Burke would have been in line for a title tilt against Julio Cesar Chavez. But while his own shot at world title success didn't come as a fighter, it has arrived as a trainer, courtesy of junior middleweight Austin Trout, who has looked to Burke for training and guidance from the day that he walked into the gym with his mother as a 10-year-old boy.

The soft-spoken Trout keeps a small, tight circle of people around him, and it's clear that the equally soft-spoken Burke thinks the world of his charge.

"Austin's a one-in-a-million guy," he told ESPN.com. "He's very humble, he's a great athlete, he has a great work ethic. He trains hard. He has a very strong mental ability. His nickname fits him perfectly: No Doubt. When he puts his mind to something, he strives as hard as he can to achieve that goal."

The goal that matters more than any other right now, of course, is defeating Canelo Alvarez in San Antonio's Alamodome on Saturday. It's a big-time matchup that Trout earned by defeating Miguel Cotto in December, but for all the talk of similarity in styles between Trout's last opponent and his next one, Burke says he is focusing as much on the differences between the two.

"Canelo's a little bit more explosive, he's more of a counterpuncher; I think maybe he's going to try and box a little bit," he said after Thursday's final prefight press conference. "He's got better boxing skills than people give him credit for. Miguel was shorter, he had to get inside, he had to be a little bit more aggressive. I think with Canelo we're going to have to bait him a little bit more into running in to Austin's punches."

None of which is to say that Team Trout isn't prepared for the possibility that Alvarez will look to impose himself early, exerting pressure and testing Trout's resolve. Burke is happy to acknowledge that Canelo has more arrows in his quiver than is normally recognized; it's just that he figures his man has still more.

"We have prepared for several different scenarios, because we don't know what he's going to do exactly," he said. "So we've prepared as best we can, and we'll make our adjustments as we need to. But Austin's the more versatile guy, absolutely."

Burke gives credit to Alvarez for forcing the issue and insisting that his promoters make the fight with Trout. As an old-school guy who fought underneath two of the greatest fighters of arguably boxing's greatest era, he naturally hopes it's a harbinger of things to come.

"I think that's something that boxing's lacked for a long time," he said. "You get these promoters who want to protect their fighters, and it does nothing but hurt boxing. Austin wants to take it back to the years when people recognized one champion in each weight division. Right now, it's gotten so watered down that nobody knows who the champions are, even people involved with boxing. This is going to help clarify that and help bring boxing back to the popularity it enjoyed in the golden era."
April, 18, 2013
4/18/13
1:06
AM ET
By
Julio Gonzalez
| Special to ESPNDeportes.com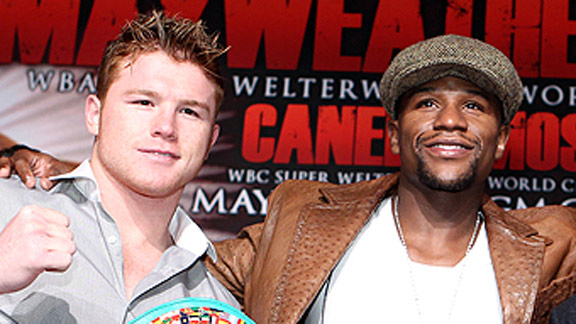 Tom Hogan/Hoganphotos/Golden Boy PromotionsCanelo Alvarez's promoter says pulling out of Floyd Mayweather Jr.'s May 4 card was the right move.
The decision made by Canelo Alvarez and his team to drop out of the May 4 card headlined by Floyd Mayweather Jr. and Robert Guerrero took a bit of a toll on the fighter's promoter, but in the end, Oscar De La Hoya says he would have made the same choice.
Alvarez had been scheduled to face Austin Trout in the co-headler at the MGM Grand in Las Vegas, but when Mayweather wouldn't commit to a follow-up September fight with Canelo, the undefeated junior middleweight titlist quickly broke away to put on his own card, set for Saturday at the Alamodome in San Antonio.
"I applaud him. It was not an easy decision to make, but it was the right one," said De La Hoya, who during his time as a fighter helped transform Cinco de Mayo weekend into a celebration that encompassed some of boxing's biggest blockbusters. "The fact that Mayweather did not want to sign the contract to fight Canelo in September, I think I would have done the same thing -- set my own card -- to show the fans that I can tell Mayweather, 'I don't need you.' It was the right choice."
Alvarez says that he initially didn't want to be part of the May 4 card, but he agreed to it only on the condition that Mayweather face him a few months later. It wasn't long, though, before Canelo and his team decided that, without a contract signed by Mayweather, it wasn't in the fighter's best interest to remain on the card and help boost pay-per-view sales for someone else's main event.
"We are a team -- my father, Saul and myself got together," said Alvarez's trainer, Eddy Reynoso, whose father, Chepo, is Canelo's manager. "Mayweather did not want to sign the agreement that was made to fight him in September. We don't need to do whatever everybody else says. Each person must take care of his own business.
"We are not in a hurry. [Canelo] is 22. He already has five title defenses. He is making very good money, so we do not need to depend on other fighters."
De La Hoya praised Alvarez and the Reynoso family for knowing what they want and sticking to their guns to achieve it: "They want to become the best in the world, the best in this sport, the best in history.
"I think we made the right decision for Canelo's career. Because Mayweather is already established. He is the king of pay-per-view. And I'm taking care of Canelo, to develop him and make him a superstar."
And then De La Hoya made a promise: that the September card his company is scheduled to put on -- most likely on the eve of Mexican Independence Day -- will be headlined by Alvarez.
"He is Mexican," De La Hoya said, "it is Mexico's Independence Day, where a Mexican fights on that date. Like Julio Cesar Chavez did. Like I did. Even though I was born in the U.S., I've got Mexican heritage. So Canelo wants to fight in September, and I will deliver the promise I made."
Alvarez was a main-eventer on Mexican Independence Day last year in Las Vegas, beating Josesito Lopez by TKO in the fifth round, and was a co-main event fighter in Los Angeles on split cards in 2011 and 2010 against Alfonso Gomez and Carlos Baldomir, respectively.
After it was all said and done, De La Hoya said, the reason Mayweather wouldn't commit to face Canelo came down to a healthy respect.
"They know it is a dangerous fight," De La Hoya said, casting an eye to the future, "but in the end, they will have no choice but to take the fight."
April, 17, 2013
4/17/13
9:02
PM ET
It has been almost 15 years since he closed the book on his four-fight rivalry with Azumah Nelson by scoring a unanimous decision win at the very venue where Canelo Alvarez and Austin Trout will face off on Saturday. But San Antonio's own Jesse James Leija still looked pretty close to being in fighting shape as he surveyed the crowd that gathered on Alamo Square on Wednesday to watch several of Saturday's fighters go through their paces in a public workout.
[+] Enlarge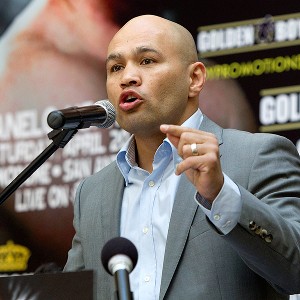 Bob Levey/Getty ImagesJesse James Leija says he's proud of his native San Antonio for the fans who attended Wednesday's workouts. "You can't do this in Vegas," he said.
The former world champion now trains a stable of boxers -- including Raul Martinez (29-2, 17 KOs), a former Nonito Donaire victim and two-time title challenger, who will face off against Shawn Nichol in a four-rounder on Saturday and who worked up a swift sweat in the humid air while Leija watched carefully. And he is one half of Leija-Battah Promotions, which has staged some local cards over the past year and is co-promoting Saturday's showdown at the Alamodome.
At this particular moment, though, Leija was primarily an admirer of his fellow San Antonio fight fans.
"I am so proud of the fans," he said as he scanned the faces -- by this reporter's guesstimation, a couple hundred of them -- who watched and cheered the workouts, as a microphone-wielding Paulie Malignaggi kept them animated. "You see this crowd? This is just an open workout, on a Wednesday morning when people are at work and at school. You can't do this in Vegas. But here you can do it, and I'm so proud of San Antonio."
Such crowds are reminiscent of the heyday of Oscar De La Hoya, and there was little question which of the main event fighters the throng was most keen to see.
"Alvarez is the next De La Hoya," Leija said. "He's been the next Oscar De La Hoya for the past two years. He just has that superstar quality to him. He has the looks, he has the charisma, he has the talent."
But all of that counts for little when the bell rings, and Leija is one of many who believe that in Trout, the young Mexican has selected an exceptionally dangerous opponent.
"He's in a really, really, really tough fight Saturday," Leija said. "If you asked me to pick a winner, I couldn't tell you right now."
He did, however, offer some unsolicited advice, from one champion to another: "He has to slow Trout down. How do you slow down a fighter who moves around a lot? Body shots. Don't worry about the head. Chop down the body and the head will fall."
April, 17, 2013
4/17/13
6:57
PM ET

Security cleared a pathway for him, but Oscar De La Hoya darted away from it, toward the crowd, famous grin at the ready as he shook hands and signed autographs for the fans who screamed his name.

Bob Arum doesn't get welcomes like that. But then, he doesn't plunge into throngs of fans the way De La Hoya does, either. That was always part of the secret to De La Hoya's success: Yes, he could fight. Yes, he was good-looking and articulate. But he knew how to work it, and work it he did. In his heyday, nary a hand would go unshaken or a soundbyte undelivered until everyone had had their fill.

Rarely did he attract bigger crowds than when he fought in Texas -- be it in El Paso against (ugh!) Patrick Charpentier or here in San Antonio against David Kamau -- and the tales of 36,000 seats being sold for Saturday's contretemps between Canelo Alvarez and Austin Trout, as well as the hundreds who skipped school and work to watch the fighters work out and cheer their promoter's name, are testament to the fact that Alamo City remains a boxing outpost.

"It just goes to show that San Antonio is a fight town," De La Hoya said. "There's no doubt about it. If you build it, they will come. We just feel that, starting with this fight, we will bring big-time boxing back to San Antonio. This is a perfect example that, if you put two good fighters in that squared circle together, you're going to get a good turnout."

That turnout has been helped by recruiting local legend and fellow world champion boxer-turned-promoter Jesse James Leija, who is co-promoting Saturday's show, to the cause.

"Oh, absolutely," De La Hoya agreed. "Leija has been extremely vital to the success of this event. Leija working here locally with everyone has been crucial. And that's going to be a key part in bringing regular boxing back here to San Antonio."

It also doesn't hurt, of course, to have a marketable main eventer, and De La Hoya has that in Alvarez. How does the sport's last matinee idol explain the burgeoning fan base of its newest one?

"You explain it by -- well, just taking a look at him," he said. "He's a redhead, he has freckles, he's a good-looking kid. And he can fight. People just love him. He has a presence about himself that really is captivating. His abilities in the ring solidify what he's all about. And what he's all about is will, strength, power, charisma -- all wrapped into one."

It says a lot about Alvarez, also, that he demanded the fight with Trout, despite the reticence of some at Golden Boy Promotions, who believed it was a match made in hell that could derail a possible future clash with Floyd Mayweather Jr.

"I wish every fighter out there was like this," De La Hoya said. "He wanted it, and now he's got it."
April, 17, 2013
4/17/13
1:17
PM ET
By
Chris Lees
| ESPN Stats & Information
On Saturday, Canelo Alvarez will be fighting for more than a couple of leather belts. He'll be fighting for family pride, and he hopes to reel in a big fish -- specifically, a Trout.

Two years ago, Austin Trout won his junior middleweight title with a one-sided unanimous decision victory over Rigoberto Alvarez, who just happens to be the older brother of Canelo.

This won't be the first time a professional fighter will have sought to avenge a sibling's defeat.

The Baers vs. Joe Louis

Rising heavyweight star Joe Louis faced Max Baer in 1935 in the Livermore Larruper's first fight since dropping the heavyweight title to Jim Braddock. Louis dispatched Baer with a fourth-round knockout. Six years later, Louis, now the champion, was challenged by Maxie's younger brother Buddy. In a wild, action-packed encounter, Baer knocked Louis through the ropes in the first round. The Brown Bomber was unfazed as he knocked down Baer three times in the sixth round. The last time came after the bell, and when Baer's manager refused to leave the ring while arguing the knockdown, Baer was disqualified. Baer received a rematch in 1942 only to be knocked out in the first round.

The Spinks brothers vs. Larry Holmes

In June 1981, heavyweight champion Larry Holmes defeated former champ Leon Spinks in a devastating third-round knockout. In 1985, Holmes was 48-0 and on the verge of tying Rocky Marciano's perfect record. Standing in his way was light heavyweight kingpin Michael Spinks. Leon's little brother stood up to Holmes and took the title with a 15-round unanimous decision. According to CompuBox, Spinks outworked the older Holmes, throwing 130 more punches (697 to 567). He also outlanded Holmes 318-248. To add insult to injury, Michael Spinks beat Holmes again the following year.

The Klitschkos vs. Corrie Sanders

In March 2003, South African Corrie Sanders shocked the world with his stunning second-round stoppage of Wladimir Klitschko, temporarily derailing the Ukrainian's rise to heavyweight dominance. Witnessing the upset was Wladimir's big brother Vitali. The elder Klitschko would get his chance at revenge the following year. In front of 17,000-plus at Los Angeles' Staples Center, Klitschko exacted his family's revenge, stopping Sanders in the eighth round. Klitschko was dominant, outlanding Sanders 230-51 in total punches, according to CompuBox. Before that, in 2000, little brother avenged Vitali's loss to Chris Byrd.
March, 27, 2013
3/27/13
1:10
PM ET
The superstar-in-the-making, in his very early 20s, is relatively unproven in the ring but is already among the most popular and entertaining fighters in boxing -- particularly with Mexican and Mexican-American fans.

He is risking his undefeated record and his junior middleweight belt against a tricky, lesser-known African-American southpaw in his late 20s.

And this young ticket-seller is instantly identifiable by the hair on his head.

That's an accurate description of Canelo Alvarez as he prepares to fight Austin Trout at the Alamodome in San Antonio on April 20.

It's also an on-point description of Fernando Vargas nearly a decade and a half ago, when he was readying for a Dec. 4, 1999, bout against Winky Wright at Chinook Winds Casino in Lincoln, Ore.

The prefight parallels are undeniable. And if Alvarez-Trout is to be Vargas-Wright 2.0 in the postfight analysis as well, that means we can expect a hard-fought, at times thrilling battle in which the close rounds are not going to go Trout's way. (Remember that Texas is the state that told us Juan Diaz outpointed Paulie Malignaggi and Tavoris Cloud beat Gabriel Campillo, and that continues to put a pencil in the hand of Gale Van Hoy on a regular basis; it's more likely that Pee-wee Herman's bike is sitting in the basement of the Alamo than it is that Trout will get the benefit of the doubt from the judges.)

While some have labeled Canelo the second coming of his promoter, Oscar De La Hoya, it is Vargas -- once De La Hoya's most hated (or at least hateful) rival -- who makes for the more appropriate comparison.

They are similarly precocious: Alvarez is 22. Vargas was three days shy of his 22nd birthday when he fought Wright.

They are similarly (un)proven: Vargas had defeated Yory Boy Campas, Raul Marquez and nobody else of note, whereas Canelo has beaten nobody quite as credible as Campas was in 1998 but has topped a few guys in the Marquez range, including Ryan Rhodes, Alfonso Gomez and used-up versions of Kermit Cintron and Shane Mosley.

Their talents and styles are similar: Both are boxer-punchers with world-class technique, power and accuracy but slight deficiency in the defense and hand-speed departments.

And there's the hair: Alvarez's red locks, in combination with his freckled face, are the basis for his "Cinnamon" moniker. Vargas sported a buzzcut all the way around, except for a few strands in front that were grown out several inches, bleached blond and held in place with product before "There's Something About Mary" popularized a similar style.

Well, that was Vargas' hairstyle, anyway, until he suddenly shaved his head on the eve of the Wright fight. "El Feroz" went through some personal turmoil shortly before the fight -- the most he ever revealed on the record was that it had to do with his mother -- and he cut off his trademark locks and later claimed he underperformed in the ring due to his personal distractions.

In actuality, though, Vargas didn't underperform at all. Wright was just better than most of us realized. Winky would go on to defeat Shane Mosley and Felix Trinidad and come up a dubious decision short of capturing the lineal middleweight title against Jermain Taylor, ultimately becoming a far stronger bet than Vargas to end up with a bust in the International Boxing Hall of Fame. But heading into their fight, Wright was a guy with minimal U.S. exposure and a recent points loss to one Harry Simon. Vargas, 17-0 with 17 knockouts coming in, was a considerable favorite.

For 12 rounds, Vargas and Wright dueled, neither ever establishing clear superiority. The 28-year-old Wright, the supposed boxer, was the one moving forward throughout, but according to CompuBox, it was Vargas whose hands were firing and landing slightly more. Wright seemed to pull out to a lead in Rounds 8 and 9; Vargas took both the 10th and 12th clearly. HBO's Harold Lederman scored it 115-113 for Wright, and as we've seen countless times, the Lederman card invariably influenced public opinion. The comments currently posted underneath the fight on YouTube are almost all about the scoring and suggest that the only thing unanimously agreed upon is that the bout was close.

Vargas won a majority decision by a hard-to-swallow 116-112 and perfectly reasonable scores of 115-113 and 114-114. It was considered the worst night of his career at the time. In retrospect, it's one of his most meaningful wins.

If Alvarez beats Trout -- as long as it isn't an all-out robbery -- it will surely be the most profound accomplishment of his career thus far. Trout, 27, convincingly outpointed Miguel Cotto at Madison Square Garden last December and is, like Wright, a skilled southpaw who prefers not to slug it out but certainly isn't a runner.

Is Alvarez as gifted a fighter as Vargas was? Can he be even better and go even further? Does he, too, have an enormous fighting heart?

We should get some answers when he fights his Winky Wright next month.