May, 4, 2014
May 4
10:33
AM ET

Forty-six-and-oh. Floyd Mayweather remained perfect at the MGM Grand Garden Arena on Saturday thanks to a majority win over a surprisingly game Marcos Maidana. The fight wasn't quite what many expected, but it ultimately provided the expected result. What exactly did we learn from it?

1. Maybe Maidana isn't tailor-made for Mayweather after all ...

Maidana, with his awkward, often wild, style was supposed to be an easy fight for Mayweather on Saturday. Mayweather closed at a near 10-to-1 favorite, meaning that oddsmakers felt Mayweather had a better than 90 percent chance to win.

By the end of 12 rounds, however, Maidana had landed 221 punches on Mayweather -- more than any other fighter had previously. He also did enough to win six of the 12 rounds, according to one judge. (Although, as Mayweather pointed out, one judge thought the same about his blowout against Saul "Canelo" Alvarez in September … so, all judges' scorecards aren't necessarily reliable.)

According to Mayweather, the fight was close by his design. At the postfight news conference he quipped, "I could have made this fight absolutely easy, but it would have been boring. We've got to give the fans what they want to see."

That, of course, is a lie. Would Mayweather, a career defensive fighter, really risk the perfect "0" on his record for the sake of entertainment? No. Maidana forced a close fight with heart, a higher level of skill than he's typically known for and a few dirty tactics here and there for good measure.

"He bit me in the arm in the third round," Mayweather said, adding that Maidana targeted his groin with punches and head-butted him early in the fight. "He's going to do whatever he has to do to win, and I respect him for that."

2. ... or maybe he is, and we'll find out in a rematch.

A September rematch between Mayweather and Maidana seems very possible, if not guaranteed. Mayweather was open to it immediately after the fight, and that didn't change during the time it took him to get from the ring to the news conference.

"If he feels he won, he can get it again in September," said Mayweather from the postfight news conference stage.

Golden Boy Promotions CEO Richard Schaefer expressed a similar level of interest in a rematch, calling Saturday "the most exciting Mayweather fight I've ever seen." Robert Garcia, Maidana's trainer, even got a verbal agreement from Mayweather, although the champ added, "We've got to negotiate."

If Mayweather truly believes he could have made the Maidana fight as easy or as hard as he chose, he could get the chance to prove it in September.

3. Even Mayweather might be vulnerable to distractions

Mayweather is the pound-for-pound king, the cash king and the PPV king. He's also the king of handling his business in the midst of turmoil.

Seems like every time he fights, Mayweather is submersed in some kind of drama. Whether it's dealing with a deep rift with his father or the legal troubles of his uncle/trainer Roger, Mayweather's life seems to lend itself to reality television.

But if you look at his two toughest fights since ending a brief retirement in 2009, (a UD over Miguel Cotto on May 5, 2012, and Saturday) Mayweather was dealing with personal stress outside the ring. Before the Cotto fight, Mayweather was granted a temporary reprieve on a 90-day jail sentence in a domestic violence case -- and ahead of the Maidana fight, he separated from longtime fiancée Chantel Jackson.

In both fights, Mayweather engaged more offensively with his opponents and took more damage than usual. Were those performances related to his issues outside the ring? It's certainly plausible to think they could be.

4. Amir Khan deserves a fight with Mayweather, but he won't get it this year.

Khan's decision to campaign for the Mayweather fight outside the ring rather than in it drew criticism among fans and media and, ultimately, fell short.

Khan, 27, made up for it in a rather dominant win over Luis Collazo in which he won every round on two of three official scorecards and scored three knockdowns. In his third fight with trainer Virgil Hunter, Khan flashed absolute brilliance multiple times and set the stage for a very watchable fight against a 37-year-old Mayweather.
Unfortunately, Khan's commitment Ramadan in July erases any shot of him fighting Mayweather in September.

5. Adrien Broner's comeback was just OK

It is undeniable that Broner, 24, possesses certain qualities that could eventually turn him into a major star in boxing. He also has limitations that could hold him back.

Broner rebounded from the first loss of his professional career -- suffered at the hands of Maidana in December -- just as everyone suspected he would. Broner closed before the fight a near 33-to-1 favorite, according to MGM officials.

He appeared to have his opportunities to put away Carlos Molina on the Showtime main card but didn't. After the fight, he made offensive racial comments that prompted a response from in-ring interviewer Jim Gray.

Broner was adequate in his 140-pound debut but little more than that. Big fights await for him at this weight class, however, he'll have to be better in more ways than one to make the most of them.

September, 17, 2013
9/17/13
1:35
PM ET
By
Salvador Rodriguez
| ESPNDeportes.com
The future of Canelo Alvarez might have a few more options compared to what might be in store for Floyd Mayweather Jr., and Golden Boy Promotions could have the right recipe to help Alvarez make a huge comeback with a competitive fight.

While the buzz about Mayweather's next challenge included facing Amir Khan at London's Wembley Stadium or Danny Garcia in Las Vegas, the options for Alvarez are quite interesting, including the possibility of pursuing another world title.

Alfredo Angulo, Erislandy Lara and Carlos Molina -- who became a junior middleweight titlist on Saturday after defeating Ishe Smith -- are at the top of Golden Boy's list to become Alvarez's next opponent in 2014.

Molina is the only one of the three candidates who is not promoted by Golden Boy, but a title defense against Alvarez is viable. Despite recently losing to Lara, the crowd-pleasing Angulo (22-3, 18 KOs) still belongs to the elite group at 154 pounds. He is a bit slower than Alvarez, but has more punching power, so it could be quite a competitive challenge for both fighters.

Lara (18-1-2, 12 KOs) got off the canvas twice to defeat Angulo in June, after Angulo could not continue after suffering an eye injury in the 10th round, but left a few doubts. The interim junior middleweight titlist from Cuba is an effective and elusive fighter.

Molina (22-5-2, 6 KOs) is not exactly a powerful puncher, but he can be a nightmare inside the ring. According to Mayweather, Molina would be a nice fit for Alvarez to show his boxing skills, something he wasn't able to do Saturday.

Victor Ortiz (29-4-2, 22 KOs) also might be another option, despite being out of action for more than a year. Ortiz was next-in-line to fight Alvarez last September, but a broken jaw suffered in a clash against Josesito Lopez in June 2012 scratched those plans.

Former junior middleweight titlists Cornelius Bundrage and Cory Spinks are also possible opponents who, despite their recent slumps, could generate an attractive fight for Showtime.

The Alvarez camp also may wait for the winner of the Miguel Cotto-Delvin Rodriguez bout, set for Oct. 5 at the Amway Center in Orlando, Fla., due to Cotto's status as a promotional free agent.
September, 12, 2013
9/12/13
2:38
PM ET

On a personal level, fight week is a milestone of sorts because it marks 10 years since I was first credentialed for a fight. That fight was the rematch between Oscar De La Hoya and Shane Mosley, and a few weeks before the bout, I was in Big Bear, Calif., for a media day at both men's training camps. That was where I met a young Las Vegas-born junior welterweight prospect named Ishe Smith, who was sparring with Mosley.

I had no intention of covering boxing on a regular or ongoing basis. My intent was to write a book on boxing and Las Vegas, and to that end I focused on a number of Sin City-based boxing figures -- cutman Stitch Duran, referee Joe Cortez and ringside physician Margaret Goodman, among others -- as well as a trio of Vegas boxers at various stages of their careers. One of them was Smith.

For the previous couple of years, Smith had been a mainstay of Guilty Boxing's Friday Night Fights, held once a month at The Orleans casino west of the Strip. But when we talked, he was moving up to the major leagues; he had been signed by Gary Shaw Promotions and had recently appeared for the first time on Showtime's ShoBox series.

A good technician who was adept at working the body, Smith looked destined for a title shot, but things didn't quite work out the way he planned. I was ringside in Santa Ynez, Calif., when he scored a tough, close win over Randall Bailey -- an impressive win for a young fighter, but one that wasn't aesthetically pleasing or clear cut. Then his relationship with Shaw cratered acrimoniously, and Smith was a man without a promoter.

By this stage, my book project had foundered, but I had been bitten by the boxing bug and continued to write from ringside. And I stayed in close touch with Smith, who told me one evening at a Guilty Boxing card that he had been approached to participate in a reality show called "The Contender." He had some doubts about the project but went ahead with it anyway, and although he didn't win the Contender title, he became one of the show's standout stars.

Then it all slowly unraveled. He parted with the people behind the "Contender," was signed by Golden Boy, lost an ugly bout to Sechew Powell, was released by Golden Boy, signed with Lou DiBella, lost a few other fights, went a long time between bouts and was released by DiBella, who said he was having a hard time getting Smith fights and suggested he may find more success with someone else.

By this stage, Smith and I weren't in touch as much. He was adrift, his family life in turmoil, his career stalled. For a while, his thoughts turned suicidal, and even when he emerged from that darkest of places, he had all but resigned himself to being finished with boxing.

Then, suddenly, everything turned around again. Floyd Mayweather Jr. hired him to spar prior to Mayweather's bout with Miguel Cotto last year. Then Mayweather signed Smith to Mayweather Promotions and promised to get him a title shot. A couple of wins led to a bout with Cornelius Bundrage in Detroit earlier this year, and with Mayweather in attendance, Smith finally achieved his dream of becoming the first Las Vegas-born fighter to win a world title.

Now here he is, on hometown soil, about to defend that title against Carlos Molina on the biggest boxing card in years. Ten years after we first met in Big Bear, I interviewed him once more, in a packed MGM Grand lobby.

That book of mine? Never happened. But for Smith, everything finally turned out right. The path may have been much longer and more tortuous than either of us might have expected a decade ago, but the destination wound up better than he could ever have imagined.
August, 30, 2013
8/30/13
4:30
AM ET
Barclays Center's commitment to boxing is reaching another level, with word that Golden Boy will be putting on a show at the Cushman and Wakefield Theater, a smaller venue within the building, on Sept. 30.

Sadam Ali, a new signee to Golden Boy, will make his promotional debut on the card.

A Carlos Molina-Michael Perez bout will also be featured, and Staten Island's Marcus Browne will return to the ring as well. Fox will televise portions of the Monday evening promotion.

The event is being promoted as an anniversary fete for the building. Jay Z kicked open the doors with a gig on Sept. 28, 2012.

"There's no place like home," said Ali (16-0, 10 KOs), who had been acting as his own promoter. "I've seen some great fights at Barclays Center and I have waited for my name to be called to fight here. Now that day has come and I couldn't be more excited. This is going to be a performance and a win you won't forget."

Welterweight Ali was a heralded amateur, a two-time N.Y. Golden Gloves champ, a two-time National Golden Gloves winner and a member of the 2008 US Olympics squad. He turned pro in January 2009. His foe on Sept. 30 will be Jay Krupp (17-5, 8 KOs), a Louisiana-born hitter who lives in Catskill, N.Y., and has been trained by ex-Mike Tyson trainer Kevin Rooney. "I'm part of the Cus D'Amato legacy," Krupp has said, speaking of the sage who molded young Tyson into "Kid Dynamite."

Perez (18-1-2, 10 KOs), a 23-year-old Jersey boy (Newark), will meet Molina (17-1-1, 7 KOs), the 27-year-old Californian who fought Amir Khan and was stopped in Round 10 of their Dec. 15, 2012 faceoff. A junior welter title will be up for grabs.

February, 2, 2013
2/02/13
1:23
AM ET
CHICAGO -- If Carlos Molina is a snake-bitten fighter, the only evidence that betrayed it Friday at the UIC Pavilion was a small cut near his right eye -- which he wore, along with a smile on his face, in a cramped locker room after his main event bout.
It was virtually the sum total of damage that Molina suffered -- on a head-butt, no less -- in a start-to-finish beatdown of former two-division titlist Cory Spinks. Ringside judges scored it 119-106 (twice) and 120-105 for Molina. ESPN.com had it 119-106 for Molina.
"He clinched me and he held me, he bought himself a little more time, but he should have given me a little more space," Molina said of the butt.
It was that sort of fight for Molina (21-5-2, 6 KOs), who did what he could with what he had in front of him. Facing constant pressure from Molina, Spinks countered occasionally, but his stock answer seemed to be to clinch, drop his head or get on his bike. Molina had implied before the fight that he'd be gunning for a knockout, but Spinks did everything in his power not to comply.
"Of course you always want to put on a good show," Molina said. "Fans love a good show, and I'm a No. 1 boxing fan, too. I'm not just a boxer -- I love boxing. So I try to put on a good show but at the same time come out with the victory."
So Molina settled for the latter, delivering a withering body attack to take out the 34-year-old Spinks' legs. He often led with shots downstairs, and he frequently chopped at Spinks' hips and ribs in the clinch.
[+] Enlarge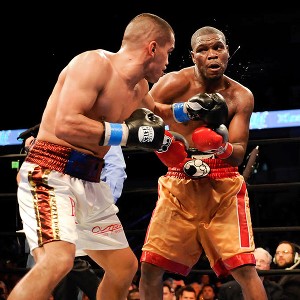 Tom Barnes/MPsportimages.comCarlos Molina didin't get the KO, but managed to punish Cory Spinks during 12 dominating rounds.
The work paid off in the second half of the fight as Spinks slowed down, and Molina added one adjustment that seemed to sap the last of Spinks' spirit: In the eighth round, he began arcing uppercuts at Spinks' chin when he would duck into his exaggerated crouch. There was little left for Spinks to do but hold on -- and in the ninth, he was docked a point for doing exactly that. A round later, a bent-over Spinks took a looping right hand across the mouth that punctuated another Molina combination, fell forward and dropped his gloves to the canvas for a knockdown.
"I was working that body," Molina said, "and I felt him lose his breath a little bit, and then I came back with the right hand."
Molina had endured a near-Shakespearean run of recent bad luck in the ring, but Friday's bout proved to be more comic (in its ease) than tragic. Although he didn't get the decisive ending he'd hoped for -- and the lack of finishing power, especially in a fight where Molina admitted to more aggressively seeking a knockout, has to be considered a mark against him -- he is rewarded a mandatory bout against the winner of the Feb. 23 title fight between Cornelius "K9" Bundrage and Ishe Smith.
After being on the south end of squirrely decisions against Erislandy Lara and Julio Cesar Chavez Jr., not to mention a shady disqualification against James Kirkland, it seems a more-than-just reward.
In the featured bout, Jose Luis Castillo (64-11-1, 55 KOs) looked every one of his 39 years, dropping a clear decision to Antwone Smith (22-4-1, 12 KOs). Although Castillo hooked gamely to the body throughout the fight and even had Smith bleeding from the mouth in the later rounds, his legs had long since deserted him by then. A stationary target waving a token guard, he took jab after jab from Smith, who coasted 100-90, 98-92, 99-91.
December, 16, 2012
12/16/12
1:42
AM ET
There were times in the early rounds of Amir Khan's rebound bout against Carlos Molina, as Khan lingered too long in the pocket after throwing a combination and Molina cracked him with a left hook, that a few bars from "The Wizard of Oz" filtered into a ringside writer's head.

"Tee-tum-tee-tum-tee-TUM-tum, tee-tum-tee-tum-tee-TUM-tum. If I only had a punch."

But Carlos Molina does not have a punch, or at least not an especially hard one, and that was perhaps the single biggest reason why he was in the ring with Britain's Khan in front of a crowd of 6,109 at the Los Angeles Sports Arena. And for the first few frames, that seemed a sage piece of matchmaking. For all Khan's promises of being a better-rounded boxer, of being less reckless in aggression and more considerate in defense, some of the old weaknesses and warning signs were there.

He occasionally threw one punch too many and left himself in range of Molina's punches. When he moved back out of range, he occasionally did so by pulling straight back with his right hand lower than it ought to have been. And he was fighting at 100 miles per hour, when 85 miles per hour would have been more than sufficient.

At the same time, there were signs of promise. He fought his natural tendencies, stopping himself from being propelled by his own momentum into his opponent at the end of a flurry. He used his jab effectively.

Then, around the fifth or sixth round, he underwent something of a transformation. Seemingly realizing the fight was in the bag if he didn't blow it, he visibly relaxed in the comforting cloak of confidence. He dialed down his output a smidgen, keeping Molina at comfortable distance and dominating without exposing himself to unnecessary risk.

It remained exciting in that Amir Khan kind of way: lots of punches, plenty of movement. But by now, not only was there the realization that Molina couldn't hurt Khan with his punches; there was a growing sense that he couldn't hit him with them, either.

When the end came, at the suggestion of Molina's corner after 10 increasingly one-sided frames, it was not a moment too soon.

Molina seemed stunned by what had befallen him.

"I don't know what happened," he said. "I wanted to pull the trigger, but for some reason I couldn't get my hands to go."

Khan acknowledged that he had been initially overeager, as is his wont, but that the teachings of new trainer Virgil Hunter had a calming and educational effect.

"I thought I stuck to my game plan, which meant sticking to my jab," he said. "Carlos took some really good shots and he was still coming forward, and that's when I thought to myself, I'd better stick to this game plan. Virgil's a great trainer, and I'm getting better at being a complete boxer."

He then turned his attention to Danny Garcia, who had relieved him of his senses in July and was seated ringside.

"In that fight, he caught me with a good shot, but I'll fight Danny Garcia again anytime, anywhere," Khan said.

He showed enough on Saturday night to indicate he might be able to improve on the dominant first 2½ rounds of that July contest. But he showed enough vulnerability to give rise to the thought that Garcia might be able to land yet more concussive left hooks such as the one with which he found success in Las Vegas.

Should Garcia do so, he would surely have far greater impact against Khan than anything Molina could manage on Saturday. But that is for the future. Tonight was about restoring confidence in a crowd-pleasing fighter. In that regard, it was mission accomplished.
August, 16, 2012
8/16/12
12:19
PM ET
By
Diego Morilla
| ESPN.com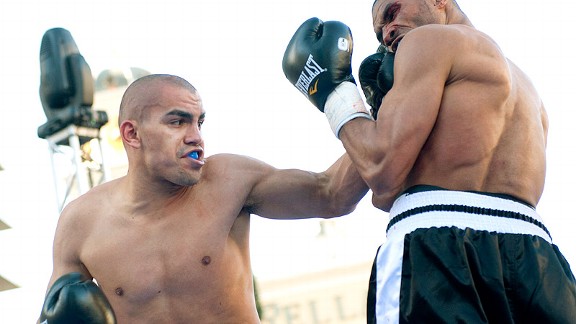 Chris Cozzone/Fightwireimages.comA bit more exposure may be all that Carlos Molina needs to land a top-shelf opponent at 168 pounds.
In a year when so many fights are being postponed or scrapped, the silver lining is that cancellations help other deserving fighters gain much-needed TV exposure. And this week's "Friday Night Fights" season finale is a prime example.
With super middleweight contender Adonis Stevenson's hand injury scuttling a main event title eliminator against Donovan George, the co-feature was moved up, putting one of boxing's unsung heroes in the spotlight. In a 10-round junior middleweight bout, Mexico's Carlos Molina (19-5-2, 6 KOs), fighting out of Chicago, will face Cuba's Damian Frias (19-4-1, 10 KOs), currently living in Miami, in what could be viewed as karma working for Molina after a couple of years of hard work and uneven results.
Molina arrived on the scene in a scrappy 2005 draw with Julio Cesar Chavez Jr., and although he lost their rematch, Molina stood his ground and continued to mingle with the top dogs in the division. He dropped consecutive eight-rounders against unbeaten contenders Wayland Willingham and Mike Alvarado in his next two bouts, but then ripped off an 11-0-1 streak that was capped by a win over former welterweight titlist Kermit Cintron.
But even that run came with its share of tough luck. In a bout in which he was a late replacement, Molina drew with hot Cuban prospect Erislandy Lara despite most observers giving the nod to Molina after 10 rounds of back-and-forth action. And in March, following the Cintron bout, Molina turned in a solid effort against fellow contender James Kirkland but was dropped to the canvas at the bell to end the 10th round and was controversially disqualified when one of his cornermen entered the ring during the ensuing eight-count.
"I was doing what I trained to do, which was apply pressure, work his body and push him back," Molina said about the Kirkland fight. "I wanted to do a little bit of everything, and I did. I was not hurt in the 10th round. I was ready to fight the full 12."
His status as a professional opponent du jour and regular underdog doesn't bother Molina, especially after recently outperforming his most notable foes.
"Mentally, I take it as an advantage," Molina said. "When somebody says that you can't do this or you can't beat this guy, it makes you work harder to prove that you can. I like the way I did it, and I wouldn't change it for anything else."
In order to keep adding to his growing résumé, Molina will have to go through a less talented but highly motivated Frias. A converted southpaw and boxer-puncher with a decent record against quality opposition, Frias hopes to build on his most recent outing, last September's upset of Henry Crawford. It was Frias' third straight win following an 0-3-1 skid.
"I'm a learning pro," said Frias, the son of a former amateur fighter in Cuba. "I only had three amateur fights, but I got a good team -- head trainer John David Jackson, who was a southpaw just like me -- who I listen to. I don't just go out there and throw punches. Anybody can just throw punches, but skills win fights."
The co-main event will now feature Chicago's George (22-2-1, 19 KOs) against replacement Dionisio Miranda (21-7-2, 18 KOs), of Colombia, in a 10-rounder that will probably fail to match the intensity expected from the original bout with Stevenson. Still, it's a fight that could decide who stays in the conversation for significant fights at 168 pounds and who slips into trialhorse territory.
Coming off a loss to contender Edwin Rodriguez (and with a 2-2 mark over his past four outings), George -- who has an illustrious amateur background -- can begin working out of his rut against a proven contender in Miranda, a tough customer with a checkered past that includes victories over Sebastien Demers and Lajuan Simon mixed with defeats to Peter Quillin, Giovanny Lorenzo, Roman Karmazin, Renan St. Juste and, more recently, Avtandil Khurtsidze. That fight happened in mid-2011, so Miranda will have the double challenge of shaking off his ring rust and stepping in against a fighter who had earned the right to face one of the toughest super middleweights in the world.
"I have a really bad taste in my mouth from the last fight, so I am more motivated than ever now," George said. "We dropped the ball -- I didn't fight good and he didn't do his best, and we acknowledge that. We know we didn't do our best, so this is a chance, basically, for us to redeem ourselves. We're going to go out there and do the best we can, and go out fighting and get a big win."
With the winner slated to meet Stevenson later in the year, the only concern for George should be to stay healthy and finally make that fight happen. A win against Miranda isn't something he can take for granted, but he should be able to pull through to set up a Stevenson fight, with the winner finally getting a title shot, likely against England's Carl Froch.
April, 2, 2012
4/02/12
1:03
PM ET
By
ESPN.com staff
| ESPN.com

You would think Carlos Molina's luck would have to turn at some point, but here's the latest sucker punch to his career: After his dubious disqualification in a March 24 bout with James Kirkland, Molina seemingly won't get a much-deserved rematch. "Friday Night Fights" analyst Bernardo Osuna has more in the above video clip.