December, 3, 2013
12/03/13
6:08
PM ET
By
Carlos Narvaez
| Special to ESPNDeportes.com
SAN JUAN -- Former three-time world champion Wilfredo Gomez will no longer be part of the team that supports top Puerto Rican prospect Felix Verdejo.

Gomez, one of the greatest Puerto Rican fighters in history (44-3-1, 42 KOs as a pro fighter), told ESPNDeportes.com that he is stepping away from Team Verdejo because of a neurological condition that has affected him since 1989, a year after he retired.

"My brain is damaged," Gomez said. "I've got a small brain tear as a consequence of all the punches that I took during my career. The doctors said that, as time passed by, I would lose some of my movements, but I'm doing OK. The only thing I've lost for a bit is my speaking ability. I feel strong, I feel good. But I can no longer keep up with the type of agenda that Verdejo has right now.

"I would love to stay, but I can't keep up with Verdejo's rhythm," Gomez said, grinning.

During his career, Gomez, now 56, won junior featherweight, featherweight and junior lightweight titles. As an amateur, he won the gold medal at the 1974 World Amateur Boxing Championships and, in 1972, at age 15, fought for Puerto Rico at the Munich Olympics.

Last month Gomez joined Verdejo (9-0, 6 KOs), trainer Ricky Marquez and the rest of the fighter's team in Macau, where Verdejo put on an impressive exhibition against Petchsamuthr Duanaaymudahan to claim a unanimous six-round decision.

Gomez was considered a key contributor in Verdejo's preparation for Duanaaymudahan, but he says he can no longer take his condition for granted. In addition to dealing with his neurological illness, Gomez was hospitalized for several weeks in March because of a respiratory infection.

"I was born to fight. It's in my blood," Gomez said. "But my doctor said that because of my brain condition, it is just insane. I can't keep risking my health. Verdejo is an outstanding prospect. He's got the tools to become world champion. Maybe I'll keep helping him, from a distance, giving a piece of advice here and there, but not in the same way like I did before."
November, 22, 2013
11/22/13
9:11
PM ET
By
Carlos Narvaez
| Special to ESPNDeportes.com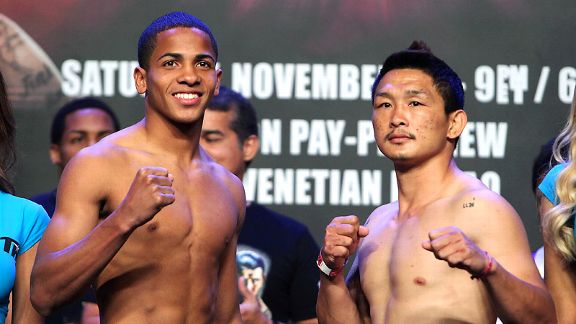 Chris Farina/Top RankJunior lightweight prospect Felix Verdejo faces Petchsamuthr Duanaaymukdahan on Saturday.
This is how unbeaten junior lightweight Felix Verdejo describes his time spent in and around Macao this week, where on Saturday he'll face Petchsamuthr Duanaaymukdahan as part of the Manny Pacquiao-Brandon Rios undercard.
"I'm calm. I like Macao a lot," Verdejo said. "I'm surprised by how great people are here, they are always laughing."
The Puerto Rican prospect took part in a round table session on Thursday as part of his promotional commitments.
"We're ready and at weight for the fight," Verdejo said. "We haven't seen the competition yet, but we're fully prepared for the match."
Verdejo (8-0, 6 KOs), who will celebrate his one-year anniversary as a professional boxer in December, will be part of a pay-per-view for the first time.
"Honestly, I feel very honored that the company has included me in the pay-per-view," Verdejo said. "That means that they expect and are planning great things for me. I hope that people in Puerto Rico support me by buying the fight so they can see what I have to offer."
As one of the top young faces under the Top Rank banner, which has already added several former Olympians to its roster of fighter, Verdejo is perhaps the most prominent in that group, which also features featherweight Oscar Valdes and super-lightweight Jose Ramirez.
Other Olympic medallists recently signed by Top Rank include the Russian Egor Mekhontsev, Ryota Murata from Japan, Ukrainian Vasyl Lomachenko and Chinese flyweight Zou Shiming. Of these, Lomachenko was the standout who tore up the rules when he signed up with the condition that he would go for a title in one of his first two professional fights. He won his debut in October and now is preparing himself for a shot at featherweight titlist Orlando Salido.
Verdejo is coming along at a much more measured pace. He saw Saturday's opponent Duanaaymukdahan (8-1, 1 KO) for the first time at Friday's weigh-in.
"All I know about my opponent is that he is strong," Verdejo said. "What I do know is that I have been training hard and I am well prepared to outwit him all the way to China, as we say in Puerto Rico, and bring home another win for my island."
He will be accompanied to the ring for his six-round fight by trainer Ricky Marquez and former world champion Wilfredo Gomez.
"I think I have adapted quicker than I expected, but that's also because I've done what I most enjoy: eat, sleep, and train," Verdejo said.
November, 7, 2013
11/07/13
11:26
AM ET
By
Carlos Narvaez
| ESPNDeportes.com
Mikey Garcia won't listen to any predictions making him the favorite Saturday against junior lightweight titlist Roman "Rocky" Martinez (HBO, 9:30 p.m. ET/PT) at the American Bank Center in Corpus Christi, Texas.

Garcia, the former featherweight titlist, would rather keep his distance and give credit to the only current Puerto Rican belt holder, who will defend his title for the third time after winning it with a majority decision over Miguel Beltran Jr. in September 2012.

"I think Rocky will be tougher than what people expect," Garcia told ESPNDeportes.com. "He is not receiving the proper credit. He is a boxer who will put a really tough fight. He is a warrior and won't give up easily. This fight could go the distance. I won't step inside the ring thinking that I will take him down quickly."

Garcia will be making his debut at 130 pounds. In June, during the weigh-in for the first defense of his featherweight title, Garcia was stripped of the belt because he failed to make the 126-pound limit.

"I'm not really proud of that situation, but this stuff happens in boxing," said Garcia. "But I really want to become world champion with a great fight. Rocky is a courageous boxer -- tight style, can punch on short distance. He will give his best inside the ring. He might be one of the toughest challenges in my career. I might win most of the rounds."

Garcia has followed a strict nutritional plan and worked on the physical side with trainer Alex Ariza, although Ariza won't be in his corner on fight night.

"We took extra care on the nutritional side, something that wasn't among my priorities in previous fights," said Garcia. "We brought Alex on board to take care of my diet and my conditioning, and we will be just fine. I had never done that before."

Garcia (32-0, 27 KOs) is one fight removed from a fourth-round stoppage of former champion Juan Manuel Lopez in Dallas. Martinez (27-1-2, 16 KOs) defeated Diego Magdaleno in April in Macau by majority decision.

Despite being the boxer moving up in weight, Garcia said he feels comfortable fighting as a junior lightweight.

"We are getting real close. Right now I'm at 138 pounds, and by Friday I should be down to 135," Garcia said. "I feel good. My speed is fine. We are still doing some glove workouts, and this week we fought 12 rounds twice."
October, 10, 2013
10/10/13
7:01
PM ET
By
Carlos Narvaez
| Special to ESPNDeportes.com
LAS VEGAS -- Orlando Cruz will take his message of equality all the way to the ring on Saturday -- although the way he chose to do it was off-putting to some in his Puerto Rico homeland.
Cruz, who enters his first world title fight against Mexico's Orlando Salido for a vacant featherweight belt on the Timothy Bradley Jr.-Juan Manuel Marquez undercard in Las Vegas (HBO PPV, 9 p.m. ET), caused a stir after his outfit for the fight was revealed on promoter Top Rank's Facebook page.
[+] Enlarge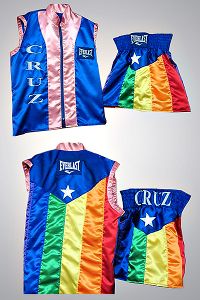 EverlastOrlando Cruz will honor the LGBT community and raise awareness for breast cancer in the color patterns on his trunks and gloves Saturday.
Last year, Cruz became the sport's first openly gay boxer. For the fight against Salido, Cruz replaced the colors of the Puerto Rico flag (red, white and blue) with those of the rainbow flag, the symbol of the LGBT community. He also plans to wear pink gloves to raise awareness for breast cancer.
Hundreds of fans commented on this subject, most of them voicing their disagreement by claiming he was altering the colors of his national flag. However, fans showed little rejection toward Cruz based upon his sexual orientation.
Cruz claims his plan wasn't to create any discomfort among his fans.
"I totally respect the Puerto Rican flag," Cruz said. "There are no bad intentions involved with this. I will always proudly represent my country and my fans. Please, accept my apologies if I made you feel offended. I didn't mean to create any controversies."
The Puerto Rican boxer, who will dedicate the fight to the memory of the late Emile Griffith -- a former two-division champion who late in life admitted that he was bisexual -- said he had no idea about who may have leaked the photo.
"I have no idea about who could have published the photo," Cruz said. "Maybe that person saw that the outfit was quite flashy, and just published it on Facebook. I'm calm, focused on the upcoming fight. I want Puerto Rico to know that I will proudly carry the flag on my chest."
August, 8, 2013
8/08/13
7:03
PM ET
By
Carlos Narvaez
| Special to ESPNDeportes.com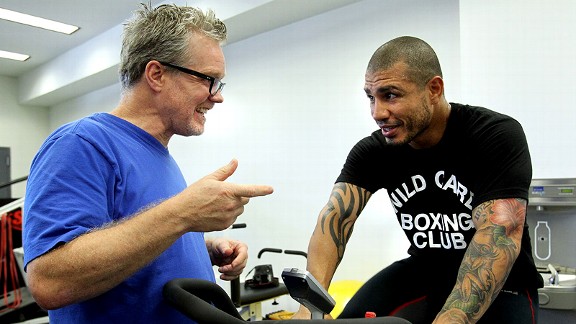 Chris Farina/Top RankMiguel Cotto, right, joined new trainer Freddie Roach this week to begin preparing for his next fight.
SAN JUAN, Puerto Rico -- With little fanfare, former three-time champion Miguel Cotto arrived in Los Angeles this week to begin training for his fight against Delvin Rodriguez on Oct. 5 in Orlando.
Cotto touched down in L.A. on Monday, according to adviser Gabriel Peņagaricano, and joined his new trainer, Freddie Roach, at his Wild Card Gym in Hollywood.
"Miguel started his training camp and he is in Los Angeles," Peņagaricano said. "He started camp with Freddie, who cut short his promotional tour with Manny Pacquiao to be in Los Angeles with Miguel."
Roach, who replaced Pedro Diaz (Cotto's trainer for his previous three fights), set aside time to allow the Puerto Rican star to fully focus on his return after he dropped a decision to former junior middleweight champion Austin Trout last December.
Roach apparently won't split his time between fighters, as he has done at times in the past. Pacquiao has a Nov. 23 date to fight Brandon Rios in Macau, but according to Peņagaricano, Roach won't fly to the Philippines to begin training Pacquiao until after Cotto's fight.
"Freddie will be working with us to the end, and in October he will move to General Dos Santos in Philippines to work with Manny," Peņagaricano said.
Cotto is hoping to rebound after two losses in 2013, the Trout defeat and a May decision loss to Floyd Mayweather Jr.
"Freddie set up a separate area in Wild Card in order for Miguel to work as privately as possible," Peņagaricano said. "Wild Card Gym is a very busy place, and we want to keep his concentration."
This is Cotto's first time training outside of Orlando, where his previous training camps had been staged. During camp, he will live in a rented house near Beverly Hills.
Cotto is entering the final stage of his career, as he has said since the Trout loss that he would fight only three more times before retiring.
June, 26, 2013
6/26/13
12:06
PM ET
By
Carlos Narvaez
| ESPN.com
SAN JUAN, Puerto Rico -- Orlando Cruz says he wants people to talk about him not because of his private life, but because of his boxing skills. He'll soon get a prime opportunity to create the buzz he seeks in the ring.
[+] Enlarge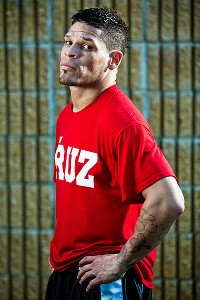 AP Photo/Dennis M. Rivera PichardoOrlando Cruz, the first openly gay boxer in history, is ready to become known as something more: a champion.
Puerto Rico's Cruz, who stole headlines last October by becoming the first boxer to publicly reveal that he is gay, appears to be on his way to fighting Orlando Salido for a vacant featherweight title.
Ranked the No. 1 126-pound contender by one of the alphabet organizations, Cruz (20-2-1) would likely take on Salido in Puerto Rico or New York City in August. He claims he is ready to become boxing's first openly gay titleholder.
"This crown is headed to Puerto Rico before the end of 2013," Cruz said. "I will be the first openly gay world champion in history, and it will be huge."
Cruz was lined up for the title shot when the belt was stripped from Mikey Garcia after he failed to make the featherweight limit at the weigh-in before his defense against Juan Manuel Lopez on June 15.
Lopez was still eligible to win the title, but he lost to Garcia by fourth-round TKO.
"I know that in boxing there are many people like me who haven't dared to take the step like I did, revealing that I'm gay," Cruz said. "Being the first gay champion will be a big accomplishment to all of them."
Cruz had been scheduled to fight Saturday in Kissimmee, Fla., but his promoter pulled him from the tune-up bout to avoid jeopardizing his shot at the title after the news broke that Garcia had vacated it.
"I was really surprised when I heard about the decision," Cruz said.
"But I am really happy for all the opportunities that have lined up. I have the ultimate respect for Orlando 'Siri' Salido, and I've had the chance to talk to him on several occasions."
Salido (39-12-5, 27 KOs) hasn't fought since he lost to Garcia by technical decision in January.
"I think he has never faced an opponent like me: slick, able to counter-attack and also a puncher," Cruz said. "I've got all the tools. I'm not underestimating him, but I've got some good skills and will give my best effort."
June, 13, 2013
6/13/13
2:04
PM ET
By
Carlos Narvaez
| ESPN.com
SAN JUAN, Puerto Rico -- Former two-division titlist Juan Manuel Lopez, like many others, has his opinions about boxing's Mexico-Puerto Rico rivalry -- including that it has been extremely favorable to his career.

Nearly half of Lopez's 35 professional bouts have come against Mexican fighters -- fourteen, to be precise. Four, specifically, have had a major impact on his path.

"Fighting against Mexicans has been a huge part of my career," Lopez said. "But I see it more as a competition between two countries with big fighting styles. Puerto Rico fighters move well, they are more technical. Mexico fighters like to clash, there are very few who like to counterattack. Juan Manuel Marquez is one of the few, and we might consider Oscar De La Hoya, since he is of Mexican origin but developed in the United States.

"If we want to talk about the topic, we have to divide it by eras. The [Wilfredo] Gomez era was huge. 'Tito' Trinidad and his 'Fight of the Millenium' against Oscar De La Hoya was huge. [Ivan] Calderon had two big clashes against [Hugo] Cazares. And back in the day, Hector Camacho was a headache to the Mexican boxers. They were all transitions."

Lopez won a junior featherweight title in 2008 when he defeated Mexico's Daniel Ponce De Leon by first-round TKO. He moved up to featherweight in 2010, winning a title in his first bout in the division, and later bested Rafael Marquez (yet another Mexican star) to run his record to 30-0.

But the prestige that came with those wins all but vanished in 2011 when Lopez put his belt on the line against another of Mexico's finest: Orlando Salido.

"Salido is the toughest fighter I've ever faced," Lopez said. "Sometimes, styles define the fights. Salido is a fighter who takes a lot of punches, and that's one of the factors that helped him beat me."

On Saturday, Lopez will face featherweight titlist Miguel Angel "Mikey" Garcia (who, like De La Hoya, is Mexican-American). In January, Garcia mostly had his way with Salido before winning a technical decision and grabbing the belt that Salido had lifted from Lopez.

"Mikey was a huge puzzle for Salido, but that won't be the case for me," Lopez said. "Styles make fights, and Mikey has the perfect style for me."
April, 13, 2013
4/13/13
7:28
PM ET
By
Carlos Narvaez
| Special to ESPNDeportes.com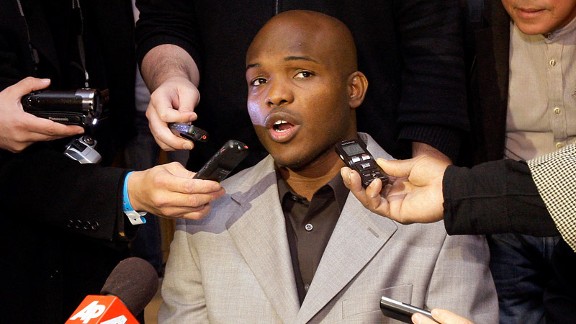 AP Photo/Reed SaxonTimothy Bradley Jr. believes his best option moving forward is a fight with Juan Manuel Marquez.
NEW YORK -- Welterweight titlist Timothy Bradley Jr., who survived a tough fight against challenger Ruslan Provodnikov in March, publicly challenged Juan Manuel Marquez to a showdown of Manny Pacquiao conquerers.
Bradley (30-0, 12 KOs) told ESPNDeportes.com that the fight he really wants right now is against Marquez (55-6-1, 40 KOs), pointing out that a battle between the two would be more interesting than a fifth meeting between Pacquiao and his Mexican rival.
According to Top Rank CEO Bob Arum, who promotes Pacquiao and works well with Marquez promoter Fernando Beltran, the two options for Marquez are Pacquiao or Bradley. As recently as Wednesday, Arum said the most likely scenario was Pacquiao-Marquez V in September, either in Singapore or Macau.
But this could be a pressure strategy to attract Bradley, who quickly jumped into the fire.
Bradley made his statement a few feet away from Provodnikov, minutes after the Boxing Writers Association of America awards dinner, attended by both fighters.
"To be honest, I want it to be Marquez," said Bradley. "I would like it to be a showdown between the two guys who recently defeated Pacquiao. Why wait? I'm here and would love that shot. To me, Marquez is currently the best option."
Bradley took the welterweight belt off Pacquiao in June 2012 in a controversial split decision that even put the credibility of Las Vegas' judges under the microscope.
Against Provodnikov, Bradley was nearly knocked out several times, but in the end his toughness and conditioning helped him claim a close victory by unanimous decision (another that some questioned).
"If Marquez refuses to fight against me, he is going to lose money," Bradley said. "Listen to my words: He is going to lose money. Right now, the big payout is with me. I would be available to fight anywhere -- Macau or Singapore. To me, Marquez is the only option right now."
Bradley, also said he would have no problem accepting a rematch against Provodnikov (22-2, 15 KOs).
"The first fight against Ruslan was tough. If he wants a rematch, I'm willing to sign up for that," Bradley said. "In a second fight, it would be easier for me to defeat him. I already know how. A second matchup wouldn't be as hard as the first one."
March, 13, 2013
3/13/13
10:48
AM ET
By
Carlos Narvaez Rosario
| Special to ESPNdeportes.com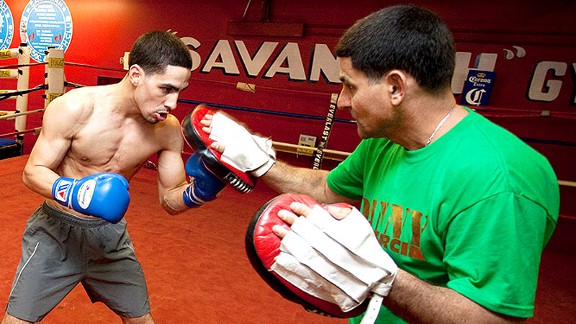 Jon Elits/Hoganphotos/Golden Boy PromotionsUnbeaten Danny Garcia is ready to begin training for his April 27 fight against Zab Judah in Brooklyn.
A month after an injury forced him to postpone his bout against former champion Zab Judah, unbeaten junior welterweight titlist Danny "Swift" Garcia said he's fully recovered and ahead of schedule for the April 27 fight at the Barclays Center in Brooklyn, N.Y.
Garcia had planned to defend his crown on February 9 at the same venue, but a broken rib suffered during a sparring session forced him to stop training.
"Now I feel 100 percent and I still have seven weeks to improve my conditioning," Garcia said to ESPNdepotes.com.
Garcia (25-0, 16 KO's), is coming off a spectacular year with two victories against veteran Erik Morales and another against former 140-pound champion Amir Khan. His last two -- the rematch with Morales and his clash with Khan -- were TKO victories in the fourth round.
"The injury affected me for three weeks. It also affected me a little bit mentally," Garcia said. "I didn't feel the injury until I finished sparring. Hey, I broke a rib. I could not believe it. But this is part of the sport. An injury can occur to anyone, regardless of the sport."
Garcia, who is managed by Al Haymon and promoted by Golden Boy, said that he will resume training this week.
"I'll start this week with sparring sessions. I feel very good, I'm ready," Garcia said. "As I said, I still have seven weeks [to the fight] and that will be enough to be in [good physical] condition. I have a great team that is helping me with that."
Garcia, 23, became a sensation in professional boxing when he won a vacant junior welterweight title against Morales -- a former champion in four different weight classes -- in March 2012. He added another junior welterweight belt when he knocked out Khan in July.
Judah (42-7, 29 KOs), 35, a former junior welterweight and welterweight champion, is coming off a win by TKO in the ninth round over Vernon Paris last March.