December, 6, 2011
12/06/11
6:09
PM ET
If any fighter can claim to be Madison Square Garden's biggest star, it is undoubtedly Miguel Cotto, who proved again on Saturday night that he can repeatedly pack the sport's most storied venue to the rafters.

But while Cotto may be "The Man" at the Garden today, the arena has played host to many a fighter who has punched his way into the history books, and a few hours before Cotto took on Antonio Margarito in front of more than 21,000 screaming fans, a select few were treated to an audience with some of those shining lights from MSG's past: former middleweight champ Vito Antuofermo, still a regular on the New York fight scene; Hall of Fame former lightweight champ Carlos Ortiz; Marvis Frazier, who fought his first four fights at the Garden and whose father won arguably the greatest, and surely the most famous, bout in the arena's history; famed heavyweight contender Gerry Cooney, whose 54-second knockout of Ken Norton is the shortest main event the Garden has staged; Cooney's former in-ring nemesis, and now his out-of-the-ring friend, legendary heavyweight champion Larry Holmes; and the one member of the group who technically is still an active fighter, former heavyweight champ Evander Holyfield.

Although the Garden may have been supplanted by the MGM Grand in Las Vegas as the epicenter of the sport's big events, it still occupies a revered niche in boxing history and in its pomp was the ultimate destination of any aspirant boxer.

"When I first was told I was going to come to MSG and fight here -- oh boy. It's something," Ortiz said. "You have to learn how to conduct yourself, but actually just by thinking of it, you get weak. Weak feet, weak legs. Fighting at MSG, it's out of this world."

It's a feeling, he added, that has yet to truly leave him. "I get chills every time I see the arena from the outside," he said. "Oh boy. 'I fought there,' I say."

"They told me I was going to fight at the Garden against a guy called Bobby Bozic," Holmes recalled of his Garden debut, his fifth professional fight, in 1973. "And I thought I'd better get myself in shape because they said, 'If you win at the Garden, you've got a home.' And so I wanted a home, I wanted to fight here. And I did win that fight, but I almost killed myself winning it because I overtrained, and that six-round fight, it was like Muhammad Ali and Joe Frazier in Manila -- except it was a six-round fight and it was Larry Holmes and Bobby Bozic."

Antuofermo recalled fighting in the finals of the Golden Gloves in front of a full house of 20,000 in 1970.

"I was never scared. One of my problems was I was never scared to fight anybody," he said. "But I was scared that night. We walked from the dressing room, and they shut the lights off. And I hear a noise, everybody shouting 'Vi-to'. And that was the scariest moment of my life; my first night at the Garden."

Both Frazier and Holyfield took their professional bows at the Garden -- Frazier assuredly aided by his status as son of one of the greats, Holyfield by his membership in the renowned 1984 Olympic class, several members of whom made their pro debuts that same night.

"I'm fighting against a guy who's Philadelphia state champion," Holyfield said. "This guy looks just like Joe Louis and he was already a champ. He had 12 fights already and I ain't had no fights. So I realized that I'm supposed to win, so I guess I'll go in there … and win."

But if there was one fight at the Garden he could have over, Holyfield admitted, it would be his controversial draw with Lennox Lewis in 1999.

"He's the only guy I ever let get to me," he said. "I told him, 'I'm going to knock you out in the third round.' So the only round he's gonna make sure he don't get knocked out is the third round. I went back to the corner when that round was over, and I started to step out of the ring and walk out. If it wasn't for my son being in the corner, standing right there, I would have walked out. I just didn't want anybody to tell my son, 'Just like your daddy, when he had pressure, he walked out.' That's the only thing that kept me in that ring, because I was so embarrassed by opening my mouth and telling somebody I was going to knock them out in the third round."

For most of those on stage, it had been a long time since they experienced the bright lights and the loud crowds. But for them all, the memories of headlining at the Mecca of Boxing are as vivid as if they had occurred yesterday.

"When I walk in that door, I remember every single fight I had in there," Cooney said. "That's what the Garden means to me."
December, 4, 2011
12/04/11
5:18
PM ET

Once, while sitting next to a professional prizefighter as we looked down from the bleachers at two men swapping punches in the ring below, I mentioned that at times I found it strange the way boxing compels men who do not know each other to meet for the first time, beat each other up and then go their separate ways.

"When you're alone in a ring with your opponent," the fighter said, "the two of you become closer than any other people in the world."

Given the violence that brings it about, it is perhaps surprising that this closeness can yield to friendship: Witness, for example, Micky Ward and Arturo Gatti, who went life-and-death with each other over three fights before Ward retired and, ultimately, became Gatti's trainer. On the other hand, there are cases like Marco Antonio Barrera and Erik Morales, for whom every punch only added to the enmity they felt, and feel, for each other.

And then there is Miguel Cotto and Antonio Margarito.

"To the last, I grapple with thee"

There was a time when Miguel Cotto did not know Antonio Margarito, did not even know his name. Had their lives taken different paths, it likely would have remained that way. Even after the night of July 26, 2008 -- that brutal night in Las Vegas when Margarito overwhelmed Cotto, beating him down and out -- they were united as foes who had submitted each other to simultaneous trials of fire. The events of Jan. 24, 2009, changed that, turned Margarito from Cotto's conqueror to his nemesis, from the man who had defeated him to the man who, in Cotto's mind and the minds of many others, cheated and in the process might have severely harmed him.

Once Margarito was discovered, in the dressing room prior to his fight with Shane Mosley, to have worn illegal inserts in his hand wraps, everything changed. The severity of the beating he delivered in the second half of the fight, the way his punches were seemingly able to gather intensity as the battle unfolded, the state of Cotto's face by the time the towel was waved in surrender -- it all seemed to make sense. For a long time, Cotto would not be drawn into the matter, but in his own mind he was certain, and internally he seethed.

"From Hell's heart, I stab at thee"

After Cotto defeated Ricardo Mayorga in March of this year, he sat on the dais at the postfight news conference as promoter Bob Arum called Margarito to the stage. Arum was putting the pieces in place for the rematch, for the opportunity for the two men to score either redemption or revenge, for Margarito to beat Cotto again and make the case he neither had nor needed tampered wraps the first time; or for Cotto to reverse the result and assert the opposite. Margarito offered Cotto his hand; Cotto, contemptuously, shook it as casually and briefly as possible, unable and unwilling to look his tormentor in the eye.

For two years, as much as he may have wanted his revenge, Cotto refused to even consider it, refused to countenance the idea of helping Margarito earn one cent more. The lure of 500 million cents of his own helped change that, and as the date of destiny approached, Cotto's expressionless veneer finally cracked. He outright accused Margarito of cheating and endangering his life. And, pointing to Margarito's right eye, which had been badly beaten by Manny Pacquiao last November -- to the point that it seemed uncertain whether the Mexican would ever fight again -- Cotto chillingly threatened to target it over and over, unconcerned by the damage he might inflict.

"I will take advantage of his eye, the way he took advantage with the plaster," he promised.

"For hate's sake, I spit my last breath at thee"

Whether or not Margarito was fighting with illegal hand wraps in 2008, Cotto committed a number of cardinal errors that facilitated his defeat. Even as he piled up points in the early going, he did not commit sufficiently to his combinations. He backed up as much as he moved sideways. He came to rest too often with his back against the ropes, leaning forward as he did so. The net result was that Margarito was able to plow endlessly forward, churning uppercuts that eventually chopped Cotto down.

From the opening bell at Madison Square Garden on Saturday night, it was clear that this time would be different. Cotto moved constantly, but -- with the exception of a period in the fourth and fifth rounds when it looked as if a 3-year-old play was about to be reenacted -- he did not allow Margarito to drive him backward, was not pinned against the ropes, was not open to uppercuts. He fired a stiff jab, followed often by three-punch combinations. And, importantly, when Margarito closed the distance, Cotto tied him up and pushed him backward. That was what Mosley had done, and it would be key to Saturday's fight: This time, unlike last time, Cotto was the physically assertive fighter. Margarito never had the chance to get into his rhythm, never was able to walk Cotto down, instead spent most of the night following and chasing, increasingly lunging with his punches and taking artillery in return.

And Cotto, true to his word, pummeled Margarito's eye.

Every combination, it seemed, ended with a hook to the eye. Cotto circled to his left, his opponent's right, normally the last thing one should do against a right-handed opponent but the direction that afforded him the greatest opportunity to zero in on that tempting, vulnerable target. Sure enough, soon that eye began to redden. Then it began to swell. Eventually, it closed completely, and although the desperate pleadings of the Mexican's corner bought him more time -- time in which the only thing he earned was more punishment -- Margarito's night was done. After nine rounds, referee Steve Smoger, on the advice of the ringside physicians, called a halt to the contest. Miguel Cotto had his revenge.

Afterward, Cotto, wearing a shirt and tie as if returning from the office, his battered and bruised face a reminder of exactly what his day's work had entailed, insisted that there had been nothing especially personal about the whole enterprise, that he had merely done his job. But everyone present knew there was more to it than that, as evidenced not only before the bout, but during it, as Cotto tapped the tattoo of his late father and whispered that revenge was coming, and in the immediate aftermath, as he turned away after watching doctor and referee declare the fight was finished.

"I'm just glad this this is all over, that it's behind me," he said. "Now I can move on."
December, 1, 2011
12/01/11
1:14
PM ET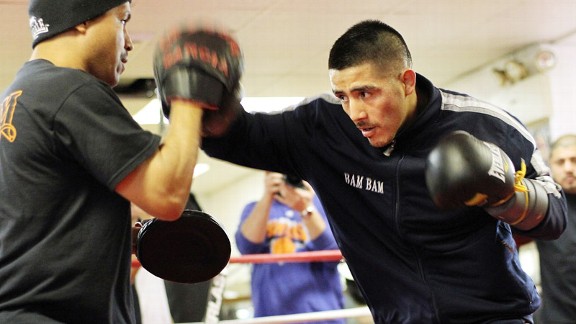 Chris Farina/Top RankBrandon Rios isn't shy when it comes to trading in the ring -- or talking in the build-up to a fight.
At the Miguel Cotto-Antonio Margarito II undercard press conference at BB King's in New York on Thursday, Brandon Rios had the look of a man who has been munching on broccoli for late-night snacks. The California boxer will try to raise his record to 29-0 and retain his WBA 135-pound crown against 31-1 Brit John Murray on Saturday night at Madison Square Garden.
Rios could and should be a TV staple and fan fave for some time to come; he presses forward, throws punches in bunches and seeks to give fans value for their money. Plus, he has the mentality of a shark. If he draws blood, he goes for the kill.
"He's recognized as one of the most exciting fighters in the world,"
said Bob Arum, Rios' promoter. "People want to see fighters, not a lot of movement and posturing. Rios epitomizes that type of fighter."
Rios, 25, spoke about his opportunity Saturday night. "Glad to be in New York for the first time," he said. Then, to Murray: "I ain't going nowhere and you ain't going nowhere. There's nobody out there at 135 that can give me a challenge. Saturday night, your ass is going down."
Arum drew a laugh when he called Murray to the mic, then noted that the fighter stayed at the same hotel as Barack Obama on Wednesday night during the president's New York fundraising stint.
"We go to England, and we don't see the Queen," Arum said.
Murray said Rios is "fun to watch." Wonder if he'll have the same appraisal after Saturday's bout.
November, 30, 2011
11/30/11
2:09
PM ET
NEW YORK -- Hagler-Hearns: That's what promoter Bob Arum compared the level of heat and dislike on display between Miguel Cotto and Antonio Margarito to at the final presser before the fighters' Saturday rematch at Madison Square Garden. There was no final faceoff between the boxers at the end of the press conference, despite it being customary, because, Arum explained, why risk an early skirmish?

Now, would there have been a faceoff if the arena wasn't 300 seats from a sellout? I speculate, but I'd guess yes.

I asked Arum, who promoted Hagler, why Marvin hated Hearns, who was no villain sort -- not anything like the dimpled alleged "criminal" Margarito. "Who the f--- knows?" Arum answered.

Top Rank vice president Carl Moretti recalled two other occasions when obvious enmity cancelled a faceoff: before Lennox Lewis-Mike Tyson and before Oscar De La Hoya-Fernando Vargas.

"Why risk it? There was no need," Moretti said after Cotto and Margarito went their separate ways.
November, 30, 2011
11/30/11
11:16
AM ET
NEW YORK -- Delvin Rodriguez has been a "Friday Night Fights" staple for the past few years. And that's no small potatoes, nothing to scoff at. That means a boxer has arrived ... to an extent.
The purses you get to fight for on FNF can't compare to the those on HBO, or on pay-per-view, as Delvin Rodriguez of Danbury, Conn., will be doing for the first time on Saturday night.
HBO and pay-per-view can mean a house, savings for the kids' college fund. It can be a most-sweet payoff in this tough trade, and can make those 5 a.m. wakeup calls to do the roadwork and those omnipresent bumps, bruises and muscle and tendon tears more palatable.
If Rodriguez (25-5-3 with 14 KOs) can get the better of New Jersey's Pawel Wolak (age 30, 29-1-1 with 19 KOs) at Madison Square Garden, and do a bit more than he did on July 15 when
the two men thrilled the FNF audience and battled to a draw
, he will get that much closer to those meatier payouts.
Rodriguez, 31, is a solid boxer-puncher, a versatile pugilist who is comfortable outside or inside. He moves his feet to get angles and moves his head to avoid getting hit. He probably has the skills edge going in to the sequel. "The first fight, I was out of the ring for a year," he said. "It did take me a couple rounds to get into a rhythm. This time there's going to be no four rounds warming up."
Watch this video, which should give you a better idea of the stakes up for grabs when Rodriguez and Wolak thrown down in NYC.
November, 30, 2011
11/30/11
1:16
AM ET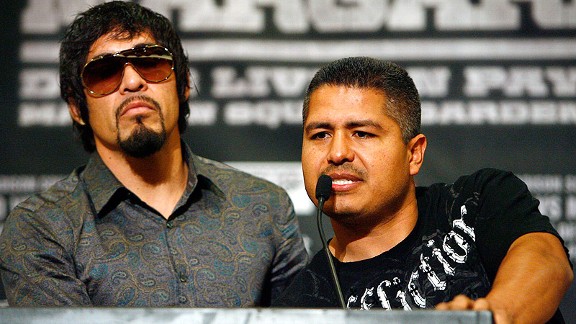 Chris Farina/Top RankAntonio Margarito's surgically repaired right eye is ready for battle, says trainer Robert Garcia.
NEW YORK -- Pretty much everyone in the building on Saturday night expects Miguel Cotto to play "Pin the Glove on the Eye" on that messed-up, iffy right orb of Antonio Margarito.
I know what the doctors, a whole bunch of them, say: that the eye is fit to fight, that the Mexican-born hitter isn't any more susceptible to damage in his right eye than in his left. I accept that on face value. But if it were me in there, I'd like to do some tests myself.
I'd like to go at that thing without remorse, and test the doctors' theory. It's a pretty good bet that we'll see more jabs than usual from the Puerto Rican boxer this weekend at Madison Square Garden, and that his hook will be cookin' from minute one. He will be testing the doctors' findings for as long as the fight lasts.
Margarito's trainer, Robert Garcia, expects the same. He told ESPN.com that he asked sparring partners in camp not to steer away from the eye, but to target it, as he expects Cotto to do.
"I'm not even worried about the eye," Garcia said. "We have nothing to hide. We had [HBO's] '24/7' in camp and I never tried to prevent left hooks. I asked sparring partners to throw more jabs and hooks to get ready for it, because I know Cotto will. We have no worries about the eye. Like the doctor says, the same thing could happen to either eye. And if something happens, that's part of the sport."
Garcia was a more-than-fair pugilist in his day; he boxed from 1992 to 2001, and won a super featherweight crown while accruing a 34-3 mark. He lost three of his final five bouts, each time by KO, so he well understands the feeling and risk of getting tagged.
I wondered if he would have soldiered on if he had had surgery on a busted orbital bone, surgery to fix a detached retina and surgery to fix a cataract within a span of six months, as Margarito did. Garcia said he would if the doctors told him he could.
"He's healthy, the vision is good, and I was telling sparring partners to throw more left hooks," Garcia said of Margarito. "We have to be ready for that."
The trainer said he foresees a stoppage win for his guy.
"Last time, it was Round 11, and I see a similar kind of fight. I don't think Cotto is as fast and as strong as at welterweight, so it could happen maybe two rounds earlier."
I have a vision of that right eye getting puffed up quick, and it being a drag on Margarito. What about you, readers?