December, 7, 2013
12/07/13
6:36
PM ET
By
Shaun Brown
| ESPN.com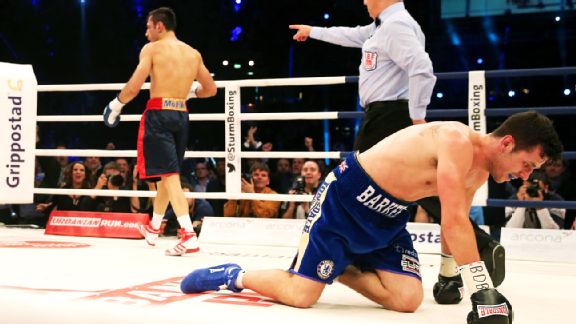 Simon Hofmann/Bongarts/Getty ImagesFelix Sturm dropped Darren Barker, who injured his hip, setting up Sturm's second-round TKO win.
If Atlantic City and the victory over Daniel Geale back in August provided the fairy tale for Darren Barker, then Stuttgart and Saturday's loss to Felix Sturm has provided the nightmare as the Brit's reign as middleweight titlist ended surprisingly early in Germany tonight.
Barker took the same tactics from his glory night against Geale into his bout with the much more seasoned and rounded Sturm, who from the get-go looked like he had a point to prove. Aggression, the left hook and the conclusive power proved too much for Barker, who seemed to suffer a reoccurrence of an old hip injury (Sky Sports reported the injury to be a dislocated hip), particularly on the second knockdown he suffered, which showed Barker grimacing and holding his right hip.
Key moment:
At 1:54 of the second round, Sturm threw a walloping overhand right that put Barker down and "scrambled the senses," as Sky co-commentator Jim Watt put it. Barker had been put down with similar impact by Sergio Martinez in 2011, and despite his bravery on Saturday, Sturm went in for the kill to dole out a second knockdown that led Barker's trainer, Tony Sims, to throw in the towel with 55 seconds left in the round.
We've got your number:
20. Sturm was taking part in, remarkably, his 20th world title fight on Saturday and proved that there's life in the old dog yet. After a somewhat disappointing couple of years, by his standards, the German became a four-time middleweight titleholder and places himself right back in the mix with the leading players at 160 pounds.
Last word:
A rematch clause was put in place before this fight, but thoughts now turn to Barker and whether or not he has a future. His career has been plagued by many injuries, and no one can ever take away that memorable and emotional night on which he captured a world title. But tonight it felt like a case of "fools rush in" -- Barker got the tactics wrong and paid the price, in potentially more ways than one. Sturm, however, made a statement and he is welcomed back to the top tier with open arms.
August, 30, 2012
8/30/12
5:01
PM ET
By
Diego Morilla
| ESPN.com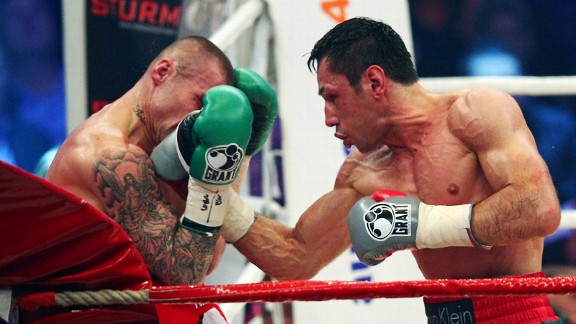 Alex Grimm/Bongarts/Getty ImagesFelix Sturm, right, may be the best middleweight in Europe, but can he step outside his comfort zone?
Among the many things that rub boxing fans the wrong way, two are particularly troubling: hometown fighters and underachievers. And in the past few years, middleweight titlist Felix Sturm has made a case for being both.
As a long-reigning champion (12 defenses of his current belt) who has had two previous title runs at 160 pounds, Sturm has held at least a portion of the title for almost 10 years and has lost only twice in his career -- one of which was debatable, against Oscar De La Hoya in 2004. But the underlying question remains: Is Sturm a zoo hunter, a guy who preys on weaker opposition inside a cage of local favoritism and excessively generous judges? Or is he a true champion who has trouble finding a real challenge at middleweight?
The 33-year-old champ, born Adnan Catic in Germany to Bosnian parents, became a fan favorite after drawing the short stick in his fight against De La Hoya, in which many viewed him as the true winner after outlanding and outboxing the Golden Boy in Las Vegas.
After that fight, the general consensus was that Sturm would be back in the States for another challenge in a talent-rich division that then included Bernard Hopkins, Felix Trinidad and other attractive potential foes. Instead, Sturm reacted with disgust at the De La Hoya decision and nurtured his own strong hometown edge by fighting the next eight years of his career exclusively in Germany, with an occasional trip to his parents' old Yugoslavia for a stay-busy fight.
The result for Sturm has been a very low profile outside the borders of his native country, virtually zero visibility in the U.S. -- a Catch-22 situation depriving demanding U.S. fans of seeing some of his great fights, but also shielding them from a string of weak performances -- and an unwillingness by other champions to travel to Germany to unify titles in an openly hostile environment.
That's about to change on Saturday, when Sturm will face Australia's Daniel Geale in -- of course -- Germany, for a unification bout that will kick-start a series of interesting middleweight matchups that could help clarify the division picture. Regardless of the result, doubts about Sturm's reputation (in certain circles) as one of the most underrated middleweight champs in recent history won't be resolved.
Part of those doubts stem from two particular fights in which Sturm not only failed to impress but also seemed to need generous help from the judges to escape with a win.
The first: a split-decision victory over Matthew Macklin in June of 2011, in an interesting fight that exposed many of Sturm's shortcomings. And then there was an excellent fight in which England's unbeaten Martin Murray was slapped with a split draw after delivering a 12-round boxing lesson to Sturm that starkly contrasted the fighting spirit of the two men.
And it's the quality that is most strikingly missing from Sturm's arsenal. His jab is there (one of the best in the business), his physical conditioning is superb, and his punch rate and accuracy are above average for the division. Even his inability to consistently deliver finishing blows (40 percent KO percentage) obscures other, more worrying failures.
In essence, the problem is this: Sturm amounts to less than the sum of his parts. His many virtues should add up to a dominant ring presence and attractive, entertaining performances. Instead, Sturm fails to excite fans with spectacular stoppages or put together interesting combinations, and he squanders his great sense of timing by not following up on his attacks.
But there may be light at the end of the tunnel. Sturm dominated former interim titlist Sebastian Zbik in his most recent title defense, in April, and now seems committed to jumping into the big market at 160 pounds. It won't be a surprise to see him beat Geale and then call out the winner of the Sept. 15 Julio Cesar Chavez Jr.-Sergio Martinez fight.
But for that scenario to come to fruition, Sturm would have to break hard from his recent path, travel to the U.S. and overcome his fear of being robbed again (or in his case, possibly take a dose of his own medicine) to try his luck against one of the division's top fighters.
Sturm has a limited amount of fights left to consolidate his legacy and show the world that he's capable of beating legitimate contenders beyond the borders of his homeland. A year ago, he would have been favored to beat Chavez, and to give Martinez a terrific challenge. But given Martinez's destruction of Macklin, Sturm's dubious victory against the same opponent and the fact that a non-puncher such as Murray was able to beat the wind out of Sturm, both Chavez (a devastating body puncher) and Martinez (a superb boxer with all the killer instinct Sturm seems to lack) would seem to have the edge over Sturm.
In any case, Sturm-Martinez or Sturm-Chavez each has the potential to be a great fight, the kind that could redefine Sturm's career and give the middleweight division a great three-way rivalry that could revitalize one of boxing's elite weight classes. Let's hope we don't have to go to Germany to watch them.