September, 17, 2013
9/17/13
1:35
PM ET
By
Salvador Rodriguez
| ESPNDeportes.com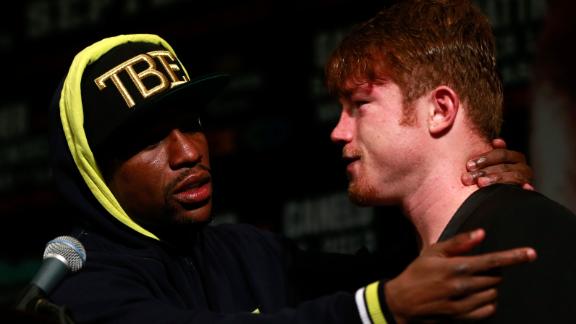 The future of Canelo Alvarez might have a few more options compared to what might be in store for Floyd Mayweather Jr., and Golden Boy Promotions could have the right recipe to help Alvarez make a huge comeback with a competitive fight.
While the buzz about Mayweather's next challenge included facing Amir Khan at London's Wembley Stadium or Danny Garcia in Las Vegas, the options for Alvarez are quite interesting, including the possibility of pursuing another world title.
Alfredo Angulo, Erislandy Lara and Carlos Molina -- who became a junior middleweight titlist on Saturday after defeating Ishe Smith -- are at the top of Golden Boy's list to become Alvarez's next opponent in 2014.
Molina is the only one of the three candidates who is not promoted by Golden Boy, but a title defense against Alvarez is viable. Despite recently losing to Lara, the crowd-pleasing Angulo (22-3, 18 KOs) still belongs to the elite group at 154 pounds. He is a bit slower than Alvarez, but has more punching power, so it could be quite a competitive challenge for both fighters.
Lara (18-1-2, 12 KOs) got off the canvas twice to defeat Angulo in June, after Angulo could not continue after suffering an eye injury in the 10th round, but left a few doubts. The interim junior middleweight titlist from Cuba is an effective and elusive fighter.
Molina (22-5-2, 6 KOs) is not exactly a powerful puncher, but he can be a nightmare inside the ring. According to Mayweather, Molina would be a nice fit for Alvarez to show his boxing skills, something he wasn't able to do Saturday.
Victor Ortiz (29-4-2, 22 KOs) also might be another option, despite being out of action for more than a year. Ortiz was next-in-line to fight Alvarez last September, but a broken jaw suffered in a clash against Josesito Lopez in June 2012 scratched those plans.
Former junior middleweight titlists Cornelius Bundrage and Cory Spinks are also possible opponents who, despite their recent slumps, could generate an attractive fight for Showtime.
The Alvarez camp also may wait for the winner of the Miguel Cotto-Delvin Rodriguez bout, set for Oct. 5 at the Amway Center in Orlando, Fla., due to Cotto's status as a promotional free agent.
September, 12, 2013
9/12/13
10:07
AM ET
By
Joseph Kilduff
| ESPN Stats & Information

Floyd Mayweather versus Canelo Alvarez on Saturday night at the MGM Grand in Las Vegas might be the super-fight, but it is not the only fight of interest on the card. On the undercard, the undefeated unified junior welterweight (140 pounds) champion Danny Garcia (26-0-0) will defend his titles against knockout artist Lucas Matthysse (34-2-0, 1 NC). Here are the numbers you need to know about Saturday's fight.

(32) Fights Matthysse has won by knockout. This includes knockout victories in his most recent six fights, and his 89 percent knockout rate exceeds that of Garcia, who has won by knockout 16 times in 26 fights (62 percent).

(1) Common opponents of Garcia and Matthysse. Zab Judah won a controversial split decision against Matthysse three years ago and lost by unanimous decision to Garcia in April of this year.

(19) Jabs Garcia has thrown per round, on average, in his last six fights. According to CompuBox, Garcia has landed an average of three jabs per round in his last six fights. Matthysse has thrown an average of 17 jabs per round and landed an average of two.

(73) Percentage Matthysse's punches that are power punches. According to CompuBox, this percentage is fifth-highest among qualified boxers, and his 17 power punches landed per round ranks seventh.

(28) Percentage of power punches Garcia's opponents land. According to CompuBox, this is the eight-lowest among qualified fighters.

(60) Average number of punches thrown per round among junior welterweights. According to CompuBox, the average punches landed per round in the junior welterweight division is 18. Garcia has thrown an average of 54 punches per round in his most recent six fights and has connected on an average of 17 of them. Matthysse has thrown and average of 63 punches per round and has connected on an average 19 in his last seven fights. Of the combined 36 punches landed per round by Garcia and Matthysse, 31 (86 percent) are power punches.

(5) Fights Danny Garcia has fought at the MGM Grand in Las Vegas. Matthysse has never fought at the MGM Grand; in fact, only eight of his fights --including both of his losses -- have been held in the United States. All but one of Garcia's fights has taken place in the United States.

(6) Streak of fights for Garcia against current or former world titleholders.

Top-Ranked junior welterweight boxers according to The RING:
Champion: Danny Garcia
1. Lucas Matthysse
2. Amir Khan *
3. Mike Alvarado
4. Lamont Peterson **
5. Zab Judah *

* Lost to Danny Garcia
** Lost to Lucas Matthysse

-- Statistical data provided by CompuBox
September, 11, 2013
9/11/13
5:31
PM ET
By
Chris Lees
| ESPN Stats & Information
April 27, 2013, versus Zab Judah
--Garcia once again proved himself as the top 140-pound fighter on the planet with a unanimous decision victory over former two-division titleholder Judah. Garcia, who had a 189-77 edge in power punches, dropped Judah with right-hand counter in Round 8. Judah came on strong in the later rounds, but Garcia weathered the storm in making his third title defense.

October 20, 2012, versus Erik Morales II
--After his dismantling of Amir Khan, Garcia took on four-division champion and Mexican icon Morales in a rematch of their meeting in March 2012. In their first meeting, Garcia out-pointed Morales to claim a vacant title. Garcia stepped up his game in the rematch, ending the fight in the fourth round with a counter left hook which sent Morales to the canvas. Morales' corner had seen enough and stopped the fight.

July 14, 2012, versus Amir Khan
--Everything was looking good for Khan through two rounds. He out-landed Garcia 56-18 in total punches. Then, he ran into a counter left hook toward the end of the third round. Khan survived the round, but Garcia pounced on him in the fourth, dropping the Brit two more times before referee Kenny Bayless stopped the fight. Garcia unified the WBC and WBA titles and ascended to the top of the 140-pound rankings.

-- Statistical data provided by CompuBox
September, 11, 2013
9/11/13
10:51
AM ET
By
Chris Lees
| ESPN Stats & Information
May 18, 2013, versus Lamont Peterson
In what was his most impressive performance as a professional, Lucas Matthysse dismantled IBF 140-pound titlist Lamont Peterson in a nontitle fight with a third-round TKO. Peterson, who was coming off victories over Amir Khan and Kendall Holt, was dropped three times before referee Steve Smoger called a halt at the 2:14 mark. Matthysse improved his impressive KO percentage to 87 percent, which is higher than any of the current titleholders in the junior welterweight division, including Danny Garcia.

June 25, 2011, versus Devon Alexander
Seven months after his controversial loss to Zab Judah, Matthysse faced former 140-pound titleholder Devon Alexander on his home turf just outside St. Louis. Despite outlanding Alexander in total punches (139-116) and scoring the first-ever knockdown of Alexander in the fourth round, Matthysse was on the wrong end of a split decision. Both Larry Merchant and Harold Lederman, who were ringside, scored the fight for Matthysse.

Nov. 6, 2010, versus Zab Judah
Matthysse took on former two-division champion Zab Judah in a title eliminator. In a close battle, Judah eked out a split-decision victory and went to capture the IBF 140-pound title in his next fight. Matthysse impressed many as he stalked Judah all night, eventually knocking him down in the 10th round. The "Machine" was a plus-15 in punches landed and had a sizeable edge in power punches (147-63).

-- Statistical data provided by CompuBox
September, 10, 2013
9/10/13
3:56
AM ET
By
Carlos Nava
| ESPN.com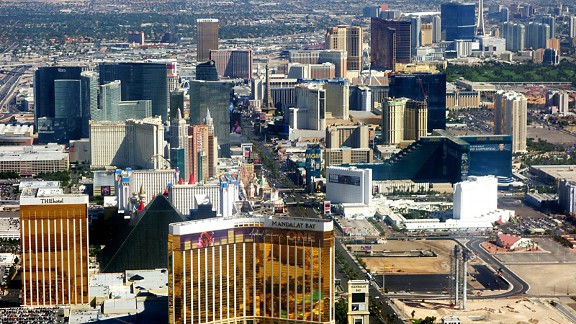 Saul Loeb/AFP/Getty ImagesFight fans are descending on Las Vegas this week to witness one of boxing's biggest cards in years.
LAS VEGAS -- If the rain that fell here on Monday is a foreshadowing of what's to come in Las Vegas this weekend, then boxing fans can expect a storm inside and outside the ring.
Sin City received fans arriving for Saturday's Floyd Mayweather Jr.-Canelo Alvarez junior middleweight unification bout with a thunderclap -- one that may not match the growing rumbling for what figures to be boxing's biggest fight of the year.
As usual for this kind of date, the city expects a lot of fans, many of them crossing the Mexican border to bear witness to their country's biggest current sporting attraction in Alvarez. The difference is that they already are arriving in droves for the fight card -- a day before even the fighters' grand arrivals at the MGM Grand Hotel and Casino on Tuesday.
"We already started receiving fans here at the hotel, and it's just Monday," said Susy Gomez, a hotel clerk at fight headquarters. "There is a lot of movement early, and we were warned that in a couple of days it will be madness."
From McCarran Airport to "The Strip," the boxing breeze is building into a gale sweeping through Vegas well before Saturday's downpour.
The spectacular posters featuring "The One" -- a card also including the co-featured bout between junior welterweight titlist Danny Garcia and Lucas Matthysse -- reach their peak levels of glamour along the main stretch of Las Vegas Boulevard.
The fight card, predictably, is a hot topic among both tourists and locals in the immediate environment of the MGM Grand. A source at fight promoter Golden Boy confirmed with ESPNDeportes.com that of the total gate for the card -- which sold out as soon as tickets hit the market -- about 65 percent went to the Mexican public.
"Do you think Canelo will have any chance?" asked an arriving guest of her companion in Spanish. "I think Mayweather will win."
"I don't know -- Canelo is doing well," another guest interjected. "He has improved a lot, and you saw what happened with [Juan Manuel] Marquez and [Manny] Pacquiao. A punch can change everything."
Marquez knocked out Pacquiao in the final seconds of their showdown last December, in the same ring where Mayweather and Alvarez will clash at the MGM Garden Arena.
The check-in line at the MGM was full on Monday, promising an arriving guest a wait of nearly half an hour, despite the best efforts of about 20 receptionists to empty the long line, which included some preliminary boxers for Saturday's card.
Also checking in were guests who had no idea what all the fuss was about, uninitiated visitors sprinkled amid the fans and media members who will be covering the event from Tuesday's official start of fight week through the final bell of Saturday's main event.
The hotel souvenir shop welcomed a constant influx of customers, many of whom were willing to pay at least $40 for a commemorative fight T-shirt or, for the same price, a ball cap featuring the logo of "Money" Mayweather.
On Sept. 15 of last year, two Las Vegas venues were filled on the same day for separate, simultaneous boxing cards staged just a few blocks away from each other. Similarly, those events -- Julio Cesar Chavez Jr.'s unsuccessful middleweight title defense against Sergio Martinez, and Alvarez's destruction of Josesito Lopez -- were witnessed by a considerable majority of Mexicans who had crossed the border to be in attendance.
And now many of those same Mexican nationals are expected to fill Las Vegas' nightclubs, bars and restaurants (many of them offering closed-circuit events) and, it's undoubtedly hoped, will attend weekend performances by two of Mexico's most beloved artists, Luis Miguel and Alejandro Fernandez.
The party officially begins on Tuesday at 5 p.m. ET, when fighter arrivals kick off and Mayweather and Alvarez (along with Garcia, Matthysse and the top undercard fighters) take their turns being presented in the ceremonial boxing ring that has been erected in the main lobby of the MGM.
May, 21, 2013
5/21/13
2:10
PM ET
By
Brian Campbell
| ESPN.com
The interruption came with the subtlety and grace of a sledgehammer, not unlike the punches landed minutes before by Lucas Matthysse in his dismantling of Lamont Peterson on Saturday.

As Showtime's Jim Gray was set to begin his postfight interview with the Argentine slugger in the center of the ring at Boardwalk Hall in Atlantic City, N.J., the microphone was abruptly hijacked by Golden Boy CEO and Matthysse promoter Richard Schaefer.

"Let me say first something. We have -- we have a new Manny Pacquiao! He's from Argentina and his name is Lucas 'The Machine' Matthysse!" blurted an overwhelmingly giddy Schaefer, the fact that he also mispronounced Matthysse's surname making it all the more amusing.

Schaefer's commandeering of the spotlight in Matthysse's finest hour came off as something akin to the drunk uncle at a wedding going off the rails in an unsolicited serenade of the bride and groom. But aside from the comic relief the moment provided, Schaefer's outburst could also be viewed as a microcosm of Golden Boy's handling of the fighter up to this point.

Matthysse's performance on Saturday was a statement to future opponents and casual fans alike that he's for real, not just one of boxing's most devastating punchers. But based on the authentic reaction of Schaefer, who couldn't resist waiting another second to inform the free world just how valuable a commodity Golden Boy now possessed, it was as if Matthysse's promoter had no idea what it had in the first place.

So the natural question becomes: What the heck took Schaefer so long?

If it wasn't for Peterson's willingness to test himself against a fighter who has been so consistently avoided over the past two years, Matthysse's recent run of knockouts against a battery of faded, C-level, unknown and overrated fighters might have been forced to continue. And that's especially considering Golden Boy was beginning to look like an accomplice to Matthysse's problem, with the outside impression being the promoter was unwilling to match him with any of its prized in-house stars.

Matthysse campaigned constantly for a fight with the name at the top of the food chain at 140 pounds: fellow Golden Boy fighter Danny Garcia. Instead, he was continually persuaded to accept a fight he never wanted, one against fellow all-action countryman and friend Marcos Maidana, who had moved up to welterweight.

In a nutshell, that's exactly who Matthysse is -- a fighter not interested in being simply an attraction (like so many fighters today) and one whose sole focus is to test himself in every single fight against the very best in the world.

Finally, thanks to a perfect storm of events on Saturday, Matthysse will get that chance against Garcia in September, as long as the unbeaten Garcia doesn't win the Floyd Mayweather Jr. lottery in the meantime. And with the Peterson fight marking Matthysse's first under new manager Al Haymon, one can assume the days of him not getting the push he rightfully deserves are now over.

If Matthysse, 30, can learn English to increase his profile to an American audience, his potential as a breakout star has no limits thanks to his look and highly marketable style.

Not only has he finished 32 of the 34 fighters he has defeated, Matthysse also claims to have knocked down every single opponent who has gotten into the ring with him. Add to that the fact that both of his losses, a pair of split decisions in the hometowns of Zab Judah and Devon Alexander, were contentious enough that it isn't ridiculous to consider Matthysse an unbeaten fighter at this point.

It was just yesterday that Matthysse couldn't get a fight to save his life. Now his promoter is hailing him as the sport's next Pacquiao.

The Lucas Matthysse Era has begun, and it's nice to see everyone is finally on board.
March, 13, 2013
3/13/13
10:48
AM ET
By
Carlos Narvaez Rosario
| Special to ESPNdeportes.com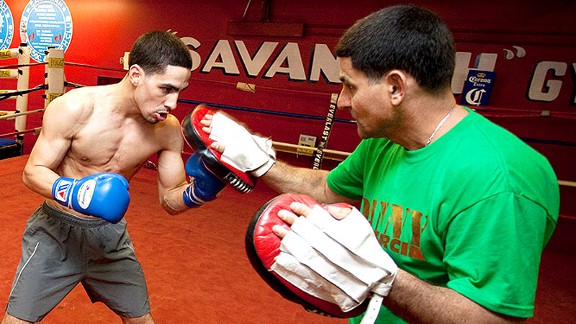 Jon Elits/Hoganphotos/Golden Boy PromotionsUnbeaten Danny Garcia is ready to begin training for his April 27 fight against Zab Judah in Brooklyn.
A month after an injury forced him to postpone his bout against former champion Zab Judah, unbeaten junior welterweight titlist Danny "Swift" Garcia said he's fully recovered and ahead of schedule for the April 27 fight at the Barclays Center in Brooklyn, N.Y.
Garcia had planned to defend his crown on February 9 at the same venue, but a broken rib suffered during a sparring session forced him to stop training.
"Now I feel 100 percent and I still have seven weeks to improve my conditioning," Garcia said to ESPNdepotes.com.
Garcia (25-0, 16 KO's), is coming off a spectacular year with two victories against veteran Erik Morales and another against former 140-pound champion Amir Khan. His last two -- the rematch with Morales and his clash with Khan -- were TKO victories in the fourth round.
"The injury affected me for three weeks. It also affected me a little bit mentally," Garcia said. "I didn't feel the injury until I finished sparring. Hey, I broke a rib. I could not believe it. But this is part of the sport. An injury can occur to anyone, regardless of the sport."
Garcia, who is managed by Al Haymon and promoted by Golden Boy, said that he will resume training this week.
"I'll start this week with sparring sessions. I feel very good, I'm ready," Garcia said. "As I said, I still have seven weeks [to the fight] and that will be enough to be in [good physical] condition. I have a great team that is helping me with that."
Garcia, 23, became a sensation in professional boxing when he won a vacant junior welterweight title against Morales -- a former champion in four different weight classes -- in March 2012. He added another junior welterweight belt when he knocked out Khan in July.
Judah (42-7, 29 KOs), 35, a former junior welterweight and welterweight champion, is coming off a win by TKO in the ninth round over Vernon Paris last March.
February, 14, 2013
2/14/13
1:34
PM ET
Floyd Mayweather Jr. certainly knows how to make the most of social media. He doesn't just post random tweets of betting slips; he knows how to use 140 characters to stir things up.

One day, he's proclaiming that he's likely to fight Devon Alexander on May 4, despite all the evidence to the contrary. Then, yesterday he tweeted: "Me & my trainer (my dad) back working together getting ready for May 4th." To prove the point, there was a photograph of the two standing together, a scene that seemed improbable at best after their bust-up in the gym in front of HBO's cameras on "24/7" in August 2011.

The notion that the two Floyds might reunite in the corner had been mooted recently (even as Roger Mayweather -- senior's brother and, in recent years, junior's trainer -- struggles with health issues). So this is another twist in the ongoing saga of their personal and professional relationship. Of course, they are far from the only notable father-and-son corner team in boxing, and like parental-filial relationships elsewhere, they run the gamut. Here is a short selection of some of the more colorful, sometimes successful and sometimes painful case studies:

1. Roy Jones Jr. and Roy Jones Sr.

At times, the apparent dysfunction between these two has been enough to make Floyd Sr. and Jr. look like Bill Cosby and Malcolm-Jamal Warner (kids, ask your parents). On the plus side, Big Roy did teach his son how to box; against that, he also shot his boy's favorite dog. After years of personal and professional estrangement, Jones invited his father to work in his corner for the third fight against Antonio Tarver. When Jones lost that bout by a wide margin, he essentially said he didn't try to win because he didn't want his father to take the credit.

2. Nonito Donaire Jr. and Nonito Donaire Sr.

Donaire pere trained Donaire fils until an incident during training for the son's November 2008 fight with Moruti Mthalane led to the end of their professional relationship. Despite occasional talk of reconciliation, the father-son personal relationship, too, has become strained, at times very publicly so.

3. Danny Garcia and Angel Garcia

There doesn't appear to be any strain between Angel and junior welterweight titlist Danny. If anything, Angel's love for Danny at times verges on the overwhelming, as his extreme defensiveness of his son leads to intense verbal confrontations with Danny's opponents, including Amir Khan and most recently Zab Judah.

4. Shane Mosley and Jack Mosley

It's easy to forget now, but in 1998 Jack and Shane Mosley became the first ever father-son tandem to receive trainer of the year and fighter of the year honors from the Boxing Writers Association of America. But after losses to Vernon Forrest and Winky Wright, Jack and Shane -- who remained close personally -- broke up professionally before reuniting and breaking up again. They were slated for another reunion if Shane's putative bout with Paulie Malignaggi had taken place as planned this month.

5. Joe Calzaghe and Enzo Calzaghe

An unalloyed success: Enzo steered Joe to world titles at super middleweight and light heavyweight. And after Joe retired with an undefeated record, he and Enzo then formed a promotional partnership. Although Joe had well-documented personal troubles in his immediate post-retirement years, his relationship with his father has evidently remained strong.
December, 16, 2012
12/16/12
1:42
AM ET
There were times in the early rounds of Amir Khan's rebound bout against Carlos Molina, as Khan lingered too long in the pocket after throwing a combination and Molina cracked him with a left hook, that a few bars from "The Wizard of Oz" filtered into a ringside writer's head.

"Tee-tum-tee-tum-tee-TUM-tum, tee-tum-tee-tum-tee-TUM-tum. If I only had a punch."

But Carlos Molina does not have a punch, or at least not an especially hard one, and that was perhaps the single biggest reason why he was in the ring with Britain's Khan in front of a crowd of 6,109 at the Los Angeles Sports Arena. And for the first few frames, that seemed a sage piece of matchmaking. For all Khan's promises of being a better-rounded boxer, of being less reckless in aggression and more considerate in defense, some of the old weaknesses and warning signs were there.

He occasionally threw one punch too many and left himself in range of Molina's punches. When he moved back out of range, he occasionally did so by pulling straight back with his right hand lower than it ought to have been. And he was fighting at 100 miles per hour, when 85 miles per hour would have been more than sufficient.

At the same time, there were signs of promise. He fought his natural tendencies, stopping himself from being propelled by his own momentum into his opponent at the end of a flurry. He used his jab effectively.

Then, around the fifth or sixth round, he underwent something of a transformation. Seemingly realizing the fight was in the bag if he didn't blow it, he visibly relaxed in the comforting cloak of confidence. He dialed down his output a smidgen, keeping Molina at comfortable distance and dominating without exposing himself to unnecessary risk.

It remained exciting in that Amir Khan kind of way: lots of punches, plenty of movement. But by now, not only was there the realization that Molina couldn't hurt Khan with his punches; there was a growing sense that he couldn't hit him with them, either.

When the end came, at the suggestion of Molina's corner after 10 increasingly one-sided frames, it was not a moment too soon.

Molina seemed stunned by what had befallen him.

"I don't know what happened," he said. "I wanted to pull the trigger, but for some reason I couldn't get my hands to go."

Khan acknowledged that he had been initially overeager, as is his wont, but that the teachings of new trainer Virgil Hunter had a calming and educational effect.

"I thought I stuck to my game plan, which meant sticking to my jab," he said. "Carlos took some really good shots and he was still coming forward, and that's when I thought to myself, I'd better stick to this game plan. Virgil's a great trainer, and I'm getting better at being a complete boxer."

He then turned his attention to Danny Garcia, who had relieved him of his senses in July and was seated ringside.

"In that fight, he caught me with a good shot, but I'll fight Danny Garcia again anytime, anywhere," Khan said.

He showed enough on Saturday night to indicate he might be able to improve on the dominant first 2½ rounds of that July contest. But he showed enough vulnerability to give rise to the thought that Garcia might be able to land yet more concussive left hooks such as the one with which he found success in Las Vegas.

Should Garcia do so, he would surely have far greater impact against Khan than anything Molina could manage on Saturday. But that is for the future. Tonight was about restoring confidence in a crowd-pleasing fighter. In that regard, it was mission accomplished.
July, 15, 2012
7/15/12
1:15
AM ET
LAS VEGAS -- There had been plenty of trash-talking in the week before Amir Khan and Danny Garcia stepped into the ring at the Mandalay Bay on Saturday night, much of it between Khan and Garcia's father Angel. Khan wasn't present at the postfight press conference, but Angel was, and he wasn't afraid to keep fighting the war of words even as his foe nursed his wounds at the hospital.
[+] Enlarge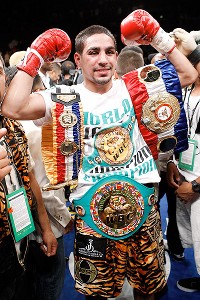 AP Photo/Eric JamisonDanny Garcia unified junior welterweight belts on Saturday by staying composed and pouncing when Amir Khan made a mistake.
"Rematch?!" he exclaimed when it was suggested that maybe his son might face Khan again following Garcia's explosive fourth-round victory. "Why would we fight him again?" After comparing him to an old pair of tennis shoes, Angel spat that Khan was "old news. He's an ex-champion. He's a three-time ex-champion."
That last comment in particular cut to the quick. Khan could excuse his first loss, a shocking first-round KO defeat to Breidis Prescott: Khan was young, he was raw, and he had subsequently improved under the tutelage of trainer Freddie Roach. His second defeat, last December to Lamont Peterson, similarly came with a set of asterisks and, given Peterson's subsequent positive test for synthetic testosterone, may yet be expunged from the record books.
This one, however, was different. Despite a half-hearted suggestion from Khan in the immediate aftermath that perhaps referee Kenny Bayless had been premature in halting the contest, there could be no doubt. This was a fight that Khan had had in his grasp, that he was winning through two and two-thirds rounds, his hand speed and combination punching making him seem a class apart from his young opponent.
But Garcia never lost his composure, and kept coming forward behind a tight defense. And when Khan presented him with a chance, he took it, landing an explosive left hook that detonated on Khan's jaw. Although the bout officially lasted another round, it was effectively over as a contest right then; as Roach admitted afterward, Khan never really recovered from that blow.
The fight highlighted everything that is good and bad about Khan: On the good side, his immense physical gifts and his astonishing heart, which, combined with his flaws, make for consistently exciting fights, win or lose; on the bad, the questions that arose anew about his chin, which it seems will always be a weakness, wherever he goes from here.
For Danny Garcia, the immediate future is bright. With victories over Erik Morales and now Khan, he has, as they say,
arrived
. Khan arrived, at least as an attraction and as a star, some years ago. The question has been when he would move on and take the next step to a higher level among the elites. Now that question is not so much when, but if. And his absence in the face of Angel Garcia's taunts served only to underline that it is a question to which we almost certainly now know the answer.
July, 10, 2012
7/10/12
11:02
PM ET
By
Brian Campbell
| ESPN.com

There hasn't been much separating Amir Khan over the past few years from the pound-for-pound adulations that his outstanding talent has merited.

With a rare exception: the element of doubt.

From the self-doubt following a shocking first-round knockout loss to Breidis Prescott in 2008 to the increased critical skepticism of his chin in the wake of a hazardous victory over Marcos Maidana two years later, the exact appraisal of Khan's stock has been in flux for years.

Down it went again in the wake of a controversial split-decision loss to Lamont Peterson in November, igniting mainstream doubt whether Khan, 25, will ever be truly ready to make the leap.

As Khan (26-2, 18 KOs) readies for Saturday's fight against unbeaten junior welterweight titlist Danny Garcia (23-0, 14 KOs) in Las Vegas, that familiar uncertainty follows him.

There's little question that Khan is the favorite to dispatch the 24-year-old Garcia, a game yet still somewhat green fighter. But it could be argued that the pressure has never been higher, because a dominant victory would offer Khan a unique opportunity at a time when the landscape surrounding him appears more ripe for the taking than ever.

With nearly every marketable fighter outside of Canelo Alvarez in boxing's "glamour" divisions (140 to 154 pounds) in a state of damage control following a defeat, controversial victory, jail term or drug suspension, the door is wide open for Khan to crack the P4P top 10 and likely place himself in line for a meeting with boxing royalty (e.g., Floyd Mayweather Jr.) within the next 12 months.

The Peterson loss was dismally ill-timed in light of Khan's projected career arc, and was equally undeserved given the fight's gratuitous point deductions and questionable scorecards (not to mention, Peterson's failed drug test). But what the loss did was provide Khan the invaluable opportunity to see his shortcomings so brightly illuminated.

The hard-charging Peterson consistently pushed Khan outside of his comfort zones, exposing vulnerabilities to aggressive, volume punching -- particularly to the body -- and an almost allergic (and at times incompetent) reaction when forced to fight on the inside.

Khan's fastball is well-regarded as elite, fueling the flashy combinations that combine with genetic advantages in height and reach to make for a dangerous package. But a closer look reveals an inability to harness that breathtaking sparkle -- Khan is probably the most sensational opening-round fighter in the sport -- and iron out a level of consistency for a full 12 rounds.

The fact that Khan was able to ward off Peterson with pockets of inspired counterattacks late in the bout -- sandwiched around alternating rounds of inactivity -- showed maturity and an ability to adapt on the fly under pressure.

Khan also tempered questions about his ability to take a punch by standing and trading with Peterson for sustained periods. Although it would be disingenuous to imply that a good chin is a skill that can be acquired, an increase in self-confidence and maturity never hurts (see: Wladimir Klitschko).

Had Khan won the Peterson bout, he would have been in line for a good deal of praise for gutting out a victory in the face of an unexpectedly dire challenge. The fact that he received nothing but criticism shows the tenuous nature of his reputation, specifically in the eyes of American fans who often view him as pompous and overrated, the same way they once saw fellow Brits Lennox Lewis and Naseem Hamed.

When Khan commits to attacking the body -- a strategy that produced knockdowns against Maidana and Zab Judah -- he is at his most dangerous. But until he balances the same athleticism that allows him to shine offensively and puts it to use on the defensive end, Khan will be considered a vulnerable, incomplete fighter.

Khan has shown a tendency to be a front-runner, able to put fighters away with an arsenal of lethal methods when things are going his way, only to panic when the chips are down. But even that assessment doesn't get it entirely right.

Those who criticized Khan for getting rocked by Maidana failed to properly credit him for the way he stood his ground, forcing his opponent back on his heels by the end of the final round.

Where Khan's loss to Prescott forced him to rededicate himself and seek the full-time services of trainer Freddie Roach, the Maidana victory similarly helped him cross an internal threshold of self-belief. Considering those trends, it wouldn't be foolish to believe Khan can reap similar stores of career-altering wisdom from the Peterson fight.

It's very unlikely that Khan will have to endure the same level of impassioned blitzkrieg from Garcia that Peterson unleashed in front of his hometown crowd. But if there was ever a time for Khan to fulfill the promise that began with him winning silver at the 2004 Athens Olympics, this is it.

His path to validation begins Saturday, when we'll begin to discover whether or not Khan was ever truly fit to be king.
July, 6, 2012
7/06/12
12:05
PM ET
By
ESPN.com staff
| ESPN.com

Former junior welterweight champ Amir Khan, 25, won't get to take another run at Lamont Peterson (who got popped for performance enhancers) on July 14 in Las Vegas, but landing replacement foe Danny Garcia -- an undefeated 24-year-old junior welter titlist in his own right -- was a solid save. For an early preview of the bout from our "Friday Night Fights" crew, check out the video above.
May, 18, 2012
5/18/12
4:14
PM ET
Karim Mayfield enters tonight's "Friday Night Fights" main event with what he believes to be a bit of a mental edge over foe Raymond Serrano. Both men were in Danny Garcia's camp ahead of Garcia's March 24 bout with Erik Morales, and Mayfield -- a 30-year-old San Francisco resident who is tutored by Andre Ward's trainer, Virgil Hunter, the 2011 BWAA Trainer of the Year -- approached Serrano.

"Wanna spar?" Mayfield asked Serrano. The Philadelphia-based boxer didn't bite.

Now, the possibility exists that the only reason Serrano didn't take Mayfield up on the offer was because he knew that they would soon be meeting in the ring for real. But Mayfield wonders ...

"His trainer said, 'They offered us a fight with you,'" Mayfield noted. "But they first said 'no.'"

Like us regular folk, boxers will attach themselves to a moment, and perseverate on it, to give themselves a mental boost when needed. Mayfield implies that Serrano didn't want any part of him at Garcia's camp, and also that he gave Garcia, who won a vacant 140-pound crown against the living legend Morales, the business in sparring.

"They put me in when Danny, who was primed and ready, so I got the best of him," Mayfield said. "He was at the top of his game -- he was peaking."

Mayfield (15-0-1, 9 KOs) has good skills and punching power, but he can sometimes appear awkward. One wonders if he isn't looking past the 22-year-old Serrano (18-0, 8 KOs), ranked No. 9 by the WBA, and Friday's clash at the Times Union Center in Albany, N.Y. If so, it could wind up biting him in the trunks.

"After this fight, I'm definitely going to be campaigning for a big fight," said Mayfield, ranked No. 9 by the WBO. "I think I should be in top contendership."

That's up for debate, frankly. Career-best wins over Steve Forbes and Patrick Lopez don't demand a zoom up the rankings ladder. Both have lost their past three bouts, which include 2011 losses to Mayfield.

All in all, I'd say it's preferable for a fighter to veer to a too-healthy appraisal of self rather than holding on to too much self-doubt. In that regard, Mayfield makes it clear in which camp his psyche lays. He says viewers tuning in tonight will see a bit of Roy Jones Jr., Willie Pep, Mike Tyson and Floyd Mayweather Jr. But this one looks like a coin flip. Serrano will look to touch up Mayfield's body, and although he doesn't possess scary power, he has a rock-solid skills base.