February, 8, 2013
2/08/13
12:31
AM ET
By
Bernardo Pilatti
| ESPN.com
Unbeaten welterweight Kevin Bizier will climb into the ring before a hometown crowd at Montreal's Bell Centre on Friday, but not just for an exhibition against a club fighter designed to pad his record and excite the locals. Bizier will step up for perhaps his most difficult test to date: a matchup with dangerous and always-complicated former two-division titlist Nate Campbell in a "Friday Night Fights" main event.
Bizier (19-0-0, 13 KOs) got the call when another local fighter, David Lemieux,
fractured his hand and was forced to pull out
of his featured bout with Jose Miguel Torres. When the main event was recast, with Bizier set to face Britain's John O'Donnell, another injury -- a broken left hand for O'Donnell -- prompted more shuffling. Enter Campbell (36-9-1, 26 KOs), who even at age 40 could pose a challenge to a talented though relatively green opponent. In March 2012, Campbell stopped fringe contender Victor Cayo, and three months later he traveled to Poland and defeated local pug Krzysztof Szot.
Bizier, 28, says he's excited to face a fighter of Campbell's experience and prestige. "He was a great champion, and I've had to change my entire preparation, make a lot of adjustments, because we had worked to face a 5-foot-11 lefty [O'Donnell] and now we'll be facing a 5-7 right-hander," he said. "But that's not going to stop me from coming out victorious in this fight."
Although Bizier is the favorite, he'll need to take precautions to avoid the curse of Lemieux, who was a big favorite in the same Bell Centre ring two years ago -- only to end up in a hospital. Lemieux, an undefeated and skyrocketing prospect who was on track for a title shot against Julio Cesar Chavez Jr., saw his career hit the wall when he was stopped by Marco Antonio Rubio in April 2011.
Despite his lesser experience, Bizier has the tools -- a nasty left hook and fast combinations, for starters -- to carry this fight. But problems surface when he is pressured, and his defense isn't as solid as it needs to be. Campbell will be a good test for Bizier to prove whether he can show improvement in those areas where he's lacking.
The former lightweight champ is a well-known spoiler who in 2008 derailed the career of promising and then-undefeated Juan Diaz. A tough customer with fine stamina, a granite chin, a smart jab and a good sense of pace, Campbell deserves respect.
Whether fans get fireworks or a chess match, a main event featuring the big-stage introduction of a prospect seemingly on his way to bigger challenges and perhaps the last gasp of a skilled former champ who never disappoints his fans should make for high fight drama.
December, 15, 2012
12/15/12
8:17
AM ET
By
Igor Guryashkin
| ESPN.com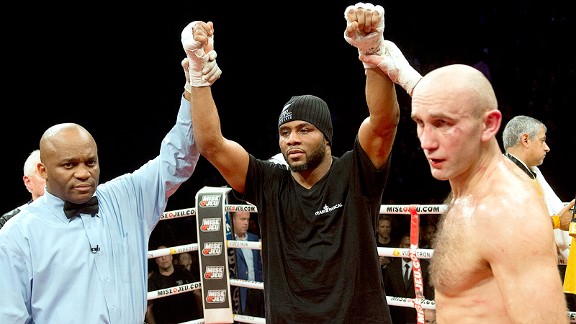 AP Photo/Ryan RemiorzJean Pascal's left arm wasn't much use to him against Aleksy Kuziemski on Friday until fight's end.
Jean Pascal battled to a unanimous decision on Friday in a hard-fought and at times thrilling victory over Aleksy Kuziemski at Montreal's Bell Centre, knocking his opponent down twice en route to scores of 100-88 and twice 98-90 in his first return to the ring in 19 months to set up a possible showdown with former foe and reigning 175-pound champion Chad Dawson.
Although the scores suggest a win of great ease for the former light heavyweight champion, the bout on a freezing Montreal night was anything but as Pascal (27-2-1, 16 KO) fought the majority of the bout with an unusable and visibly painful left arm, having sustained the injury in the unlikeliest of circumstances during the fourth round.
After waging two memorable battles with the age-defying Bernard Hopkins, the latter ending in a loss, Pascal, a Haitian-born Canadian, had all but disappeared from the boxing horizon. A fight with Tavoris Cloud was canceled and the rest of his year was left hampered by injuries and setbacks.
Kuziemski (23-5, 7 KOs), whose previous defeats had come at the hands of current or former champions, was an obvious choice -- a stand-up European-style pugilist capable of fighting in a single gear for 10 rounds -- was designed to be the oil that would allow the Pascal dynamo to fire again.
But until the fourth round, the fight couldn't have gone less according to plan. Pascal, not known for his punch output, barely threw a punch in the first three rounds, allowing the Russian to walk him down and land at will. Pascal talked before the fight of revealing a 2.0 version of himself, but up to that point it might as well have been a 0.0 edition.
That was, until the fourth round.
For all of Pascal's clear-as-day deficiencies -- stamina being the most obvious -- there's no doubting two attributes he possesses in abundance: heart and athleticism. It was heart that allowed Pascal to hide even a hint of grimace as his shoulder twisted while trying to throw a left hook that was caught up in the ropes. And that he was able to not only survive with one arm for the remainder of the fight, but totally dominate, could be attributed to his athleticism. Pascal might have had only one good arm, but he had two very good legs.
In the sixth round, Pascal knocked down Kuziemski with a flurry of blistering right hands that epitomized his adapted game plan: crouch, bide time and then unleash devastating flurries.
In rounds seven and eight, the offensive continued. As Pascal's arm sagged even more by his side, the more often the cobra-like technique paid dividends. The Russian might have had a game plan for an orthodox, two-handed Pascal, but surely he didn't plan for a one-armed southpaw. Pascal landed at will -- to such an extent that it was surprising that he was unable to dispatch the game but limited Kuziemski.
The scores were all but a formality by the time Pascal scored another knockdown in the 10th, capping a performance laced with improvisation and bravery in equal measure.
What now for Pascal? A rematch with Dawson seems in the cards, assuming the shoulder heals soon. Pascal has already beaten Dawson once before, but it's Dawson who has the belt after vanquishing Hopkins, the man who took it from Pascal. One thing is certain: A fight involving Jean Pascal isn't likely to be boring.
Lemiuex continues comeback
Friday night also saw the return of middleweight David Lemieux (28-2-0, 27 KO), who improved on his formidable record of finishing opponents in a bout's opening stanzas with a second-round knockout of a hapless and hopeless Albert Ayrapetyan (20-4-0 9 KO).
Lemieux, a 23-year-old Canadian who was one of the most heralded prospects and fearsome punchers in boxing before suffering a pair of unexpected defeats last year, took little time in dismantling his overmatched opponent.
Ayrapetyan, whose only previous claim to fame was being knocked out by pound-for-pound great Sergio Martinez in 2005 before taking a seven-year hiatus, was on the receiving end of sickle-like looping swings from Lemieux's granite-heavy hands.
Lemieux had little difficulty stalking his opponent and knocking him down twice in the opening rounds, doing enough damage to make Round 2 a mere formality, with the final blow coming from a thundering right hand -- the cherry on top of a delicious three-hook combination that snapped Ayrapetyan's head back and forced referee Michael Griffin to wave the fight off despite Ayrapetyan's protestations after getting up.
Although the victory shows that Lemieux has lost little of the power that made him so fearful, the fight didn't last long enough to prove whether he had done enough to correct mistakes of the past. Only time will tell.