October, 7, 2013
Oct 7
2:08
PM ET
By
Javier Maymi
| ESPNDeportes.com
ORLANDO, Fla. -- After Miguel Cotto suffered consecutive losses to Floyd Mayweather Jr. and Austin Trout, the consensus was that the Puerto Rican star was finished, that his career as a world title contender and top draw had ended, and all that was left to be addressed was his legacy.

How wrong we were.

Instead, the former three-time champion arrived in Orlando last week ready to plant his flag on the junior middleweight division, and although he and trainer Freddie Roach had been telling anyone who would listen that Cotto would show that he is reinvented -- having returned to his roots as a puncher and proving that his lethal left hook was intact -- few took it seriously before witnessing it with their own eyes.

But seeing is believing. And it took only the first 10 seconds of his bout against Delvin Rodriguez at the Amway Center on Saturday to conclude that the changes foretold by Cotto and Roach weren't merely talk. The handle on his Twitter account -- @RealMiguelCotto -- was all but prophetic: Cotto is back.

Cotto's thrilling comeback -- a third-round TKO of Rodriguez -- was the result of a perfectly executed plan drawn up by Roach: Attack the body and top off the assault with power shots, specifically the left hook. This proved to be the blow that sent Rodriguez down for good.

Also significant were the accompaniments to Cotto's win: no entrance music, no hoopla. Only a show of courage from a fighter who knew he had everything to lose.

Cotto looked quick, lucid and comfortable returning to his former attacking style. His back never touched the ropes, and although Rodriguez isn't quite in Cotto's class, he's not a pushover, either. This was a brilliant performance against a capable opponent.

But here's the question now on the lips of fight fans: What's next for Cotto?

We can assume there won't be any adjustments to his corner in the near future. Cotto and Roach said they were "comfortable" with each other, and the pairing obviously produced excellent results. Meanwhile, there are zero promotional entanglements for Cotto, who is essentially a free agent.

General speculation has Cotto eyeing a fight with Canelo Alvarez, although there would a giant hurdle to clear if Cotto wanted to continue his relationship with Top Rank, which promoted Saturday's fight. (Alvarez is represented by Golden Boy.)

Another option could be Sergio Martinez. The only significant issue there would be settling the contracted weight for the fight. Martinez is a true middleweight, while Cotto has repeatedly said he feels best at junior middleweight. He fought Rodriguez at 153.2 pounds, just under the junior middle limit, and seemed as comfortable as a fish in water. His body shots were strong, lowering Rodriguez's defense to allow Cotto to land left hooks to the face that led to the victory.

There's also the possibility of having another go at Trout, who said he would welcome either a Canelo rematch or a fight with the winner of Cotto-Rodriguez.
For Cotto, a Trout rematch would present an opportunity to avenge his December 2012 defeat at Madison Square Garden.

But if you ask Roach, there's only one goal for Cotto at this point: Mayweather.

"Miguel is ready to go against Mayweather," Roach said after Saturday's fight. "He is in the best shape of his career. He returned to the style that he needed to go back to, and as Miguel said last week, if I had been in his corner for his fight against Mayweather, he would have won."

The junior middleweight picture might begin to come into focus as early as this weekend, when the spotlight will return to Las Vegas, where Juan Manuel Marquez is set to challenge for Timothy Bradley Jr.'s welterweight title. That result should clear up a few things at 147, 154 and 160 pounds.

But even while we speculate about what's to come in the weeks ahead, we know this much is clear: In any conversation about boxing's next big fight, Miguel Cotto's name is once again as relevant as ever.
October, 2, 2013
Oct 2
7:07
PM ET
By
Javier Maymi
| ESPNDeportes.com
ORLANDO, Fla. -- No one can question the knowledge of legendary trainer Freddie Roach, and since he took over as Miguel Cotto's trainer, replacing Pedro Diaz in July, he is convinced the former three-division titlist still has enough punching power and discipline to win another title, even if he must do it against Floyd Mayweather Jr.

"Really, I've never worked with such a disciplined boxer," said Roach, during Cotto's training session for Saturday's junior middleweight fight against Delvin Rodriguez at the Amway Center (HBO, 9:45 p.m. ET). "By looking at his commitment, you can be sure that Miguel will win on Saturday, and after that, he might fight against Canelo [Alvarez] or [Sergio] Martinez, and later, he could consider fighting against Floyd Mayweather Jr. again."

So far, Cotto and his team have been relatively quiet about their future, in part due to his contentious relationship with promoter Top Rank Boxing, but the fact that Roach is openly happy and extremely optimist might be hints that Cotto could stay inside the ring beyond 2014.

Currently, Cotto and Top Rank have a "one fight at a time" deal, and nothing is carved in stone beyond Saturday's fight in Orlando. Top Rank's president, Todd duBoef, said in a recent interview with ESPN.com's Dan Rafael, "I believe in our long-term relationship, that's what it's all about."

For this fight, Cotto returned to work with Top Rank after his previous two fights, both losses, were promoted by Golden Boy Promotions. An outstanding performance in Orlando, in front of a strong Puerto Rican fan base, could lead Cotto to a blockbuster fight. But according to Roach, Cotto, 32 and currently in his 13th year as a pro fighter, must silence his critics first.

Among the rumors, none of them with solid foundation, are possible fights against Alvarez and Martinez. Roach thinks neither boxer could be a potential risk for Cotto right now.

"It's real simple: Miguel has been working really hard, taking care of all the details I pointed out as potential weaknesses," said Roach, who set up Cotto's camp in his Hollywood, Calif., gym for this fight. "I'm really pleased with Miguel's dedication. Honestly, there will be absolutely no problem for him on Saturday."

Roach also said the trainer-boxer relationship grows stronger as time goes by.

"The two of us have deep boxing knowledge, and I feel that we have a solid mutual trust level," said Roach. "He is a disciplined fighter; that's all I'm asking for."

The veteran trainer said the very first thing he did with Cotto was reshape his defense, because he was too passive inside the ring.

"You've got to create opportunities while being defensive, and since he was really passive, we had to work on that subject," said Roach.

So far, Roach is happy with what he has seen. Still, he thinks there's room for improvement.

"There's always room for improvement, and Miguel is still a young puncher," said Roach. "Yes, we can improve -- a lot."

October, 2, 2013
Oct 2
3:46
PM ET
By
Brian Campbell
| ESPN.com
Miguel Cotto enters Saturday's test against Delvin Rodriguez in a spot he's never previously been throughout his 13-year professional career -- on a two-fight losing skid.
That storyline alone only adds to the narrative of what is already expected to be an exciting 12-round junior middleweight bout at Amway Center in Orlando (HBO, 9:45 p.m. ET). For as much as the fight has been categorized rightfully as a showcase bout for Cotto, he will quickly find himself in an all-action affair against the battle-tested Rodriguez, should age and attrition catch up to him overnight.
But should Cotto, who turns 33 on Oct. 29, come out with his hand raised, the talk will quickly turn to what's next. And outside of pound-for-pound king Floyd Mayweather Jr., there isn't another boxer in a better spot to call his own shots than Cotto, who can circumvent today's promotional and network cold war by signing one-fight deals with the suitor of his choice.
Cotto's name still commands respect as the best available B-side on the pay-per-view level, with his fights against Mayweather and Manny Pacquiao having sold 1.5 and 1.25 million buys, respectively. And with the attractive combination of his exciting style and the realities of his vulnerability in the ring, one could make a marketable case for matching Cotto against just about any big name between 147 and 160 pounds.
True to his form, you simply won't get Cotto to comment on any future opponents before he handles the task at hand in Rodriguez. But the fighter did confirm to ESPN.com on Monday that his days at welterweight -- where he hasn't competed since his 2009 loss to Pacquiao -- are completely behind him. New trainer Freddie Roach, who also trains Pacquiao, also has been outspoken in squashing any hope of a rematch between the two fighters.
Outside of that, the world is essentially Cotto's oyster, if he can snap his current losing streak.
"

I'm in the last stage of my career and I just want to finish it the best way possible. I don't know how much time I have left. We are going to return to the winning path in my career on Saturday.

"

-- Miguel Cotto
"I'm in the last stage of my career and I just want to finish it the best way possible," Cotto said. "I don't know how much time I have left. We are going to return to the winning path in my career on Saturday."
While Cotto wouldn't bite on the notion there might be some unfinished business in terms of his legacy, he outlined the clear reason for his desire to fight on.
"It's about being one of the best, you know?" Cotto said. "It's the reason I am still here. I just want to be one of the best."
Cotto carries a clear sense of pride when talking about his May 2012 loss to Mayweather, in which he inflicted more damage on the unbeaten fighter than anyone in recent memory. Although he's quick to mention he was unable to get what he prepared for -- which was a victory -- "I made a great fight, which proved I am still hungry. For that I am proud," he said.
But the veteran fighter's tone quickly changes when the subject turns to his unexpected December 2012 loss to Austin Trout, which spoiled a prospective PPV date with Canelo Alvarez. While Cotto reflected positively on his three-fight relationship with former trainer Pedro Diaz, calling him a true professional who pushed him to work hard, it's clear the fallout from the Trout defeat fueled the switch to Roach.
"We didn't prepare ourselves with the right strategy to beat [Trout]," Cotto said. "That was our fault for that fight."
[+] Enlarge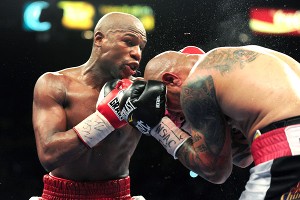 FREDERIC J. BROWN/AFP/GettyImagesCotto lost to Mayweather Jr., but he brought a great fight to the pound-for-pound king.
Cotto not only faded late against Trout, he was criticized for not going to the body -- once his calling card -- as consistently. The switch to Roach, who can be best described as boxing's best players' coach, should be an interesting experiment unto itself, but one designed to increase Cotto's confidence.
In the end, nothing helps rebuild confidence quite like winning, which Cotto is at least expected to do against Rodriguez. But it's refreshing to see a fighter who has given so many thrills in such an unforgiving sport find himself in this strong of a position regarding his future.
Quite honestly, it's a rarefied position to find himself in, and one that, unlike at times with Mayweather, is profitable for all parties in question, from the fighter to the networks, promoters and fans due to Cotto's insistence on being matched against the very best.
The twilight of the Puerto Rican icon's career promises to be as exciting and dramatic as the first 41 fights, and the next chapter will be written Saturday, where a victory would launch Cotto right back into the mix against the sport's elite.
August, 8, 2013
Aug 8
7:03
PM ET
By
Carlos Narvaez
| Special to ESPNDeportes.com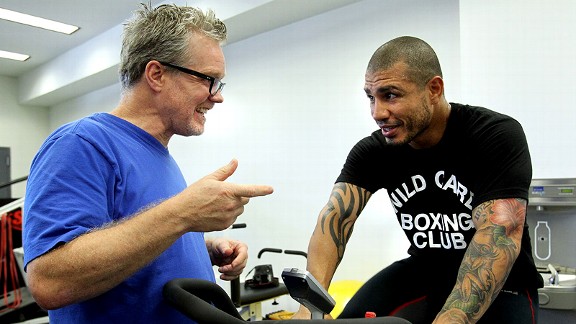 Chris Farina/Top RankMiguel Cotto, right, joined new trainer Freddie Roach this week to begin preparing for his next fight.
SAN JUAN, Puerto Rico -- With little fanfare, former three-time champion Miguel Cotto arrived in Los Angeles this week to begin training for his fight against Delvin Rodriguez on Oct. 5 in Orlando.
Cotto touched down in L.A. on Monday, according to adviser Gabriel Peņagaricano, and joined his new trainer, Freddie Roach, at his Wild Card Gym in Hollywood.
"Miguel started his training camp and he is in Los Angeles," Peņagaricano said. "He started camp with Freddie, who cut short his promotional tour with Manny Pacquiao to be in Los Angeles with Miguel."
Roach, who replaced Pedro Diaz (Cotto's trainer for his previous three fights), set aside time to allow the Puerto Rican star to fully focus on his return after he dropped a decision to former junior middleweight champion Austin Trout last December.
Roach apparently won't split his time between fighters, as he has done at times in the past. Pacquiao has a Nov. 23 date to fight Brandon Rios in Macau, but according to Peņagaricano, Roach won't fly to the Philippines to begin training Pacquiao until after Cotto's fight.
"Freddie will be working with us to the end, and in October he will move to General Dos Santos in Philippines to work with Manny," Peņagaricano said.
Cotto is hoping to rebound after two losses in 2013, the Trout defeat and a May decision loss to Floyd Mayweather Jr.
"Freddie set up a separate area in Wild Card in order for Miguel to work as privately as possible," Peņagaricano said. "Wild Card Gym is a very busy place, and we want to keep his concentration."
This is Cotto's first time training outside of Orlando, where his previous training camps had been staged. During camp, he will live in a rented house near Beverly Hills.
Cotto is entering the final stage of his career, as he has said since the Trout loss that he would fight only three more times before retiring.
May, 23, 2013
May 23
8:59
AM ET
By
Bernardo Pilatti
| ESPN.com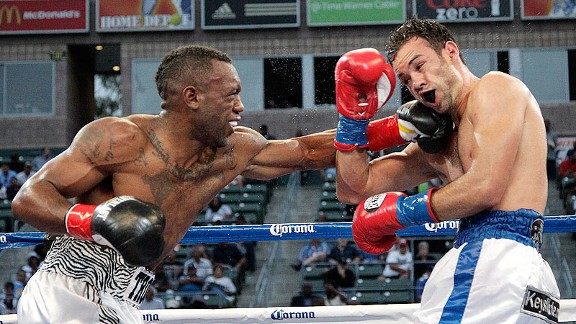 AP Photo/Jae C. HongDelvin Rodriguez is looking for another title opportunity after losing against Austin Trout last year.
In another step towards a new chance at a world title in the junior middleweight division, Delvin Rodriguez is facing a tough challenge against former world title challenger Freddy Hernandez in the main event of "Friday Night Fights" (ESPN2, 10 p.m. ET) on his home turf at the Mohegan Sun Casino in Uncasville, Conn.
Rodriguez (27-6-3, 15 KOs) comes off a dominant sixth-round knockout of George Tahdooahnippah in his first fight since a lopsided loss against former titlist Austin Trout. It was the second time Rodriguez was defeated in a world title fight after losing to Isaac Hlatshwayo in 2009 for a vacant welterweight title.
Now, focused on his future, Rodriguez believes that by defeating Hernandez in an impressive way, he will be in line for another title shot.
"This will not happen in my next fight, but it will put me in a position to be in line," said Rodriguez, who admits his dream is to face junior middleweight titlist Canelo Alvarez. "And early next year I'll be ready to fight for a title. If that doesn't happen, my plan is to fight at least four times a year.
"It will be an emotional fight [against Hernandez]," Rodriguez said. "I feel very well physically and mentally, and I feel positive that I will look good and I am going to defeat my opponent."
Rodriguez knows it won't be easy. Hernandez is a good fighter who has a lot of experience after having faced many high-profile opponents.
"I am taking him very seriously," Rodriguez said. "That's why I am well prepared and confident in my victory."
Hernandez (30– 4, 20 KOs), of Mexico, is coming off decision losses in his past two fights, against Demetrius Andrade and Erislandy Lara. He has won against the likes of Luis Collazo, Mike Anchondo, DeMarcus "Chop Chop" Corley, Jesus Soto Karass and Ben Tackie, but is best known for his knockout loss to former welterweight titlist Andre Berto.
As much as Rodriguez respects his opponent's experience, he was quick to remind about his own when it comes to fighting strong opposition.
"I believe that I also have a lot of experience," Rodriguez said. "My opponents have been good fighters, and I know I have the fight plan and the skills to beat [Hernandez] and other guys who are better than him. I have demonstrated this throughout my career."
Hernandez typically fights with a high work rate and doesn't shy away from exchanges. He has moments when he overwhelms his opponents with aggression, and at the same time he can assimilate punches very well. Those factors could set up a battle similar to the one Rodriguez had with Pawel Wolak in their July 2011 fight of the year candidate.
"When it comes to pressure, it's true that this could be a similar war, because I'm not thinking about going backwards," Rodriguez said. "I'll be the one applying the pressure and the aggression."
When proposed with a possible change of plans in favor of a more elusive brand of boxing -- with more movement and punches in flurries, similar to the style used by Lara against Hernandez -- Rodriguez discarded that option because his own style is so different.
"For now, the idea isn't to use a strategy of movement, but rather the plan will be to land combinations of two or three punches and apply a lot of pressure," Rodriguez said. "Nevertheless, a great fighter is the one who knows how to adapt to the moment of the battle whenever necessary."
In the co-main event, a pair of junior welterweights square off in a 10-round fight when unbeaten Issouf Kinda (16-0, 6 KOs) faces Chris Howard (15-2-1, 7 KOs). If he wins convincingly, Kinda, who was born in Burkina Faso and now lives in New York, may be considered as a future title challenger. He is fresh off a knockout victory against Javier Loya and holds a victory over Mike Arnaoutis.
May, 3, 2013
May 3
4:26
PM ET
LAS VEGAS -- Floyd Mayweather Jr. and Robert Guerrero, naturally enough, steal the headlines. And the hard-core fans are salivating at the thought of Abner Mares tangling with Daniel Ponce De Leon. But Saturday's card at the MGM Grand also includes an intriguing middleweight battle between J'Leon Love and Gabriel Rosado.

Love, one of the higher-profile up-and-coming members of The Money Team -- Mayweather's promotional outfit -- has plenty of talent. But he hasn't yet been truly tested or faced top opposition. In his most recent outing, notable for the fact that Mayweather also served as his cornerman, Love endured some torrid times against tough-as-teak Derrick Findley.

He will take a major step up in class on Saturday when he squares off against Rosado, who turned down the opportunity to headline an ESPN2 card against Delvin Rodriguez to stay at middleweight and take on Love. Rosado, who has fought most of his career at 154 pounds, most recently moved up to 160 in a valiant but losing effort against Gennady Golovkin.
February, 14, 2013
Feb 14
12:46
PM ET
By
Bernardo Pilatti
| ESPN.com
Middleweight Delvin Rodriguez is seeking a win that could open the door to another title shot, and he hopes that opportunity comes against George "Comanche Boy" Tahdooahnippah in this week's "Friday Night Fights" main event (9 p.m. ET) at the Mohegan Sun Casino in Uncasville, Conn.
For Rodriguez (26-6-3, 14 KOs) -- a Dominican fighting out of Danbury, Conn., who moonlights as a boxing analyst for ESPN -- Friday's bout could be a reprieve after a disappointing defeat suffered against middleweight titlist Austin Trout last June.
On the other side, Tahdooahnippah (31-0-1, 1 NC, 23 KOs), a Native American of the Comanche tribe fighting out of Lawton, Okla., will be facing a fighter of Rodriguez's level for the first time. A win could move him up in the division.
"[Delvin] is a warrior who has been in many great fights," Tahdooahnippah said, "but I've been waiting for this opportunity all my life -- both for me and for my people, who provide a lot of encouragement, pride and motivation to me."
A win on Friday wouldn't automatically re-validate Rodriguez as a contender, but he needs it nonetheless, because a loss would certainly send him to the outskirts of the division. Still, his chances seem favorable. Rodriguez will have the backing of local fans against an opponent who, despite his spotless record, is clearly the less experienced fighter.
Tahdooahnippah has fought 31 of his 33 fights in Oklahoma, and only once in his career has he gone deeper than six rounds (a TKO victory over Jonathan Corn in 2008). A notorious lack of recognizable names brings his résumé into question -- he's coming off a knockout of Gundrick King last September -- and to top it off, he will be fighting at junior middleweight for the first time.
Still, despite the seemingly obvious advantages Rodriguez takes into Friday's fight, he has his own problems. He has won only two of his past eight fights (including a draw against Pawel Wolak in an epic 2011 battle). And in his unanimous decision loss to Trout, even his reputation as a crowd-pleasing opponent who comes to fight took a hit. He knows that, and it sounds as though he learned a lesson.
"On that day, I didn't push hard enough, I didn't take enough risks to avoid his counterpunching, and that was my mistake," he said. "My strategy from now on is that the work plan in the gym must be applied later in the fight, and that's what I will do."
Rodriguez's plan likely will be to fight on the inside, throwing lots of combinations in the short- and mid-ranges to nullify his opponent's reach advantage. Tahdooahnippah will almost certainly experience some early nerves, so Rodriguez's experience should help him initially.
But Tahdooahnippah, a late arrival to boxing, has lots of technical attributes
and a fairly unique athletic background
that make him a complicated opponent. He usually makes great use of his reach, and although pressure can get to him, his defensive style will be easier to carry out against a right-hander. Trying to control the pace of the fight with his jab and his counterpunching may be a good option. That's what Jesse Feliciano did against Rodriguez for a stoppage victory in the eighth round in 2007.
Expect an intense fight with an aggressive Rodriguez trying to set the pace and maybe winning by stoppage within the first few rounds. The challenge for Tahdooahnippah will be to overcome that strategy, withstand the initial outburst and wait for a mistake to pounce on with a counter punch. If Tahdooahnippah scores the unlikely upset, it could be his ticket to far bigger fights than he might have imagined working the Oklahoma circuit.
February, 13, 2013
Feb 13
10:16
AM ET
When George "Comanche Boy" Tahdooahnippah steps into the ring against junior middleweight Delvin Rodriguez at the Mohegan Sun Casino in Uncasville, Conn., on Friday (ESPN2/WatchESPN, 9 p.m. ET), he'll be a big underdog on by far the biggest stage of his professional boxing career. But it won't be the first, or even necessarily the most important, fight he has undertaken.

When he isn't lacing up the gloves, Tahdooahnippah spends much of his time working to address a rampant health epidemic that's even more pronounced among his people than the rest of American society.

According to the American Diabetes Association, American Indians and Alaska Natives are more than twice as likely to develop diabetes as non-Hispanic whites. The prevalence of the disease in those communities among youth age 15 to 19 increased by 68 percent from 1994 to 2004.

That's a tide that Tahdooahnippah, a fitness instructor for the Comanche Nation's diabetes program, hopes to stem.

"One hundred and fifty years ago, my people were wild. We lived off the laws of nature," he said. "We went from hunter-gatherers to being able to pull up to a store, buy our food and supersize it if we want it. It's very tough. Even for me as a fighter, I go through portion control, and I've had to train myself to eat right. It's hard. I can't do it all the time, but you just have to practice it."

Education, he points out, is the key, as is exercise.

"I do different programs to get our people to exercise, just to get them to do any kind of physical activity," he said. "We provide incentives -- anything we can do to get people moving."

If Tahdooahnippah can be a shining example, so much the better. It's something that he has striven to be since he was an All-American wrestler at age 15. Although he recognizes he doesn't have anything like the depth of experience in boxing that most 34-year-old televised main eventers might be expected to have, he argues that, to some extent, his lengthy wrestling career helped steel and prepare him for a sport he didn't take up until he was 23.

"I went to international tournaments; I've been to Japan," he said. "Having that competition -- the nerves, being one-on-one, having to make weight, having to perform in the spotlight -- I have all that from wrestling. Not only the experience from that but also the strength and the balance. I've brought all of that to boxing."

But, he points out, that was wrestling, and that was then.

"It's boxing now."

Which is all that will matter when the bell rings Friday. Whereas Rodriguez is no stranger to "Friday Night Fights" or the big stage, Tahdooahnippah is a virtual unknown who has fought 31 times in his native Oklahoma and just once as far afield as Texas. That aspect of his biography earned something of a derisive snort from ESPN's Teddy Atlas last week, but it's something about which Comanche Boy is unapologetic.

Being an Oklahoma-based fighter with no amateur experience and few contacts meant his options were limited, he argues. Besides, "Oklahoma has a lot of Indian casinos, and I'm an Indian fighter. So I had a lot of opportunities to fight and make good money. I've got a family to support. You're putting your head on the line, so you may as well try to make some money from it at the same time."

We'll find out soon enough whether that will count against him when he takes a huge step up in class -- in another casino, but one far from home -- against Rodriguez. In any case, Tahdooahnippah is exultant in advance of the battle, perhaps befitting of his heritage.

"The world's going to see a real-live Comanche Indian that's coming to full effect, just like in the 1800s," he said. "I'm coming to win, and I'm coming to represent all my Native American people. We're here to compete, and we're here to win."
November, 30, 2011
11/30/11
11:16
AM ET
NEW YORK -- Delvin Rodriguez has been a "Friday Night Fights" staple for the past few years. And that's no small potatoes, nothing to scoff at. That means a boxer has arrived ... to an extent.
The purses you get to fight for on FNF can't compare to the those on HBO, or on pay-per-view, as Delvin Rodriguez of Danbury, Conn., will be doing for the first time on Saturday night.
HBO and pay-per-view can mean a house, savings for the kids' college fund. It can be a most-sweet payoff in this tough trade, and can make those 5 a.m. wakeup calls to do the roadwork and those omnipresent bumps, bruises and muscle and tendon tears more palatable.
If Rodriguez (25-5-3 with 14 KOs) can get the better of New Jersey's Pawel Wolak (age 30, 29-1-1 with 19 KOs) at Madison Square Garden, and do a bit more than he did on July 15 when
the two men thrilled the FNF audience and battled to a draw
, he will get that much closer to those meatier payouts.
Rodriguez, 31, is a solid boxer-puncher, a versatile pugilist who is comfortable outside or inside. He moves his feet to get angles and moves his head to avoid getting hit. He probably has the skills edge going in to the sequel. "The first fight, I was out of the ring for a year," he said. "It did take me a couple rounds to get into a rhythm. This time there's going to be no four rounds warming up."
Watch this video, which should give you a better idea of the stakes up for grabs when Rodriguez and Wolak thrown down in NYC.