March, 16, 2014
3/16/14
12:11
AM ET
By
Brian Campbell
| ESPN.com
Vyacheslav "Czar" Glazkov rose to the occasion throughout most of the night in the biggest fight of his career.
But it took the unbeaten heavyweight prospect holding off a late rally from determined veteran Tomasz Adamek to secure Saturday's title eliminator.
[+] Enlarge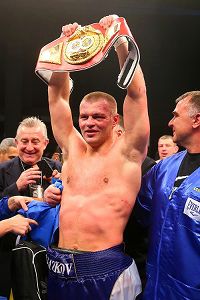 Rich Graessle/Main EventsUnbeaten heavyweight Vyacheslav Glazkov used a heavy jab to outwork veteran Tomasz Adamek.
Glazkov (17-0-1, 11 KOs) fought past 10 rounds for the first time in his career and scored a unanimous decision (117-110, 117-111, 116-112) at the Sands Casino Resort in Bethlehem, Pa. ESPN.com scored the bout 115-113 for Glazkov.
"I wasn't surprised because I felt I was controlling all of the fight and winning every single round," Glazkov said, through an interpreter. "I didn't have experience to go into 12 rounds, which was missing in my game plan, but I learned during this bout."
Glazkov, 29, dominated for the majority of the bout with a punishing jab that caused severe swelling around the right eye of Adamek (49-3, 29 KOs) in Round 2. The 2008 Olympic bronze medalist from Ukraine continued to walk down and impose his size on Adamek, landing consistently with counter right hands.
"This is boxing, you know, sometimes it happens," said Adamek, of a badly swollen and bloody right eye that affected him throughout. "I have broken my nose in my career. This is boxing -- you never know what is going to happen."
Adamek, 37, was staggered by a hard right hand in Round 8 before getting hammered with power shots throughout most of Round 9. But the native of Poland never quit and posted a heroic final stand. Adamek produced his finest work in Round 12, connecting with a series of right hands on a fading Glazkov, whose left eye was swollen and bruised.
In the final two rounds, according to CompuBox, Adamek outlanded Glazkov 55-38 in total punches and 32-22 in power shots.
The loss snapped Adamek's five-fight winning streak since his 2011 title loss to Vitali Klitschko and dealt a major blow to any future hopes of contending for a belt. Because of that, Adamek openly considered retirement after the bout when asked if he plans on continuing.
"No, I have to stop," Adamek said. "I lose my chance and title shot is impossible. I don't know right now."
The victory proved to be a breakthrough one for Glazkov, who showed strong poise and confidence against a fighter with much more experience.
"This is a passing of the torch," said Main Events CEO Kathy Duva, who promotes both fighters. "Glazkov did everything he absolutely had to do to win this fight against a very tough and very accomplished opponent. Tonight he announced his arrival to everyone that he belongs among the top five heavyweights. Adamek is someone who has been a top 10 heavyweight for the last six to 10 years. I am really at a loss to say who amazed me more."
Chilemba handles Grachev
Light heavyweight contender Isaac Chilemba was simply too slick for the hard-charging Denis Grachev in the co-main event and cruised to a wide unanimous decision.
[+] Enlarge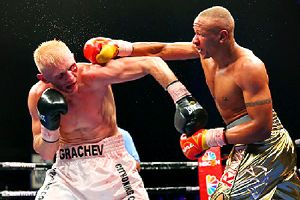 Rich Graessle/Main EventsLight heavyweight Isaac Chilemba relied on movement and accuracy to outpoint a determined Denis Grachev.
Chilemba (22-2-2, 9 KOs), 26, did the majority of his damage by working off of his quick jab and countering on the inside with his right hand. The native of Malawi, who fights out of South Africa, was victorious by scores of 100-90 and 99-91, twice. ESPN.com also had it 100-90 for Chilemba.
Grachev (13-3-1, 8 KOs) persevered through cuts above and below his left eye, along with bleeding from his nose, to make it an exciting fight over the second half of the scheduled 10 rounds. The 31-year-old native of Russia, who fights out of San Diego, was simply unable to land a sustained amount of power shots.
The light-hitting Chilemba, who suffered a small cut above his right eye in Round 6, fought in a much more exciting style than he has become known for and did well to trade with Grachev on the inside at key moments.
November, 4, 2012
11/04/12
12:56
AM ET
By
Brian Campbell
| ESPN.com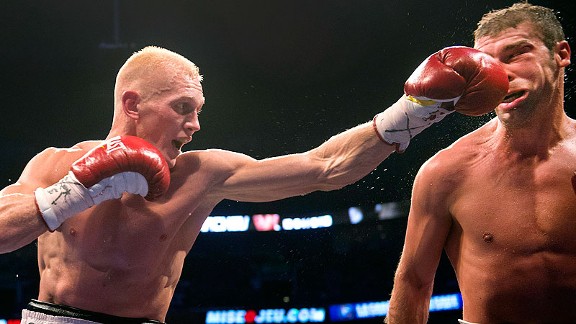 AP Photo/The Canadian Press, Ryan RemiorzLucian Bute, right, showed both the good and the bad during Saturday's victory over Denis Grachev.
There was a time when Lucian Bute, then the only elite super middleweight not invited to participate in the Super Six World Boxing Classic, stirred up plenty of debate by piling up title defenses as the lone champion on the outside looking in.
Was he the top-10 pound-for-pound fighter that some had believed due to his glossy record and highlight-reel knockouts? Or was he simply untested and overrated?
We thought he had our answer when Bute was stopped in the fifth round by Super Six runner-up Carl Froch in May, but still, a glimmer of doubt remained.
But before Bute could test that doubt in a looming rematch, there was Saturday's meeting with unbeaten prospect Denis Grachev to attend to, where the verdict -- a unanimous decision win for Bute -- predictably left us where we started: with more questions than answers.
The Romanian-born Bute (31-1, 24 KOs), fighting in his adopted hometown of Montreal, overcame cuts and bruises to finish strong in the championship rounds and hold off the hard-charging Grachev by a slim margin (115-113, 118-110, 116-112) in an exciting fight.
What we learned was that Bute, at 32, is no longer an elite fighter (whether he ever was or not), as evidenced by the punishment he absorbed from the awkward, but raw Grachev (12-1-1, 8 KOs). Bute, a talented counter puncher, abandoned his jab and allowed Grachev to get off first for long stretches, with Bute consistently backed up into the ropes and corners.
But we also saw another side of Bute when he needed it most: the heart of a champion.
The same fighter who defended his super middleweight title nine times from 2008 to 2011 landed hard and clean counter shots in the late rounds, saving his best for last -- an inspiring 12th round where Bute emptied the tank in the center of the ring with power shots while cleverly avoiding Grachev's counter strikes.
Bute gave us both the good and bad against Grachev, a fighter who mimics Froch's own awkward style well despite being much-less refined as a boxer. Both fighters hold their left hand low, bending forward at the waist with lead left hooks from multiple angles.
When Bute used his jab against Grachev, he landed it at will, setting up his dangerous left uppercut to bank rounds. But when Bute spent too much time sitting back and waiting for the perfect window to counter instead of getting off first, he was a sitting duck to Grachev's body attack and leaping hooks.
We certainly know enough now to clearly favor Froch in a rematch with Bute --- one that still presents plenty of storylines and potential for action and drama. But we also don't know enough about what's left inside of Bute to fully count him out.
Bute may not be the elite fighter some once thought him to be, but through his heart, talent and vulnerability, he's proving to be must-see enough not to hold it against him.
April, 27, 2012
4/27/12
8:55
AM ET

The best fighters need to want to face the best, Ismayl Sillakh says, or boxing risks going down the tubes.

And yes, in case you were wondering, the Ukrainian-born light heavyweight who this week headlines "Friday Night Fights" at the Erwin Center in Austin, Texas, against Denis Grachev, believes he belongs in the category of boxing's best.

Sillakh, 27, thought he would get to prove that against Jean Pascal, the former heavyweight titlist who holds a win over Chad Dawson and who drew and lost in two bouts against the ageless Bernard Hopkins. There was talk that Sillakh (17-0, 14 KOs) would glove up against Pascal last May, but that proved to be just talk. Sillakh, whose best win is a 10-round decision over Yordanis Despaigne in March 2011, suspects that Pascal is dodging him because he is too skilled and presents an immense risk. Sillakh's manager, Ivaylo Gotzev, thinks the same.

"Of course I'm a little biased, but Ismayl's as good as anybody out there at 175," said Gotzev, who also handles Samuel Peter and has worked with Vassiliy Jirov and Sergei Liakhovich. "He's fast and skilled, and people avoid fighting him. Chris Henry, Pascal, Zsolt Erdei, Chad Dawson -- they're all running. In my 20 years in management, Ismayl is the best talent I've had."

Gotzev is confident that his guy, ranked No. 2 by the WBC, will get the winner of Saturday's Bernard Hopkins-Chad Dawson fight in Atlantic City, N.J. ("The WBC ordered it," he said.) Hopkins, who turned 47 in January, is the underdog against the 29-year-old Dawson in a rematch of their October 2011 bout, which ended in Round 2 when Hopkins was unable to continue because of an injured left shoulder.

No offense intended to the 29-year-old Russian-born Grachev (11-0, 7 KOs), a former kickboxer who has been semi-inactive, finding it hard to secure fights.

For his part, Grachev, whose best win is a TKO of Vladine Biosse in May 2011, wasn't lacking for confidence on a phone call, telling ESPN.com that he is "going to break Sillakh."

And how will the 6-foot-1 righty achieve that? His right hand to the body will help do the trick, he says, though he acknowledges that Sillakh is rightfully seen as the favorite in the scrap.

"Sillakh is a very tough opponent, he's very good," Grachev said. He knows, having sparred a bit with Sillahk about a year ago.

Informed of Grachev's prediction, Sillakh, a 6-foot-3… right-hander, laughed. "It's fine," he said on the phone. "He's a good boxer, but I will bring him to school. He can do whatever he wants, but I think I will stop him in four or five rounds."

I expect Sillakh will do just that, because he has pop in both hands and some sweet feet. He dictates distance quite well, using his agility and foot speed to best effect, and with over 300 amateur fights tucked under his belt, he recognizes when he has his foe hurt and definitely seeks to exploit that.

Then he will turn his eyes to the men ahead of him in line, Dawson and Hopkins, and engage in some scouting.

"I will fight one of them sooner or later," said Sillakh, who now lives in California. "I came to this country in 2008 because it has good fighters and coaches. I don't understand why the best don't take the fights. If you're a fighter, you want to fight. You want to fight the best. If not, then boxing will go down."