December, 23, 2013
12/23/13
2:57
PM ET
The clichéd "irresistible force versus immovable object" paradox makes for a pretty darned good stylistic showdown in the boxing ring. But it's second-best in terms of excitement to when the irresistible force meets another irresistible force.
The truth is, we don't really know how immovable either lineal light heavyweight champion of the world Adonis Stevenson or unofficial "baddest man" in the division Sergey Kovalev are. Kovalev has yet to have his chin and will properly tested. Stevenson lost by knockout once 3½ years ago, but that feels like ancient and irrelevant history -- and like Kovalev, he hasn't had to show his mettle much since. Stevenson and Kovalev are both destroyers, guys who bulldoze whatever you put in front of them. We don't know if they can take as well as they can give.
But good lord, can they both give it.
Stevenson boasts 20 knockouts among his 23 wins -- 10 of them coming in the opening round. He has won 10 straight, all by stoppage, since that 2010 loss (since avenged) to Darnell Boone. Kovalev has 21 knockouts in 23 wins, 15 of them coming in the first two rounds. He has never had to go beyond the eighth round (interestingly, it was Boone who took him the full eight back in 2010).
Stevenson-Kovalev would be irresistible force versus irresistible force, two heat-seeking missiles pointed directly at each other and released. Combustion is guaranteed -- and whoever emerges from the flaming wreckage is the universally recognized king of the 175-pound division.
And the best part is, there are no network rivalries or promotional entanglements to prevent this fight from happening. The only thing standing in the way of Stevenson-Kovalev, it would seem, is Stevenson's preference for one or two more defenses first that offer him a more favorable risk-reward ratio.
When they shared an HBO card in Quebec on Nov. 30 and Kovalev was asked who he wanted next, he declared simply, "Adonis." As a mere beltholder and not the true champion, it's obvious why he is so motivated to make the fight.
But when Stevenson was asked the same question, he tap-danced around Kovalev's name, instead calling out Carl Froch and Bernard Hopkins. Hey, we get it. Hopkins is still a household name who brings money to the table. Froch is a more established fighter than Kovalev, and he happens to be a weight class smaller and coming off a shaky performance. Neither of them is half the knockout threat at 175 that Kovalev is. So it's understandable why the "Krusher" from Russia wouldn't be Stevenson's first choice.
But he's undoubtedly the first choice of fight fans. This is the matchup that needs to happen, two of boxing's best pound-for-pound punchers, coming off breakthrough years, determining in an all-offense fight who rules the division.
It's irresistible force versus irresistible force, making for an irresistible attraction for boxing fans.
#ESPN12days @AdonisSuperman vs @KrusherKovalev; @Carl_Froch vs @StGeorgeGroves; @ChinoMaidana vs @DannySwift; @BCampbellESPN #boxingwishlist

— Chito Muņiz (@chitomuniz) December 23, 2013
May, 13, 2013
5/13/13
9:34
PM ET
It was just a week ago that, along with everyone else with even a passing interest in the sport of basketball, I found myself asking, "Who is that idiot who voted for Carmelo Anthony over LeBron James for NBA Most Valuable Player?"
Turns out there were four fingers pointing back at me and I'm the idiot.
To clarify, I'm not the guy who cast a vote for 'Melo. But if being the lone dissenter on a sports media panel makes you an idiot in the minds of the majority, then I'm just as bumbling.
[+] Enlarge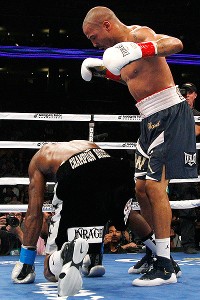 AP Photo/Jeff ChiuAndre Ward stands tall -- even above Floyd Mayweather Jr. -- by virtue of his superior résumé, including last September's TKO of Chad Dawson.
Granted, the sole Carmelo-over-LeBron voice was heard among 120 other voters, which makes for a much sorer thumb than being the contrarian among a field of 10. But I'm a sore thumb just the same, the only one of ESPN.com's 10 pound-for-pound voters who still ranks Andre Ward No. 1.
Going into Floyd Mayweather Jr.'s May 4 fight with Robert Guerrero, there were three of us. But Teddy Atlas and Joe Tessitore both abandoned me and moved Mayweather back into their respective top spots a week ago, and when the new rankings were published, there was Floyd with 99 of a possible 100 points. I was suddenly the only thing preventing him from being a unanimous choice.
It's a bit uncomfortable knowing every one of your peers (at least among these nine particular peers) disagrees with you. But I stand by my rankings. I don't dispute Mayweather's ability in the least and I understand why most people rank him No. 1, but I still believe Ward is the best boxer in the world, pound for pound, at this moment.
I actually wrote a year ago on Grantland
, just prior to Mayweather's fight with Miguel Cotto, that I felt Ward might already be the best in the business, only without the signature win to justify ranking him No. 1. A few months later, Ward, the lineal champ at super middleweight, dominated and stopped Chad Dawson, the lineal champ at light heavyweight. He had the signature win. He validated my suspicions. He became, for me, a downright obvious choice, particularly with Mayweather having struggled more than most observers expected he would with a past-prime Cotto.
Against Guerrero, Mayweather gave one of the more sterling performances of his lengthy career and erased the doubts raised by the Cotto fight. But was one great performance against a solid opponent enough to change the order at the top for those who previously favored Ward? Especially given that Ward's most recent performance was even more dominant, much more physically destructive, and came against Dawson, a better all-around fighter than Guerrero? For me, no. Not quite.
Part of the argument against Ward is that he's coping with injuries, hasn't fought in eight months and probably won't fight for another three or four months. That's fair, and if his inactivity extends to a full year, he'll need to be dropped from the rankings, per ESPN.com guidelines, at that time.
But if we look at recent history -- not just the last few months when Ward hasn't fought, but going back to the start of Mayweather's un-retirement in 2009 after a 21-month break from the sport -- I believe Ward has the superior résumé.
Mayweather has beaten some high-profile foes, but there are asterisks almost everywhere: He didn't try to make weight for the Juan Manuel Marquez bout, thus gaining an unsportsmanlike advantage he never needed; he sucker-punched Victor Ortiz, again taking a legal but unnecessary shortcut; he got rocked by Shane Mosley; he had a tougher time beating Cotto than Austin Trout did a few months later.
Again, they were all quality wins, and Mayweather is undoubtedly still very close to the peak of his powers. But Dawson, Mikkel Kessler and Carl Froch were all pound-for-pound top-20 fighters when Ward convincingly beat each of them, and in Ward's lesser tests, he might not have lost a round to Allan Green, Sakio Bika or Arthur Abraham. In fact, he hasn't lost more than two rounds to anyone in his entire professional career except for maybe Froch -- who, by the way, currently resides one spot outside
ESPN.com's current P4P top 10
.
Stylistically, Mayweather fights in a manner that makes his greatness more obvious, more tangible. There's an aesthetic beauty to the way he boxes that Ward lacks. Ward doesn't have Mayweather's ridiculous hand speed or reflexes. But Ward's boxing brain is a wonder. It's perhaps the greatest weapon that exists in boxing today.
Ward fights in a style reminiscent of Bernard Hopkins, mauling and negating and nullifying without producing a preponderance of oohs and aahs. Mayweather, meanwhile, is capable of some of the spectacular displays of athleticism that Roy Jones Jr. used to offer in his prime. It's no surprise that Jones spent a lot more time at No. 1 on the P4P list than Hopkins did. But history will be more kind to Hopkins because history doesn't care as much that his style, like Ward's, is a turn-off to many fans.
Another flaw of most pound-for-pound rankings is that, typically, it takes so long to
prove
your greatness that it isn't recognized until you've started to decline. Mayweather wasn't considered boxing's pound-for-pound No. 1 when he was at his absolute best, eviscerating Diego Corrales in 2001. He wasn't even No. 2 or 3; most people had the more proven Jones, Shane Mosley and Felix Trinidad ahead of Mayweather after Floyd, in his true prime, scored the greatest victory of his career.
At 29, Ward is currently in his prime. He has sufficiently proven his worth at the elite level to me over the past four years. I'll drop Ward if he isn't ready to fight by September or if, when he does fight, he doesn't perform as effectively as Mayweather did against Guerrero. But for now, to my eyes, Andre Ward is the best there is.
And if all nine of my colleagues at ESPN.com believe differently, that's fine. It doesn't make them wrong. But it doesn't make me wrong, either.
April, 2, 2013
4/02/13
11:51
AM ET
Anyone with even a passing interest in boxing can recognize the need for an alternative to the alphabet sanctioning bodies, which over the past half-century have proliferated like gremlins, been indicted for corruption, ranked dead men, and tried to convince the public that Nicholas Walters (who?) versus Daulis Prescott (who?) is a fight that crowns a world champion.

But what do you do when you need an alternative to the alternative?

That's a question three boxing journalists asked themselves last spring, when each lost faith in what had been the fans' primary alternative to the alphabet absurdity, The Ring magazine. Within days of each other, Tim Starks, who authors the Queensberry-Rules.com blog, Cliff Rold of BoxingScene.com, and Springs Toledo, a writer for TheSweetScience.com -- all three members of The Ring Ratings Advisory Panel -- penned pieces disdaining key changes in the magazine's championship policy. All three, independently, announced their resignations from the panel in their respective articles.

(Full disclosure: I was an editor at The Ring from 1997-2005 and a freelance contributor from 2005-2011. I haven't written for the publication or its website since.)

Ring championships date back to the days of Jack Dempsey, and it was in 2001 that then-editor-in-chief (and current ESPN boxing contributor) Nigel Collins resurrected them from a 12-year period of dormancy with a new championship policy. After Collins' dismissal a decade later, a series of championship decisions in the new editors' first nine months in power -- detailed in the Starks, Rold and Toledo columns mentioned above -- raised eyebrows and ire. The most significant was the announcement in May 2012 of new, looser standards for filling title vacancies. Where once the objective of The Ring titles had been to separate the real champions from the countless alphabet titlists, now the stated goal was to crown as many champs as possible. In a sense, The Ring stopped being an alternative to the alphabet madness and instead itself became one more alphabet group.

Not wanting to be associated with the Ring ratings any longer, Starks, Rold and Toledo all stepped down -- and soon Toledo pitched the others on the idea outlined in his aforementioned article, to form "an objective rankings panel ... that is internationally represented, knowledgeable, and independent." After several months of planning, recruiting and website construction by British boxing observer Stewart Howe, the Transnational Boxing Rankings Board (TBRB) launched in October 2012, not only with top-10 rankings in each division, but with a strict championship policy in place.

"The void The Ring left really had to be filled," Toledo said. "A rankings body had to be created for future researchers looking backward, for fans looking for information they can trust, and for all of us who want to see the day when boxing makes sense again."

"Right now, the sanctioning outfits that award championship belts aren't credible -- there are four current middleweight champions according to the WBC, WBO, WBA and IBF, which is like having four Super Bowl champions," Starks said. "Somebody without a financial stake in handing out tons of belts needed to cut through the clutter so that people who value the notion of world champions could identify who the real champs are in each division. The lineal championship should be the standard. And crowning lineal champions requires sensible rankings and strict standards that we used to have but that went away with Ring's policy changes."

The cornerstones of the TBRB charter are: Only a meeting between the top two fighters in a division can fill a championship vacancy, and the ratings are compiled with the input of a board of at least 25 members. The board currently consists of 30 members (full disclosure, Part 2: I am one of them), hailing from 14 different countries.

The weekly process is straightforward: Every Sunday, the three founders put their heads together and update the rankings to reflect the past week's results; the updates are posted on a message board accessible only to members; the TBRB board members weigh in with disagreements and suggestions; the founders take the suggestions into account and finalize the ratings.

The result is a set of rankings compiled by a relative consensus of 30 informed opinions, with no financial motive beyond the theoretical generality that what's good for boxing is good for boxing journalists.

"We set it up to be beholden to nothing but boxing in the abstract and are deriving no profit from it," Toledo said.

Even if the intention is pure and admirable, that doesn't ensure anything in terms of acceptance and relevance. I know from my experience at The Ring what an uphill battle it can be to convince more powerful entities with louder voices to support your cause. Our reach was limited because the higher-ups at HBO and Showtime wouldn't get on board. Admittedly, for all of our efforts, The Ring made only a small dent in the championship culture during my time there.

"Branding is the big issue," Rold said. "Until TBRB becomes a go-to for boxing fans, one that everyone is aware of and accepts as a fair arbiter, it will struggle for recognition."

So far, TBRB's rankings have been adopted by eight boxing-specific websites, but in terms of mainstream exposure, there has been little beyond a mention on The Wall Street Journal's website. ESPN broadcaster Teddy Atlas recently endorsed TBRB, an enormous step in terms of publicity, but there will still be a long way to go before TBRB is truly a player on the global boxing landscape.

Few sports have proved to be more consistently resistant to change than boxing. For now, TBRB is simply an alternative for fed-up fight fans to turn to. If that's all that it ever becomes, the founders are OK with that and will continue forward.

But the hope is that it can become more than that -- not just an available alternative, but an active solution.

March, 27, 2013
3/27/13
1:10
PM ET
The superstar-in-the-making, in his very early 20s, is relatively unproven in the ring but is already among the most popular and entertaining fighters in boxing -- particularly with Mexican and Mexican-American fans.

He is risking his undefeated record and his junior middleweight belt against a tricky, lesser-known African-American southpaw in his late 20s.

And this young ticket-seller is instantly identifiable by the hair on his head.

That's an accurate description of Canelo Alvarez as he prepares to fight Austin Trout at the Alamodome in San Antonio on April 20.

It's also an on-point description of Fernando Vargas nearly a decade and a half ago, when he was readying for a Dec. 4, 1999, bout against Winky Wright at Chinook Winds Casino in Lincoln, Ore.

The prefight parallels are undeniable. And if Alvarez-Trout is to be Vargas-Wright 2.0 in the postfight analysis as well, that means we can expect a hard-fought, at times thrilling battle in which the close rounds are not going to go Trout's way. (Remember that Texas is the state that told us Juan Diaz outpointed Paulie Malignaggi and Tavoris Cloud beat Gabriel Campillo, and that continues to put a pencil in the hand of Gale Van Hoy on a regular basis; it's more likely that Pee-wee Herman's bike is sitting in the basement of the Alamo than it is that Trout will get the benefit of the doubt from the judges.)

While some have labeled Canelo the second coming of his promoter, Oscar De La Hoya, it is Vargas -- once De La Hoya's most hated (or at least hateful) rival -- who makes for the more appropriate comparison.

They are similarly precocious: Alvarez is 22. Vargas was three days shy of his 22nd birthday when he fought Wright.

They are similarly (un)proven: Vargas had defeated Yory Boy Campas, Raul Marquez and nobody else of note, whereas Canelo has beaten nobody quite as credible as Campas was in 1998 but has topped a few guys in the Marquez range, including Ryan Rhodes, Alfonso Gomez and used-up versions of Kermit Cintron and Shane Mosley.

Their talents and styles are similar: Both are boxer-punchers with world-class technique, power and accuracy but slight deficiency in the defense and hand-speed departments.

And there's the hair: Alvarez's red locks, in combination with his freckled face, are the basis for his "Cinnamon" moniker. Vargas sported a buzzcut all the way around, except for a few strands in front that were grown out several inches, bleached blond and held in place with product before "There's Something About Mary" popularized a similar style.

Well, that was Vargas' hairstyle, anyway, until he suddenly shaved his head on the eve of the Wright fight. "El Feroz" went through some personal turmoil shortly before the fight -- the most he ever revealed on the record was that it had to do with his mother -- and he cut off his trademark locks and later claimed he underperformed in the ring due to his personal distractions.

In actuality, though, Vargas didn't underperform at all. Wright was just better than most of us realized. Winky would go on to defeat Shane Mosley and Felix Trinidad and come up a dubious decision short of capturing the lineal middleweight title against Jermain Taylor, ultimately becoming a far stronger bet than Vargas to end up with a bust in the International Boxing Hall of Fame. But heading into their fight, Wright was a guy with minimal U.S. exposure and a recent points loss to one Harry Simon. Vargas, 17-0 with 17 knockouts coming in, was a considerable favorite.

For 12 rounds, Vargas and Wright dueled, neither ever establishing clear superiority. The 28-year-old Wright, the supposed boxer, was the one moving forward throughout, but according to CompuBox, it was Vargas whose hands were firing and landing slightly more. Wright seemed to pull out to a lead in Rounds 8 and 9; Vargas took both the 10th and 12th clearly. HBO's Harold Lederman scored it 115-113 for Wright, and as we've seen countless times, the Lederman card invariably influenced public opinion. The comments currently posted underneath the fight on YouTube are almost all about the scoring and suggest that the only thing unanimously agreed upon is that the bout was close.

Vargas won a majority decision by a hard-to-swallow 116-112 and perfectly reasonable scores of 115-113 and 114-114. It was considered the worst night of his career at the time. In retrospect, it's one of his most meaningful wins.

If Alvarez beats Trout -- as long as it isn't an all-out robbery -- it will surely be the most profound accomplishment of his career thus far. Trout, 27, convincingly outpointed Miguel Cotto at Madison Square Garden last December and is, like Wright, a skilled southpaw who prefers not to slug it out but certainly isn't a runner.

Is Alvarez as gifted a fighter as Vargas was? Can he be even better and go even further? Does he, too, have an enormous fighting heart?

We should get some answers when he fights his Winky Wright next month.
December, 26, 2012
12/26/12
1:05
PM ET
There are two kinds of year-end awards: the ones that matter, and the ones you're about to read.

First, an acknowledgement: Boxing is a deadly serious sport, and just for having the guts to step into the ring, every professional fighter deserves the respect of us know-it-alls on press row.

But it is sometimes a writer's job to provide levity and to playfully mock the brave men (and women) whom he wouldn't dare mock to their faces. In that spirit, enjoy these awards recognizing some of boxing's best, worst and just plain weirdest from 2012:

The Fastest Way to Throw Away All of Your Street Cred Award goes to Floyd Mayweather Jr., whose carefully cultivated gangsta image unraveled when "Money May" went to prison and insisted he couldn't survive without bottled water. I'm pretty sure when Suge Knight did time, he didn't complain about the scarcity of Evian. I can't wait until Floyd meets Dewey Bozella and bends Dewey's ear with tales of how tough his two-month stretch was.

The Male Undergarment Trendsetter of the Year Award goes to Julio Cesar Chavez Jr., who turned heads and burned out retinas with his neon pink briefs on "24/7." It could have been worse, I suppose; at least Chavez never forced HBO to go to the blurcle.

The Most Appropriate Name Award goes to Guy Robb, who was the guy robbed when ref Vic Drakulich called a premature stoppage in his January fight with Joel Diaz. Sure, Robb was behind on points and probably going to lose anyway. But I'm willing to stretch a bit to give him this award, because the alternative involved making a bunch of jokes about Adrien Broner's last name that would have put my editor in an uncomfortable position. Speaking of Mr. Broner ...

The Most Polarizing Figure in Boxing Award was a tight race between Broner and Danny Garcia's father Angel, but in the end, I'm giving it to the Twinkie-tweetin' lightweight sensation. By a nose, it's the "Can Man" over the least popular man in Pakistan.

The Live TV is not for Everyone Award goes to Chuck Giampa, who in his debut appearance as a Showtime analyst in January took us inside the mind of a boxing judge ... revealing it to be an awful lot like going inside Al Capone's vault. Giampa hit for the cycle of on-camera work: The freeze, the repeat-your-line, the four-letter word and the premature cutaway were all represented in his first 10 seconds on the air.

The Wasted Year Award goes to Gary Russell Jr., who, at age 24, followed up his ESPN.com Prospect of the Year campaign by fighting just twice against nondescript opposition. If Russell doesn't show up to collect his award (a realistic possibility, given his recent disinclination toward public appearances), we'll instead give it to his Olympic teammate Demetrius Andrade, in recognition of his racking up five rounds of professional experience this year as a fellow 24-year-old.

The Best Performance of a Bette Midler Song by Two Men About to Fight Each Other Award goes to Kevin Johnson and Tyson Fury, who delivered a stirring piano-and-vocals rendition of "Wind Beneath My Wings" in December. Full-on "Beaches" remake, anyone?

The Best Story About Biting out Another Dude's Eye Award goes to Freddie Roach, as revealed on the outstanding HBO documentary series "On Freddie Roach." Meanwhile, the Worst Investigative Journalism Award goes to the production team behind "On Freddie Roach." Freddie tells this amazing and gruesome story about getting jumped and biting out the eyeball of one of his attackers, a one-eyed man happens to work at his gym and appears regularly on the show ... and we don't get any follow-up questions?

The Most Inspiring Fighter Award (hey, nobody said we couldn't mix in a serious category or two) goes to Paul Williams, who handled his motorcycle crash and subsequent partial paralysis with more positivity than I ever would have thought possible. A runner-up nod to Orlando Cruz, who this year became the first openly gay active pro boxer.

The You Might Want to Stick to Promoting Award goes to 50 Cent, for the quality of his rapping during Yuriorkis Gamboa's ring entrance in December.

The Worst Refereeing Award goes to Luis Pabon, who simply wouldn't get out of the way in February's Marco Huck-Alexander Povetkin heavyweight fight and almost certainly cost Huck a knockout win as a result. Pabon proved to be the fight game's equivalent of a helicopter parent, always hovering, always looking to break clinches before they even happened. Pabon even got clocked by an errant punch at one point -- which is the sort of thing that happens when a ref inserts himself while the fighters are actively attempting to, you know, fight.

The Hottest Twitter Trending Spectacles of the Year Award goes to Jim Lampley's tortoise-shell frames. Better luck next year, Jim Lampley's matte black frames and Jim Lampley's wire frames.

The Please do Your Business Off TV From Now on Award goes to Miguel Vazquez, who put two audiences to sleep in a six-week span late in the year with his action-free decision wins over Marvin Quintero and Mercito Gesta. Vazquez is a skillful fighter who has every right to make a living in the ring. I just don't want to know about it until the fight is over and the result is posted somewhere on the Internet.

The Least Welcome Fight of the Year winner is a toss-up between Christy Martin-Mia St. John II and Wladimir Klitschko-Jean-Marc Mormeck. In the end, I lean toward Klitschko-Mormeck because it lacked the potential for a wardrobe malfunction from a former "Playboy" cover girl.

The Chin of the Year Award would have gone to Mariusz Wach for the beating he endured from Klitschko, but because Wach's performance was tainted by a positive drug test, I'm instead giving this one to all the loyal boxing fans who took it on the chin from the sport's feuding, counterprogramming power brokers on Sept. 15. The fans who support this sport take enough abuse week in and week out without being forced to miss either a Chavez fight or a Canelo Alvarez fight because rival promoters and rival networks need to have their diva standoffs. Hopefully, in 2013 more of the powers that be will consider what's best for the fans and the Chin of the Year Award can be bestowed on an actual fighter.
December, 24, 2012
12/24/12
9:36
AM ET
2012 will not go down as the year in which boxing developed a PEDs problem. But it will go down as the year in which boxing was forced to admit it has a problem.
This was the year in which the average fan's view of the average fighter shifted from a presumption of innocence to a presumption of guilt.
[+] Enlarge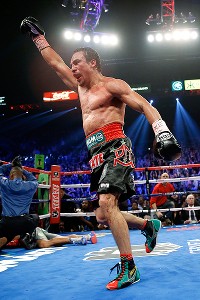 AP Photo/Eric JamisonJuan Manuel Marquez's physique in his historic knockout of Manny Pacquiao proves none of the PED suspicions against him, but his win should speak volumes in the 2012 boxer of the year race.
So it's only fitting that, as 2012 draws to a close, the topic of performance-enhancing drugs plays a major role in the discussion of who should be named boxer of the year.
With all due respect to solid candidates such as Danny Garcia, Brian Viloria and Robert Guerrero, the decision comes down to two fighters: Nonito Donaire (
officially the ESPN.com Boxer of the Year
) and Juan Manuel Marquez.
Donaire and Marquez put together very different campaigns, both in terms of their in-ring appearances and what they did between those appearances. Donaire was referred to recently by HBO's Jim Lampley as "the beacon of hope," because he's the only fighter submitting to year-round testing by the Voluntary Anti-Doping Agency. Marquez is the current poster boy for fighters whom it's suspected wouldn't do so well on those same VADA tests.
Who wins this debate, and whether it even
is
a debate for you, depends heavily on what your criteria are for determining the boxer of the year. Is it partially a sportsman of the year award, where ancillary factors -- such as a boxer's stance on drug testing -- matter? Or is it just about performance? And even if it's purely based on what happens between the ropes, how do you weight quantity and quality?
My personal criteria have always included a preference for fighters whose results exceed expectations. For example, in 2007 -- the last time there was really any debate over the award -- I voted for Kelly Pavlik, who knocked out both Edison Miranda and Jermain Taylor as a betting underdog, over Floyd Mayweather Jr., who did what I expected him to do against Ricky Hatton and did less than I expected against Oscar De La Hoya.
I don't mean to denigrate Donaire's 2012 campaign in the least, but whereas quantity is clearly on his side -- he fought four times, something championship-level fighters almost never do anymore -- I'm not exactly blown away by his level of opposition, nor the manner in which he dispatched most of that opposition.
His ninth-round knockout of Toshiaki Nishioka was first-rate on both counts. But his bout with the aging Jorge Arce was a pointless mismatch, and everyone knew it. Wilfredo Vazquez Jr. (who lost to Arce in 2011) and Jeffrey Mathebula were both fringe contenders, and "The Filipino Flash" certainly didn't exceed anyone's expectations with decision wins over the two of them. If anything, the boxing community was expressing mild disappointment with Donaire midway through his year.
Of Donaire's four showings in 2012, three were solid and one was outstanding. But that busy schedule, that number -- four -- was what set Donaire apart and has made him the most popular pick for the top fighter of 2012.
Marquez gets crushed in the quantity department, as he fought just twice this year (the same number as every ESPN.com Boxer of the Year since '06). And the first of his two victories was entirely forgettable, a decision win in April over little-known Sergiy Fedchenko.
But the other victory was, by a wide margin, the best win anyone in boxing scored all year. His right hand read Manny Pacquiao a bedtime story, propelling Marquez to the consensus knockout of the year in the consensus fight of the year over a three-time boxer of the year. Maybe two or three times a century, a fighter as legendary as Pacquiao gets iced like that within spitting distance of his prime.
Whatever your expectations of what Marquez was going to do in his fourth bout with Pacquiao, he exceeded them. Quality is on his side.
But again, quantity is on Donaire's. And so is the hot-button issue of the moment: boxing's PEDs problem. And that's where this debate gets a lot more complicated for those leaning toward Marquez, and a lot less complicated for those leaning toward Donaire.
Donaire is blazing a trail by volunteering himself for random testing in or out of training camp. He's the one and only fighter the public knows to be clean (unless you want to go hard-core on conspiracy theories and suggest that, with the help of infamous former BALCO head Victor Conte, he could be a cheater who is unfailingly confident that he can outrun the testers).
By contrast, while Donaire chose VADA, Marquez chose nada. His bout with Pacquiao required nothing beyond standard Nevada urine testing, which catches cheaters about as effectively as Mr. Miyagi's chopsticks caught flies.
That fact alone shouldn't subject Marquez to serious suspicion. Unfortunately, his conditioning coach is former BALCO chemist Angel Hernandez, and Marquez showed up for the Pacquiao fight looking like the Ultimate Warrior, minus the biceps tassels and face paint. In our new boxing world, in which everyone is presumed guilty, the insinuations and accusations flew at Marquez at a rate CompuBox couldn't possibly count.
It should be noted that Marquez reportedly spent four months in training camp honing his new physique, and also that his physical transformation began in 2011, when he brought an almost-as-eye-catching musculature into his third fight with Pacquiao. So this wasn't an overnight overhaul.
But there are those who simply take that to mean that Marquez was also juicing in 2011.
Nobody outside Team Marquez knows with certainty, one way or the other, what has or hasn't pumped through the fighter's veins. But just about everybody has their suspicions. And those suspicions might be enough to prevent some folks from naming him boxer of the year, even if they prefer his 2012 résumé to Donaire's.
In the year in which boxing's PEDs problem went from flicking us with a pesky jab to throwing haymakers below the belt, it seems appropriate that performance enhancers could serve as the decisive factor in the boxer of the year race.
If you pick Donaire, you do so as much for what he stands for as for how he fought.
If you pick Marquez, you do so either not caring what anyone stands for, or fully prepared to regret your pick if the suspicions surrounding him ever become more than just suspicions.
October, 24, 2012
10/24/12
12:32
PM ET
What's more tainted: the beef they serve at Erik Morales' training camp, or the sport that made Morales famous?

Whether or not you buy Morales' excuses, whether or not clenbuterol fits your definition of "performance enhancing," whether or not you believe someone should have pulled the plug on the main event of last Saturday's Showtime-televised card at Barclays Center in Brooklyn -- these are all small-picture questions.

The larger-picture view is that boxing, like almost every other sport these days, has a very real PEDs problem. You can take each individual case and find some sort of justification to sweep it under the rug. But at a certain point, the collective evidence becomes too troubling to ignore. If boxing hadn't already reached that point before Morales' "B sample" grabbing headlines, it certainly has now.

For most of the past decade, it was one name here, another name there, some testing positive, some implicated without ever testing positive. Fernando Vargas. Shane Mosley. Orlando Salido. Evander Holyfield. James Toney. Roy Jones Jr. and Richard Hall, both, after fighting each other. There would be a noteworthy incident every year or two, but it never threatened to change the way we viewed the sport.

Six months ago, if you had told me 75 percent of the boxers in the world were juicing, I'd have called you a nut-job conspiracy theorist.

Now, I can't help wondering whether 75 percent is too conservative an estimate.

Between May and October, Lamont Peterson, Andre Berto, Antonio Tarver and Morales -- all current or former major belt holders -- failed drug tests. (And if you really want to get your pink underwear in a bunch, you can lump Julio Cesar Chavez Jr. into that group as well, for spending more time with lowercase roach than uppercase Roach in training camp.)

There's no logical reason to believe that more boxers are using banned substances now than there were in the past. If anything, you'd think fewer would be using, on account of increased testing and their peers getting caught. So whatever PEDs problem boxing has now is probably a problem it has had for decades.

It's just that in 2012, for the first time, those of us who would like to pretend this problem doesn't exist have no choice but to acknowledge that it does. For all we know, boxing is no cleaner than baseball was in the "magical" summer of McGwire and Sosa, no cleaner than cycling or track and field or pro wrestling.

Boxing is not clean. Therefore, by definition, it is dirty. And that makes everything messy. For many of us as fans, that's the worst part of all of this. It's not necessarily that we demand a drug-free sport. It's that we're selfish and we want a sport in which we can appreciate the athleticism, skill, power and heart displayed by our favorite warriors without having to think about the asterisk loaded into every glove.

There are some who believe the sport is headed in the right direction, that you have to bust fighters and cancel bouts to eventually get to a better place. There are others who view all of the needles and urine containers as a waste of time because they believe all PEDs should be legal.

I don't have all the answers. In fact, I don't have any of the answers. There are no solutions out there that will satisfy everyone. The only thing uniting all boxing fans is a desire to see quality fights, and at the moment, the reality of fighters turning up with drugs in their systems is at odds with that desire. Peterson-Amir Khan II and Berto-Victor Ortiz II -- two very attractive fights -- were canceled. And every fight that doesn't get canceled takes place underneath overcast skies.

For those of us who tried hard for many years to convince ourselves that boxing didn't have a PEDs problem, this has all become, for lack of a harder-edged word, uncomfortable.

And that's without even dipping a toe in the waters of how this might affect Hall of Fame voting in the years to come. Can you imagine an International Boxing Hall of Fame without Holyfield?

Go ahead and imagine it. We live in a world where a boxer tests positive and still fights on Showtime but another boxer tests positive and can't commentate on Showtime. We live in a world where phrases like "testosterone pellets," "B sample" and "contaminated meat" are all part of the vernacular. We live in a world where some things we once believed to be true we now believe to be highly uncertain.

It was so much simpler to be a boxing fan when we could all just look the other way. But the events of 2012 have made that impossible. Especially when we all suspect that the only thing that makes 2012 different from every year that came before it is that more boxers are getting caught.
April, 17, 2012
4/17/12
8:48
AM ET
I was absolutely furious on Saturday night when the decision in favor of Brandon Rios was announced. How could they do that to poor Richard Abril? Another atrocity in favor of the house fighter! Has Las Vegas relocated to Texas?

Then something happened on Sunday night that altered my attitude: I watched the fight.

My initial reaction was based on the response of the Twitter-verse, as I had opted not to order this past weekend's pay-per-view card. As a boxing writer, however, I knew this was a fight for which I was obligated to have my own scorecard in order to engage in any future discourse. So I fired it up on YouTube some 24 hours after the fight, prepared to be disgusted, curious whether I would award Rios a single round.

Well, I did give "Bam Bam" a round. And then another. And another. At the end of the fight, my scorecard read 115-113 for Abril. Almost every round in the fight was close. Several that I gave to Rios could have gone the other way, but most of the rounds I scored for Abril were tight enough to swing in Rios' direction, too. I can see how Adalaide Byrd arrived at her scorecard of 117-111 for Abril, but I can also see how Glenn Trowbridge scored it 115-113 for Rios and even how Jerry Roth came up with a 116-112 tally in Rios' favor. It was that kind of fight.

And my best guess as to why it didn't seem like that kind of fight to those who watched it unfold live is that their expectations were very different than mine.

Rios was generally expected to steamroll Abril. Even after failing to make weight for the second fight in a row and giving everyone cause to wonder about his physical preparedness, undefeated rising star Rios was a prohibitive favorite over the unknown Cuban. On paper, this was little more than a tuneup for a possible Rios-Juan Manuel Marquez showdown.

When you expect Fighter A to walk right through Fighter B, every round in which he doesn't feels like a victory for Fighter B. When Fighter B lands a combination, it grabs your attention. When Fighter A does the same, you wonder what's wrong with him that those punches lack the snap to put Fighter B on the floor.

That's an oversimplification, of course. But in this fight, there were numerous rounds in which Abril succeeded in frustrating Rios, succeeded in flashing good defense, but didn't succeed in doing much offensively. So at the end of three minutes, what did you like? Did you give Rios any credit for stretches when he'd get inside and throw 20 unanswered punches to the body and head, missing 17 or 18 of them? Did you penalize Abril in close rounds for holding? Did you reward Abril for "ring generalship" in moving backward and dictating the style of the fight without landing many telling punches, or did you reward Rios for ineffectively coming forward and outworking Abril?

And, importantly, were you listening to the broadcast crew?

I'm a fan of Brian Kenny, Rich Marotta and Raul Marquez, and I like all three of them immensely on a personal level. (I recently learned that Marotta, like me, is a die-hard Springsteen fan. What's not to like?) But in this fight, they collectively latched on early to the storyline that Abril was in total control, and they barely seemed to notice anything semi-effective that Rios did the rest of the way. They got into group-think mode, and as a result, much of the PPV audience shared in that group-think.

It's not that their scoring and their take on the fight was "wrong." It's just that it offered only one perspective when, to my eyes, there were a couple of perspectives possible in each round. Sometimes you need someone on the broadcast playing devil's advocate, which is why I've always liked Showtime's use of "press row scoring." You get three independent opinions in addition to whatever the commentators are seeing, often forcing the commentators to pause and acknowledge that their view isn't the only viable one.

I'm not saying Rios deserved to win this fight. I scored it for Abril, after all. What I'm saying is that this looked more like a classic case of the subjectivity in boxing scoring that so often creates controversy, rather than the flat-out robbery at pencil point that was reported on Twitter in the moment.

If you want to curse me out the same way you cursed out Roth and Trowbridge, you're entitled. But first, I suggest you watch Rios-Abril one more time, with no sound and no expectations, and see if the fight didn't just get a whole lot closer.
March, 13, 2012
3/13/12
1:52
AM ET

With about 40 seconds left on the clock in the spellbinding ninth round of Saturday's Orlando Salido-Juan Manuel Lopez rematch, Showtime analyst Al Bernstein asked, "Can you say Corrales-Castillo?"

Bernstein was, understandably, swept up in the moment and overstating the case. Only with the passage of time, with some distance and perspective, will the boxing world be able to accurately and unemotionally assess precisely where Salido-Lopez II ranks among the classics.

What we can say safely now is that it will at least be a contender for fight of the year. What we can also say with certainty is that the ninth round was the featherweight brawl's best stanza.

But what we most definitely should be saying is that the 10th round was the most indispensible round in terms of allowing Salido-Lopez II to possibly go down as a classic.

Was it as sensational as the ninth? No. But without the 10th, all 32 seconds of it, we wouldn't be talking about the thrills that Round 9 offered. We wouldn't be talking about the events of Saturday night in San Juan being good for boxing at all.

If not for Round 10, all we would be talking about is another atrocious decision soiling the night for a sport determined to sabotage itself at every turn.

Sixteen seconds into the 10th, Salido, his shoulders squared up after missing a left hand, connected with a right hook that stunned JuanMa. The Mexican followed up with a left uppercut, then a destructive right uppercut and finally a straight left hand that provided the directional force needed to send Lopez to the canvas. JuanMa's head rocked diagonally as he collided with the canvas, jolting from an alignment of left ear with left shoulder to right ear with right shoulder. The resilient Lopez got up immediately, but he was in a fog and referee Roberto Ramirez correctly waved off the contest.

Lopez was brave but outgunned, and for the second time in 11 months, Salido had TKO'd him. The right fighter had won.

And had Lopez survived the final three scheduled rounds, that almost certainly would not have been the case.

Through nine rounds, judge Denny Nelson had the fight even at 85-85. His colleagues, Michael Pernick and Cesar Ramos, both had the local fighter, popular Puerto Rican Lopez, leading 86-84. If Lopez had stayed on his feet and won just one of the final three rounds in the eyes of the judges, he was getting the decision. Yet he probably wouldn't have deserved it even if he'd swept all three of them.

A mere three weeks after Tavoris Cloud received a decision over Gabriel Campillo that was so astonishing that Cloud's mother fainted when Jimmy Lennon Jr. announced the winner's name, another major Saturday night fight on Showtime was tracking toward "everything you just watched means nothing" status.

Every sport has its controversies, its mistakes by officials that swing outcomes. But no sport promises as consistently as boxing does to suggest there is no link between performance and outcome.

Maybe Salido versus Lopez wasn't a total blowout. After all, Lopez scored the fight's only knockdown through nine rounds. But there was no doubt who was winning. At worst, Salido should have been ahead 86-84. Most observers had it more like 87-83 or 88-83. Yet on the judges' cards, Salido needed a dramatic rally to win. Good thing he delivered one.

The ninth round is the one we'll be talking about in December, come year-end awards time. But the 10th round is the reason we'll remember Salido-Lopez II as something other than a disturbing night for a periodically magnificent but perpetually mismanaged sport.
February, 3, 2012
2/03/12
4:07
PM ET

We know that Manny Pacquiao and Floyd Mayweather Jr. won't be fighting each other in the first half of 2012. And we know who Mayweather will be fighting instead on May 5: Miguel Cotto.

So that leaves one part of the spring-season super-duper-star equation left to be revealed, and that's PacMan's June 9 opponent.

Initially, the list of options included four names: Cotto, Juan Manuel Marquez, Timothy Bradley Jr. and Lamont Peterson. Then Mayweather's name was added. Then it was scratched out. Then Cotto crossed himself off.

That leaves three. All indications coming out of every corner of the boxing world suggest that it will be officially announced next week that Bradley will get the assignment.

Nothing against Bradley, an excellent fighter by any measure, but it's time to say what not enough people seem to be saying: This fight should have gone to Marquez. In every conceivable way, he's a better opponent for Pacquiao than Bradley. In fact, as he's proven repeatedly, he's a better opponent for Pacquiao than anyone not named Floyd Mayweather.

In terms of entertainment value, every Pacquiao-Marquez bout is a fight of the year candidate. Every Bradley bout is a technical draw candidate.

From a business perspective, Marquez is the fourth-most bankable name in boxing (behind Pacquiao, Mayweather and Cotto) and his third fight with Pacquiao last November generated an estimated 1.4 million pay-per-view buys. Bradley doesn't have a fan base, meaning a Pac-Bradley pay-per-view will draw however many buys the Filipino legend can draw with just his name and face on the poster.

With regard to who deserves the fight more, the majority of fans believe Marquez deserved the victory over Pacquiao last time out -- in a fight nearly everyone expected PacMan to win by knockout, by the way. Bradley is the top-rated junior welterweight in the world, but his lone fight in the past 12 months, against a used-up Joel Casamayor, hardly qualifies him for a shot at the people's champ.

Looking at what's best for the fans, for fairness and for the folks counting the receipts, it's Marquez over Bradley all day long. So why was Marquez never given serious consideration for a fourth fight with Pacquiao in June? Why was Cotto the frontrunner initially, and why is it Bradley now?

The only explanation that makes sense is that Marquez fought a little too well for his good in November. Say what you will about Bob Arum and his team at Top Rank, but there are no dummies working in that Las Vegas office. Goal No. 1 is to not let Pacquiao lose (except maybe against Mayweather, when Manny is a fight or two away from retirement). And with Marquez, the third fight illustrated that at any weight and on any date, JMM gives Pacquiao fits.

Again, there's nothing wrong with a Pacquiao-Bradley fight. The man known as "Desert Storm" is a top-10 pound-for-pounder and a credible foe.

But he's no Marquez. Not in terms of name value, not in terms of in-ring excitement and not in terms of what's best for the sport.

I guess the Mexican master was never getting a fourth fight against Pacquiao, no matter what transpired last November.

If Marquez had gotten bowled over, as many predicted, it would have provided a conclusive end to their trilogy.

Instead, we got an ending inconclusive enough to ensure that another chapter won't be written.
December, 30, 2011
12/30/11
3:26
PM ET
Boxing fans will never be satisfied -- nor should they be -- in a world in which Manny Pacquiao and Floyd Mayweather haven't fought each other.
But in terms of access to the sport they love, there isn't much for fight fans to complain about these days. Between HBO, Showtime, Epix, ESPN, Fox Sports and various Spanish-language stations, there's as much boxing on TV as ever. And most importantly, there's an easy way to watch just about any fight that isn't on TV: YouTube.
This year's most action-packed fight took place in Tokyo in October, pairing two 105-pound pugilists whom even the most hard-core of American fans knew nothing about. Thanks to YouTube, those hard-core fans now know the names Akira Yaegashi and Pornsawan Porpramook, and anyone who doesn't has surrendered the right to call himself a serious fan.
I wrote a blog on Grantland two months ago declaring Yaegashi-Pornsawan the leader in the clubhouse for fight of the year, and despite a credible late challenge posed by Lamont Peterson's inspired upset win against Amir Khan, Yaegashi-Pornsawan holds up as my pick. If you haven't seen it yet, it's not too late to redeem yourself. So enjoy
my original postfight blog
, with the YouTube video embedded.