March, 26, 2014
Mar 26
2:06
PM ET
By
Manny Pacquiao
| Special to ESPN.com
Two years removed from the most controversial fight of his 19-year professional career, Manny Pacquiao is focused on getting a chance to set the record straight against Timothy Bradley Jr.
The rematch, set for April 12 in Las Vegas (HBO PPV), marks the first time the fighters will meet since their June 2012 bout -- won by Bradley via split decision -- which produced some of the most contentious scorecards in modern history.

Pacquiao (55-5-2, 38 KOs), 35, enters the bout one fight removed from a wide unanimous-decision win over Brandon Rios in November -- a fight that served as a comeback for Pacquiao following his December 2012 knockout loss to Juan Manuel Marquez.

At 35, how has your motivation to compete changed from earlier in your career?

My motivation is the same now as it was when I started my boxing career. I love competition and I love to win. When that stops, so does my professional boxing career. But I don't see that happening for a long time.

Because I am facing Tim Bradley again I am extra motivated for this fight. I may not have won the decision the first time we fought but I know I did not lose that fight. I want the world title he won from me back around my waist. I want to prove I am the better fighter.

Freddie Roach and Justin Fortune are asking more from me in this training camp than I have ever given before and as hard as that is to do, I am giving them everything they have asked of me. Too much is at stake for me and for my country. I want to end my career on a winning streak and against the best fighters.

No one has ever defeated Tim Bradley during his professional career. I want to be the first name in his loss column. It will not be easy. Nothing at the world championship level is easy. I still have the hunger and the desire to win and I appreciate Tim Bradley giving me this rematch to prove it. Unfortunately for him, on April 12, I will not be able to repay him that favor with kindness.


---


Pacquiao: 'I intend to win all the rounds' (Posted on March 20)


The perception is that you sacrificed punching power against Rios in favor of speed in order to outbox him. How much did the result of the Marquez fight impact your strategy against Rios? What will be your strategy against Bradley?

I was very happy with my performance against Brandon Rios. Speed has always been a major weapon for me and I used it throughout the fight against Rios for one simple reason -- it was working. The power is still there and I used it effectively against Rios to keep him off balance. [Trainer] Freddie [Roach] and I came up with the game plan to mix things up against Rios. I would utilize my speed and foot movement in boxing him to keep him off balance. Then when he would come in out of frustration I would land the power punches.

The one thing I learned from my fight against Marquez was patience. When I had him teetering I became reckless and went in to finish him. I was careless and he landed the perfect punch. That was learning a lesson the hard way. But I learned it. I still have the killer instinct. I am not afraid to use my power and go for the knockout. But I will remember the lesson I learned from my last fight with Marquez. Knockouts need to come naturally, you should not force them. But Freddie likes knockouts and I like to make Freddie happy.

I won at least 10 rounds against Tim Bradley the first time we fought. I intend to win all the rounds against him this time regardless of the length of the fight. He said I have lost my hunger and that my time is over. Everything I am doing in training camp is aimed at proving to him just how wrong he is. I have all the respect for Bradley and what he has accomplished but I have no fear of him. He has inspired me to exceed my previous performances inside the ring. If Bradley wants to meet the fighter who stopped Oscar De La Hoya, Ricky Hatton, Erik Morales and Marco Antonio Barrera, he's going to get his wish on April 12.

October, 11, 2013
10/11/13
8:23
AM ET
By
Chris Lees
| ESPN Stats & Information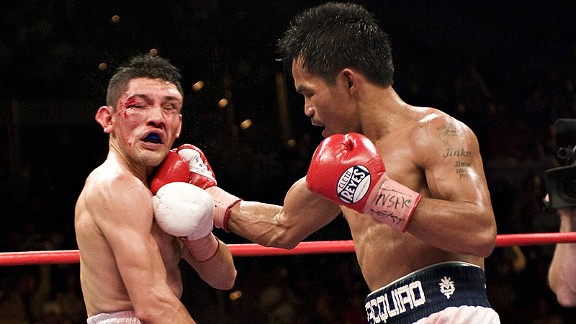 Chris Cozzone/AFP/Getty ImagesManny Pacquiao stopped David Diaz in the ninth round to win the lightweight title in 2008.
Leading up to Juan Manuel Marquez's bid to win a world title in a fifth different weight class on Saturday, ESPN.com will look back at the elite group of fighters who have already achieved the feat -- we'll roll out a new one each day this week -- in our "Five In Five" series.
Actor, politician, boxer. Manny Pacquiao is all of those things. He is the also the fifth and final member of the "five in five" club. Entering the night of June 28, 2008, Pacquiao had won titles at flyweight, junior featherweight, featherweight, and junior lightweight. He was coming off a split-decision victory in his second matchup with Juan Manuel Marquez, and had twice defeated both Erik Morales and Marco Antonio Barrera.
Chicago native David Diaz might have not had the star power like Marquez, Morales and Barrera. What did he have was a solid résumé. He was a member of the 1996 United States Olympic team, owned a victory over the aforementioned Morales and held the WBC lightweight title. He was also the obstacle hoping to prevent Pacquiao from joining the ranks of the sport's greatest of all-time.
Diaz would put up a spirited effort, but like many others before it, this was Pacquiao's night. The Filipino icon carved up Diaz's face with a lethal combination of speed and power. Pacquiao landed the coup de grce with a short left to Diaz's chin. Referee Vic Drakulich didn't even bother to count, as he called a halt at the 2:24 mark of the ninth round.
Pacquiao landed 230 of 788 punches, a connect rate of 29 percent and 180 of those landed punches, including the finisher, were power shots. Diaz managed to land just 90 of his 463 punches, according to Compubox.
This turned out to be Pacquiao's only fight at lightweight. In his next fight, he stopped Oscar De La Hoya after eight rounds in what turned out to be the Golden Boy's final professional fight.
Pacquiao went on to defeat Ricky Hatton, Miguel Cotto and Antonio Margarito to become the only fighter in history to win world titles in eight different weight classes.
--Statistical support from Compubox
September, 18, 2013
9/18/13
9:00
AM ET
Time flies, and last week's festivities at the MGM Grand brought home a sudden realization that Floyd Mayweather Jr.'s master class on Saturday night came 10 years and one day after my first credentialed fight.
There were a fair few differences between that first fight and my latest: In 2003, my credential was red (signifying I rated only a bleacher seat) instead of ringside green, my affiliation was merely "freelance," and in the identifying photo my mouth was smiling and my hair wasn't gray. But there were similarities, too: Both bouts were at the MGM, both involved the most popular boxer in the world at the time and both were the culmination of weeks of hype and publicity.
My memories of that first fight are as fresh as though it had been fought 10 months, rather than 10 years, ago, and the passage of time has spawned reflections on the numerous notable memories from a decade of being paid to watch fights.
So here's a list of my top 10 (12, actually, because I kind of cheated) ringside recollections -- not necessarily the best fights (although some of them were terrific) but what, for me personally, have been my most memorable ringside experiences so far.
Shane Mosley W12 Oscar De La Hoya -- MGM Grand, Las Vegas, Sept. 13, 2003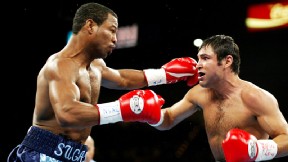 Chris Polk/Getty ImagesShane Mosley edged Oscar De La Hoya for a decision win in 12 rounds in 2003.
Not exactly a ringside recollection, as I watched proceedings from the auxiliary section, but this was the first of what -- although I had no way of knowing it at the time -- would turn out to be more than a decade of professional prizefights for which I was credentialed.
From my seat in the bleachers, I thought the Golden Boy had eked out a decision in a good fight; most of those ringside, where the power of Mosley's blows were more telling, seemed to agree with the official verdict. Personally, I most remember the thrill of experiencing my inaugural big-fight atmosphere, and the strange feeling of anticlimax on Sunday morning when it was all over.
Antonio Tarver TKO2 Roy Jones Jr. -- Mandalay Bay, Las Vegas, May 15, 2004
The defining moment of postfight shock and awe. Jones had looked mortal in the first encounter between the two men, but that had widely been attributed to his struggles returning to 175 pounds after his brief and successful excursion to heavyweight. But Tarver had his number, and when he landed the big punch that marked the end of Jones' era of dominance, the crowd responded with an initial roar, followed by a stunned silence, culminating in 12,000 people reaching simultaneously for their cellphones to tell friends, "Holy ****, Roy Jones just got knocked out!"
Diego Corrales TK10 Jose Luis Castillo -- Mandalay Bay, Las Vegas, May 7, 2005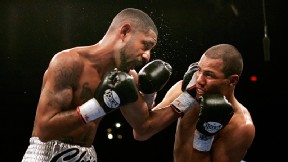 Donald Miralle/Getty ImagesEverybody in boxing remembers the incredible fight between Diego Corrales and Jose Luis Castillo fight in Las Vegas in 2005.
Even if this fight had been a dud, it would for me have been memorable: The previous night, the Boxing Writers Association of America's annual dinner had concluded with one of the finest gatherings of past and present champions to stand on one stage; and Gordon Absher, then the Mandalay Bay's PR guru, had indulged my literary bent by seating me next to the great Budd Schulberg on fight night. Seriously, how could it possibly get any better? Then Corrales and Castillo started throwing punches, and the 4,000 or so souls in the arena became bound together in witnessing one of the very greatest professional prizefights ever -- a fight that effectively ruined both the combatants while leaving an indelible memory on everyone fortunate enough to be there.
Manny Pacquiao TK10 Erik Morales -- Thomas & Mack Center, Las Vegas, Jan. 21, 2006
Manny Pacquiao KO3 Erik Morales -- Thomas & Mack Center, Las Vegas, Nov. 18, 2006
For reasons I can't quite remember, but presumably related to a lack of money, I watched the first tilt between these two on TV in my cabin in Alaska. The indelible memory of their second contest, apart from Pacquiao turning around a fight he was losing and storming to a stoppage win, was the unrelenting volume inside the arena, as rival Mexican and Filipino fight fans shouted themselves hoarse. I imagined it was like sticking your head next to a jet engine. The third was much the same, and at the end of that contest the feeling was of one man reaching the end of his career and another about to launch his into the stratosphere.
Floyd Mayweather TKO10 Ricky Hatton -- MGM Grand, Las Vegas, Dec. 8, 2007
Ah, the Brits. My people. So very many of them, so very drunk, and singing so very loudly. For a week, Las Vegas became Manchester with better weather and colder beer, as Hatton's fans sang constantly to remind themselves how many Ricky Hattons there are; and even when that one Ricky Hatton was stopped in the 10th round, they sang and drank some more.
Antonio Margarito TKO11 Miguel Cotto -- MGM Grand, Las Vegas, July 26, 2008
Miguel Cotto TKO10 Antonio Margarito -- Madison Square Garden, New York, Dec. 3, 2011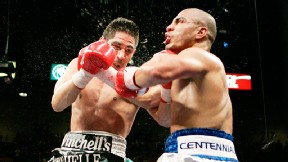 AP Photo/ Ronda ChurchillAntonio Margarito demolished Miguel Cotto in their first fight, but then was suspended for alleged handwrap tampering.
During the buildup to the first fight, I was convinced that Cotto was on the verge of breaking through to the next level, to the very top echelons of pound-for-pound lists. And for much of the early going, the Puerto Rican appeared vastly superior to his opponent in every way, until Margarito ground him down and stopped him in what became a truly violent brawl. The suspicions that emerged afterward, following Margarito's suspension for alleged handwrap tampering, led to a febrile atmosphere in New York three years later. The fact that Margarito was essentially a one-eyed man being served up for punishment concerned the Puerto Ricans in the arena not one bit, and the guttural roar when Cotto glared at his beaten foe segued into dancing on Seventh Avenue afterward.
Manny Pacquiao W12 Joshua Clottey -- Cowboys Stadium, Arlington, Texas, March 13, 2010
The fight itself was kinda meh. Clottey spent most of his time impersonating a turtle as Pacquiao bang-bang-banged away. But there was a real sense of occasion about it all: Jerry Jones, Cowboys Stadium, that scoreboard … One can only wonder how immense it all would have been had the man across the ring been, as originally intended, not Joshua Clottey but Floyd Mayweather.
Lamont Peterson W12 Amir Khan -- Walter E. Washington Convention Center, Washington, D.C., Dec. 10, 2011.
For all but seven of the nearly 20 years I've been in the United States, I've lived in the District of Columbia or its northern Virginia suburbs, so to have an HBO fight in what is effectively my hometown, and with a hometown fighter -- a hometown fighter who had grown up sleeping on the streets near the arena where he was now fighting, even –- scoring an upset win over a big star, with a fevered crowd screaming "D.C., D.C., D.C." … it was all very cool, even if a pair of point deductions by an over-officious referee (to say nothing of the later revelations of Peterson's synthetic testosterone intake) fouled the punch bowl.
Juan Manuel Marquez KO6 Manny Pacquiao -- MGM Grand, Las Vegas, Dec. 8, 2012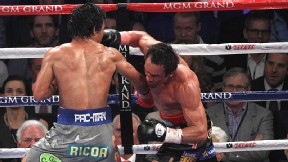 Zumapress/Icon SMIIn his fourth attempt, Juan Manuel Marquez finally beat Manny Pacquiao.
If much of the world greeted the buildup to their fourth encounter with a comparative shrug, the predominantly Mexican crowd viewed it with eager anticipation, desperate for Marquez to finally secure the official victory they felt he had three times been unjustly denied. It did not matter to them that Marquez entered the ring looking like the Incredible Hulk; they wanted a win, and when it came -– with Pacquiao dropping face-first like a stone -- the tide of emotion that crashed through the arena was a mixture of delirious joy and inconsolable grief, with the fevered wailing of a distraught Jinkee Pacquiao a powerful reminder of the realities of what is at stake when two men enter the ring.
Floyd Mayweather W12 Canelo Alvarez -- MGM Grand, Las Vegas, Sept. 14, 2013
From the massive throng that spilled out of the MGM Grand lobby to watch the fighters' arrivals on Tuesday, to the crowd that stood three-deep to catch a glimpse of even the undercard fighters working out the next day, to the incomparable weigh-in experience in front of 12,200 fans -- and, of course, the enthusiastic but ultimately futile cries of "si se puede" and "Ca-ne-lo" during the main event -- this was, from beginning to end, almost certainly the most intense big fight week I've yet experienced.
Note to the "this was boxing's last big fight" crowd: At the time of my first fight, nobody would have predicted that in 10 years' time, Mayweather Jr. would be the man carrying the sport on his back, as De La Hoya did before him, as Mike Tyson did before him. Someone out there is boxing's next big superstar. He may already be on HBO, he may be fighting undercard six-rounders, he may not yet have turned pro. But when he hits the highest heights, his biggest fights will be true events, just as much as Mayweather's are now. And if I'm fortunate, I'll be there covering them.
September, 12, 2013
9/12/13
3:20
PM ET
By
Salvador Rodriguez
| ESPN.com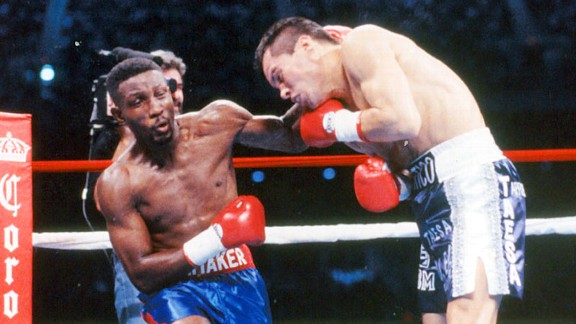 The Ring Magazine/Getty ImagesJulio Cesar Chavez, right, fell short against Pernell Whitaker but helped establish a fight tradition.
LAS VEGAS -- It was exactly 20 years ago this past Tuesday that Julio Cesar Chavez headlined the main event in a Mexican Independence Day celebration at San Antonio's Alamodome, before 60,000 fans, on a mission to become the first Mexican fighter in history to become a four-time champion.
Chavez was unable to achieve the feat, of course, and his draw against Pernell Whitaker in a welterweight title bout that night initiated a series of mishaps for Mexican boxing in the month of September -- although it didn't stop the country's top fighters from becoming staples at stateside shows celebrating the national holiday.
After the Whitaker draw, Chavez went on to star in four more major events around the annual September festivities. He bested Meldrick Taylor in 1994, defeated David Kamau in '95 and fell to Oscar De La Hoya in '98, all in Las Vegas, before bowing out in a technical defeat to Grover Wiley after suffering a fracture hand in 2005 -- Chavez's final fight.
In a gradual, symbolic passing of the torch, it was De La Hoya who took over as the ringleader of boxing's Mexican Independence Day celebrations. He outpointed Hector Camacho in Las Vegas in 1997, the year before his clash with Chavez. And in a blockbuster that remains one of the most significant editions in boxing's Mexico-Puerto Rico rivalry, De La Hoya saw his September winning streak ended by Felix Trinidad in a majority decision in Las Vegas.
"The Golden Boy" renewed his participation in the September ritual in 2002, defeating Fernando Vargas in a battle between Mexican-Americans, but in 2003 he dropped a decision to Shane Mosley in their rematch, and a year later was knocked out by Bernard Hopkins -- all in Sin City.
In 2005, Erik Morales took up the mantle from De La Hoya, but on a night of surprises, 'El Terrible' lost to Zahir Raheem in a duel that was supposed to be a tune-up Morales' second war with Manny Pacquiao. He bounced back with a September triump in 2010, knocking out Willie Limond in Mexico City, and a year later won an interim junior welterweight title by topping Pablo Cesar Cano in Las Vegas.
Also headlining Mexican Independence Day events in recent years, all of them staged on the Vegas Strip, were Marco Antonio Barrera -- against Robbie Peden in 2005 and Rocky Juarez in '06, both unanimous decision wins -- and Juan Manuel Marquez in a spectacular knockout of Joel Casamayor in 2008 and a 2009 points loss to Floyd Mayweather Jr., who has a history of raining on Mexico's Independence Day parades.
And what of the new guard? Last year Julio Cesar Chavez Jr. and Canelo Alvarez brought Las Vegas to a standstill with fights at the Thomas & Mack Center and MGM Grand on the same night. Chavez came up just short of a thrilling last-minute knockout, but lost his middleweight belt and undefeated record to Sergio Martinez. Alvarez, meanwhile, overwhelmed Josesito Lopez in a hail of body punches for a fifth-round TKO. That performance helped lead him to the doorstep of this year's most important night for Mexican boxing -- and maybe the highest-profile night the sport has seen in a decade.
Canelo won't be the favorite on Saturday, but win or lose, he seems poised to become a mainstay as Mexico's next September superstar.
September, 12, 2013
9/12/13
10:07
AM ET
By
Joseph Kilduff
| ESPN Stats & Information

Floyd Mayweather versus Canelo Alvarez on Saturday night at the MGM Grand in Las Vegas might be the super-fight, but it is not the only fight of interest on the card. On the undercard, the undefeated unified junior welterweight (140 pounds) champion Danny Garcia (26-0-0) will defend his titles against knockout artist Lucas Matthysse (34-2-0, 1 NC). Here are the numbers you need to know about Saturday's fight.

(32) Fights Matthysse has won by knockout. This includes knockout victories in his most recent six fights, and his 89 percent knockout rate exceeds that of Garcia, who has won by knockout 16 times in 26 fights (62 percent).

(1) Common opponents of Garcia and Matthysse. Zab Judah won a controversial split decision against Matthysse three years ago and lost by unanimous decision to Garcia in April of this year.

(19) Jabs Garcia has thrown per round, on average, in his last six fights. According to CompuBox, Garcia has landed an average of three jabs per round in his last six fights. Matthysse has thrown an average of 17 jabs per round and landed an average of two.

(73) Percentage Matthysse's punches that are power punches. According to CompuBox, this percentage is fifth-highest among qualified boxers, and his 17 power punches landed per round ranks seventh.

(28) Percentage of power punches Garcia's opponents land. According to CompuBox, this is the eight-lowest among qualified fighters.

(60) Average number of punches thrown per round among junior welterweights. According to CompuBox, the average punches landed per round in the junior welterweight division is 18. Garcia has thrown an average of 54 punches per round in his most recent six fights and has connected on an average of 17 of them. Matthysse has thrown and average of 63 punches per round and has connected on an average 19 in his last seven fights. Of the combined 36 punches landed per round by Garcia and Matthysse, 31 (86 percent) are power punches.

(5) Fights Danny Garcia has fought at the MGM Grand in Las Vegas. Matthysse has never fought at the MGM Grand; in fact, only eight of his fights --including both of his losses -- have been held in the United States. All but one of Garcia's fights has taken place in the United States.

(6) Streak of fights for Garcia against current or former world titleholders.

Top-Ranked junior welterweight boxers according to The RING:
Champion: Danny Garcia
1. Lucas Matthysse
2. Amir Khan *
3. Mike Alvarado
4. Lamont Peterson **
5. Zab Judah *

* Lost to Danny Garcia
** Lost to Lucas Matthysse

-- Statistical data provided by CompuBox
September, 11, 2013
9/11/13
5:31
PM ET
By
Chris Lees
| ESPN Stats & Information
April 27, 2013, versus Zab Judah
--Garcia once again proved himself as the top 140-pound fighter on the planet with a unanimous decision victory over former two-division titleholder Judah. Garcia, who had a 189-77 edge in power punches, dropped Judah with right-hand counter in Round 8. Judah came on strong in the later rounds, but Garcia weathered the storm in making his third title defense.

October 20, 2012, versus Erik Morales II
--After his dismantling of Amir Khan, Garcia took on four-division champion and Mexican icon Morales in a rematch of their meeting in March 2012. In their first meeting, Garcia out-pointed Morales to claim a vacant title. Garcia stepped up his game in the rematch, ending the fight in the fourth round with a counter left hook which sent Morales to the canvas. Morales' corner had seen enough and stopped the fight.

July 14, 2012, versus Amir Khan
--Everything was looking good for Khan through two rounds. He out-landed Garcia 56-18 in total punches. Then, he ran into a counter left hook toward the end of the third round. Khan survived the round, but Garcia pounced on him in the fourth, dropping the Brit two more times before referee Kenny Bayless stopped the fight. Garcia unified the WBC and WBA titles and ascended to the top of the 140-pound rankings.

-- Statistical data provided by CompuBox
July, 14, 2013
7/14/13
1:41
PM ET
By
Salvador Rodriguez
| ESPN.com

MEXICO CITY -- Saul "Canelo" Alvarez departed Mexico last week as a world titlist, and when he finally returns home, it could be as boxing's new pound-by-pound king.

On Monday, Alvarez boarded a private jet bound for Los Angeles, where he is stopping over before setting up camp in Big Bear, Calif. He'll train at the popular high-elevation destination for the next 55 days in advance of his Sept. 14 challenge of Floyd Mayweather Jr. in Las Vegas.

Alvarez was joined by Jose "Chepo" Reynoso, Eddy Reynoso, Canelo's brother Ricardo Alvarez and a trainer for the trip.

"We are really excited, thrilled, and for good reason -- because we are confident about Saul's capacity and quality, besides the hard work that we will do to get the victory," Reynoso told ESPNDeportes.com. "It is the fight of our lives. Not only for Canelo, but for all of us."

Team Alvarez spent the week in L.A. evaluating potential sparring partners who can join the group for sessions in Big Bear and replicate Mayweather's style. When asked about the strategy Alvarez's team is outlining for the fight, Reynoso said that it's Mayweather who should be worried most.

"You'd better ask Mayweather how is he planning to beat Canelo -- that's the more accurate question," Reynoso said. "Because Canelo is not [Juan Manuel] Marquez, [Victor] Ortiz, [Robert] Guerrero or [Miguel] Cotto. He is a different fighter. Ask him how he is going to defeat Canelo, because we already have figured out how to win."

Reynoso believes that Canelo will have extra motivation against Mayweather, in addition to an opportunity to face the world's best fighter: the chance to earn a spot in Mexico's boxing lore, alongside the names of Julio Cesar Chavez, Marco Antonio Barrera and Erik Morales. He says Canelo has a chance to become a new national icon.

"It comes at the right time," Reynoso said. "Saul is the top draw in Mexican boxing right now, and he's also earned his spot in the international boxing world, like he did in the United States, because that's where the top boxing material is. Mexico is eager for a new icon, and it's the right time since all the big names like Chavez, [Oscar] De La Hoya, Barrera, Morales are long gone.

"Many people say that Saul needed two or three more fights, but we've known him for a long time, and we are sure it's the right time to show the world that on Sept. 14 there will be a new king. We are looking forward to ending Mayweather's reign and letting Canelo start his own."
March, 13, 2013
3/13/13
10:48
AM ET
By
Carlos Narvaez Rosario
| Special to ESPNdeportes.com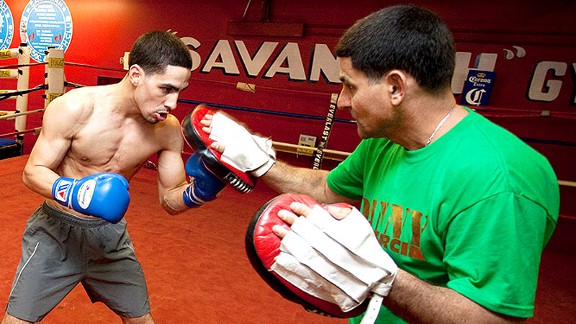 Jon Elits/Hoganphotos/Golden Boy PromotionsUnbeaten Danny Garcia is ready to begin training for his April 27 fight against Zab Judah in Brooklyn.
A month after an injury forced him to postpone his bout against former champion Zab Judah, unbeaten junior welterweight titlist Danny "Swift" Garcia said he's fully recovered and ahead of schedule for the April 27 fight at the Barclays Center in Brooklyn, N.Y.
Garcia had planned to defend his crown on February 9 at the same venue, but a broken rib suffered during a sparring session forced him to stop training.
"Now I feel 100 percent and I still have seven weeks to improve my conditioning," Garcia said to ESPNdepotes.com.
Garcia (25-0, 16 KO's), is coming off a spectacular year with two victories against veteran Erik Morales and another against former 140-pound champion Amir Khan. His last two -- the rematch with Morales and his clash with Khan -- were TKO victories in the fourth round.
"The injury affected me for three weeks. It also affected me a little bit mentally," Garcia said. "I didn't feel the injury until I finished sparring. Hey, I broke a rib. I could not believe it. But this is part of the sport. An injury can occur to anyone, regardless of the sport."
Garcia, who is managed by Al Haymon and promoted by Golden Boy, said that he will resume training this week.
"I'll start this week with sparring sessions. I feel very good, I'm ready," Garcia said. "As I said, I still have seven weeks [to the fight] and that will be enough to be in [good physical] condition. I have a great team that is helping me with that."
Garcia, 23, became a sensation in professional boxing when he won a vacant junior welterweight title against Morales -- a former champion in four different weight classes -- in March 2012. He added another junior welterweight belt when he knocked out Khan in July.
Judah (42-7, 29 KOs), 35, a former junior welterweight and welterweight champion, is coming off a win by TKO in the ninth round over Vernon Paris last March.
October, 24, 2012
10/24/12
12:32
PM ET
What's more tainted: the beef they serve at Erik Morales' training camp, or the sport that made Morales famous?

Whether or not you buy Morales' excuses, whether or not clenbuterol fits your definition of "performance enhancing," whether or not you believe someone should have pulled the plug on the main event of last Saturday's Showtime-televised card at Barclays Center in Brooklyn -- these are all small-picture questions.

The larger-picture view is that boxing, like almost every other sport these days, has a very real PEDs problem. You can take each individual case and find some sort of justification to sweep it under the rug. But at a certain point, the collective evidence becomes too troubling to ignore. If boxing hadn't already reached that point before Morales' "B sample" grabbing headlines, it certainly has now.

For most of the past decade, it was one name here, another name there, some testing positive, some implicated without ever testing positive. Fernando Vargas. Shane Mosley. Orlando Salido. Evander Holyfield. James Toney. Roy Jones Jr. and Richard Hall, both, after fighting each other. There would be a noteworthy incident every year or two, but it never threatened to change the way we viewed the sport.

Six months ago, if you had told me 75 percent of the boxers in the world were juicing, I'd have called you a nut-job conspiracy theorist.

Now, I can't help wondering whether 75 percent is too conservative an estimate.

Between May and October, Lamont Peterson, Andre Berto, Antonio Tarver and Morales -- all current or former major belt holders -- failed drug tests. (And if you really want to get your pink underwear in a bunch, you can lump Julio Cesar Chavez Jr. into that group as well, for spending more time with lowercase roach than uppercase Roach in training camp.)

There's no logical reason to believe that more boxers are using banned substances now than there were in the past. If anything, you'd think fewer would be using, on account of increased testing and their peers getting caught. So whatever PEDs problem boxing has now is probably a problem it has had for decades.

It's just that in 2012, for the first time, those of us who would like to pretend this problem doesn't exist have no choice but to acknowledge that it does. For all we know, boxing is no cleaner than baseball was in the "magical" summer of McGwire and Sosa, no cleaner than cycling or track and field or pro wrestling.

Boxing is not clean. Therefore, by definition, it is dirty. And that makes everything messy. For many of us as fans, that's the worst part of all of this. It's not necessarily that we demand a drug-free sport. It's that we're selfish and we want a sport in which we can appreciate the athleticism, skill, power and heart displayed by our favorite warriors without having to think about the asterisk loaded into every glove.

There are some who believe the sport is headed in the right direction, that you have to bust fighters and cancel bouts to eventually get to a better place. There are others who view all of the needles and urine containers as a waste of time because they believe all PEDs should be legal.

I don't have all the answers. In fact, I don't have any of the answers. There are no solutions out there that will satisfy everyone. The only thing uniting all boxing fans is a desire to see quality fights, and at the moment, the reality of fighters turning up with drugs in their systems is at odds with that desire. Peterson-Amir Khan II and Berto-Victor Ortiz II -- two very attractive fights -- were canceled. And every fight that doesn't get canceled takes place underneath overcast skies.

For those of us who tried hard for many years to convince ourselves that boxing didn't have a PEDs problem, this has all become, for lack of a harder-edged word, uncomfortable.

And that's without even dipping a toe in the waters of how this might affect Hall of Fame voting in the years to come. Can you imagine an International Boxing Hall of Fame without Holyfield?

Go ahead and imagine it. We live in a world where a boxer tests positive and still fights on Showtime but another boxer tests positive and can't commentate on Showtime. We live in a world where phrases like "testosterone pellets," "B sample" and "contaminated meat" are all part of the vernacular. We live in a world where some things we once believed to be true we now believe to be highly uncertain.

It was so much simpler to be a boxing fan when we could all just look the other way. But the events of 2012 have made that impossible. Especially when we all suspect that the only thing that makes 2012 different from every year that came before it is that more boxers are getting caught.
April, 2, 2012
4/02/12
1:03
PM ET
By
ESPN.com staff
| ESPN.com

You would think Carlos Molina's luck would have to turn at some point, but here's the latest sucker punch to his career: After his dubious disqualification in a March 24 bout with James Kirkland, Molina seemingly won't get a much-deserved rematch. "Friday Night Fights" analyst Bernardo Osuna has more in the above video clip.