Boxing:

ESPN Stats & Information
June, 6, 2014
6/06/14
7:24
PM ET
By
Andrew Davis
| ESPN Stats & Information

On Saturday night, Miguel Cotto attempts to become the WBC middleweight champion when he faces top-10 pound-for-pound fighter Sergio Martinez at Madison Square Garden in New York City. While the battle is called Cotto-Martinez promotionally because of Cotto's status in boxing and at the "World's Most Famous Arena," Martinez is the champion and has won his past seven bouts.

Here are the numbers you need to know for the fight:

7: Victories by Miguel Cotto at Madison Square Garden since 2005. Four of those seven victories have come on Puerto Rican Day Parade weekend (all by knockout). Cotto defeated Joshua Clottey in 2009, Zab Judah in 2007, Paulie Malignaggi in 2006 and Mohammad Abdullaev in 2005. Cotto lost his most recent MSG bout by unanimous decision to Austin Trout.

4: Martinez is one of four men from Argentina to currently hold a world title. Omar Narváez is the WBO junior bantamweight champion, Juan Carlos Reveco is the WBC flyweight champion and Jesús Andrés Cuellar is the interim WBA featherweight champion. If Cotto wins the title, he would become the only fighter from Puerto Rico to hold a world title.

2: This is Cotto's second fight with six-time BWAA Trainer of the Year Freddie Roach. Roach is the fourth trainer Cotto has brought into his camp since 2009, along with Pedro Diaz (3 fights), Emanuel Steward (2 fights) and Joe Santiago (2 fights).

15: A victory by Cotto would make him the 15th boxer to win world titles in four different weight classes. Cotto won his first title in 2004 at light welterweight. He then moved up to welterweight and had two reigns as champion, first from 2006 to 2008 and again in 2009. Finally, he won the junior middleweight title in 2010 and held the title until 2012. Cotto would become the first Puerto Rican boxer to win four world titles in four different weight classes.

3: Martinez has been knocked down in three consecutive fights. Matthew Macklin dropped Martinez in the seventh round of their fight in 2012, but Martinez knocked Macklin down twice in the 11th. Against Julio Cesar Chavez Jr., Martinez was in control but was knocked down in the final round. In his last bout against Martin Murray, Martinez was knocked down in Round 8 but was up on the cards and won a unanimous decision.

41: According to CompuBox, Martinez has landed 41 percent of his power punches in his past five fights, above the middleweight average of 37.8 percent. Despite being over the average, Martinez's connect percentage with power punches has gone down from 50 percent landed against Macklin to 30 percent landed against Murray.

49: According to CompuBox, the past three southpaws Cotto has faced (Trout, Manny Pacquiao, Zab Judah) landed 49 percent of their power shots. Cotto went 1-2 in those bouts, losing to Trout and Pacquiao.

9: In the past five bouts for each fighter (10 fights total), nine fights have gone eight rounds or later. Martinez's past four fights have gone to the 11th or 12th round, while Cotto had two decision losses before his third-round TKO over Delvin Rodriguez.
October, 10, 2013
10/10/13
1:01
PM ET
By
Chris Lees
| ESPN Stats & Information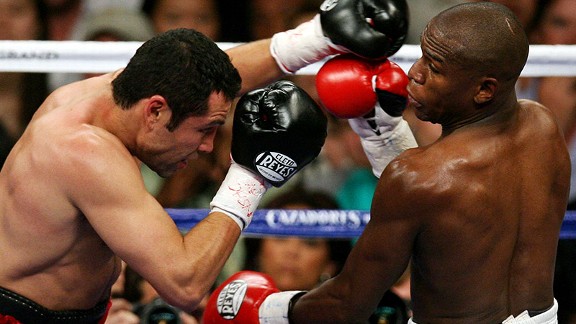 Gabriel Boyus/AFP/Getty ImagesFloyd Mayweather Jr., right, joined Oscar De La Hoya in the "five in five" club with a win over him.
Leading up to Juan Manuel Marquez's bid to win a world title in a fifth different weight class on Saturday, ESPN.com will look back at the elite group of fighters who have already achieved the feat -- we'll roll out a new one each day this week -- in our "Five In Five" series.
Floyd Mayweather Jr. has done it all in the world of boxing. He has beaten everyone he has faced and made hundreds of millions of dollars doing it. On May 5, 2007, Mayweather's official coronation as the king of the ring would take place.
That's the night he faced five-division world champion and reigning pay-per-view king Oscar De La Hoya. The fight was billed as "The World Awaits." De La Hoya was defending his junior middleweight title, and Mayweather was seeking to join him in the exclusive "five in five" club. Mayweather had already claimed world titles at 130, 135, 140, and 147 pounds.
In an action-packed fight that lasted all 12 rounds, the 30-year-old Mayweather scored a split decision victory and took his place among boxing's all-time greats.
He won the fight much as he had all of his others. He was extremely efficient in his offensive attack, landing 57 percent of his power punches (138 of 241). His overall connect rate was 43 percent, just above his career average of 42 percent. That's the best mark among active fighters, in case you were wondering.
The 34-year-old De La Hoya hoped to win rounds by being the busier the fighter. According to Compubox punch stats, the "Golden Boy" attempted 587 punches, 106 more than Mayweather. He landed just 122 of his attempts (21 percent). The strategy almost paid off, as judge Tom Kaczmarek scored the fight 115-113 in favor of De La Hoya. The other two judges, Jerry Roth and Chuck Giampa, saw the fight as most ringside observers did. Roth had it 115-113, while Giampa scored it 116-112, both in favor of Mayweather.
The fight generated a record 2.5 million buys and $136 million in pay-per-view revenue. The revenue record stood until Mayweather's most recent fight, against Canelo Alvarez. That fight produced $150 million from 2.2 million buys.
Mayweather hinted at retirement following the De La Hoya fight. He did step away from boxing for nearly two years following his December 2007 win over Ricky Hatton, then returned in September 2009 in a fight with Juan Manuel Marquez.
--Statistical support from Compubox
October, 8, 2013
10/08/13
11:14
PM ET
By
Chris Lees
| ESPN Stats & Information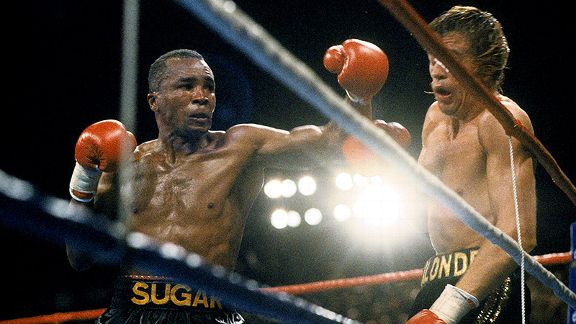 The Ring Magazine/Getty ImagesSugar Ray Leonard tarnished "The Golden Boy" Donny Lalonde and took two titles in one night.
Leading up to Juan Manuel Marquez's bid to win a world title in a fifth different weight class on Saturday, ESPN.com will look back at the elite group of fighters who have already achieved the feat -- we'll roll out a new one each day this week -- in our "Five In Five" series.
Three days after Thomas Hearns made boxing history by winning a world title in his fifth different weight class, the man who ended his reign as welterweight champion attempted to join him in that very class.
During his career to that point, Sugar Ray Leonard had won titles at 147, 154 and 160 pounds, winning each in dramatic fashion. Nov. 7, 1988 would be no different. There was one change for Leonard, however: This would mark his first fight without longtime trainer Angelo Dundee in his corner, after the two had parted ways because of a money dispute.
His opponent, Canadian-born Donny Lalonde, was unknown to most casual fans. He was tall, lean and could punch (26 of 31 wins by KO). He was also nicknamed "The Golden Boy" -- not because he had won Olympic gold like Oscar De La Hoya, but because he had dyed his hair blonde. Lalonde had won the WBC vacant light heavyweight title the previous November with a second-round stoppage of Eddie Davis.
The WBC not only sanctioned this fight for Lalonde's light heavyweight title, it also put its newly created super middleweight belt on the line. That meant Leonard would get the chance to win two world titles in as many weight classes in just one fight. It also meant Lalonde had to fight at a contracted weight of 167 pounds, eight pounds under the light heavyweight limit. Leonard weighed in at 165, which Lalonde addressed right away, calling Leonard "a fat, old welterweight."
Midway through the fourth round, Lalonde connected with a right to the top of Leonard's head, which sent him to the canvas for only the second time in his career. Leonard took the mandatory eight count and survived the round. According to the scorecard of Harold Lederman, HBO's unofficial judge, Lalonde had won the first four rounds, including 10-8 in the fourth.
Leonard and Lalonde continued to trade punches as the fight wore on, but it was Leonard who began landing the more efficient blows.
Leonard would finally catch Lalonde in the ninth with a brutal assault of unanswered punches. A Leonard left hook dropped Lalonde with 60 seconds left in the round. Lalonde courageously made it to his feet, but he was sent back to the canvas for good just seconds later.
Lalonde was the busier fighter, according to Compubox punch stats, but he landed just 122 of his 508 punches (24 percent). Leonard, by contrast, landed an impressive 54 percent of his blows (205 out of 382). How good was his performance in this back-and-forth battle? Last month, Floyd Mayweather Jr. landed 46 percent of his punches against Canelo Alvarez in a fight he thoroughly dominated.
Leonard never defended the light heavyweight title. He kept the 168-pound title and put it up against that other five-division champion, Hearns, when they made a rematch the following June. They battled to a draw, a fight many believe Hearns won.
October, 7, 2013
10/07/13
8:47
PM ET
By
Chris Lees
| ESPN Stats & Information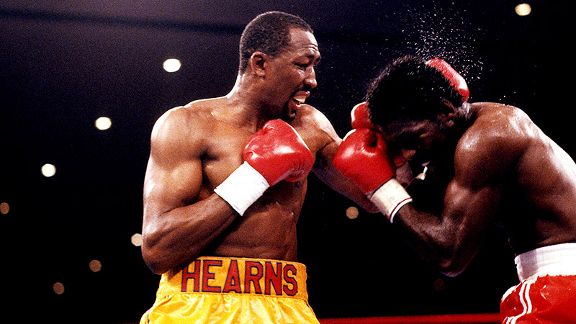 The Ring Magazine/Getty ImagesThomas Hearns needed to get off the canvas in order to outlast James "The Heat" Kinchen in 1988.
Leading up to Juan Manuel Marquez's bid to win a world title in a fifth different weight class on Saturday, ESPN.com will look back at the elite group of fighters who have already achieved the feat -- we'll roll out a new one each day this week -- in our "Five In Five" series.
In 1988, Thomas Hearns was the only man to have won world titles in four weight classes. "The Hitman" was on a path to claim a title in a record fifth division at super middleweight, but that appeared to go away when WBA titleholder Fulgencio Obelmejias withdrew from their Nov. 4 fight with a rib injury.
Although he didn't know it at the time, Hearns remained on that path. During the summer of 1988, several members of the WBA withdrew from the sanctioning body. As a result, they decided to form their own new organization. Thus, the World Boxing Organization (WBO) was born and the sport's alphabet soup became more crowded.
Hearns would find a new opponent in James "The Heat" Kinchen. The 30-year old veteran was coming off a decision victory over Marvin Mack just 22 days earlier.
Two days before their encounter, the WBO announced it would recognize the winner as its super middleweight champion. Hearns' chance at history had been restored.
Kinchen, however, didn't come to Las Vegas to lose. He dropped Hearns in the fourth round with a hard right hand. Hearns lost another point in the round when referee Mills Lane penalized him for refusing to break. Kinchen was in prime position to spoil Hearns' night.
But Hearns was able to overcome the knockdown and make a fight of it. He and Kinchen battled the full 12 rounds, leaving their fates in the hands of the judges. In the end, Hearns was awarded a majority decision victory and his place in boxing history.
The flagship of the Kronk boxing team and prized pupil of Emanuel Steward stood atop the boxing world. He wouldn't be alone at the apex for very long. Just three days later, an old nemesis of Hearns' attempted to elevate his own place in history -- when Sugar Ray Leonard challenged Donny Lalonde for titles at 168 and 175 pounds -- but that's a story for another day.
As for Hearns, he finished his career for good in 2006 with a record of 61-5-1, with 48 knockouts, and was inducted into the International Boxing Hall of Fame in 2012.
September, 11, 2013
9/11/13
10:51
AM ET
By
Chris Lees
| ESPN Stats & Information
May 18, 2013, versus Lamont Peterson
In what was his most impressive performance as a professional, Lucas Matthysse dismantled IBF 140-pound titlist Lamont Peterson in a nontitle fight with a third-round TKO. Peterson, who was coming off victories over Amir Khan and Kendall Holt, was dropped three times before referee Steve Smoger called a halt at the 2:14 mark. Matthysse improved his impressive KO percentage to 87 percent, which is higher than any of the current titleholders in the junior welterweight division, including Danny Garcia.

June 25, 2011, versus Devon Alexander
Seven months after his controversial loss to Zab Judah, Matthysse faced former 140-pound titleholder Devon Alexander on his home turf just outside St. Louis. Despite outlanding Alexander in total punches (139-116) and scoring the first-ever knockdown of Alexander in the fourth round, Matthysse was on the wrong end of a split decision. Both Larry Merchant and Harold Lederman, who were ringside, scored the fight for Matthysse.

Nov. 6, 2010, versus Zab Judah
Matthysse took on former two-division champion Zab Judah in a title eliminator. In a close battle, Judah eked out a split-decision victory and went to capture the IBF 140-pound title in his next fight. Matthysse impressed many as he stalked Judah all night, eventually knocking him down in the 10th round. The "Machine" was a plus-15 in punches landed and had a sizeable edge in power punches (147-63).

-- Statistical data provided by CompuBox
September, 9, 2013
9/09/13
8:26
AM ET
By
Andrew R. Davis
| ESPN Stats & Information
On Saturday night at the MGM Grand in Las Vegas, Canelo Alvarez will face his toughest competition as a pro when he takes on Floyd Mayweather Jr. Both fighters will enter the ring as junior middleweight titlists; one will leave with both belts. If Canelo is going to be that man, this is likely how he'll do it.
[+] Enlarge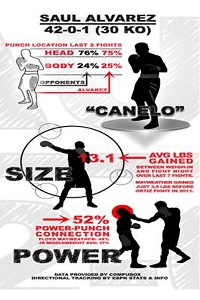 ESPN
Body punching
"The first thing you have to do is forget about the head. The head is smaller than the body. You have to break a man down, and in order to do so, you're going to hit him in the kidneys and he'll slowly begin to stop his movement."

-- Roberto Duran, in a July 2013 interview with BoxingScene.com
According to ESPN Stats & Information video tracking and CompuBox punch tracking, 25 percent of Alvarez's offense in his two most recent fights (a 12-round decision win over Austin Trout and a fifth-round TKO of Josesito Lopez) has come on body punches. In the Lopez fight, Alvarez fought a natural junior welterweight who was stepping up to 154 pounds for the first time. (Mayweather will be fighting as a junior middleweight for the third time in his career.) Alvarez used his power to chop down Lopez with body shots, putting him on the canvas three times. In the fifth and final round, Canelo landed 20 body punches on Lopez, five more than in any other round.
Against Trout, Alvarez threw at least 10 body shots over the first six rounds. Over the final six rounds, Canelo landed 40 percent of his body punches (16 of 40). Mayweather has absorbed his share of body punches -- he has been hit with at least six per round over his past 24 rounds. The question will be whether the power of Alvarez's body punches can inflict enough damage to slow Mayweather down.
Size advantage
"I'll be fine for the fight. ... It's no big thing. Actually, I feel I'm ahead of the curve. I'm not worried at all. The weight will come off and I will be fine."

-- Canelo Alvarez, in an Aug. 30 interview with ESPN.com's Dan Rafael
When the fighters hit the scale on Friday, they will be expected to be at or below the contracted weight of 152 pounds, a catchweight below the junior middleweight maximum of 154 pounds. While Mayweather should easily make weight, some question whether cutting down will affect Alvarez. On fight night, Canelo figures to weigh roughly 12 pounds more (164) than the contracted weight limit; Mayweather likely will stick around the 152 mark.
Both camps would claim that those numbers favor their fighter, but what can't be denied is that adding weight back will provide Canelo superior strength. In his past seven fights, Alvarez has gained an average of 13.1 pounds between the weigh-in and fight night, bulking up to as high as 172 against Trout.
Power punches
"Canelo has good skills, just not as good as Floyd's. But he has that size and power which he is gonna need because Floyd got the speed on him."

-- Austin Trout in a Sept. 2013 interview with Boxing News 24
With a replenished Alvarez checking in somewhere in the neighborhood of 164 pounds, he figures to aggressively attack with power punches. Over his past seven fights, according to CompuBox, Canelo landed 52 percent of his power punches -- a higher rate than any other fighter who qualified. Don't expect much out of Alvarez in Round 1: He threw just 14 first-round power punches against Trout and 23 against Lopez, well below his average of 31 per round. But for the next 11 rounds against Trout, Alvarez landed at least 30 percent of his power punches in every round. Overall, CompuBox numbers indicate Alvarez connected on 43 percent of his power punches (compared to 27 percent for Trout).
Against Lopez, Alvarez clearly sought to finish his opponent. He threw between 23 and 32 power punches in Rounds 1 through 4, according to CompuBox, but after knocking down Lopez twice, he increased his output to 50 in Round 5. Canelo landed an amazing 72 percent of his power shots in that final round, stopping Lopez late.
If Canelo can bully Mayweather against the ropes by using his power punches to the head and body, it will go a long way toward neutralizing his opponents' speed advantage. If he can't, Mayweather will skate by his opponent -- just as he has done in his previous 44 fights.
-- Statistical data provided by CompuBox