Boxing:

Evander Holyfield
September, 11, 2013
9/11/13
10:30
PM ET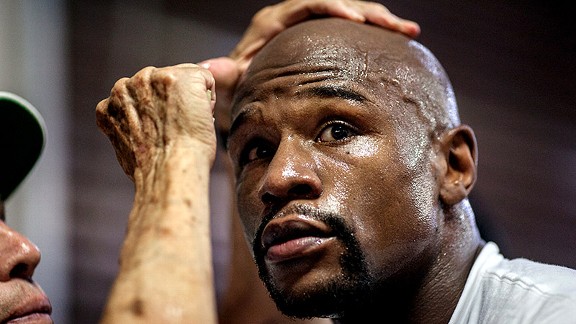 Benjamin Lowy for ESPN The MagazineAs Floyd Mayweather Jr. closes in on age 37, can he maintain his standing as the world's top fighter?
Floyd Mayweather Jr. has never lost a fight -- he also has never been so close to age 37.
The No. 1 pound-for-pound boxer in the world will celebrate his 37th birthday on Feb. 24 next year. Although Mayweather has shown few, if any, effects of age in the ring, we all know Father Time is undefeated and undisputed in the athletic world.
Of course, time treats all fighters differently, and in Mayweather's case, it likely will be less harsh. "Money" has taken phenomenal care of his body and has avoided damage throughout his career.
It's worth taking a look, though, at how different fighters fared in their last fight prior to their 37th birthday -- and afterward.
George Foreman
Born: Jan. 10, 1949; Returned from a 10-year retirement on March 9, 1987.
Following a 10-year absence from the ring, Foreman returned at age 38 and even used age as a partial reason for his comeback, wanting to prove doubters wrong. He eventually challenged 28-year-old Evander Holyfield for the heavyweight title in April 1991 and lost. Three years later, at 45, he became the oldest heavyweight champion in history when he knocked out Michael Moorer.
Post-37 record: 31-3
Evander Holyfield
Born: Oct. 19, 1962; Draw with Lennox Lewis on March 13, 1999.
This is the timeline Mayweather hopes to not follow. Many saw the draw as a robbery of Lewis, who outworked Holyfield throughout the bout. One could argue Holyfield never truly bounced back, even though he fought until 2011.
Post-37 record: 8-7-1
Bernard Hopkins
Born: Jan. 15, 1965; Defeated Felix Trinidad via TKO on Sept. 29, 2001.
Age is nothing more than a number for Hopkins. For the first time in years, oddsmakers had pegged the much older Hopkins as an underdog in the Trinidad fight. That reportedly prompted Hopkins to bet $100,000 on himself in that fight. He won.
Post-37 record: 13-4-1 (active)
Roy Jones Jr.
Born: Jan. 16, 1969; Lost to Antonio Tarver via UD on Oct. 1, 2005.
If Jones went from young to old in one night, it actually was most likely the previous year when he suffered a stunning second-round TKO loss to Tarver in May 2004, conceding his light heavyweight title.
Post-37 record: 7-4
Shane Mosley
Born: Sept. 7, 1971; Lost to Miguel Cotto via UD on Nov. 10, 2007.
Mosley saw a five-fight win streak end 10 months prior to his 37th birthday, but age didn't appear to be the reason. He rebounded with solid performances in knockouts over Ricardo Mayorga and Antonio Margarito -- but he has looked old in five fights since.
Post-37 record: 3-3-1 (active)
Sugar Ray Robinson
Born: May 3, 1921; Defeated Carmen Basilio via UD on March 3, 1958.
After retiring in 1952, Robinson returned to the ring in 1955 and reclaimed the middleweight world title. He lost it and reclaimed it again in 1957 ... and again in 1958. The win over Basilio, however, would be his final victory in a world title fight.
Post-37 record: 32-13-3
December, 6, 2011
12/06/11
6:09
PM ET
If any fighter can claim to be Madison Square Garden's biggest star, it is undoubtedly Miguel Cotto, who proved again on Saturday night that he can repeatedly pack the sport's most storied venue to the rafters.

But while Cotto may be "The Man" at the Garden today, the arena has played host to many a fighter who has punched his way into the history books, and a few hours before Cotto took on Antonio Margarito in front of more than 21,000 screaming fans, a select few were treated to an audience with some of those shining lights from MSG's past: former middleweight champ Vito Antuofermo, still a regular on the New York fight scene; Hall of Fame former lightweight champ Carlos Ortiz; Marvis Frazier, who fought his first four fights at the Garden and whose father won arguably the greatest, and surely the most famous, bout in the arena's history; famed heavyweight contender Gerry Cooney, whose 54-second knockout of Ken Norton is the shortest main event the Garden has staged; Cooney's former in-ring nemesis, and now his out-of-the-ring friend, legendary heavyweight champion Larry Holmes; and the one member of the group who technically is still an active fighter, former heavyweight champ Evander Holyfield.

Although the Garden may have been supplanted by the MGM Grand in Las Vegas as the epicenter of the sport's big events, it still occupies a revered niche in boxing history and in its pomp was the ultimate destination of any aspirant boxer.

"When I first was told I was going to come to MSG and fight here -- oh boy. It's something," Ortiz said. "You have to learn how to conduct yourself, but actually just by thinking of it, you get weak. Weak feet, weak legs. Fighting at MSG, it's out of this world."

It's a feeling, he added, that has yet to truly leave him. "I get chills every time I see the arena from the outside," he said. "Oh boy. 'I fought there,' I say."

"They told me I was going to fight at the Garden against a guy called Bobby Bozic," Holmes recalled of his Garden debut, his fifth professional fight, in 1973. "And I thought I'd better get myself in shape because they said, 'If you win at the Garden, you've got a home.' And so I wanted a home, I wanted to fight here. And I did win that fight, but I almost killed myself winning it because I overtrained, and that six-round fight, it was like Muhammad Ali and Joe Frazier in Manila -- except it was a six-round fight and it was Larry Holmes and Bobby Bozic."

Antuofermo recalled fighting in the finals of the Golden Gloves in front of a full house of 20,000 in 1970.

"I was never scared. One of my problems was I was never scared to fight anybody," he said. "But I was scared that night. We walked from the dressing room, and they shut the lights off. And I hear a noise, everybody shouting 'Vi-to'. And that was the scariest moment of my life; my first night at the Garden."

Both Frazier and Holyfield took their professional bows at the Garden -- Frazier assuredly aided by his status as son of one of the greats, Holyfield by his membership in the renowned 1984 Olympic class, several members of whom made their pro debuts that same night.

"I'm fighting against a guy who's Philadelphia state champion," Holyfield said. "This guy looks just like Joe Louis and he was already a champ. He had 12 fights already and I ain't had no fights. So I realized that I'm supposed to win, so I guess I'll go in there … and win."

But if there was one fight at the Garden he could have over, Holyfield admitted, it would be his controversial draw with Lennox Lewis in 1999.

"He's the only guy I ever let get to me," he said. "I told him, 'I'm going to knock you out in the third round.' So the only round he's gonna make sure he don't get knocked out is the third round. I went back to the corner when that round was over, and I started to step out of the ring and walk out. If it wasn't for my son being in the corner, standing right there, I would have walked out. I just didn't want anybody to tell my son, 'Just like your daddy, when he had pressure, he walked out.' That's the only thing that kept me in that ring, because I was so embarrassed by opening my mouth and telling somebody I was going to knock them out in the third round."

For most of those on stage, it had been a long time since they experienced the bright lights and the loud crowds. But for them all, the memories of headlining at the Mecca of Boxing are as vivid as if they had occurred yesterday.

"When I walk in that door, I remember every single fight I had in there," Cooney said. "That's what the Garden means to me."