May, 31, 2014
5/31/14
7:19
PM ET
By
Brian Campbell
| ESPN.com
Sam Soliman waited nearly 16 months for a second chance against Felix Sturm.

In the end, Soliman not only proved he still has Sturm's number, he showed that after 18 years as a professional, throughout a career that has featured 11 losses in 56 fights, his first world title tastes mighty sweet at age 40.

Soliman (44-11, 18 KOs), who saw his close unanimous-decision win over Sturm in February 2013 ruled a no contest when he tested positive for a banned stimulant and was suspended nine months, left no doubt in Saturday's rematch at the Koenig Palast Arena in Krefield, Germany.

Fighting in Sturm's backyard for the second straight time, Soliman captured Sturm's middleweight title -- which he won in December by knocking out Darren Barker -- with a unanimous decision (118-110, 117-111, 118-110). ESPN.com also scored the bout 118-110 for Soliman.

Soliman ended Sturm's fourth 160-pound title reign by simply outworking the fighter five years his junior from the opening bell.

The Australian was all of the things that have made him a difficult opponent -- awkward, unconventional and persistent. And even though his raw attack didn't always produce clean punching, his activity level was enough to consistently stifle Sturm (39-4-2, 18 KOs), who was unable to time him with counter right hands.

Sturm ultimately waited too long to step on the gas and take the fight to Soliman, despite the two fighters providing fans with a series of exciting two-way action in spots over the second half of the fight.

"It was a great war," Soliman said. "He gave me a great fight."

Soliman kept Sturm off balance with a frenetic style built upon hard body shots and short hooks from a variety of angles. He also limited Sturm's counterattack by consistently tying him up at close range (not to mention being routinely warned by referee Eddie Cotton for a variety of transgressions).

Sturm began a late surge in Round 9 by picking up the pace and landing right hands and short uppercuts as Soliman appeared to be fading. But Soliman consistently held his ground and traded effectively with Sturm to work his way out of trouble.

Despite being hurt by a body shot in Round 11, Soliman continued to answer Sturm's single right hands with flurries of two- and three-punch combinations to leave no doubt in the championship rounds.

Soliman, a former "Contender" fighter, becomes an unlikely belt holder at age 40 in his third time contesting for a world title. Despite losing seven of his first 19 pro fights, Soliman has remained a tough out in recent years and entered Saturday's bout having not lost since unsuccessfully challenging for Anthony Mundine's super middleweight belt in 2008, in their third meeting.

December, 7, 2013
12/07/13
6:36
PM ET
By
Shaun Brown
| ESPN.com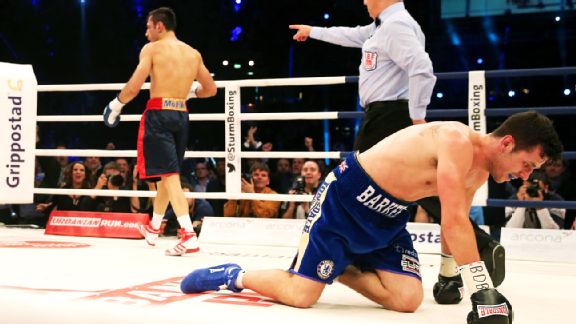 Simon Hofmann/Bongarts/Getty ImagesFelix Sturm dropped Darren Barker, who injured his hip, setting up Sturm's second-round TKO win.
If Atlantic City and the victory over Daniel Geale back in August provided the fairy tale for Darren Barker, then Stuttgart and Saturday's loss to Felix Sturm has provided the nightmare as the Brit's reign as middleweight titlist ended surprisingly early in Germany tonight.
Barker took the same tactics from his glory night against Geale into his bout with the much more seasoned and rounded Sturm, who from the get-go looked like he had a point to prove. Aggression, the left hook and the conclusive power proved too much for Barker, who seemed to suffer a reoccurrence of an old hip injury (Sky Sports reported the injury to be a dislocated hip), particularly on the second knockdown he suffered, which showed Barker grimacing and holding his right hip.
Key moment:
At 1:54 of the second round, Sturm threw a walloping overhand right that put Barker down and "scrambled the senses," as Sky co-commentator Jim Watt put it. Barker had been put down with similar impact by Sergio Martinez in 2011, and despite his bravery on Saturday, Sturm went in for the kill to dole out a second knockdown that led Barker's trainer, Tony Sims, to throw in the towel with 55 seconds left in the round.
We've got your number:
20. Sturm was taking part in, remarkably, his 20th world title fight on Saturday and proved that there's life in the old dog yet. After a somewhat disappointing couple of years, by his standards, the German became a four-time middleweight titleholder and places himself right back in the mix with the leading players at 160 pounds.
Last word:
A rematch clause was put in place before this fight, but thoughts now turn to Barker and whether or not he has a future. His career has been plagued by many injuries, and no one can ever take away that memorable and emotional night on which he captured a world title. But tonight it felt like a case of "fools rush in" -- Barker got the tactics wrong and paid the price, in potentially more ways than one. Sturm, however, made a statement and he is welcomed back to the top tier with open arms.
June, 27, 2013
6/27/13
6:16
PM ET
By
Brian Campbell
| ESPN.com

Despite what you hear and read, there's a very good chance middleweight titlist Gennady Golovkin might actually be human.

You wouldn't necessarily know that, however, by listening to boxing experts -- this one included -- who unleash a gluttony of adjectives to describe his otherworldly power and exciting style.

Golovkin (26-0, 23 KOs), the 31-year-old unbeaten destroyer from Kazakhstan who holds the highest knockout percentage among active titleholders, has reached a cartoon-cult status within the sport. There is such a mythology that follows him from fight to fight (and subsequently knockout to knockout) that he might as well change his nickname from the delightfully cheesy "GGG" to boxing's "God of Thunder."

The main reason for the surrounding cloud of hype is Golovkin's calamitous power in both hands -- a sort of Tyson-esque equalizer that all fighters dream of being born with. It's the kind of power that keeps you in every fight and, in Golovkin's case, causes opponents and ringside writers to marvel at just how much different it sounds and feels when his punches land.

And Golovkin is far from a one-trick pony when it comes to his five-star talent. He says he has never been knocked down, or even hurt, in his entire career. And with a decorated amateur background that features a 2004 Olympic silver medal, multiple world championships and a record of 345-5, he's just as likely to outbox the rare fighter who proves able to withstand his best punch.

But therein lies the problem: Not only are fighters unable to typically get past the early rounds against him -- Golovkin has seen the ninth round just once in his career and hasn't had a fight go to the scorecards since the George W. Bush administration -- he also continues to have trouble getting big-name opponents into the ring with him.

The big concern surrounding the myth of Golovkin is that, despite holding a middleweight title since 2010 and having made seven title defenses -- with all seven ending by knockout -- he is still untested at the highest level. In fact, it's fair to ask what we really know about Golovkin until we see him in with a myriad of high-end punchers and slick boxers.

The good news is, we should have a better handle on his stock by the end of Saturday night's fight against two-time middleweight title challenger Matthew Macklin (29-4, 20 KOs), by far the most experienced opponent Golovkin will have faced. And Macklin, who has taken both former titlist Felix Sturm and current middleweight world champion Sergio Martinez into deep waters in back-to-back fights, also happens to be the perfect opponent at this point in GGG's rise.

Golovkin said he likes the fight so much because he believes both fighters "have [the] same size, same power and same speed. [Macklin] is very serious and I think he's a great fighter." More important, Macklin will serve as a litmus test to gauge whether Golovkin is simply a power puncher with a lot of buzz or a true future pound-for-pound threat. Macklin clearly has the chin, power and inclination to brawl to make him an attractive opponent, but he also proved in his two title fights -- particularly against Martinez -- an ability to adapt his style by utilizing a level of defense and counterpunching we hadn't previously seen from him.

Macklin also has the disposition not to be intimidated by anything Golovkin brings to the table and a willingness to go out on his shield if that's what it takes to give him the best chance to win. He describes himself as a throwback fighter from a different era, and expects to expose Golovkin for being "the middleweight champion of the world fighting B- and C-level junior middleweights."

Young fighters on the rise such as Canelo Alvarez and Adrien Broner have been routinely called out for their soft résumés, a criticism Golovkin has somehow mostly escaped. Maybe it's due to his willingness to fight anyone across three weight classes or how active he has remained -- Saturday will mark his fifth appearance in 13 months -- despite being unable to land the opponents of his choice. Heck, it could be chalked up to his endearing, almost boyish demeanor.

Years from now, we may look back at Golovkin's fight with the straight-ahead Macklin as another stop on a long road of highlight-reel knockouts that ultimately carried him to the top of the sport. Or maybe this one goes down as the key moment when at least a little air was taken out of Golovkin's balloon.

Either way, it will be exciting to watch thanks to enough intrigue, and even doubt, to mark this as something of an early defining fight for Golovkin.

Just don't start sizing the superhero Kazakh KO King for a cape and pair of blue tights until we can confirm that either Golovkin is from another planet or that he's just like one of us.

Believe me, I know, it's not easy.
August, 30, 2012
8/30/12
5:01
PM ET
By
Diego Morilla
| ESPN.com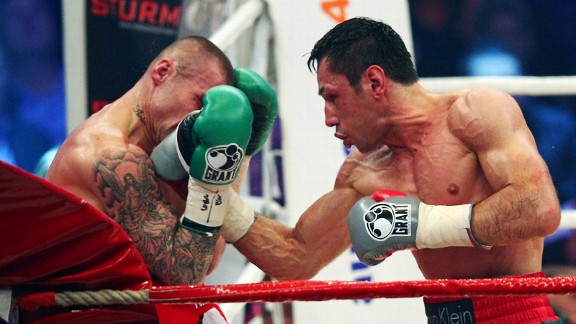 Alex Grimm/Bongarts/Getty ImagesFelix Sturm, right, may be the best middleweight in Europe, but can he step outside his comfort zone?
Among the many things that rub boxing fans the wrong way, two are particularly troubling: hometown fighters and underachievers. And in the past few years, middleweight titlist Felix Sturm has made a case for being both.
As a long-reigning champion (12 defenses of his current belt) who has had two previous title runs at 160 pounds, Sturm has held at least a portion of the title for almost 10 years and has lost only twice in his career -- one of which was debatable, against Oscar De La Hoya in 2004. But the underlying question remains: Is Sturm a zoo hunter, a guy who preys on weaker opposition inside a cage of local favoritism and excessively generous judges? Or is he a true champion who has trouble finding a real challenge at middleweight?
The 33-year-old champ, born Adnan Catic in Germany to Bosnian parents, became a fan favorite after drawing the short stick in his fight against De La Hoya, in which many viewed him as the true winner after outlanding and outboxing the Golden Boy in Las Vegas.
After that fight, the general consensus was that Sturm would be back in the States for another challenge in a talent-rich division that then included Bernard Hopkins, Felix Trinidad and other attractive potential foes. Instead, Sturm reacted with disgust at the De La Hoya decision and nurtured his own strong hometown edge by fighting the next eight years of his career exclusively in Germany, with an occasional trip to his parents' old Yugoslavia for a stay-busy fight.
The result for Sturm has been a very low profile outside the borders of his native country, virtually zero visibility in the U.S. -- a Catch-22 situation depriving demanding U.S. fans of seeing some of his great fights, but also shielding them from a string of weak performances -- and an unwillingness by other champions to travel to Germany to unify titles in an openly hostile environment.
That's about to change on Saturday, when Sturm will face Australia's Daniel Geale in -- of course -- Germany, for a unification bout that will kick-start a series of interesting middleweight matchups that could help clarify the division picture. Regardless of the result, doubts about Sturm's reputation (in certain circles) as one of the most underrated middleweight champs in recent history won't be resolved.
Part of those doubts stem from two particular fights in which Sturm not only failed to impress but also seemed to need generous help from the judges to escape with a win.
The first: a split-decision victory over Matthew Macklin in June of 2011, in an interesting fight that exposed many of Sturm's shortcomings. And then there was an excellent fight in which England's unbeaten Martin Murray was slapped with a split draw after delivering a 12-round boxing lesson to Sturm that starkly contrasted the fighting spirit of the two men.
And it's the quality that is most strikingly missing from Sturm's arsenal. His jab is there (one of the best in the business), his physical conditioning is superb, and his punch rate and accuracy are above average for the division. Even his inability to consistently deliver finishing blows (40 percent KO percentage) obscures other, more worrying failures.
In essence, the problem is this: Sturm amounts to less than the sum of his parts. His many virtues should add up to a dominant ring presence and attractive, entertaining performances. Instead, Sturm fails to excite fans with spectacular stoppages or put together interesting combinations, and he squanders his great sense of timing by not following up on his attacks.
But there may be light at the end of the tunnel. Sturm dominated former interim titlist Sebastian Zbik in his most recent title defense, in April, and now seems committed to jumping into the big market at 160 pounds. It won't be a surprise to see him beat Geale and then call out the winner of the Sept. 15 Julio Cesar Chavez Jr.-Sergio Martinez fight.
But for that scenario to come to fruition, Sturm would have to break hard from his recent path, travel to the U.S. and overcome his fear of being robbed again (or in his case, possibly take a dose of his own medicine) to try his luck against one of the division's top fighters.
Sturm has a limited amount of fights left to consolidate his legacy and show the world that he's capable of beating legitimate contenders beyond the borders of his homeland. A year ago, he would have been favored to beat Chavez, and to give Martinez a terrific challenge. But given Martinez's destruction of Macklin, Sturm's dubious victory against the same opponent and the fact that a non-puncher such as Murray was able to beat the wind out of Sturm, both Chavez (a devastating body puncher) and Martinez (a superb boxer with all the killer instinct Sturm seems to lack) would seem to have the edge over Sturm.
In any case, Sturm-Martinez or Sturm-Chavez each has the potential to be a great fight, the kind that could redefine Sturm's career and give the middleweight division a great three-way rivalry that could revitalize one of boxing's elite weight classes. Let's hope we don't have to go to Germany to watch them.