December, 1, 2011
12/01/11
1:14
PM ET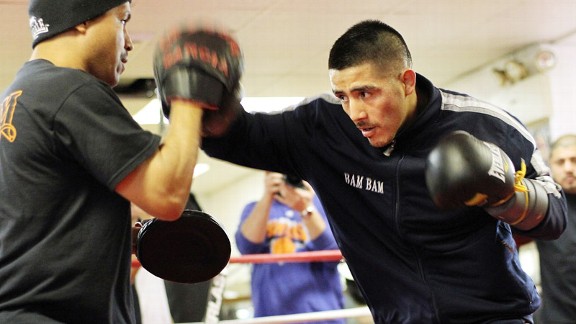 Chris Farina/Top RankBrandon Rios isn't shy when it comes to trading in the ring -- or talking in the build-up to a fight.
At the Miguel Cotto-Antonio Margarito II undercard press conference at BB King's in New York on Thursday, Brandon Rios had the look of a man who has been munching on broccoli for late-night snacks. The California boxer will try to raise his record to 29-0 and retain his WBA 135-pound crown against 31-1 Brit John Murray on Saturday night at Madison Square Garden.
Rios could and should be a TV staple and fan fave for some time to come; he presses forward, throws punches in bunches and seeks to give fans value for their money. Plus, he has the mentality of a shark. If he draws blood, he goes for the kill.
"He's recognized as one of the most exciting fighters in the world,"
said Bob Arum, Rios' promoter. "People want to see fighters, not a lot of movement and posturing. Rios epitomizes that type of fighter."
Rios, 25, spoke about his opportunity Saturday night. "Glad to be in New York for the first time," he said. Then, to Murray: "I ain't going nowhere and you ain't going nowhere. There's nobody out there at 135 that can give me a challenge. Saturday night, your ass is going down."
Arum drew a laugh when he called Murray to the mic, then noted that the fighter stayed at the same hotel as Barack Obama on Wednesday night during the president's New York fundraising stint.
"We go to England, and we don't see the Queen," Arum said.
Murray said Rios is "fun to watch." Wonder if he'll have the same appraisal after Saturday's bout.
November, 30, 2011
11/30/11
11:16
AM ET
NEW YORK -- Delvin Rodriguez has been a "Friday Night Fights" staple for the past few years. And that's no small potatoes, nothing to scoff at. That means a boxer has arrived ... to an extent.
The purses you get to fight for on FNF can't compare to the those on HBO, or on pay-per-view, as Delvin Rodriguez of Danbury, Conn., will be doing for the first time on Saturday night.
HBO and pay-per-view can mean a house, savings for the kids' college fund. It can be a most-sweet payoff in this tough trade, and can make those 5 a.m. wakeup calls to do the roadwork and those omnipresent bumps, bruises and muscle and tendon tears more palatable.
If Rodriguez (25-5-3 with 14 KOs) can get the better of New Jersey's Pawel Wolak (age 30, 29-1-1 with 19 KOs) at Madison Square Garden, and do a bit more than he did on July 15 when
the two men thrilled the FNF audience and battled to a draw
, he will get that much closer to those meatier payouts.
Rodriguez, 31, is a solid boxer-puncher, a versatile pugilist who is comfortable outside or inside. He moves his feet to get angles and moves his head to avoid getting hit. He probably has the skills edge going in to the sequel. "The first fight, I was out of the ring for a year," he said. "It did take me a couple rounds to get into a rhythm. This time there's going to be no four rounds warming up."
Watch this video, which should give you a better idea of the stakes up for grabs when Rodriguez and Wolak thrown down in NYC.
November, 30, 2011
11/30/11
1:16
AM ET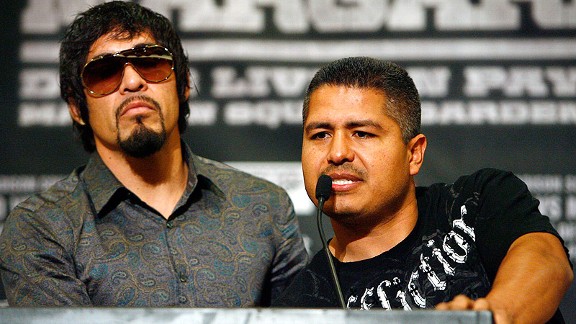 Chris Farina/Top RankAntonio Margarito's surgically repaired right eye is ready for battle, says trainer Robert Garcia.
NEW YORK -- Pretty much everyone in the building on Saturday night expects Miguel Cotto to play "Pin the Glove on the Eye" on that messed-up, iffy right orb of Antonio Margarito.
I know what the doctors, a whole bunch of them, say: that the eye is fit to fight, that the Mexican-born hitter isn't any more susceptible to damage in his right eye than in his left. I accept that on face value. But if it were me in there, I'd like to do some tests myself.
I'd like to go at that thing without remorse, and test the doctors' theory. It's a pretty good bet that we'll see more jabs than usual from the Puerto Rican boxer this weekend at Madison Square Garden, and that his hook will be cookin' from minute one. He will be testing the doctors' findings for as long as the fight lasts.
Margarito's trainer, Robert Garcia, expects the same. He told ESPN.com that he asked sparring partners in camp not to steer away from the eye, but to target it, as he expects Cotto to do.
"I'm not even worried about the eye," Garcia said. "We have nothing to hide. We had [HBO's] '24/7' in camp and I never tried to prevent left hooks. I asked sparring partners to throw more jabs and hooks to get ready for it, because I know Cotto will. We have no worries about the eye. Like the doctor says, the same thing could happen to either eye. And if something happens, that's part of the sport."
Garcia was a more-than-fair pugilist in his day; he boxed from 1992 to 2001, and won a super featherweight crown while accruing a 34-3 mark. He lost three of his final five bouts, each time by KO, so he well understands the feeling and risk of getting tagged.
I wondered if he would have soldiered on if he had had surgery on a busted orbital bone, surgery to fix a detached retina and surgery to fix a cataract within a span of six months, as Margarito did. Garcia said he would if the doctors told him he could.
"He's healthy, the vision is good, and I was telling sparring partners to throw more left hooks," Garcia said of Margarito. "We have to be ready for that."
The trainer said he foresees a stoppage win for his guy.
"Last time, it was Round 11, and I see a similar kind of fight. I don't think Cotto is as fast and as strong as at welterweight, so it could happen maybe two rounds earlier."
I have a vision of that right eye getting puffed up quick, and it being a drag on Margarito. What about you, readers?
November, 11, 2011
11/11/11
4:40
PM ET
Fight Week Friday is, for hacks like yours truly, often a surprisingly quiet part of the week. Most of what can be written has been written, and aside from the weigh-in, there's little to do except pick up last-minute news and information and await the start of Saturday's hostilities. The mood in the media room is one of activity but, also, relatively speaking, relaxation. On this Friday afternoon, promoter Bob Arum is working the room, chatting informally with reporters. Somehow the subject of Twitter arises and Arum, chuckling, reveals that his brief relationship with that particular arm of social media has now ended.

"I dictated a few things to Lee [Samuels, Top Rank's ace PR man] and then left it," he said. "I couldn't think of anything to say. I realized it probably isn't a good thing for someone like me. I could get myself in trouble."

And then, above the background buzz inside the room, the sound of singing and cheering erupts from outside as Freddie Roach, Manny Pacquiao's trainer, walks past the assembled masses en route to a round of radio interviews. I don't know if anyone is certain when the first person stood in line for this afternoon's weigh-in, but there was already a small crowd by 9 a.m. A few hours later, the line stretched from the arena doors, past the media room and along the Studio Walk shops and restaurants. The crowd chants and cheers, but it is good natured and well behaved, and when the doors open to the MGM Grand Garden Arena, the thousands in attendance file happily and swiftly inside.

Wandering around, I bump into Emily Pandelakis, the publicist for up-and-coming junior welterweight Jose Benavidez Jr., who is taking in the action with Jose's brother and his father, Jose Sr. The younger Benavidez, who is fighting Samuel Santana on the non-televised portion of Saturday's card, has been sparring with Amir Khan at the Wild Card Gym under the tutelage of Roach, who has been singing the praises of the youngster (who is now 19) for a couple of years now.

"Honestly, we feel blessed," said Jose Sr. "This is the fourth time we've been on a Manny Pacquiao undercard."

Jose Jr. is already inside the arena, filing paperwork before the weigh-in. Then, after he strips off, steps on the scales and makes weight, there will be little left for him to do either, except eat, rehydrate, rest and, like the rest of us, wait for fight night to be upon us.
November, 10, 2011
11/10/11
9:35
PM ET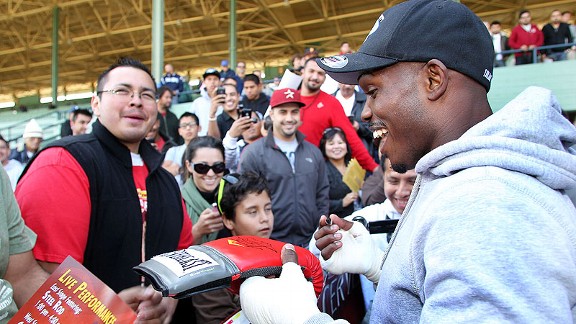 Chris Farina/Top RankTimothy Bradley Jr. is hoping for more big fights and, ideally, more mobs of adoring fans.
Timothy Bradley Jr. is angry.
Don't take my word for it. He says so himself.
"I've been angry for the last eight or nine months," he told reporters at the MGM Grand on Thursday. "I've been angry. I've got a chip on my damn shoulder, I really do."
What is he angry about? Well, how much time have you got?
For one thing, he is angry about what he continues to feel was the ineffective way he was promoted in his career prior to joining Top Rank, for whom he will fight his first fight, against Cuban veteran Joel Casamayor, in the chief support bout for Manny Pacquaio's clash with archrival Juan Manuel Marquez on Saturday.
"I felt like I was standing still. I've been standing still for a while. I've only fought twice in the last two years, guys. And I don't understand why," Bradley said. "I came off one of the biggest fights in my career [January's junior welterweight unification victory over Devon Alexander], and I didn't really move anywhere. Fighting the Devon fight didn't do nothing for my career, man. Nothing. Didn't do anything for me. I don't know, man. This boxing game can be tricky, it can use and abuse you. Only the strong survive in this game, and I've learned that now."
Signing with Top Rank, Bradley believes, will give him the push over the top so that he receives the acclaim and fame he clearly thinks he deserves. "I've got a true, real-life promoter now that's going to push me and push me and push me to be superstar in this game," he said. "I'm a three-time world champion. I shouldn't be able to walk down these dang corridors right here. People should know who I am. People should know exactly who I am. I'm a three-time world champion."
But that isn't all. If not angry exactly, Bradley is certainly unhappy about the fact that, as he puts it, "I'm still fighting for respect."
"All the criticism, everything everybody said about me, I want to prove everybody wrong," he said. "People saying I don't deserve a shot at Manny, don't deserve a shot at this, or I'm going to get knocked out: Prove it to me. I don't fear any man. I don't. I don't fear Joel Casamayor. Do I feel he's a threat? Absolutely not. I'm going to destroy Casamayaor on Saturday. Period. Hands down. There's nothing he can do to beat me."
Bradley does, however, acknowledge that he lost a fair deal of the respect he had built up when he turned down an offer to fight rival titlist Amir Khan earlier this year. But as he insists, "I'm going to win it all back. I probably have lost respect from fans, yeah. Even after the Devon fight, people lost respect for me. But it's OK, it's alright."
That path begins Saturday, with a bout he recognizes he needs to win impressively to grab people's attention and perhaps put himself in line for a bout with the man who headlines Saturday's pay-per-view show:
"It's been a while," Bradley said. "This is serious business. I'm ready to go, man. Casamayor, I respect him. I respect him as a fighter, but his time is over. It's Timothy Bradley time. It's 'Desert Storm' time. I'm in the best shape I could possibly be in, man. There's nothing that I fear. There's no one that I fear. I don't fear anybody. Manny Pacquiao, Floyd Mayweather -- I'm ready for anybody. Any time. Right now, man. I'm ready. And I'm going to have a great performance Saturday night. I feel it. He can't stop me.
"I'm stronger than ever. Everything that I went through these last nine months has made me strong. My character is stronger than ever. I've grown. I've grown a heckuva lot, man. I'm a little emotional right now because I want it. You know what I'm saying? I want it."
November, 10, 2011
11/10/11
4:28
PM ET
Juan Manuel Marquez's trainer, Nacho Beristain, agrees that Manny Pacquiao is much-improved technically since he and Marquez first fought. But, he argues, those improvements will be to his fighter's advantage.

"Without a doubt, his trainer's done a great job with him," Beristain told reporters through an interpreter at the MGM Grand on Thursday. "He's taught him a lot. He's become a more complete fighter, but that helps us. Before, he was a little wild, throwing different punches from different angles. Now he's a more efficient fighter, but I think that helps us. Not being so wild, instead of not knowing where it's coming from, we know exactly what he wants to do."

The first two meetings between Marquez and Pacquiao were closely fought, back-and-forth crowd pleasers, and Beristain says he is confident the third leg of the trilogy will be no different.

"I believe that because Manny Pacquiao is such a spectacular fighter, he's always willing to exchange, he's always willing to fight and he found a guy who's willing to fight with him, in his own style, at his own pace -- I think that's why they make such great fights," Beristain said. "One guy is trying to make his own style work, and the other guy is trying to make it not work, to do his own thing. Their style just matches, and I believe the third fight is going to be the best one."

Freddie Roach, Pacquiao's trainer, expressed surprise Wednesday that Marquez had elected to bulk up, adding muscle to make the fight's 144-pound weight limit, rather than coming in light and using the speed and counterpunching that had served him well in the first two contests. Beristain said the plan had always been to make Marquez stronger, although he acknowledged he'd had concerns over what that muscle would do to his fighter's speed -- concerns, Beristain insists, that have been assuaged.

"We wanted him to be strong enough to be more explosive with his punches," he said. "I was very concerned in the beginning, I could see he was slowing down. But over the last 15 days he's picked it up. We've done something different and I'm much happier now with his speed. I was expecting to get a slower fighter. I knew he was going to get bigger. But every time he went into the gym, he did what I wanted him to do. I knew he was bigger, I knew he was stronger, but the speed now is coming up. I was a little concerned in the beginning, but he's coming along and I think he's going to be fine for the fight."

Talk of the new Marquez physique inevitably leads to questions about the man who helped provide it, the Mexican's strength and conditioning coach, Angel Hernandez -- who, when known as Angel Heredia, provided steroids to track stars such as Marion Jones and Tim Montgomery. But Beristain insists he isn't at all concerned that there may be anything nefarious behind his fighter's muscle gain:

"I'm grateful for what they did with my fighter. I've got a real good fighter, a real strong fighter, a guy with a lot of energy. I know that Juan would never take anything illegally. He would never do anything like that. He's always been a clean fighter, and this guy can't do anything wrong. If he does anything wrong, all the eyes of the world will be on him. I know if [Hernandez] came to Juan with something, Juan would never take it. I'm not worried about that."
November, 9, 2011
11/09/11
9:32
PM ET
A lot of the discussion around the media room this week has been focused on the physical changes in Juan Manuel Marquez, the fact that he has put on muscle to make the 144-pound limit for Saturday's fight with Manny Pacquiao.

Pacquiao's trainer, Freddie Roach, is surprised that Marquez and his camp took that route.

"I'm very surprised, yes," he said on Wednesday. "I thought he'd come in at 135 and use his speed and counterpunching ability, that that would be the best way to fight Manny. But they seem to have gone in a different direction."

Marquez won the majority of the rounds in their first two bouts, with Pacquiao making up the difference courtesy of a total of four knockdowns. Roach is confident that the Mexican's added bulk will reduce his speed and thus the likelihood of his winning as many rounds; besides, Roach adds, Pacquiao is a much-changed fighter. Three years ago might as well be eons past.

"[Marquez] won those rounds by leading with his right hand, and Manny moving in one direction and walking into it," Roach said. "Manny can move laterally now, and at that time he would move in only one direction. He was a limited guy, he only had one big left hand and no right hook, and now he has two hands and he's much more mobile and I think he's a whole different fighter now."

Roach does expect Marquez to hit the canvas again, though. But the trainer doubts he will do so more than once:

"I don't think he's going to be able to get up from this Manny Pacquiao punch."
November, 9, 2011
11/09/11
7:17
PM ET
The final fight of a trilogy inevitably invites contemplation of the previous two bouts, and this Saturday's third clash between Manny Pacquiao and Juan Manuel Marquez is no exception. But Marquez trainer Nacho Beristain told reporters this week that, often, the fighters who meet for the third time bear little resemblance to those who fought the first time: Lessons have been learned, experience has been gained and improvements have been made.

Pacquiao, for one, is certain that if Marquez is expecting to face the same man he fought in 2004 and 2008, he's in for a surprise.

"I don't think that [studying] the last two fights will help for this fight, because it's a big difference. I've changed a lot, my style. I think I'm more improved right now, compared to three years ago, four years ago," he said this week. "I think I'm more experienced, especially my strategy and techniques, and more improved in my right hand, and also movement side to side, and timing. I've learned how to be a counterpuncher as well as an aggressive fighter."

That said, Pacquiao acknowledges that "the last two fights helped me a lot. I learned a lot, especially [how to fight] a counterpuncher."

Pacquiao's trainer, Freddie Roach, believes the fact that Marquez is bulking up for this fight is a sign that the Mexican intends to stand and fight; Pacquiao says he shares that belief but, perhaps reminded of the contrast between Shane Mosley's prefight bravado and his actual in-ring performance last May, he cautioned that the proof would only come once the bell has rung.

"It's easy to say he'll rumble or go to-to-toe," he said, smiling. "I've heard that before with my opponents, but when they get in the ring it's not true. But we will see on Saturday whether it's true or not."
November, 8, 2011
11/08/11
9:37
PM ET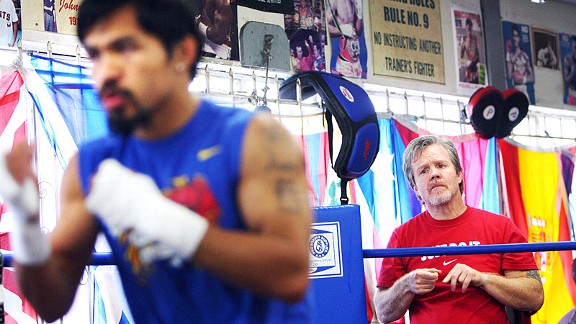 Chris Farina/Top RankTrainer Freddie Roach, right, sees only one challenge for Manny Pacquiao beyond Juan Manuel Marquez.
Manny Pacquiao's trainer, Freddie Roach, is confident that his fighter's third encounter with Juan Manuel Marquez at the MGM Grand on Saturday will be the most entertaining yet. The reason, he says, is that Marquez, who has lately been campaigning as a lightweight, has apparently been adding muscle to make the 144-pound limit for this fight.
"Marquez has become a more fan-friendly fighter; he isn't strictly a counterpuncher anymore," Roach told reporters at the MGM Grand on Tuesday. "Let's face it, when you put muscle on, you put muscle on for one reason, and that's to exchange. I like that. If he wants to exchange with us, I think that's great. He's getting ready for a big fight. He used to be a pinpoint counterpuncher, and I think the muscles are going to hurt his counterpunching but help in the strength area, and so I think he's going to fight us. This will be the best of the three fights with the way both these guys are getting ready, in my mind.
"He's going to come and use his power the best he can. I think he's going to start quick and just go for it, and that's why I'm going to have Manny warmed up really well and ready. [This fight is] going to be good for boxing because both guys are going to try their best and really, really go at it. This is a much more exciting fight than [Floyd] Mayweather."
That said, he acknowledges that a fight between Pacquiao and Mayweather is something for which fans are clamoring and is, candidly, after the Marquez bout, the only one that really interests him. But that doesn't mean Roach is equally enthusiastic about the potential opponent himself, or optimistic the matchup will ever take place.
"I don't see any other real challenges," he said. "I think that fight needs to happen, because it's the only challenge out there. I think about that fight, and it's a great challenge and all that, and everywhere I travel in the world, people are excited about that fight and ask me to make it happen. But I'm getting kind of tired of Floyd, to be honest with you. Shut up and fight or not. He wants to make the rules, he wants to dictate everything. We'll fight him any day of the week, under Nevada state regulations. Who the f--- is he to try and make the rules?
"[If he doesn't fight Pacquiao] there'll be a question mark after his undefeated record. He only fights guys he can beat, little guys and all that stuff. Now he's calling us 'the little fella.' I think he's referring to Manny, but I really don't know. He sends Leonard Ellerbe, his gopher, to make a speech. Who the hell's Leonard Ellerbe? Why won't Floyd say it himself? I'm just kind of tired of it. If that fight doesn't happen, I'm not going to cry."
November, 8, 2011
11/08/11
8:12
PM ET
Manny Pacquiao's promoter, Bob Arum, told reporters on Monday that his fighter's boxing career had a firm end date: 2013, assuming Pacquiao runs for, and wins, election as governor of Sarangani Province in the Philippines. Pacquiao's trainer, Freddie Roach, isn't quite so ready to assume that the countdown clock is ticking.

"He asked me: 'When I start slowing down, will you tell me?'" Roach told reporters at the MGM Grand on Tuesday. "And I said, 'Yeah, but you're not even close yet.' I haven't seen any decline in Manny Pacquiao, so he could fight for years more if he wants to. It's just his motivation. I told him, the first day he walks through the Wild Card doors and he's lazy, I'll tell him. We've always decided that'll be the day he quits.

"Manny Pacquiao's going to quit when Manny Pacquiao's going to quit and he feels like it, and putting a number on it -- it's an idea, but will it happen? Boxing's very, very addictive. It's hard to give up, as we all know, and Manny Pacquiao, he might fight 10 more fights."
November, 8, 2011
11/08/11
11:54
AM ET
After Manny Pacquiao scored a disputed split-decision win over Juan Manuel Marquez in their second fight in March 2008, the cries were strong -- not just from the Marquez camp but from much of boxing fandom -- for a third fight to finally settle the score.

But Pacquiao's promoter, Bob Arum, had other ideas. He was determined to match Pacquiao with lightweight beltholder David Diaz. It seemed a gratuitously defiant act: Yes, Diaz held a lightweight title, affording Pacquiao the opportunity to add a world title in a fifth weight class. But the Pacquiao-Marquez rematch sold 400,000 pay-per-views in the United States, a record for the lower weight classes, and there seemed no way a matchup with the solid but limited and little-known Diaz could possibly do better than that.

Arum, however, says he was mapping out a longer-term plan.

"I was beginning to feel what I had in Manny Pacquiao, basically because of the adoration from the Filipinos, whether in this country or elsewhere," Arum told reporters at the MGM Grand, where Pacquiao will finally meet Marquez for a third time this Saturday. "So I knew I had someone, like [Cassius] Clay, who, if I could only bring him to the attention of the general public, could be someone quite special."

Which, perhaps counterintuitively, is where Diaz came in.

"I realized the only way he could be special is if he fought higher-weight fights, if he fought guys like [Oscar] De La Hoya, like [Miguel] Cotto, like [Antonio] Margarito and not if he just limited himself to the fighters at 126 and 130 [pounds]," Arum said. "We luckily promoted David Diaz, who was a very good fighter, but nothing exceptional. And he lucked into a WBC lightweight title, and then he defended it against Erik Morales and barely eked out a win, and so I figured that that was the move. Even though it would [sell], which it did, [to] less homes than a third fight -- and it didn't do particularly well -- it wouldn't make it crazy when I could pull off the impossible and put him in with De La Hoya. As it was, after he beat Diaz, the Philippine Congress passed a resolution saying he shouldn't leave the country because he was going to get killed [by the much larger De La Hoya]. Can you imagine if he hadn't fought Diaz?"

Even so, Arum had second thoughts about the notion of putting in his young phenom with his former phenom, who had been fighting at junior middleweight and even middleweight -- more than 20 pounds higher than the weight at which Pacquiao was now campaigning -- since 2001.

"When the De La Hoya fight became possible, I had a big meeting -- I'll never forget it -- with Pacquiao in the suite at the Mandalay [Bay]," said Arum. "And I said: 'Manny, do you know what you're doing here? De La Hoya's so much bigger, so much stronger, you're liable to get hurt. There's a lot easier guys to fight. I'm telling you all of this because I want you to realize that maybe you shouldn't fight him.' And he got angry, and he said, 'I want to fight De La Hoya. I know I can beat him.' He looked at me with those steely eyes, and he really was sincere. It wasn't a question of the money or anything else. That's when I knew we had a helluva shot, and Freddie [Roach], who had trained Oscar, told us that Manny was going to beat Oscar. So we knew it internally, although Bruce [Trampler, Top Rank's Hall of Fame matchmaker], who knows fights, was leaning toward De La Hoya."

Of course, Pacquiao demolished De La Hoya in December 2008, sending the Golden Boy into retirement, and went on to defeat Ricky Hatton and Miguel Cotto before taking on larger-yet foes such as Joshua Clottey and Antonio Margarito. Arum admits that, in the aftermath of the Margarito fight, he realized matching the former flyweight with such relatively hefty opponents had to end.

"After he fought Margarito, when he told me how much he was hurting from those body shots -- to the public, it looked like a one-sided fight, but really, Margarito banged him around to the body, and the guy hurt him. He was in pain for a month. I thought, 'Am I crazy? I can't keep him fighting bigger guys all the time.' So he's in with Marquez now, and maybe down the road he'll fight Timothy Bradley, guys he matches up better with physically."

For that reason, Arum is dismissive of the notion of a matchup with middleweight champ Sergio Martinez, even if Martinez commits to weigh in at 150 and weigh no more than 164 on fight night. If Martinez and promoter Lou DiBella really want to make that fight, Arum says, he has an idea that is simultaneously novel and old school:

"Now, what I would say is, if you really want to fight Manny Pacquiao, you say you want to fight him at 150, let's go to a commission -- not necessarily this [Nevada] commission; maybe New York, maybe Texas -- and say, 'Both fighters want to do the fight and they want to go back to the old days and they want to do the weigh-in at noon on the day of the fight.' Once they do that, we can start talking."

As for the never-ending saga of the prospect of a bout with Floyd Mayweather Jr., Arum, naturally, puts the blame for the fight not being made solely on the man from Michigan.

"It's not a question of him making it difficult," Arum said of Mayweather. "He's making it impossible, because he's not making it. I thought to myself: 'OK, maybe he's got a point, even though I think it's baloney on this doping/drug test thing.' So Manny and I discussed it, and I said, 'Manny, even though they can, they're not going to go into the dressing room on the night of the fight to take blood, and if they do, let 'em take it from your ass, not your arm. So he said, 'OK, OK, no conditions.' None. And then [Mayweather]'s on [TV] this weekend, saying, 'I'll fight him, take the test.' What is he saying? And why doesn't the press take him up on it? How many times are we supposed to say that that is not an issue?"

Whether that fight does or does not happen, time for potential opponents is running out. Pacquiao's boxing career, says Arum, has a finite time remaining and a clear end date.

"Let me give you the political situation. He's now a Congressman from Sarangani. His term is up in 2013, when he will run for governor of Sarangani Province, and probably win," Arum said. "That's the end of boxing, because as a [Filipino] congressman -- like [U.S.] congressmen -- you don't work very hard. It's the truth! Some of them do, but how many days are they in session? Two days a week?

"But as a governor, it's different. As a governor, you've got to run the whole province; you're responsible for the water, the electricity, everything. So that's what he's going to concentrate on, and then in 2016, he's going to run for the Senate, which is a six-year term, and then in 2022 when he'll be over 40 years of age, that's the first time he's eligible to run for president. So that's a big, tough, political career to build up to, and he won't have time -- nor should he have time -- to spare coming over to the Wild Card, doing press conferences and so on."
November, 7, 2011
11/07/11
10:17
PM ET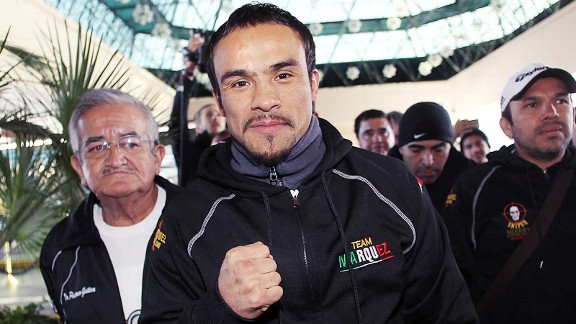 Chris Farina/Top RankBob Arum says Juan Marquez's growing profile will help make Manny Pacquiao's biggest pay-per-view yet.
For much of his career, Juan Manuel Marquez was something of a forgotten man, waiting his turn in the shadows while his more celebrated compatriots Marco Antonio Barrera and Erik Morales soaked up the plaudits and monopolized the main-event marquees. But in recent years, it's Marquez who has moved to the fore, securing a pay-per-view matchup with Floyd Mayweather Jr., moving to the top half of most pound-for-pound lists, and on Saturday likely concluding his storied rivalry with Manny Pacquiao.
In other words, he is now widely regarded with the same degree of admiration and appreciation as his contemporary countrymen, a status his promoter, Bob Arum, believes he fully deserves to occupy.
"Absolutely," Arum told reporters at the MGM Grand when asked if he thought Marquez belonged in the same conversation as his more famous rivals. "I don't think he has been as promotable as Barrera and Morales, and I think to that extent he has fallen behind. But as far as skill and career, I certainly think he belongs with those two guys."
Asked to elucidate on the comment about how promotable Marquez has been, Arum referred back to a time shortly after the first fight with Pacquiao when Marquez, refusing the money on offer for an immediate rematch, split with Arum's Top Rank.
"We had him, and we had problems with his trainer, who was also acting as his manager, and it was very difficult and he left us," Arum said, delicately. "And then he went to Golden Boy, and they did a better job than we did -- but still not a really good, good job, and he was a victim of that. So I don't cast aspersions on anybody, because we had him for a number of years, and we didn't do what I think was a bang-up job promoting him."
That said, Arum contends that Marquez has now elevated himself to a level where he has become a major draw.
"Seventeen to 18 percent of the population in the country is now Hispanic, and they love Marquez," Arum said. "There are a lot of Filipinos who are very familiar with Marquez because of his body of work with Pacquaio. So those two elements of the population -- plus Anglos who follow boxing and who are now intrigued by Pacquiao because of the mainstream programming -- mean that, without any shadow of a doubt, this will be the biggest Manny Pacquiao fight, from a pay-per-view standpoint, ever. The biggest ever."
Arum points to the readiness of cable providers to split costs for advertising -- a sign, he says, that they expect to recoup their outlays -- as well as indications that closed-circuit sales nationwide are on a record pace, to support his strong projections for pay-per-view sales for this Saturday's bout. Additionally, he points to the live gate: "The Mosley fight [with Pacquiao, in May, Pacquiao's current PPV record with an unofficial total of around 1.3 million buys] ultimately sold out. But it sold out at the end. This fight sold out at higher prices in two weeks. Absolutely sold out; you can't get a ticket any place."
A great reason -- indeed, the greatest reason -- for such likely success is, Arum readily acknowledges, the increasing mainstream popularity and fame of Manny Pacquiao. But helping to push it over the top, he says, is the man who has come out from the shadows:
"A lot of it has to do with the popularity of Juan Manuel Marquez."
November, 7, 2011
11/07/11
8:51
PM ET
The first and only time Juan Manuel Marquez fought as a welterweight, he was knocked down and dominated over 12 rounds by Floyd Mayweather Jr. in September 2009. Two years and two months later, he'll be in the same MGM Grand ring in Las Vegas, fighting as a welterweight for a second time. But this time he is confident the outcome will be different -- not just because he has fought Saturday's opponent, Manny Pacquiao, before and not just because he has taken a different approach to building himself up to the requisite weight.
"The biggest difference, obviously, is that Mayweather doesn't come to fight," he told a small group of reporters at the MGM on Monday. "He's a defensive fighter, he's not going to give you anything." By contrast, "Pacquiao is a great fighter, a spectacular fighter who's coming for you. We're going to be ready for him, and if he makes a mistake, we're going to make him pay for it. The other guy wouldn't make a mistake. He wouldn't fight."
It is, Marquez said, Pacquiao's relentless aggression that, as well as making for more compelling viewing, makes him a better fit for the way he fights.
"They always say that styles make fights, and I think my style happens to be difficult," he said. "All boxers have a difficult opponent, and I guess my style is the most difficult for Pacquiao."
It's a sentiment with which the fight's promoter, Bob Arum, agrees.
"It really comes down to the fact that the style of Marquez is such that it will always give Manny Pacquiao trouble," Arum said. "Manny only knows one style, and that's to attack, and Marquez is probably the best counterpuncher in boxing today, and he gets aggressive off the counterpunching. That will still be there, and Marquez has great recuperative powers."
Even so, Arum acknowledges that, for this upcoming third contest between the two men, Pacquiao will be the favorite, although he insists that it isn't because this bout will be fought at welterweight -- 17 pounds heavier than their last encounter -- a division in which the Filipino has been comfortable for two years.
"Now, if there's a difference in the fight, it is not the weight, it is not the strength, because Marquez has bulked up," Arum said. "The one reason why you have to favor Pacquiao is because when Marquez fought him the first two times, Pacquiao was a one-handed fighter. And now Pacquiao not only has a right hand, but his right hand is as powerful as the left hand, which means that he is, to my knowledge, the only fighter around today who is a true switch-hitter, who can hit as hard with the right hand as the left hand -- which, incidentally, Mr. Mayweather knows, and that's why he'll never fight him."
Marquez, however, is unfazed by any developments in Pacquiao's technique and style.
"Obviously he's changed over the years," Marquez said. "He uses his right hand more, he has a little more speed. But obviously I know all of that, so I've adjusted my work to that. My strategy is to nullify all of that."
Marquez remains convinced that he won both their previous encounters -- a draw in 2004 in which the Mexican recovered from being knocked down three times in the first round, and a split-decision loss in 2008 in which Marquez again visited the canvas, albeit this time only once. The second bout, Marquez believes, was a particularly clear win, a result of which he had no doubt. And indeed, anyone who was present at the postfight press conference can attest to the strength of aggrieved feelings within Camp Marquez that night. His countrymen and supporters, the fighter says, feel the same way, and they tell him so at every opportunity, a gesture of faith he intends to repay.
"They always tell me, you won the first two fights, you can do it again," he said. "All the fans tell me, do it for us; do it for Mexico. And that's what I do it for. I do it for me and my family, for Mexico and for all the fans who have always supported me."